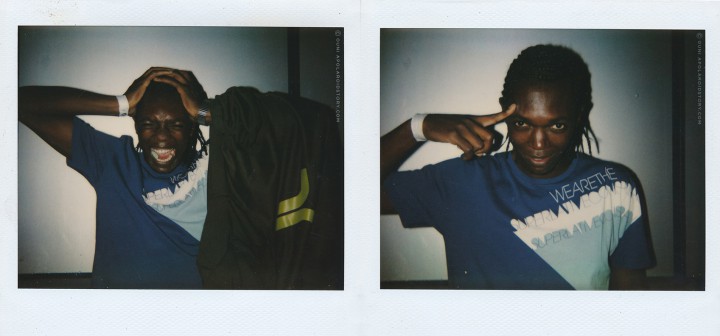 Lokerse Feesten,  07/08/2009.
It doesn't hàve to be difficult. Sometimes the hustle isn't necessary. Sometimes, you just have to depend on your instincts. Simple. Baloji for example. Baloji is a Belgian artist and just released his first solo album, an autobiography called 'Hotel Impala'. He was scheduled to perform right before N.E.R.D. and I hoped I could catch both N.E.R.D and Baloji on the same day. I love Baloji's music and I believe he is a good thing for the urban music scene in Belgium. He rhyms in French, got a nice flow and the whole 'Hotel Impala' album breaths authenticity. Above all that, he got style as well.
I noticed while doing my research on the web, that he managed his myspace himself. So, I didn't hesitate for long and sent him an email with my request via his myspace. And yes, about a week later he replied. He answered that he would love to pose for me, but on one condition. I had to take polaroids from him and the whole band. The entire freakin' band. Backing vocal, drummer, bass player, guitar player, etc. Did I mention that Polaroid films are getting very hard to get? I did. I'm sure. So, I went through all other possible options, but there were none. With pain in my heart, I agreed with the deal. I just began the project, and I estimated my chances to get N.E.R.D very low and I didn't want to take the risk to go home with nothing. He gave me his number and he told me to text message him when I'm ready to take the picture.
So, the N.E.R.D. story you know by now I can skip on that one. (If this happens to be your first visit to my little blog; Welcome! please read 'My First Time') I was still shaking from the whole N.E.R.D. thing and I realized I had to start focusing on Baloji. In the meantime the backstage area was packed with people also hyper from the N.E.R.D. concert still hoping to see a glimps of Pharrell Williams who was in the artist village with his entourage. I sent a text-message to Baloji to ask him where and how we could meet. No respons.
Suddenly I see him leave the artist village and instantly he was surrounded by his entourage, a camera crew for an interview and backstage fans. I decided to hang around the little group and to wait for a moment of peace. I wondered if he would recognize me but decided that the huge polaroid camera hanging around my neck will be more than clear for him to get the message.
For an instant I thought he didn't want to take the picture anymore. I was still standing there, waiting politely and I started to feel like an annoying fly. People were still keeping him busy and he clearly saw me standing a bit further from the crowd. Luckily my friend who arranged my backstage ticket ran to me all hyped up with her peeps and all of a sudden I was surrounded with people who where congratulating me both for my birthday as well as for the N.E.R.D polaroid.
Suddenly I feel a little tick on my shoulder and when I looked up I saw Baloji standing there with a big smile. "Bonjour Elisabeth, Happy Birthday" and he gave me three kisses. I wondered how he knew, but then I remember the birthday notifications on myspace and that meant he really noticed ànd remembered. Well, he scored some points with that one. He told me he wanted to take the polaroid in the artist-village and asked me to join him. Security gave me a hard time entering the village, which was pretty normal since N.E.R.D. was there as well.
Baloji did his best to get me in and told them I was a member of the crew and after some discussing they let me in. I told him what kind of picture I wanted and immediately he gave his all. Baloji is the perfect subject to shoot. He is tall, good looking and he isn't afraid to pose. The picture turned out just perfect. But then, it was time to keep my promise. We entered the trailer, he gave me a rum-cola and introduced me to the band. Time to take some pictures….
You see, for once, I can keep the story short, nice & easy. But, do realize, this was the easiest one so far, the fact that he is a Belgian artist surely helped. From now on, easy is no longer in my dictionary. It's a hard knock hustle. Believe me.
Love,
OUNI