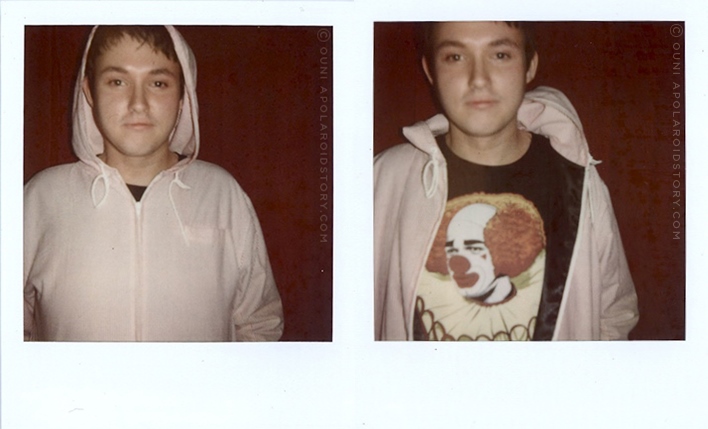 The young fella nicely Polarized above is none other than Ross Birchard, also known as Hud Mo but globally known as HUDSON MOHAWKE. Hudson Mohawke is an electronic music producer and DJ from Glasgow, Scotland and if you are into his music, definitely someone to keep an eye on in the future. He is signed at WARP records together with other heavy weights like FLYING LOTUS, GONJASUFI, and JAMIE LIDELL, so I don't have to convince anyone that the 'chap' knows a thing or two about making music. Even more, Hudson Mohawke was just a 15 year old boy when he was one of the youngest finalists of the UK Technics DMC championship.
How can one describe his music? That's tricky right there. To me, it's a mix of electronic, heavily influenced by hiphop with a fearless attitude towards R&B, with that extra bit of Soul to spice things all up, combined with sounds I can't describe, because most of the time I never heard them before. There. I hope that did something for ya. You can always find out for yourself and download his BBC RADIO I Essential Mix here. The first song I ever heard from by Hud Mo is the following: OOOPS!!!. Other personal favorites are RISING 5, DAM FUNK and JOY FANTASTIC (this one almost slipped my mind. Almost.)
With a debut album called BUTTER written to his (awesome) name, at the early age of 23, the future is bright for Hudson Mohawke and the buzz of future collabos has officially begone. The late Michael Jackson, En Vogue, Rihanna, Erykah Badu, Egyptian HipHop and probably many other sparkling names already popped up on multiple blogs, but not everything is sure nor confirmed so I guess only time (or the man himself) shall tell. But if we stick to what we know,  Theophilus London is one of the first official collaborations from Hudson Mohawke with their take on OOPS, and Chris Brown used HudMo's Rising 5 for a track called 'Yo Body.'
Enough with all the details. Here is the (short!) story.
I met Hudson Mohawke very briefly at LEFTO's #3 party where I was also very busy with the interesting task of snapping these horn blowers on Pola and I actually just met him in the hallway right before his set, so I asked him for a picture and he agreed. I love it, when things go nice and smooth for a change. What can I say about his set? Honestly, it was one of the most amazing things I've experienced in my 2010 nocturnal life and the fact that I've been smoking something weird with interesting names like 'Insomnia' might have enhanced the goosebump-effect a bit, but besides that, I think I can state that everyone in that room really was impressed by his performance. He also played this track which since then, I can't get over like a madly insane holiday crush. 
I bumped into him once more while I was chasing for this bag lady at the Les Ardentes Festival in Liège aka Toxcity. I'm running out of Polaroid film, so I have to count my Polaroids like they were my last pennies, but I couldn't help but notice his fine taste for excellent t-shirts and I asked him if I could take a regular picture of him.
The festival was experiencing some electrical problems to say the least and his gig got rescheduled approximately 2 hours later ànd changed to another venue, and he was slightly concerned about the reaction of the crowd to that. I told him, there was nothing to be worried about and that I was sure that he would kill it anyway. Which of course, he did. We sticked around for 2 hours longer, because we really wanted to see him play again.
Keep an eye on Hudson Mohawke. Because in time, I would hate to say I told you so. The boy is carving music like 'buttah'. Effortless.
Love,
OUNI
PS: Check Hudson Mohawk on Twitter.