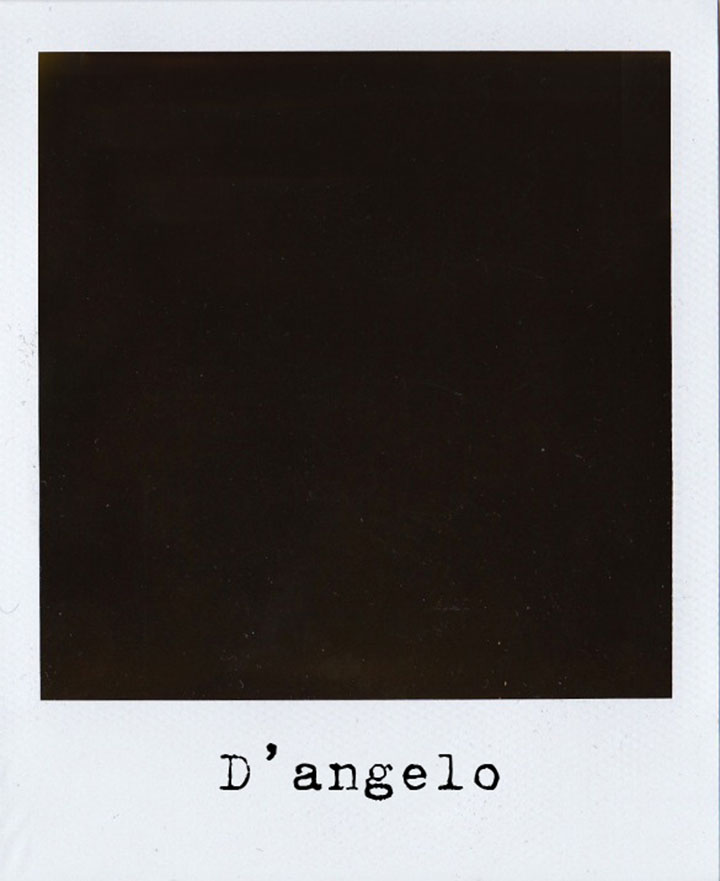 Hello troopers,
Another black Polaroid. Unfortunately.
As said before, I only go through the complete repertoire of any of the artists I feature here, when I have succeeded in my quest for Polaroid. I did not in this case. However. It doesn't matter. No really. I'm still very happy to share my very first A Polaroid Story on MICHAEL ARCHER. Also known as D'ANGELO.  Also known as 'The New Prince.' Also known as 'Real RnB Jesus' or the 'Modern Day Marvin Gaye.' 
I'm trusting you to be fine without the musical throwback, since you come and hang here often. 🙂
Therefore, let's go straight to the story.
My very first concert ever was at AXION BEACH ROCK, Belgium. A festival in Zeebrugge, another city by the sea, not very far from my hometown, Ostend. This was 10 years ago. The festival doesn't even exist anymore but it is a memory very dear to me, since it was my very first concert with my very first boyfriend. I remember entering the festival tent when my boyfriend told me: "I'll be in the back, because with that 'How Does It Feel' video I'm not up  for a scream fest." I couldn't blame him. That video distracted a lot of people. I went straight front row and waited for this fella called D'ANGELO who's album 'VOODOO' made quite an impression on me. True. I found out about D'Angelo via 'How Does It Feel' first, but there was something about the album and not the sixpack that sticked with me.My memories of that concert 10  years ago are more flashbacks and images in my head so I'll share some exact descriptions of what my brain locked up:
I remember D' wearing a white wife beater. I remember his band, The Soulquarians. I remember an old man behind the trumpet with long grey dreads. I remember the only white guy in the band, Pino Palladino, who played the bass.  And I remember energy. Enormous amounts of energy that contrasted deeply with the vibe of the album that introduced me to D'Angelo's music in the first place. I was shocked and amazed how those same soulful and smooth songs were played in the very uptempo way they came out on that stage.  I also remember D'Angelo making love with the floor. That's simply the best way I can describe it. Let your imagination go wild on that one.  I was 18 years old and it got me 'all shook up.' All shook up from D'Angelo. The music. The band but foremost the atmosphere he was able to create. When we left the tent after the performance my boyfriend told me: "Man, I was all in the back, there were loads of dudes, and I mean like tough big dudes, caus I thought it was going to be all ladies and shit, but man, that performance was SICK." Yeah. We were really over the moon. If you were there 10 years ago, you KNOW you witnessed something truly  legendary. Back home, first thing I did was catch up on that 'Brown Sugar' album, because I still wasn't recovering from hearing 'Shit, Damn, Motherfucker' live. I mean….talking about an introduction? The only tangible thing that reminded me of this concert are these disposable concert pictures. (isn't amazing that those are my very first concert pictures!? )
Exhibits
And that was it. A couple of albums and some concert pictures. Who knew that it would take almost 10 years for D'Angelo to come back into my life? Don't get me wrong, he was always there, playing somewhere in the back of my room, my kitchen, my home dinner parties, the parties I went to, my Ipod. I even had a discussion once  when I still worked as a waitress with my former boss who didn't really liked that I played D'Angelo in his bar. "Because it was too mellow." That album was on minidisc by the way. Remember minidisc?! But further then that. That was it. It looked like D'Angelo disappeared from planet earth. I'm not going to deep into the drama of Michael Archer's life that might have something to do with his absence. We all know what went down. Drugs, sex & rock'n'roll? Some encounters with the law… And a little bit of weight gain. But most of all, there was silence. I had some hope when I heard '1000 Deaths' on Mark Ronson his album and even more hope after Mark Ronson told me in person D'Angelo was indeed working on new music. But that was more than a year ago… So back to silence it was.
Untill only a few weeks ago, news spread that D'Angelo was coming back, scheduling a complete European tour, making his first stop in Stockholm. Of course, a stop in Belgium wasn't really on the schedule, so I could go to either Paris, London or Amsterdam if I wanted to see him play live for the second time in my life. Only this time, I'd be there with a Polaroid camera. I quickly ran out on my options for most of the concerts, due to sold out and/or personal schedule issues, but luckily I managed to get a ticket to the Amsterdam night concert, scheduled at the nocturnal hour of 1AM. Oh well. I didn't care if he'd play at 5 in the morning, I'd still be there.
Now the minute I was sure about my ticket I started to think about people I could contact to get me in touch with D'Angelo. Doing this blog for 3 years now, I build up some contacts, gathered some knowhow and for this case, I had to use my resources. I had a hunch that I wouldn't succeed on my own with this one and that I would need help from inside, like entourage or a decent reliable connection.I decided to contact 3 persons that might be able to help me:
Dominique Trenier – who was his former (or still current?) manager, Mark Ronson – who confirmed me that D'Angelo was working on a new album and Rashad Smith – also known as Tumblin Dice, a producer who worked on tracks in the 90's for LL Cool J, Busta Rhymes, A Tribe Called Quest, Mary J Blige just to name a few and  is one of the current group members in the live band from Erykah Badu. I met him when I was working on this story. He is a Polaroid aficionado himself and from time to time we catch up on our Polaroid activities.
I did this all a big month in advance, but as always, when I send mails, I don't even expect an answer back. I just send them because I want them off my 'what-if -slash-to-do' list and I don't want to wonder afterwards if I should have send them or not. I admit it sucks not even getting a reply with: "No unfortunately I can't help you." But I try not to take it too personal. Afterall, who am I to them? But yes. All my emails remained unanswered. Rashad Smith was the only one who told me he could help me get backstage, but by the time the concert date approached,  the Grammys did as well and unfortunately I couldn't reach him anymore. Maybe it had something to do with the Grammys and all the activities and festivities that surround that type of event. I don't know…So that was it. I tried. Nothing came out of it, so I mentally prepared to go and chase for Polaroid the traditional way. Be front row. Observe closely all entourage and  position myself at the right back door when the artists leave the venue. Back to basics…
After a crazy hectic day at work that lasted untill 9:30PM I raced off to Amsterdam accompanied by my trooper Aicha and a big full moon looking upon us. We had a 2 hour drive ahead of us and we wanted to arrive before midnight in Amsterdam to avoid queuing and optimize our chances to be front row, so I wasn't really exaggerating when I said racing. Does it come as a surprise when I tell you we got stopped by the police for driving 150? Lucky for us, the police had an excellent day and decided to let us go with a firm warning. We continued our trip with the pedal pushed in a slightly more relaxed way to Amsterdam. Nobody needs to die over a D'Angelo concert right? When we finally arrived in Amsterdam, parked our car and walked to the venue, we came across this:
Exhibit
Indeed. That queue went àll the way from the PARADISO venue to the 'Leidseplein'. And the doors were already open since midnight…
Exhibit
And in a matter of seconds, I felt my courage going down. By the time all those people were finally inside, the whole venue would be packed and I could kiss 'au revoir' to my front row spots. There was nothing else to do than queue and wait it out. I agreed with Aicha that the minute we were inside we'd go straight for the front row area and hope to win some time with not hanging our coats away. It was freezing many degrees below zero outside and I hoped a lot of people would queue again inside to put away their coats and jackets. A smart bet, because when we finally managed to get inside we noticed the front row wasn't that hardcore layered as we thought it would be, and very easily we cruised through the crowd and ended up only a few meters from the stage. Our spots became even better when I noticed a familiar face from Belgium, named Peter Lesage, a producer, composer, singer and pianist who also worked on BALOJI his album and only recently accompanied JESSY BOYKINS on his European tour. So we met up with Peter who came to watch D'Angelo for a second time in a row in Amsterdam. That's some dedication right there! I was actually a bit nervous… I couldn't believe I was finally going to see D'Angelo perform again. It's been a while since an artist got me all excited and I was very curious if he would still be able to give that same energy he did then years ago with The Voodoo Tour. An excellent video and music set of Dj Rob Manga & VJ Supreme Cuisine was only adding fuel to a very pumped and enthusiastic crowd who were all very patient for D'Angelo to show up. It didn't feel like 2AM at all.
And then finally, the full band called 'The Testimony'  enter the stage and pick up their instrument, the vocalists take their position behind the mic and guitarist JESSE JOHNSON is dominating the intro with his 'more bling than Swarovski' guitar. And then finally. A dark shadow enters the stage and….Well. I couldn't help myself and actually filmed stuff. I had a very intense need to document as much as possible without losing touch with the concert vibe. It wasn't easy to film amongst a very enthusiastic crowd, so the only thing to do was filming up in the air with both my arms stretched. I'm sure this is some torture technique at Guantanamo because that shit really hurts! 😉
Bare with the sound because it's not how I hoped it would be. 🙁

Exhibit
I can share a few of the many concert pictures I managed to take. I'm telling you. I was collecting content like my life depended on it. I might as well soak everything in because you never know it will take 10 years again to see him play, right?  😉
Exhibits
The very bling guitar from the legendary Jesse Johnson. 
The more than excellent Paradiso Venue
D'Angelo his intro
D'Angelo and The Testimony

D'Angelo
Famous bass player Pino Palladino
D'Angelo & Jesse Johnson funkin' it out.
D going hard.

Jesse Johnson, cooler than ice
 Jesse Johnson + vocalists Kendra Foster & Jermaine Holmes
Kendra Foster, the highly energetic, hip shaking backing vocalist
D'Angelo singing his heart out 
D'Angelo & Jesse Johnson funkin' again
D'Angelo contemplating to go back to the old days?  🙂
Ow. I also have this Parliament cover for you to check out.
And you hàve to check out this amazing guitar solo…
So how does it feel? Seeing him play live again? Can you come home to an album? Because that's exactly how it felt. Coming home. Maybe I'm biased, because I'm a fan obviously, but to me the concert was perfection. The band. The backing vocals. D'Angelo. Some things made me think of James Brown, others of Prince and sometimes I've seen some flashes of Jimi Hendrix. At one point the whole venue was collectively hypnotized by a very uptempo funky version of 'Brown Sugar'. The evening was simply amazing and musically from a very high level. Honestly? I'm not even bothered with D'Angelo and the fact that he gained some weight. I even think it's for the best. It was too distracting for many people and it drew away the attention of what really matters. The music. The voice. The fact that D'Angelo is a multi-instrumentalist. The set of the band was very tight. The vibe between them was fun but also very, very focused. Musically things went from very soulful, to uptempo funk to slamming guitar work. It was a breath of fresh air to go to a concert and have an actual full band on stage playing real music. You know, music like it was made back in the day when Otis and Marvin and James Brown were dominating the charts. Music is a bit hollow in these days of YouTube stars and hipster rap. Days where even real talent is pushed fast to take the highly commercial road. So I think D'Angelo might be back just in time for his third coming and show people how it should be done.Playing music from the heart and soul.
Now. Let's get to the part of the story where all actions evolve around getting a D'Angelo Polaroid.
After the obligatory encore, D'Angelo thanked the crowd and left the stage together with the band. In 1 minute the stage was empty. So I had no opportunity to approach anybody that way. We hesitated on whether we should try to get backstage by staying inside or rather go and try outside when we noticed one of the backing vocals going through the crowd.  We immediately approached him and pitched him what our goal was and asked him what the possibilities were to achieve that goal. He told us the best thing to do was go outside and wait next to the tour bus. Something I was planning in the back of my mind already. Tricky thing is that it was freezing many degrees below zero outside. (People were actually ice skating by night in Amsterdam) and only minutes ago a sold out Paradiso crowd was ready to leave the building. Meaning, everybody was back in line and queuing to get their coats. That could cost me very precious time, especially if D'Angelo was planning on leaving the venue immediately. So while Aicha went to get our coats. I went straight outside. With no coat. If you saw a pale white girl trembling on a corner close to Paradiso venue, well, than you probably saw me. By the time Aicha finally came outside I was officially frozen to the floor and  although my vintage fur coat was warming me up the best it could, I was done. So there we were. 2 frozen apostles. At the corner of the Paradiso church. Waiting for the Messiah.
Exhibit
Together with some serious hardcore D'Angelo apostles, who were singing out loud D'Angelo songs to keep them warm. I think we saw everybody coming out from the band over the hours. Yes. Hours.  At some point I started to question if D'Angelo was still in the building. After we saw a big crowd coming out of the backdoor who clearly did manage to go backstage on invitation, I knew he was still there. And then finally. When the streets of Amsterdam were almost quiet and empty, the door opened and I saw D'Angelo coming out the building with Kendra Foster, his backing vocalist. I tried to approach them, but it was in vain, because they immediately jumped into a car that drove away in the night. And then the clock hit 5.30AM. By the time we were home it was 6AM. Aicha and I were both frozen to death. It took 4 bed covers and an improvised warm water bottle to warm us up. So there you have it. Another black Polaroid. Maybe I'm losing my touch? Quite frankly. It doesn't matter. Nothing even matters. When that man is on stage doing his thing, nothing else matters…
I'm simply very happy that this is my first Polaroid Story for 2012 and I saw a legend play live again.
A slow start maybe, but…
That Polaroid will come soon enough.
You'll see.
Love,
OUNI
PS: This must be the most belated Valentine present éver. So sorry this story didn't show up on Valentine's Day like it was supposed to be but hey…it's all work and no play for me lately, so please forgive me. I guess the cat came out of the bag that I'm very bad with traditions. 😉