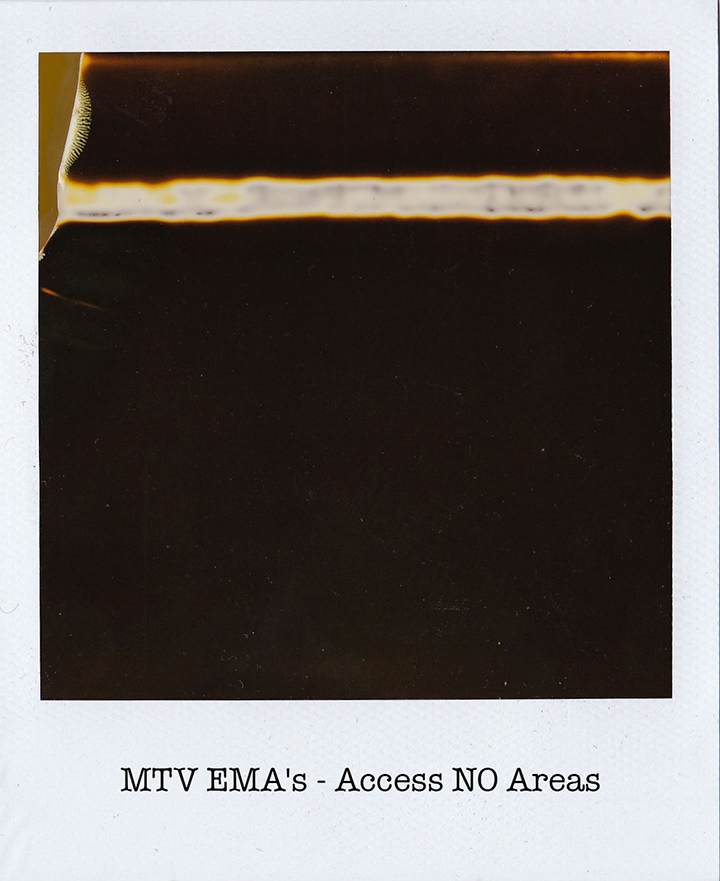 Bet you didn't saw this one coming did you?
Or maybe you did.
Well…I didn't. That's for sure.
So let's cut to the chase and get straight to the story.
I was so happy when I found out that this little blog was in the running to be invited for the 19th edition of the MTV EMA's.  I have been a huge MTV fan all my life, I watched all their award shows and with every new show I wondered if I would ever be able to go to an award show like that.
And now, almost 12 years later, I was finally able to go, a huge opportunity for this little blog and something I have been working towards for a long time, so needless to say,  I wasn't planning on going home without at least 1 Polaroid. The Belgian PR agency in charge of sending Belgian press to the MTV EMA's told me that all media were screened right up to MTV USA HQ, so the fact that this blog was accepted to go to this type of event was rather big.
My main #APS targets for the MTV EMA's were:
ALICIA KEYS (source Getty Images)
LUDACRIS (source Getty Images)
RITA ORA (source Getty Images)
RITA ORA is slightly to poppy for me at the moment but she was definitely an option since I really  love her voice and I'm curious how her music will evolve in the future. She is signed with Jay-Z after all… 🙂
Then, for this blog's OUNI LIKES category, miss KIM KARDASHIAN was definitely an option.
Yes it's official, now you finally know, I am indeed a Kardashian addict. I can't help it, it's my favorite TV vice. And in my defense… maybe Mr West would be there to join her? Who knows…?
So with great expectations I jumped on a plane to Frankfurt on a Saturday morning not so long ago. On that same morning I received an email that if I wanted to go to the official MTV EMA press briefing I had to RSVP on Friday by noon… Yes. As in the day before. I didn't want to miss out on any sort of opportunity to grab original content and possible get a bit closer to my main subjects so I RSVP'd anyway and explained that I just was informed about this, and that I hoped that I could still attend the briefing.
When I arrived in my hotel room after running an hour late since my luggage got lost in Frankfurt airport (uhu) I received an email that the MTV press briefing was fully booked. Slightly bummed I then followed the press briefing via the official MTV press twitter. I got a bit sick in the stomach when I saw Ludacris attended the press briefing…
Exhibit: (picture from @VIMN_PR)
I realised that this might have been my first missed opportunity. And with opportunity I mean, the chance to be in a room with the artists and see for myself if I can try to get a Polaroid on that specific location or approach the artist, manager, whoéver really to possibly get a Polaroid later on the weekend.
It was a dark day and it was raining cats and dogs in Frankfurt, so instead of participating in one of the proposed Frankfurt tours MTV organized for all journalist that flew in for the EMA's I stayed in my hotel room and chilled untill it was time to get ready for an early press drink at the Roomers hotel with the MTV North PR crew and journalists and bloggers  from that specific region that were invited as well. In my bed I was staring at my material that was standing in front of me. I sure came well prepared.
I didn't know why, but while getting ready to go to the press drink I got slightly nervous. There was no other journalist or blogger from Belgium with me to hang out with,  there was no budget for local PR to accompany me and sort things out when needed, and I got a bit worried about some details for the next day like; who would take exhibits ìf I encountered an artist? Would I have the chance to even get close to an artist? Because while going through the enormous amount of instructions and briefings MTV send, I noticed a little side note that said:
NB: This accreditation does NOT give you access to the Red Carpet or any other press areas. 
I decided to ignore that little annoying phrase, pushed it somewhere in the back of my mind and told myself that anything is possible, that I have proven myself that many many time before, and that I had to stay focused and positive. Deep inside, I knew I was lying to myself.
Once arrived at Hotel Roomers I immediately went to the 6th floor to pick up my credentials. While queuing I noticed international fashion bloggers BRYAN BOY from the US and ELEONARA CARISI from Italy standing behind me. I wondered what type of credentials they would receive…
Anyway, I picked up my credentials, and this is what was in my treasure box:
Exhibit:
A book, a coffee mug and most importantly a red VIP bracelet to attend the MTV EMA Award show, an orange bracelet that gave me access to the 'official' MTV after party and a blue sticker-pass that gave me access to a press room if I wanted to write or edit my content on the spot. I never do, I write actual stories, not 60 words on what Heidi Klum is wearing. (I use Twitter for that 😉 But I accepted the pass anyway in the hope that it might give me access to an area closer to the artists. Again, I knew I was lying to myself. All for the sake of staying positive.
Armed with my credentials I entered the extremely cosy and classy Roomers bar with handsome dressed to the nine bartenders and ordered a Hendrick's gin and tonic.
Not much later, I was joined by a man who introduced himself as Tom from BLICK, a popular news paper in Switzerland.
While having a drink and talking to all these new faces, I realised that almost everybody I talked with had access to the red carpet. I also found out that all the press surrounding me had a big focus on 'people' and 'celebrity' content and not really a 'music' focus.
I realise MTV has changed over the years, and that this award show was packed with mainstream poppy artists but I was still a bit surprised not to meet one decent pop journalist of some sort. Maybe they were hanging somewhere else….?
When I was asked what type of medium I worked for, I explained I took one-on-one Polaroid pictures  from mostly music artist in the 'urban' genre accompanied by an in dept story for my blog 'A Polaroid Story', they all looked like they didn't understand a word I'm saying. Only Tom from BLICK was actually interested in my medium. All the rest nodded polite and continued their conversation. I felt like I was back at square one when it comes to people knowing my blog, and realised I was probably the small little shrimp in a sea of big fat fish in the Digital Media world, which is fine, but it made me realise that's probably the reason why I wasn't granted access to the red carpet.
The plan for the press evening was to have a drink at Roomers and visit a pr-event from MONSTER (a headphone brand and one of the sponsors of the MTV EMA's) grab some food and then go to the MTV VOICES PRE PARTY, where two artists from the EMA's would attend the party. ( as announced on the official MTV Press twitter account).
During that evening, I came across some weird situations. I got refused to grab a cab together with other journalists by an MTV PR employee who told me: "Sorry, Swiss people only."  Yes. I actually got segregated in cabs. LOL. I thought it was equally disturbing as it was hilarious. But it definitely set the mood of the evening.
Once we arrived at the Monster event, I saw that all journalists grouped together into countries and since I was the only one from Belgium I was kinda left on my own. Which is fine, I used to be a model, I can do stuff on my own, but I started to miss Jules or Candeesha by  my side, because you know…things are always more fun if you can share it with somebody. So I was very happy when Tom  from Blick came to hang a bit and later on all journalists left the Monster event and ended up back at Roomers to grab some food. Tom then told me that he was glad that I was there, since everybody seemed to be a bit superficial and that he could have a decent conversation with me. He also saw what happened with the cab situation since he was one of the 'Swiss people only' and said: "It was  rude, but I'm afraid it's a bit in our mentality, I mean, Switzerland isn't in the monetary union for a reason." 
I was glad that he at least acknowledged what happened and showed me his disapproval, because I convinced myself that I must have misinterpreted the situation wrong, because come on… what kind of decent PR person says a thing like that?!
Anyway, we didn't give it any more attention than it deserved and enjoyed our food.  After diner in Roomers I eventually ended up at GIBSON club where the MTV pre party was held and after one drink I decided to call it a night. There were no artists to be seen that were in my interest field and I wanted to be sharp for the next day.
The next morning the sky in Frankfurt was looking a bit less dark but my mood was clouded.
After yesterday night I realised I was definitely on my own and things would not be easy without red carpet access so I was hoping that the after party would make everything right. While browsing through pictures with the official EMA hashtag ( #MTVEMA) I noticed this picture from international fashion blogger Bryan Boy.
Exhibit: (picture by bryanboy)
Now this answered my question to which credentials they received…. It also made me realise that I was fucked.
Yes. Fucked.
Those were totally different bracelets. Those were the bracelets I needed. I suspected that, all though it was noted in the MTV briefing that 'various appearances and surprises' would happen during the 'official' MTV after party, all the people who I was interested in would probably hang at the 'ARTIST PARTY'. :-/
I quickly contacted my local PR agency and asked them if there was anything that they could do, to at least give me red carpet access or different bracelets but it was in vain. There was nothing that could be done.
While putting on my make-up and my dress to go to the EMA's, my mind didn't stop thinking….Meanwhile, the first support tweets from my loyal troopers came in.
Exhibit:
I became more and more nervous. Here I am in Frankfurt, going to one of the biggest events watched by more than 280 countries and I wasn't feeling happy. I was telling to myself that I should enjoy this evening, even if there was no Polaroid attached to it and that I should be grateful to be here, since a lot of people probably wished they were in my place but I couldn't shake if off me… I mean I was invited for and because of A Polaroid Story….  How could I nòt come home with a Polaroid?  That's what I do. That's what this blog is all about. So why bother inviting me if nobody is planning to give me the opportunity to create content. Or do they really expect me to pass security on an event like this?  I am not the CIA people…
At 4PM I met up with a Belgian journalist from Elle in the hotel lobby, who was also invited but flew in directly from Belgium the same day of the awards. I wasn't surprised that she was blessed with a red carpet badge (of course) and was scheduled to leave on a bus with all red carpet journalists at 5.30 PM. I was scheduled to take the last bus at 7.00 PM. We also had different seats at FESTHALLE , the arena where the awards were held, so I realised that I was going to attend this show on my own.
The Belgian journalist and myself arrived at the Roomers hotel, the official meeting point for all the journalists and tv crews that were invited to come to the awards. While waiting in the bar the Elle journalist told me she felt a bit uncomfortable that I didn't receive a red carpet badge and she did, since she clearly understood that this was quite essential for me in order to have some content. I told her that it was all part of the blog and that things obviously are not working in my favour, but that it will be on another occasion. Staying positive remember ? She asked me some tips on how to handle the red carpet since she had never done anything like it before and I gave her some advice. OUNI is arab for 'the one who helps' anyway so I better live up to my name, no…?
At 5h30 PM sharp she left the bar together with a dozen other journalists. I ordered myself a gin and tonic, some food and while sitting there at the bar, alone,  in my fancy dress I felt a bit stupid and my head started to go in overdrive again with a dozen questions:
"If they screened my blog, how come they didn't give me a red carpet badge….? They should have known that I strive on creating unique and original content and that I can't create content if they don't give me the chance to go and grab it….? Why are big fashion bloggers granted all areas access when an actual music blog is just allowed to watch the show…?  Weren't small niche blogs also important, since they target a specific audience…? Am I being ungrateful…..? Why did MTV fly me in for two days and make that cost if I could not give any return, wasn't it better to fly me in directly…? Have I been too naive to even believe that I would go home with a Polaroid…? How am I going to write this down…? Where will I be seated in the venue…? Will it be close enough to take some decent pictures…? How big would the venue be….? Would there be any artists at the afterpa….?"
My overly worried thought process was interrupted on time by a sweet British MTV lady who was trying to locate all journalists that were scheduled to take the last bus. I asked the woman how many journalists MTV invited to these awards. She told me that approximately 250 journalists and bloggers from all over the world were invited to the event. I then asked her how many journalists were allowed on the red carpet and she told me about 150.
There. I could stop feeling sorry for myself. There were other journalist that were denied access as well. Then again, most journalist write their 'Best Dressed' content while using the official press images provided by Getty Images. If that was my job, I wouldn't care to hustle for content at the red carpet and just shut up and enjoy the show. However, I try to be my own image bank. 🙂
I realised I could continue to ask myself a 1000 questions. The facts were like the were. I was going to the award show. And unless something extremely lucky would happen to me, Block G, row 5 seat 4  would probably be the closest to the artists that I could be… Period.
And on the bus I hopped. There I found a group of friendly Holland journalists, amongst one of them also a journalist from Elle. 
None of them got red carpet access. I was starting to understand the total randomness of it all and I decided that I would try to enjoy the show.
We arrived not much later with the bus at Festhalle and it was time to enter the impressively decorated Festhalle venue.
Exhibits:
impressive decorated ceiling at Festhalle
The main stages where the awards were given to the winners
The white sofa corner for all the artists and VIP guests
The main performance stage
My seat. (yellow star)  Block G – Row 5 – Seat 4
Meanwhile the first artists arrived at the red carpet. I couldn't believe I was watching this from a screen instead of 'live on the field' and I ignored the feeling of how completely absurd it was to take pictures from a giant screen and worked with the things that I have, which is a little Canon G12 camera. Bare with me! 🙂
Exhibits:
Rita Ora was the first one to arrive on the red carpet
British MTV Host Tim Kash interviewing Alicia Keys 
No Doubt making their official come back in Europe
Time stood still for Gwen Stefani who looked absolutely stunning!
Lana Del Rey was a last-minute surprise guest who won best 'Alternative Act' later that night.
Ludacris premiered  his new video (with Usher and…David Guetta, ahum)  right there on the red carpet.
Inside the Festhalle the clock was ticking and the award show was ready for the final countdown.
Heidi Klum, the host of the MTV EMA's in Frankfurt opened the show dressed in Versace. She ended up switching outfits for approximately 7 times during the evening, as any true  host of an award show does. 7 times Versace that is!
Exhibit:
First artist to kick off the show was Rita Ora. She did that while descending from a giant birdcage, accompanied by a dozen dancers and quite an impressive pyro fireworks show.
Exhibits:
Meanwhile, journalists sitting around me watched the show with Argus eyes and took notes.
Exhibits:
Meanwhile Canadian pop act Carly Rae Jepsen performed her 'Best Song' award winning track: 'Call Me Maybe'
Exhibit:
Other highlights of the show were of course Kim Kardashian, who apparently almost fell while she came up. (the horror!!)
Exhibit:
In between commercial breaks the 18-year-old French dj and producer Madeon entertained the crowd with his uplifting dj set.
Exhibit:

Other highlights of the show were:
Exhibits:
Heidi Klum getting ready for lift off.
Heidi in the air
LANA DEL REY presenting the award for 'Best Female'
Aliciay Keys performing 'Girl On Fire'
Alicia playing piano, standing under a ring of fire. (necessary explanation considering the distance. LOL )
No Doubt
During yet another show break I ended up talking to a journalist from Ghana. (Wìth red carpet badge nota bene 😉  While we were getting some drinks at the bar he asked me if he could asked me some questions for his MTV EMA feature. I thought it was totally brilliant and he was one of the few people I met who were actually nice, so I was happy to help him out. I'll show you the video if it ever pops up. I bet it's hilarious!
Exhibits:
I missed PSY's 'Gangnam Style' performance while we were getting drinks and doing the feature, but hey, I'm already brainwashed with the damn song, I'm sure I'll live. All though I must say his performance looked like a lot of fun
The show ended with the most boring artist on a cake ever, which is Taylor Swift, who won 3 MTV EMA awards much to my surprise.
Exhibit:
Some of my loyal readers weren't feeling it neither:
Exhibits:
I mean…. winning the award for 'Best Look' when Rihanna is nominated in the same category?  Are you serious?!
Moving on.
So the show was done and the masses were kindly asked to hop on another bus toward the 'official' after party. I knew I was a dead man walking towards a party with no artists and I was this close of going home with absolutely nothing, but for the sake of staying positive and hopefully and what not, I made my way towards the bus coaches who were waiting outside.
The crowd had two options depending on the type of bracelets you were carrying around your wrist.
This direction:
Exhibit:
And this direction:
Exhibit:
In case we still didn't know where to go:
Exhibit:
I didn't have blue wrist band, so I hopped on the orange wrist band bus. 🙂
After a 30 minute drive (!!?) we arrived at COCOON a massive club where approximately more than 500 guest were offered drinks and food and cirque du soleil-esk performances. And when I say, massive, I mean MASSIVE. This was a club, in a club, in a club.
After getting some much-needed food in my stomach I saw the clock was ticking 1.AM.
I needed to decide what I was going to do. I looked around me. Recalled Bryan Boy's blue wrist band, looked around some more, had a rum and coke. Looked around some more and decided to call it a night. I had an extremely early flight at 8.25 AM so I had to get up at 6.AM to leave for the airport. An good old early rise in the morning which already felt like salt on a fresh wound.
Together with a Danish journalist I waited for the bus that took forever to come and pick us up. While driving 30 minutes back to the hotel I noticed this picture popping up on Instagram.
Exhibit:
There you have it.
At 2.15 AM in the morning I realised one of my main subjects for this blog was present at the MTV EMA's and I was officially not amused anymore. Fuck being positive. I was done.
Right before we left the venue, I asked that nice Danish journalist to take a picture of me in front of the MTV brand wall holding an MTV award.
Exhibit:
I might look like a winner….
But I sure didn't feel like one…
Love,
Ouni.
PS:
Special thanks to Marie-France from Oona for believing in this blog and my work.
Special thanks to all my loyal readers, troopers and supporters for your encouraging tweets, messages and mails.
I had to realise this still is a little blog. And I need all the help I can get to grow bigger. If you liked this story, please comment and/or share it on Facebook and Twitter. I will only grow bigger because of you. And if I grow bigger, events like this will be more approachable for the little shrimp that I am now, and hopefully one day I'll be swimming amongst those big fat fish, bringing you the story behind the story. A real story.
Ow yes! For your entertainment only. While browsing through my (crappy) pictures from the show I found this one.
Let's play a game and FIND YEEZY! 🙂
Exhibit: