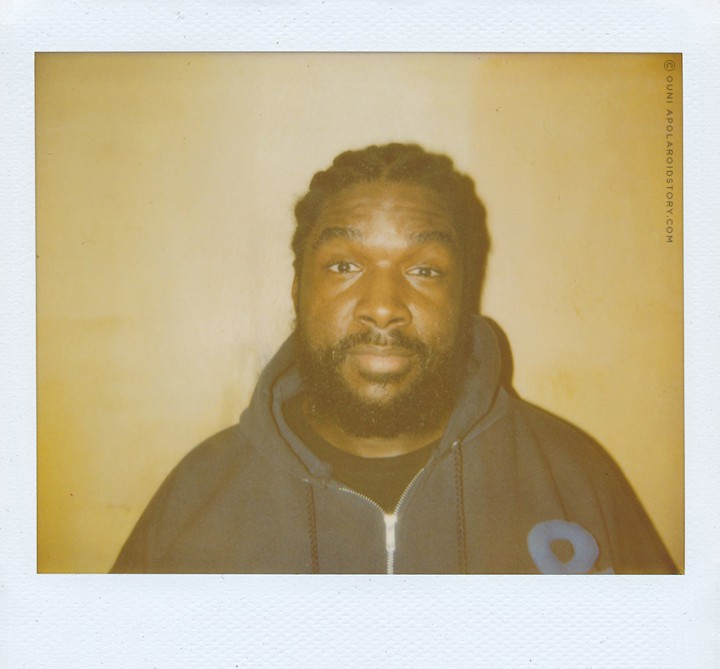 Yup, that is indeed Ahmir Khalib Thompson staring slighty reluctant in my Polaroid lens, but more about that later. It's that time of the year again where we stand still with the things we have done and experienced the past year. It's also the time of the year where sweet carols and heartwarming stories are highly welcomed to enhance that fuzzy atmosphere the holidays evoke. The question if I like Christmas is one I rather leave open for debate, but that doesn't mean I can't play along. The (Polaroid) show must go on right?
So for this special 'ho ho ho' occasion I went in my A Polaroid Story secret stash of unpublished Polaroids and I bumped into this Polaroid from DJ, producer, your favorite drummer's favorite drummer, walking music encyclopedia, The Roots co-founder and Late Night with Jimmy Fallon's band leader, none other than…. thé QUESTLOVE.
I already met Questlove, (catch up on that here) he is the second artist I took a Polaroid from for this blog almost 4 years ago and my encounter with him in a backstage room at the 'Feest In Het Park' Festival in Belgium is still one of my favorite moments. I didn't feature Questlove in my 'A Polaroid Story Expo' for nothing. I'm super proud I have this legendary artist in my set of Polaroids. If you re-read the first story behind Questlove's Polaroid , you almost feel the rookie-ness of yours truly flowing out the story. A legit Polaroid Story and music industry virgin. Sigh…  Stumbling over this Polaroid in my secret stash and remembering the story attached to it made me go into an impromptu Questlove Youtube session and I decided to make a top 10 of my favorite Questlove videos and tell you the slightly odd story that is behind the Polaroid shot. But only because it's Christmas. 😉
First things first of course! This is the time of the year that you actually have the time (well… at least I have) to watch all those YouTube videos you told yourself you'd watch one day. Well. Here are 10 Questlove videos you just hàve to watch.
10. Questlove about Amy Winehouse
9. Questlove and Nuardwar
8. Questlove reviewing Marvin Gay's What's Going On.
7. Questlove in the ADD COLOUR video
6. Questlove about his job as a band leader for Late Night with Jimmy Fallon 
5. Questlove & The Roots at Jay-Z's MTV unplugged session
4. Questlove's record library aka his 'Music Lovers Haven'  with more than 70.000 records.
3. Questlove's Charlie Sheen Winning remix.