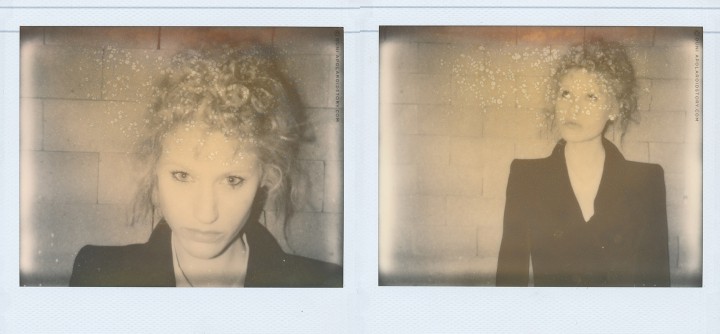 The woman polarized here above sounds just as mesmerizing as she looks, trust me. Meet STEFANIE CALLEBAUT, frontlady from SX, a Belgian indie pop band stirring the national and international music scene with their magnetic, melancholic and dreamy pop tales.
Not familiar with SX? Let me be so kind to introduce you real quick…
It was somewhere in 2011 when a video for BLACK VIDEO hit the net that quickly went viral. The song that accompanied the video was as hypnotic as the girl with the cute freckles chanting the lyrics.
This track and accompanied video was the official breakthrough moment for SX, a band that included Stefanie Callebaut (vocals and keyboard) , Benjamin Desmet (keyboard, guitar) and later on joined by drummer Jeroen Termote. With Black Video SX reached the audience they were trying to reach ever since they started out in 2009, participating with different music competitions. After winning the Vi.Be On Air competition and officially backed with the support of Belgian national radio Studio Brussels, SX went on a fast speeding rollercoaster to (inter)national stardom. Not much later SX hit the road opening for bands like DEUS and touring with YEASAYER through Europe. A year after Black Video, SX released their second single called GOLD.
With that single, the band announced their debut album ARCHE (Greek for 'origin') which they showcased in the Brussels Planetarium in front of small select crowd that was treated to a visual and vocal dream ride.
SX describes their music as etheric, wavy dream pop influenced by MGMT but also heavily inspired by soul influences like Marvin Gaye, Stevie Wonder and Herbie Hancock with a touch of the magnificent 80′s. That's probably the reason why it wasn't hard for me to love SX. I'm not easily drawn to Belgian music, it's mostly too rock or too bland electronical for me and you knòw I need some soul in my music. SX is both sensual as it is futuristic and with her background in jazz music, Stefanie definitely has some soul in that voice of hers, a voice that contains the heaviness, darkness and power of Grace Jones from time to time. Other times she even reminds me of Róisín Murphy for some reason and even Kate Bush comes to mind…
Definitely check GRAFFITI, the 2nd single released from ARCHE.
Now that you've learned your SX basics,  it's time to tell you the (short) story behind this Polaroid. 
CONVERSE, never not in the mood for throwing a nice party, announced a GET DIRTY evening in TRIX ANTWERP to celebrate the launch of their 'Well Worn' collection. Touring all through Europe with the GET DIRTY tour, CONVERSE stopped in Belgium and served Black Box Revelation, Dewolff and SX to a very hungry crowd.
Exhibit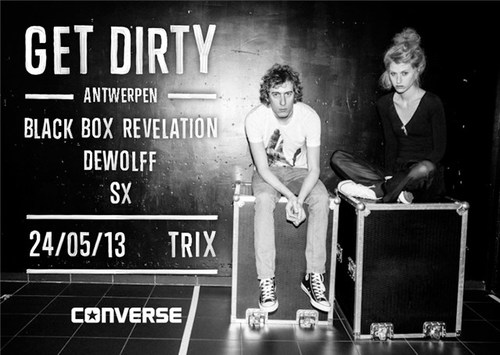 Tickets sold out like Lucky Luke draws his gun. Faster than his shadow. CONVERSE invited me to have a chat with Stefanie and take a few Polaroid snapshots while I was there, an offer I was happy to accept.
I arrived at the Trix venue 30 minutes late, after a hectic work day where I got stuck in traffic. I can count on my one hand the times I'm late for an interview, so I was really stressed out and I looked like a total mess, but the SX tour management was super relaxed about it and quickly Stefanie came to say hello. Stefanie is a very laid back girl, she comes from the same area I come from (West-Flanders) so we got along pretty fast and chit chatted about different things while we took the Polaroid shots. Although we never met before, I felt she could be the type of girl I could hang with. The tour manager told me to 'set things up' and get ready for the shoot. I smiled and told him that there was no set up and that I just needed to grab my Polaroid cameras and find a wall. He was very surprised I actually came just to take a Polaroid picture. I'm used to that reaction. I explained Stefanie that I needed two different expressions from her and after some contemplation we were ready to snap away.  (Don't mind my fluffy hairdo, I looked like my day; hectic and all over the place.)
Exhibit
I might come across  like a total freak but doesn't she look like the perfect mix between Brigitte Bardot and Claudia Schiffer?!  Anyway, I also had the opportunity to ask Stefanie a few questions and this is what she told me…
A POLAROID STORY x SX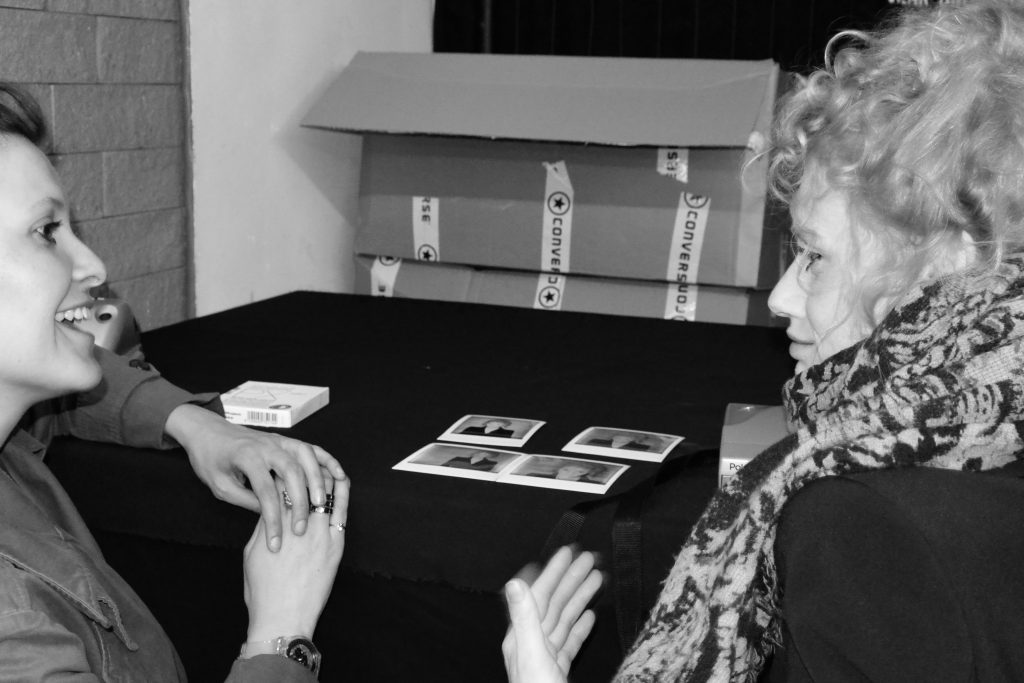 How did you meet Benjamin and how did SX become an actual  band one day?
Benjamin and I have known each other for a very long time. We grew up in the same environment and were surrounded by the same people.  We were both very passionate about music, played in local bands and had our own ways of experimenting with music. During the summer of 2007 Benjamin and I first started jamming and experimenting in his studio. I was really impressed by the way Benjamin could create a good story. Moreover he has the great talent of being able to always have an awesome vision on music, you can see this translation in our videos. Though our musical backgrounds are so very different, we had an instant magical thing going. We share the same vision. From that day on we kept on meeting in his studio and little by little we went from creating only spheres and melody's to writing stories that translated themselves in songs. By 2009 our cooperation got some more configuration in the name 'SX'. A year later, in the beginning of 2011, Jeroen (drummer) joined SX. 
You state that your musical core comes from soul, gospel, jazz. Which artists did you listen to growing up and who do you consider to be your biggest inspirations and why?  
Ever since I was very young I had a great passion for gospel and soul music. Artists such as Magnolia Jackson and Nina Simone inspired me because they were so 'raw'. Later on I discovered artists like Rachelle Farell, whom I consider one of the best female singers in the world, and Bobby McFerrin who triggered me to start experimenting and to never stop trying to cross borders with my voice. I also studied jazz music for four years, so most definitely Miles Davis  thought me the art of improvisation. Never the less I've never stayed on one side. The past few years I've been listening a lot to hipper stuff like Ariel Pink, Blood Orange, Kendrick Lamar, next to the classics like The Beatles, The Doors, Nirvana, Fleetwood Mac…
 
Where were you when you first heard 'Black Video' on the radio. How did that feel like?
I was working my evening job at a local pub. It gave me a very astonishing feeling. Especially because we never intended it to be played on the radio. I will never forget the excitement I felt. It was very surrealistic, yet very real. It was the beginning of a whole new era, full of  SX.
What changed the most since releasing your first single with SX?  
The biggest change was that we were asked to play live a lot, and we got to play loads of cool festivals. We were used to chilling in the studio and all of a sudden we got to learn to chill on stage. 
You toured extensively the past few months (year) and you toured with Yeasayer. How does the rest of the world respond to SX? How was tour life in general for you and the band?  
One of the coolest things about being a young band getting to tour with bigger bands is the fact that every gig you play there are so many people there who get to discover your music. Nobody expects a thing from the support act. You get to be the underdog. Personally, to me it's one of the greatest feelings you can get. The discovery. With Yeasayer we had a great connection and vibe going. We felt really at place and really lucky we got to play for the best audiences every day. In general we've learned a lot from touring this much. Each time we come home we feel like we've grown so much as a band.  We love to travel, so for us getting to see the world through our music is one of the greatest things.
 
For Arche you travelled to Atlanta to work with producer Ben H Allen. How did that collaboration go? How was it working in Atlanta, one of the most important cities in the music business? Any interesting studio anecdotes?  
We had a great connection with Ben H. There was an instant 'click'. We felt he felt SX. Though the music was already there and we would travel to ATL just to do the final mix for the album the collaboration was very intense. We would work from day till dawn to get the sound right. But as we knew the work he did for MIA, Animal Collective, Gnarls Barkley, Deerhunter and even Puff Daddy, we were convinced he'd work his magic. He had a diversity we were searching for with S We worked very hard, learned so much and got to know lots of people. For example Usher's engineer would drop by from time to time to check up on our work. Atlanta really is  'hiphop's center of gravity'.
What is the meaning/inspiration behind the album visual?  
The album artwork represents an "arche", an idea, a first principle from where we can lift off. On our album visual you get two core elements, the horizon and the golden sphere. We see the horizon as a tension line, something to be discovered. We imagine going to that horizon with our music, standing on it and getting new impulses. In that place new creations are born. One of those creations is represented by the golden sphere on the "Arche" album visual. But it also represents what creation is, crossing borders, outpacing time. It even forced us to call our music magnetic.
 
What has been the most surreal SX moment since you released 'Black Video'?
Hard to say. Ever since Black Video got discovered we've got to surf a wave full of surreal folds. Still we have a very realistic way of being, so most of the time we only feel the surrealism when we seek for it. Let's say hitting the number one chart, touring with Yeasayer, getting to play full house concerts and having Ariel Pink comparing me with a crossover between Neil Young and Minnie Mouse are some of the heights we've got to experience these last two years."
 
Which song is your absolute favorite to perform? 
Depends on the mood and vibe I'm in while playing a show. As every song is one of my babies I'd like to treat them all equally. Never the less I can't deny sometimes I'd like to embrace one song and feel a bit angry about the other. But the next show it would be the other way around.
How does the future for SX look like? Other producers you are dying to work with? What's in the pipeline?

We hope to be able to keep on doing what we're doing. That is writing music and being inspired. To have the opportunity to keep on growing as musicians and unfolding ourselves as individuals. When it comes to collaborating with other producers I think we will focus on that when the time is right. First the music and the rest will follow. The future is in the pipeline! "
You told me that Dries Van Noten & A.F. Vandevorst approached you and with the bands rising popularity  comes a few photo shoots here and there.  What's your take on fashion? Is it important for you? How would you describe your style?  
"Yes, last year we were nominated 'Best New Artist' at the 'Music Industry Awards'. For the award ceremony Dries Van Noten gave me the opportunity to choose an outfit from his latest collection. A great benefit, I love his approach!  I've never really saw myself as a leader when it comes to fashion and trends. But I do have a great passion for the relationship between human body, shape and fabric. In high-school I studied art. Each week we had a 4 hour course of figure  sketching. That's when I discovered my fascination for the shapes of a human body. During this period I also took a 4 year evening course in sewing. That's where I learned to design and fabricate my own clothes. When It comes to my style I like to approach my clothing in the same way as we approach our music. Looking for tension lines and touching borders. But at the same time trying to keep it real, pure, raw and classy. Less is more. Abstract with a glimpse of the future.
Last but not least; If I say Belgium, which 3 words pop up in your head.
"The Belgian coast. Rene Magritte … and The Red Devils!"
After my time with Stefanie we said our goodbyes and Aicha and I waited for SX to perform. All I can say is the following: Stefanie is a legit animal on stage, a beast! Her voice and energy is raw and the entire performance is everything SX claims to be; sensual, enticing, hypnotic, magnetic, dark and extremely powerful.

Here are a few impressions of the performance for you to enjoy:
Exhibits

SX recently openend for VAMPIRE WEEKEND in Paris. The future is very bright for this Belgian band…
Special shout out to Stefanie Callebaut for being a true gem. Last but not least special thanks to CONVERSE for the lovely opportunity.
Love,
OUNI
Additional shots in this story by Aicha Candeesha. Edit by Ouni