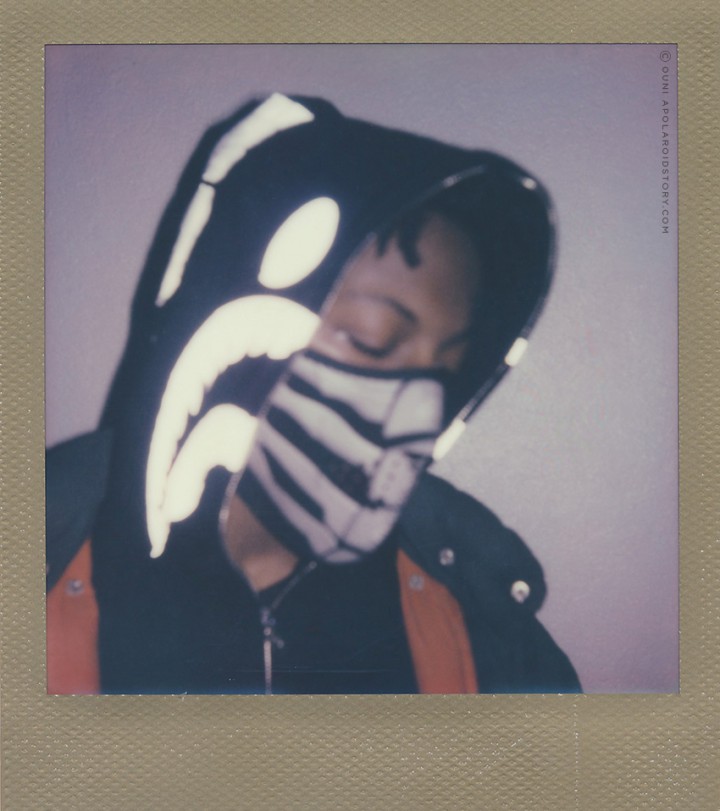 Meet Jo-Vaughn Scott also known as Joey Bada$$ or Jozif Badmon repping Flatbush, Brooklyn New York. Don't let that last part of his stage name fool you. This young kingpin, who just turned 20 and quotes Nas, Jay-Z, The Notorious B.I.G., MF Doom and Dilla as his biggest musical influences, is determined to bring a positive change into hiphop anno 2015, something many hiphop purists are eagerly waiting for.
If you are not familiar with Joey, allow me to introduce him real quick to get you going. Joey was raised by West-Indie parents (his mother is from St. Lucia and his father is born Jamaican) and hiphop literally hypnotised young badass at the age of two, singing along with Biggie's 'Hypnotize' is one of his most early childhood memories of being drawn to the genre. Add this to his homegrown love for soul, reggae, some soca now and then with his organic interest in writing, poetry and spoken word, well then you basically got Joey's music DNA in a nutshell.
Joey's first big debut was already at age 17 when he came out with this track he did together with his close friend and PRO ERA  co-founder 'Capital Steez'.
Not much later Joey released his debut solo mixtape 1999, 'Waves' being the first single being released.
The mixtape created a huge buzz for Joey, giving him a spot on A$AP Rocky's debut album on the much hyped 1Train track and even got the attention of Jay-Z who was interested in signing him to his roster of artists. Joey kindly turned the Roc Nation offer down and later said that both Jay-Z as him came to a mutual understanding that signing to a big label was perhaps not the right decision for him right now. Conscious choices for an 18 year old.
In 2013 Joey released his second mixtape called 'Summer Knights', with the DJ Premier produced track 'Unorthodox' as the first single and other producers like Kirk Knight, Oddissee, MF DOOM, The Alchemist, Statik Selektah and Chuck Strangers joining in on the productional side of the mixtape.
Personal stand out track from his second mixtape is this lovely 'My Yout'. 
After much anticipation, Joey released his debut studio album B4DA$$ on January 20, 2015.
You might have spotted the video's for tracks like 'Big Dusty', 'Christ Conscious' or 'No.99' from the album by now.
My personal favourites from B4DA$$ are… well… the entire album actually. Joey delivered a really good album, stayed true to himself both lyrically as sonically, playing with the old and new in hiphop. B4DA$$ is a greatly executed album, filled with intricate storytelling, a layered and warm melodic production and interesting feature choices (Action Bronson, Elle Varner, BJ The Chicago Kid, Chronixx to name a few) and basically a huge achievement for a 20 year old. Tracks that really stand out for me personally are 'Belly of the beast', 'Like Me', 'On & On'  'Chicken Curry' and the uptempo  'Teach Me.'
Now, I hope this introduction was good enough to at least be curious enough about the second party of the story.
This is the story behind the Polaroid.
In the midst of his European tour, Joey Bada$$ was also passing by for a visit in Brussels, Belgium where he debuted his first time in Belgium with a sold out Botanique venue. With his debut album to drop only weeks away, Sony Belgium invited me to come over and have a chat. As it goes many times with these scheduled press moments, I quickly was briefed that the time frame for interviews was being cut back, from 10 minutes to 5 and from 5 to basically 3. If there is one thing I learned doing APS, is that you just need to work with what is given to you and hope for the best.
With those intentions I walked into the wooden library where Joey was doing interviews. He was sitting on a big table centered in the room,  accompanied by his tour videographer, Pro Era rapper Kirk Knight and Statik Selektah. 
Exhibit:
I quickly gave Joey a run down of what I do, showing him my work with previous artists and asking him if he had some real time to have a real talk. Although I felt he was super tired, he was receptive and down for it and recognised I needed some more time to do something decent. He was willing to do the interview àfter the show if I was willing to wait until after his appearance at the PRO ERA merchandise and fan booth he was planning to do right after the show. Waiting is just one of my many talents (lol) so I told him I'd be ready for him after the show, no problem.
Here are a few of Joey's visual highlights of his concert at Botanique.
Exhibits:

The concert was definitely not bad but it wasn't really memorable neither. It was a classic hip hop concert in every sense of the word. When it comes to stage presence, I did notice a very energetic and focused Kirk Knight, who besides being a rapper is also a great producer. Keep an eye on that one.  After the concert and the signing session it was finally time to have a short chat with Joey.
The following video document displays what happened next. (Watch in HD)
As you can see Joey was suffering from severe migraine and did the interview with closed eyes. I couldn't really go all the way in the interview, because he was clearly in pain, so I kept it very short and to the point. I really appreciate Joey for sticking through, because there was definitely nothing stopping him to cancel the interview. I guess the kid is really all about his word.
Joey proves that you can still honour hiphop's main pillar of storytelling anno 2015. Joey is very aware that everyday people's main worry is réally all about getting their bills paid and getting through the daily struggles of life. He raps about real tangible things : love, family, struggle, emotions, his mother, being broke vs having money, having big dreams, skating on the block, police brutality, etc. Joey already lost two very close friends from his Pro Era crew, Capital Steez who presumably died from suicide and very recently Joey also lost his tour manager and cousin Junior B which led him to cancel the rest of his European tour right after we met.
Rather than labeling him as a 90's hiphop kid – mainly because of his productional choices to work with people like Statik Selektah,  DJ Premier, 9th Wonder and his profound love for Dilla and MF Doom beats –  Joey prefers to reference himself as "a balance to the game". In an era where ratchet music is at an all time high, Joey definitely sets an example, by at least trying to restore that balance and showing peers his age you can be just as successful rapping (or is it writing?) about 'Curry Chicken' instead of the usual 'CoCo'.
With his album out only for a few weeks, B4DA$$ is topping the charts and outselling major artists like Nicki Minaj and Lupe Fiasco. The future is looking bright for young Joey. Besides that, he got the daughter from the leader of the free world causing a riot wearing one of his Pro Era t-shirts on a leaked photo. Young presidential Malia was proudly flaunting the shirt in a very sexy selfie. Needless to say, the nation was in shock, but most importantly Malia got everybody wondering; what was Pro Era and who is Joey Bada$$? Excellent timing when it comes to album promotion if you ask me.
Will the only critique of him being a throwback artist by stubbornly sticking with the classic MF DOOM & Dilla beats and the typical conscious head bopping 90's sound catch up with him? In an old interview Joey states that he is very fond of Daft Punk and that he looks forward to show that side of him when the time is right, but with  'Teach Me', a song he did with Kiesza who you should know from this track, he already showed that he is not afraid of up tempo melodies and that he masters his flow on those type of tracks as well. Plus, the boy can dance and he is not afraid to tell or show the world neither.
Joey told me that he is not a fan of expectations put upon him,  but I can't help to have very high expectations from a fella who talks about his 'third eye' at age 17,  loves to dance and made it his mission to be aware of the message he brings out to young kids who look up to him. Just read the message he shared on this 'Born Day' track that didn't make the album:
"And I'm a hot nigga
Cause where was OG Bobby Johnson
To tell young Shmurda that he had some better options
You wanna blame the streets that adopted him
Or the doctrine that got his mind so boxed up in
And I don't judge, but there's no one to blame but us
And that's the truth, but it's always swept under the rug." 
The road is still long for Joey and time will tell where that road will end.
Love,
OUNI
Special thanks to Sony Belgium for the opportunity.
Additional exhibit photography by  Daniil Lavrovski for 'A Polaroid Story'.