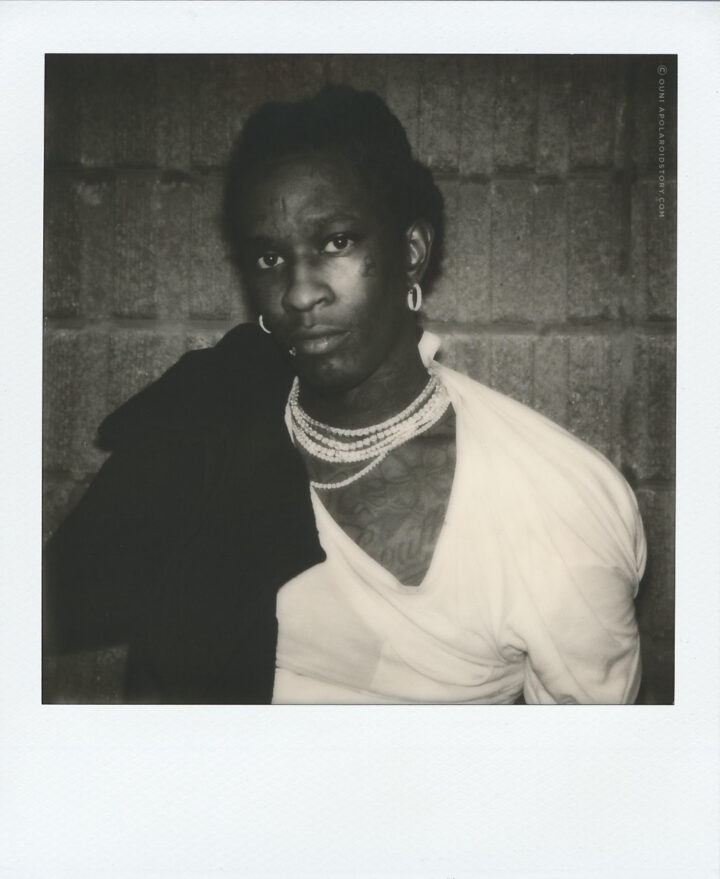 Happy to feature Jeffery Lamar Williams aka THUGGA THUGGA aka YOUNG THUG, hailing from Atlanta and globally known for his (often criticised) yet extraordinary style of rapping but also for his eccentric and individual sense of style. Not that familiar with one of the most flamboyant characters in Modern Day Hip-Hop?  Let me be so kind to walk you his creative repertoire real quick! 
Born in Atlanta's Zone 3 Sylvan Hills, Jeffery grew up in a big family as the tenth of eleven children. With his distinctive mumble flow Jeffery broke through in 2012 with his three-way 'I Came From Nothing' mixtape series. This move caught the attention of Atlanta legend Gucci Mane, who decided to sign Young Thug to his own label 1017 Brick Squad Records. In 2013 Thug dropped his fourth mixtape '1017 Thug', introduced by the single 'Picacho'. This label debut received a lot of critical acclaim for its original style. Even magazines like Rolling Stone and Pitchfork added the mixtape to their list of Best Mixtapes/Albums of 2013. Later that same year Thugga dropped his notorious single 'Stoner'   which didn't really catch any fire until DC fellow Wale remixed it in 2014. The original song peaked at number 4 at the US Top Rap Charts and went certified gold. This success eventually got Jeffery signed to 300 Entertainment. The tapes '1017 thug 2' and '1017 thug 3: the finale' were added to his discography after that. In 2015 the mixtape 'Barter 6' with songs like 'Check' and 'With That', gave Young Thug another round of high critical praise. 'Barter 6' climbed up at 22 at the Billboard Top 200 Album chart. His Slime Season– project followed later that year. In 2016 the mixtape 'I'm Up' was dropped and debuted at a very similar position as 'Barter 6'. At the end of the summer of '16, Young Thug unexpectedly released another tape called 'JEFFERY'. This project received a lot of media attention because of its gender neutral album art with Thugga dressed in a couture piece of Italian designer Alessandro Trincone's 'Annodami' collection on the album cover.  All tracks on the tape are ranked in concept and every single one of them is named after one of Young Thug's idols. With guest appearances by Migos, Travis Scott, Wyclef Jean and Gucci Mane, the album peaked at number 3 of the US Top Rap chart.  2017 has definitely not been a year of rest and relaxation for Thugga. In June he released the album 'Beautiful Thugger Girls'. The project has a unique flow: mixing up Thug's voice with country and pop just to mark his genre bending musical talent. But it doesn't end there, just a couple of days ago Thugga released Young Martha, a collaborative EP with 26-year old Guatemalan/American producer Dj Carnage. The EP includes features from Meek Mill and Shakka and showcases a perfect collaboration between both artists. Carnage's diverse beats blend nicely with Young Thug's capability to adapt various styles of music yet make the track his own. From the heavy trap influenced 'Homie' to the mellow summer feel of 'Don't Call Me' the 4-track EP leaves you wanting more and is hopefully a solid foundation for further projects from this promising duo. Last but not least you may recognise Thugga his vocal presence on some of his populair mainstream features for Travis Scott's ''Mamacita', T.I.'s 'About The Money' or Tyga's 'Hookah'
Now this is short story behind the Polaroid.
Young Thug was scheduled to perform at Les Ardentes Festival this past summer. I managed to snatch approximately 3 minutes of the man his time right after his performance. He had a very friendly assistent who told me that he had no problem with 'pass by' photo requests. So after she gave me the green light I approached Thugga, asked him if he was down for a shot et voilà! Thuggaroid happend. It was brief and reserved but it happend! The following video document gives you a glimpse of his performance that day and our brief encounter. Enjoy.
Exhibit:
I leave you with the Polaroids I took that instant moment.
Exhibits:
Thanks for catching up!
Love,
OUNI
Special thanks to Davy Denduyver, Jeremy D'hamers, Daniil Lavrovski, Laura Disaronno & Pamela Evbuomwan for their contributions to this story.