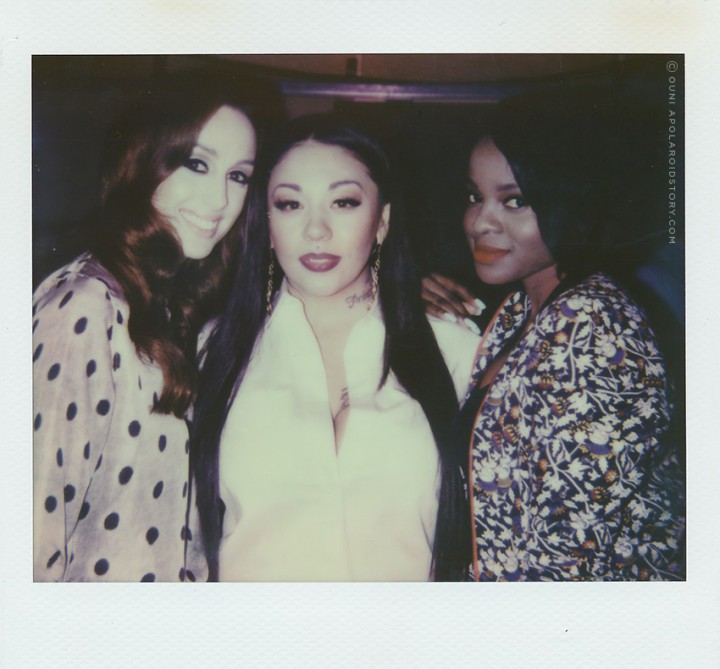 YESSS!
Your eyes ain't lying. These lovely 'Q-Tees' are indeed the legendary  MUTYA, KEISHA & SIOBHAN currently known as the reunited girl or should we call it – reborn – group MKS. However you might recall these lovely girls as the band formerly known as SUGABABES, 2013 was definitely the year of girl and boy bands resurfacing into mainstream pop culture with fresh boy and girl bands popping up, causing mass hysteria and stirring enormous popularity with emotional teens and former boy and girl bands regrouping causing even more hysteria from their in the meanwhile grown-up fans all over the world. (Backstreet Boys, TLC, NSYNC, to name a few…)
Ready to take a trip down girl band memory lane? Let's go!
I remember when I first saw 'OVERLOAD' on television and I was immediately smitten with the girls' edgy personality but most importantly, their very specific vocal harmony that sets them apart from other girl bands. These girls were only teenagers when this came out which pretty much explains what follows next in one word: DRAMA. Redhead Siobhan left the group very quickly after only one album, leaving Mutya & Keisha with her replacement, the sweet blondie Heidi Range.
Who was your favorite Sugababe? Mine was without a doubt Mutya Buena, I mean whàt a name, and boy! Did that girl have attitude, but besides that, I really love her distinguished voice, that grainy and groovy element she gave to all of their tracks.
Some of my favorite Sugababes tracks nicely exhibited: 'Stronger', 'Shape', 'Too Lost In You', 'Push the Button' and 'Freak Like Me'. 
And after that, well…the girls kinda lost me.  Over time Mutya, who became a mother, left the band to spend more time with her child, leaving Keisha as the only original member of the group. Entering; a bunch of girls who – no disrespect – made everything a bit too random for me both visually and sound wise and I lost complete interest along the way. The Sugababes were no more.
Years passed, until I saw this picture passing through my Instagram timeline past summer:
Exhibit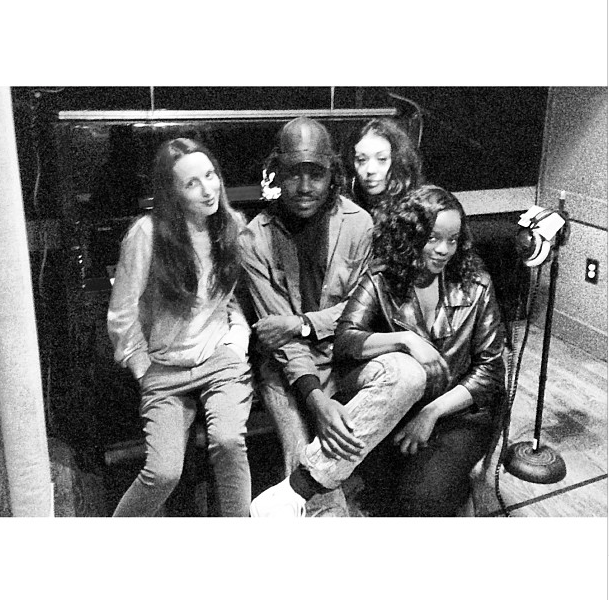 I totally flipped out. Dev Hynes with the ORIGINAL Sugababes, in the studio?! This could only go one way, meaning UP! Not much later the track 'Lay Down In Swinning Pools' (which the girls randomly recorded in the studio after officially finishing their album) was released on the net and I knew that the girls were on their way back. Slowly yet persistent.
And then the news was officially out. Mutya Buena, Keisha Buchanan and Siobhan Donaghy regrouped, left the name Sugababes behind and became MKS, the girl group they should have been from the very start. I couldn't be more excited for them, because I really think that with the right production they still could rule the charts today! The first single from their much anticipated album coming out somewhere in early 2014 is a Dev Hynes produced track called 'FLATLINE'.
Definitely check out this MKS cover from Lorde's 'Royals'. It's pretty damn good. Now, let's not leave without a good old ballad, where the girls show off their on-point harmony skills.
The girls just finished their UK tour and are already leaving their vocal mark here and there, showing everybody they are back, stronger than ever and ready to do it right this time.
So this is the story behind the Polaroid.
I was invited by BJÖRN BORG & MTV STAYING ALIVE FOUNDATION to come over to London for a quicky and celebrate the launch of their 'GET IT ON' underwear range for the kick-off from LDN fashion week. The Björn Borg 'Get It On' collection is developed to raise awareness around HIV, which disproportionately affects young people around the world. One Euro per sold underwear supports the MTV Staying Alive Foundation. Fun fact: An extra limited edition tandem pant – a pair of underwear with room for two – is sold with a 100% of the proceeds supporting the MTV Staying Alive Foundation Another fun fact: The print on the tandem underwear features 'a seductive kamasutra print.'  Well, well, Björg Borg! Never not naughty! Ok and a làst fun fact. Definitely peep Bjorn Borg's BIG DICKTIONARY if you want to find out the meaning behind words like SOLOSUTRA, SEXETARY, COCKAINE and WEBCUM MEETING (Although the last word should be self-explanatory enough, no?) If you happen to have some interesting dicktionary worthy words yourself, Björn Borg kindly invites you to contribute. You know, share some knowledge for the sake of mankind.
Anyway, I was slightly hesitant to go at first. Don't get me wrong, I can appreciate a good event and definitely if there is a good cause attached to it but this girl however needs to work, blogging doesn't necessarily pay the bills, so I must have a pretty good reason to not make money for two days to come over. When I was told that they could offer me a one on one interview with their surprise act MKS I didn't need any more convincing, I was totally down. That's reason enough for me!
So a few weeks ago I hopped on a train and went to London, super excited to not only meet the girls and snap Polaroids with them but also do an exclusive interview in the midst of a colorful underwear setting. Of course, this wouldn't be A Polaroid Story if there wasn't some bump along the way. I was already on my way to London when I found out that all interview options with MKS were cancelled. Apparently the girls management wanted to tone down the amount of interviews because they already did too much. I totally get that strategic decision, but that meant that besides looking at male models in their underwear (which is also a very good thing, I agree) I wouldn't really go home with content for this blog unless I hustled for it on my own. Then again, what's new?
I decided to make the best of my stay in London, enjoy the event and see what my possibilities were on location. The event was held in a popular venue called the Boiler House at the Old Truman Brewery where Björn Borg hosted 500 attendees for a lovely evening, hotdogs and naughty named cocktails like MOLOLOVE and CLIMAX ON THE BEACH included. Entering the venue I immediately noticed that there was a very relaxed atmosphere and sneaking backstage wouldn't be that hard. First thing on the menu was of course the presentation of the underwear collection.
Exhibit
(images via Bjorn Borg) 
Important note: There were in fact female models and accompanied undies to be spotted on the catwalk however, my eyes were merely focused on male underwear for obvious reasons.
Exhibit

After the show and some Climax On The Beach cocktails I elegantly swallowed away (pun intended) it was time to work. Accompanied by Björn Borg's Belgian PR account Aline I carefully sneaked into the backstage where two other journalists were having a relaxed chat with Björn Borg's Head Of Design, James Lee. The strategy was to just hang around with the PR account, so I had a reason to be behind the stage.
A pretty good decision, because it didn't take very long for Mutya, Keisha & Siobhan to arrive at the backstage area right next to the stage where I was waiting. The atmosphere was still very relaxed, nobody was stressing out, I didn't see angry bodyguards or stressed out managers, so I quickly walked up to the girls and asked them for a Polaroid. They were super friendly and gave me permission to do the shot. They teamed up together, looked straight into the lens and then for the first time in YEARS(!) my camera died on me. I felt so utterly stupid. Believe me, if you ask an artist for a Polaroid and nothing comes out, it's pretty embarrassing because you FEEL everybody thinking: 'What the fuck are you doing with this prehistoric thing anyway?'.
But not to worry. I learned to come prepared, so I apologised, grabbed my other Polaroid I take with me just in case shit like this happens, asked them again to pose for me, aimed my new camera and…it didn't work either. While I was slowly dying inside and hiding from the looks from the girls, which was probably somewhere between pity and straight out concern, I nervously started to switch film.
What the hell was going on?! I never had this experience before where both my fully loaded cameras with fresh Impossible Film simply refused to work. I grabbed all my courage, asked them to pose for me – again – and….bad film came out my freaking camera. Are you freaking kidding me?!! At that point, the girls were totally over me, turned around and started chatting with some people. I was completely embarrassed. Like, what the fuck, can it get more painfully unprofessional than this?! Totally horrified I randomly snapped some shots until the film came out somewhat ok, and I saw that the girls were getting ready to go on stage. Aline gave me some last motivation, I took a deep breath and headed over to the girls, for the fourth time now. I now had to actually tap them on the shoulder and I swear I thought they would punch me in the face for asking them for another picture for the fourth time, but they were super nice, got close and looked straight into my camera who finally delivered a healthy looking Polaroid. If you follow me on Instagram, (@Ouninana) you already noticed this next exhibit passing by a while ago.
Exhibit
Two seconds later the girls hit the stage to perform. That's how close I was to total failure and embarrassment for something that looked very easy. Two split seconds. Moral of the story – besides the fact that safe sex is everything because HIV is everywhere – keep your cool when it doesn't work out the first time, dust yourself off and dare to try again, because you'll probably end up with some pretty fun results in the end when you keep on going. (You can interpret that in any way you like btw)
Besides, if there is ànyone who can relate to 'fourth time a charm' it has to be MUTYA, KEISHA & SIOBHAN. They are no longer the innocent teens nor the feisty early twenty something birdies they were once. Instead, three grown women are taking back the power and control into their own hands, determined to rule the charts, leave the drama behind and let the music speak for itself. MKS debut album will come out early 2014.
And me? I decided I had an overload of underwear and it wasn't exactly looking like I was getting it on with anybody anytime soon, so I retreated to my lovely chamber in the ACE Hotel for some quality solosutra and dream about the Cocksmos and Jizzneyland. (kidding!)
Special thanks to Bjorn Borg & MTV Staying Alive for the lubrisational night.
Last but not least, get it while it's hot, but always play it safe!
Love,
OUNI