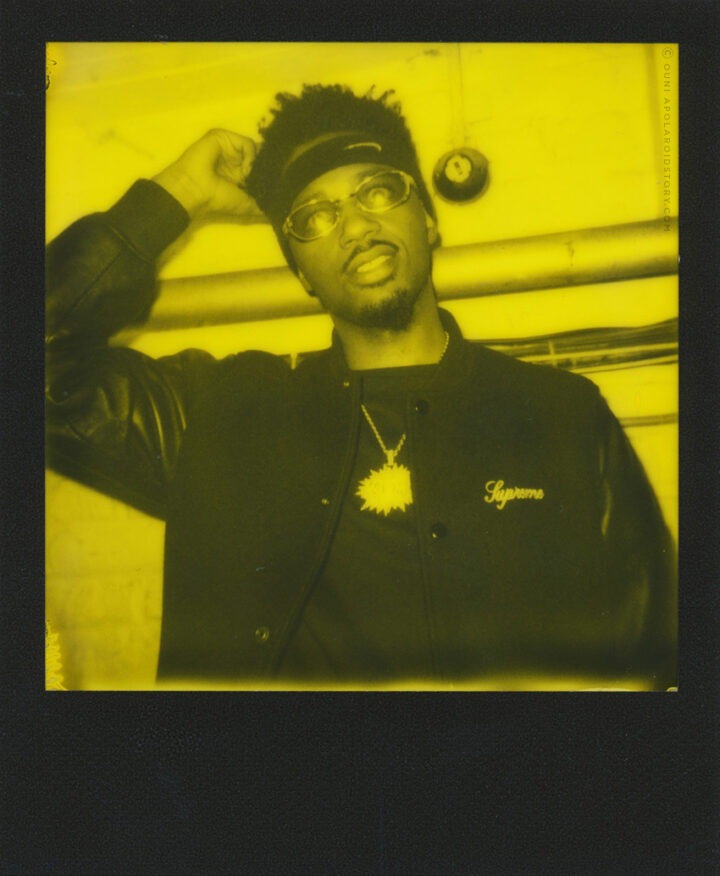 "If Young Metro don't trust you…"  he probably won't let you portray him on Polaroid.
Happy to have Leland Tyler Wayne aka METRO BOOMIN featured on A Polaroid Story.  At only 22 years old, this record producer who also goes under the moniker of 'Young Metro' managed to stack himself collaborations with some of thé heavy hitters from the current American hiphop industry such as Future, Drake, Kanye West, The Weeknd, Young Thug, Travis Scott, Lil Uzi & Tinashe to name a few. A few stellar club dominating tracks that you might know who are signed sealed & delivered by this Atlanta-based producer are 'Jumpman', 'Father Stretch My Hand', 'Facts', '3500′, 'Tuesday' & 'Where Ya At'. Interesting fact, at least three of the fore mentioned tracks went either gold or platinum. Not bad for a kid from St. Louis, Missouri right?
This is the (short) story behind the Polaroid.
Metro Boomin was embarking for his very first overseas tour somewhere early 2016 and was scheduled for a dj set at the Brussels Mirano club where I ended up very randomly with a friend. As you may or may not know; I'm not a big fan of executing APS in club environments. I've been doing this too long to know that snapping artists in the club are probably not the shots you want, because the risk that your artist looks drunk, sweaty, tired, faded, etc is very high. I mostly have a clear vision of what I want to accomplish when it comes to portraying an artist and club environments ( or nightlife in general) is a messy, unreliable and mostly too dark environment to get any good results. Problem one. You find yourself in a club. What happens in club? Alcohol, Drugs & Hoes. Because of these tricky variables and distractions ànd considering the fickle medium that is Polaroid (light & temperature sensitive) I prefer to stay sober until I manage to take the Polaroids, something I can keep up until a certain point, but at a certain moment I need some rum in my body to blend in with the club vibes. The minute I'm drinking alcohol, i'm battling to switch off my work mode and just have fun. Comes in problem number two. Most artists are scheduled in late when they do club performances. When they are already in the club before their set, they are mostly already pre-gaming on the patron with their entourage. Yelling in somebody's ear at 2 AM in the morning to take some Polaroid shots, but you need a white wall and thus have to take them to another place in the already packed club is mostly responded with the answer: "Ok…maybe later? or a straight up "Nah". Both answers seem perfectly logic to me because if I find myself in a club, I want to indulge in the nocturnal vibes, just have fun and not worry about looking cool on Polaroid. Sometimes, the local promoter helps me to get the shot done but that's rarely the case and I don't count on it, because…promotors. (lol)
So I strategically waited until àfter Metro Boomin his set to approach him to pitch my request. When I do APS on the spot without hitting up any management before hand, I save the artists from my usual pitch. Ain't nobody got time to hear you talk about your music platform at 4AM in the morning, so I just approached him and asked if I could take a Polaroid in the backstage area of the club when he had a moment. He was actually really, réally friendly and told me that he would take the shot on his way out the club. And so…I waited. I know for a fact, if an artist leaves the club and promises you a shot and you are not standing on a good strategic position where they can actually see you, the shot is not happening. I think I was posted at that backstage basement stairway for at least a whole hour, when Metro Boomin and his crew decided to leave. When he stumbled over me in the backstage basement hallway that I was strategically blocking, he immediately remembered our agreement and gave me my shot. The basement ceiling was super low and there was a whole crew waiting to come down the narrow stairway that I was blocking, it was all a bit to tight and uncomfortable, so I didn't dare to ask for another shot. I've been doing this for such a long time and it's surprising to me how I can still be such a puss sometimes. I could have easily asked for another shot, but I was like, let this young man go to bed Ouni. That's also part of doing APS. Sometimes the opportunity window is super small and you just have to take your shot and pray for the best. But there you have it: Metro Boomin on Polaroid for your viewing pleasure.
Thanks for reading,
Love
Ouni
S/O to Valavier, Laura & Benry for the fun night. 😉