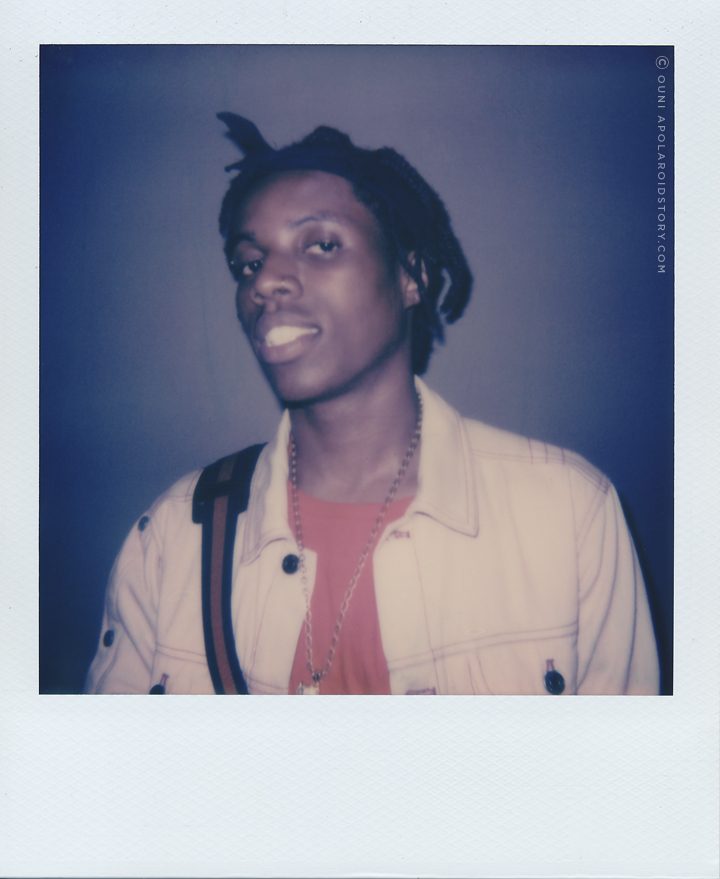 Happy to feature my very first OVO artist on this modest little platform of mine. Meet Denzel Spencer – formerly known as 'Pression' in a different artist life – but mostly known amongst his steadily growing fan base as ROY WOODS. Not familiar with this R'n'B crooner and songwriter from Canada who is signed to the prestigious OVO SOUND label founded by hiphop artist Drake, producer Noah "40" Shebib and Oliver El-Khatib and who may (or may not) remind you of Michael Jackson here and there? Let me be so kind to introduce you real quick!
It was somewhere in 2015 when this young aries emerged on the scene via a major Drake co-sign during the very first OVO Radio show with a track titled 'Drama'. Not much later Roy came out as an official OVO signed artist with his debut EP titled 'Exis'  followed by the very first Roy Woods visual for his 'Jealousy' track of that same debut EP. However it was 'Get You Good'  which is his most popular and known track to date that got the most recognition and gave him his first global buzz. Roy kept things low key and productive and by 2016 he was ready to unleash another body of work to share with the world titled 'Waking At Dawn' (check personal favorite 'Gwan Big Up Yourself'. ) That same year, Roy dropped a third EP titled 'Nocturnal'. Proving a solid track record and a continuous body of work Roy Woods delivered his debut and major label effort titled 'Say Less' in 2017 with artist features like PartyNextDoor, P'n'B Rock, 24Hrs and DVSN. (check personal favorite 'Medusa') A few months ago (and the exact day of our encounter) Roy Woods dropped two new tracks Snow White and Russian Creme. I would describe Roy Woods his music as ambient R'n'B,  definitely influenced by PartyNextDoor, Drake and The Weeknd but from all of those three artists mostly because of his voice, Roy has the rawest delivery for me personally.
I had a conversation with Roy Woods during his passage in Brussels for his very first European Tour to promote his 'Say Less' album where we chatted about connecting with his European fans, his musical upbringing, Michael Jackson comparisons, writing songs for others, his position as an artist on the hugely popular OVO label, his take on R'n'B music today and a strong statement on the concept of self-love. I hope you enjoy the convo!
Exhibit:
Now, this is the story behind the Polaroid.
I was super surprised when I got an email if I was interested to interview Roy Woods. Mostly because I knew he didn't do that much interviews in the first place. But, I was immediately triggered because of a couple of things. For one because most OVO artists like Majid Jordan, PartyNextDoor, DVSN and Drake are not doing that much interviews,  at least from what I can see looking outside in from Belgium. None of the OVO artists seem very approachable. So that triggered me. Second, I absolutely love 'Get You Good' and I'm not sure that he made a track equally as strong like that one till this day.  I never fully understood the Michael Jackson comparison, but listening to 'Get You Good' over and over again, I started to understand why people make the comparison. GYG is a really, réally good track and I absolutely love how Roy Woods expresses emotion and blends that in his raspy vocal execution. It did remind me somewhat of  Michael Jackson's 'Dirty Diana'. Not many artists can master that type of song delivery where you can feel pain and anger through their vocals without sounding cliché or annoying. If you are able as an artist to vibrate that pain, hurt or frustration towards the listener than you are really on to something. Roy Woods bodied that track. I never really expected that Roy Woods could actually sing, sing.  Hold on now. Let me explain. I was just wondering how much of his voice was studio altered versus real. This is the autotune era, after a while you simply don't know anymore who can actually nail some solid vocals, especially live. During his performance I understood that he definitely has a strong voice. While watching him perform all alone in Brussels, no DJ, no stage antics, nothing more but a projection of his 'Say Less' album title for a crowd of approximately 250 people I learned that he had a solid, loyal fan base. I witnessed him give a lot to his audience, something I applaud for such a young artist. He gives his àll. But. I also saw this young bull, going full steam ahead towards a red piece of cloth during his set. It made me wonder who was behind Roy and how much guidance does he get when it comes to stage performance, voice control and body composure. And I say that as a compliment. Because witnessing all that talent, all that fire, it made me think of that moment when Spiderman realises he has superhero powers and is all over the place with the skill set he has and is figuring it out along the way. I watched a couple of Roy Woods video interviews for my research so I knew a little bit what to expect from him as a young human being, but I was really impressed after my conversation with him. Yes he is young, yes he is all fire but he comes across as if he really trusts his own talent and that he has a strong urge for individualism in a genre where many look and sound the same at first glance. Plus he was very professional during the interview and really open to my interview approach. So my point is. I can't wait to see Roy Woods with a DJ, a tight set with solid transitions from one track to the next and with a few performance tricks up his sleeve like total crowd control (not just the girls front row….) and a little more vocal consistency. After Roy Woods his passage in Belgium, he did nothing but bigger venues in countries where he is a way bigger star than in little old meaningless Belgium. He is currently touring the US with Drake and the Migos supporting the 'Aubrey and the Three Migos Tour' , arguably the biggest acts in hiphop right now, performing in huge stadiums, so I suspect that he probably improved a whole lot watching his peers, living that A-list tour experience and connecting with possible new fans worldwide. Roy Woods treated his performance in Belgium  – although flawed here and there – like it was his very last. And that is what makes a real artist for me.  Roy Woods can definitely become one of the biggest future R'n'B superstars with some solid artist development here and there. I for one,  am very curious to witness his development from a young boy to a man and how that will reflect in his discography both productional as lyrical. Because the voice is there. The talent is there. The hunger is definitely there. I truly believe OVO has a little golden owl, ready to fly,  but is still figuring out the real power in his wings.
I leave you with the few Polaroid snaps we took that day. The interview was pretty brief, so we had to sneak the Polaroids in there with the very few time we had left.
Thanks for tuning in!
Love,
OUNI
Special thanks to Warner Belgium, Jeremy D'Hamers & Laura Mwanambuka for their contributions to this feature.