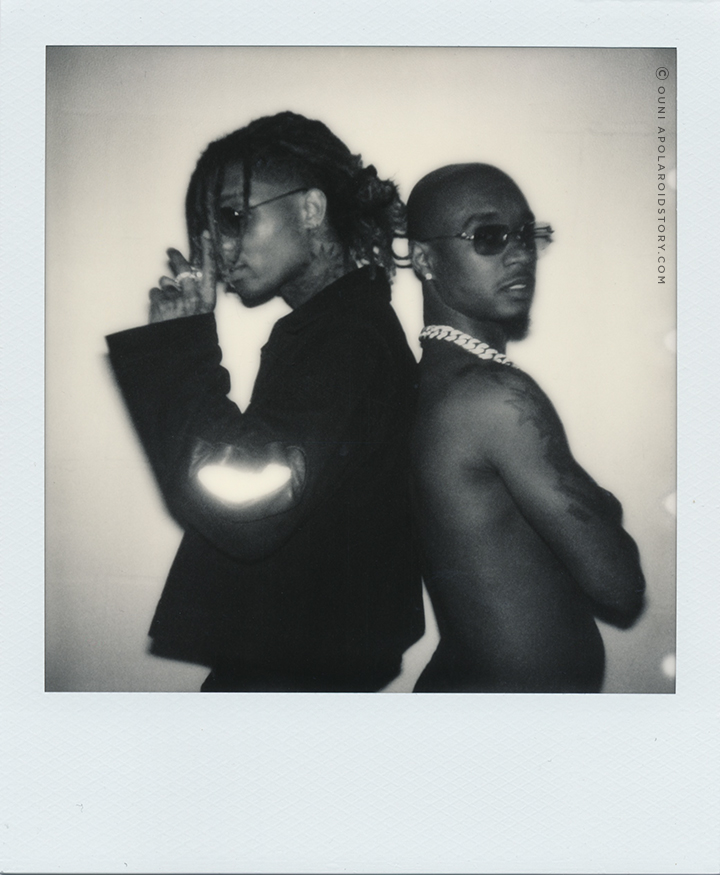 Third time's a charm?
Here is the story behind the Polaroid.
Only days after I face-planted myself against a window wall right before my interview with Smino I received another option to interview Rae Sremmurd.
Opportunities are rare for this tiny platform. I go by reputation not numbers. Unfortunately, the bigger the star, the lesser the chance for me to lock in an interview. Multiple industry standard boxes need to be checked.
"Is the platform relevant?"
" What are the numbers of the platform?"
"Is the platform on TikTok and IG?"
"What are the numbers of  views, likes, followers, and subscribers?"
"What are the Spotify numbers of said artists in Belgium?"
Most artists that I feature on this platform, don't care about doing promo in Belgium.
"What's the relevancy?" is a much-asked question when it comes to Belgium.
So my only approach that I have is to take every opportunity as if it is my last.
So if a label asks me if I would be interested in doing an interview, I will consider it. This doesn't mean the interview is granted, let alone the time I need to make something substantial. It just means a request will go from the local label department to the international one. The international will evaluate and or propose it to management. Then an answer needs to come back on time. Most requests are sent a week before and come back confirmed or declined only days before. This means that most of the time I have to prepare for an interview the day or even the night before. That means that whatever plans I have I will have to re-schedule. Priorities and dedication. As a tiny platform that struggles with views, followers, subscribers, and relevancy these are serious hurdles to overcome.
I often wondered why the hell I still keep this up. Especially after losing my front tooth right before my latest Smino interview. Honestly, I was secretly hoping the interview would be declined due to 'relevancy, likes, views, and subscribers. My spirit was down, my face busted and bruised and I just wanted to stay at home and not go to Antwerp to interview superstars. Because that's what Rae Sremmurd is. Superstars. And then, of course, the interview magically was approved.
Of course, I said to myself, an interview is approved when I look at my worst, unattractive self ever. I am not super vain, but hey, I like having a front tooth, you feel me? My dentist appointment was still two weeks away (due to a phenomenon called patient stops and delays in our health system due to Rona remnants) so there was nothing left to do but show up and get over myself. I hate waisting opportunities, especially if they don't come around that often.
And so it happened that I found my way to Antwerp on a Friday afternoon in late April.
In classic APS style, nothing logistically was communicated, only that an interview was approved. I mentioned it many times before, so I will repeat myself.
Touring is exhausting for artists and locking in interviews is not easy during the tour. It's already hard to lock in interviews during festival rounds – most artists want to sleep, eat, perform and relax, chill, party afterward – but it's just as hard when artists are touring for themselves or if they are opening for another artist. So many variables are at play. Traffic delays, sound checks, health issues, and sleep schedules, you name it. And here comes the relevancy and market issues in place that I struggle with and mentioned so many times before.
As Belgium is what I call a 'non promo market' for the type of artists I portray, many artists and managements don't see the value and effort of doing interviews in Belgium, which honestly, I get. I am smart and logical enough to understand that. When I started APolaroidStory.com in 2009 I honestly did not realize what I began, and the difficulties I would experience merely based on location, market, and relevancy. I had to overcome so many hurdles.
That day in Antwerp was no different. Rae Sremmurd was opening up for Post Malone who was touring with his 'Twelve Carat Tour'. It was a damn miracle this interview was approved by International, but that doesn't mean that it will actually….happen.
Since I didn't receive any call time, or interview timing by noon that Friday, I decided to be on location early. I arrived at SportPaleis around 17h. And then, it was the usual waiting game. Together with my camera man and the local label representative, we waited about 2 hours in front of the concert venue before the people from Livenation were able to let us in.
That's when the usual Kafkaesque situations develop.No disrespect to LiveNation, they probably have their own rules to follow but damn, we had to almost beg to allow us in the venue just to be able to set up cameras.
So when they finally granted us that privilege, we were assigned a Guantanamo-looking basement with TL lighting to do the interview. SportPaleis is just like a prison. It looks like a prison, it feels like a prison, and it's not a very Feng Shui type of building. It's a functional building for a concert, but anything else than that it's just a giant bunker. That is part of APS, this platform is a 'Run & Gun' affair and I don't get to pick and chose my locations, I have to make something from the messy situations or set-ups I get and work with it.
So by the time we finally set up and were ready to do the interview, hours passed and Rae Sremmurd was already opening for Post Malone. Still no call time.
The local representative was trying her best to lock down an interview but didn't manage to get any news or timings. When we finally did hear back, we were informed that the boys still had to share the stage with Post Malone to perform the Spiderman hit 'SunFlower' and it was decided that it would be better to interview after the show.
And that's when we enter the tricky zone. It's always better to interview before an artist performs. Why? Because they are still in professional mode. They know they have commitments and engagements, they have to be somewhat sober and there are no distractions. After the show….not so much.
So the minute somebody tells me: "We will have to interview after the show.", I have to become zen because this means I risk not getting an interview at all. It's not the first time interviews are last minute canceled, especially after a show. Fortunately, I had a killer label representative fighting for me like a very polite pitbull, keeping up communication with tour management and holding them to their commitments, which is a balancing act in itself. A lot of PR and communication is needed for that and if the other end of the stick is not replying or answering or following up, there is not much a label representative can do. And this is where you see how artists are surrounded.
Over the years I have seen managers, tour managers, crew, and a whole lot of leaches and 'yes men' around artists. The minute an artist is not surrounded by the right people I can tell very quickly in terms of communication follow-up. Sometimes artists don't realize how their entourage speaks in their names, I experienced so many weird interactions where I wondered if the artist would know how I was addressed or spoken to.
We could not enter the show due to logistics and were locked in a passage between the stage and production, with no way to enter the venue anymore because we didn't have the right access badges. So we were stuck in limbo, waiting, for hours.
And then, at long last, after I hear Post Malone his last vocals running through the venue and the crowd roaring, the label rep finally had news about our interview. But of course, there was a catch. The tour manager told the label representative that it would be best that we come straight to their backstage area if we wanted this interview to ever happen. The label exec made sure we would have access to go from point A to B (as said, the security measures in SportPaleis look like a prison) and we had confirmation that we would have a little set-up time, and off we went.
During our journey from point A to B, I felt like I was in the Jay-Z video from Girls. My cameraman and I were wondering, how the hell are we stuck in a prison alley, and is it possible to have so many girls backstage activity at the same time? Part of the rock star life I guess.
And then finally, my cameraman, the label rep, and I entered a huge backstage room filled with stuff, sneakers, bags, food, gear, and a tour photographer with all his tech gear and were introduced to the boys.
Swae Lee was rolling a blunt on the sofa and Jimmy politely came up to me to ask if he could go and drink some water because his throat was soar from performing.
I met the boys very briefly years go together, Swae Lee a little bit more up close a few years after that, but my very first impression of the brothers is that they still had the same laidback, kind, and polite attitude. Very rare for the status of their rockstar levels. Very rare.
I set up my cameras, grabbed my questions prepared the night before, and started my interview.
Exhibit:
WATCH IN HD – This is an apolaroidstory.com video document featuring RAE SREMMURD Story behind the Polaroid dropping later. 🔔Don't forget to subscribe to our channel and hit notifications if you want to stay up to date to our latest video content!🔔 🌏Connect with #APolaroidStory🌏 https://www.tiktok.com/@apolaroidstory https://www.instagram.com/apolaroidstory https://www.twitter.com/apolaroidstory https://www.facebook.com/apolaroidstory Camera: Andy G.
I have done many interviews, met many artists, and endured a lot of stressful situations to make the content I make. I never get a full-time slot and rarely get a full hour. Polaroids are taken in minutes, everything is fast, constrained, and limited. It's the name of the game and I learned to accept that, but that doesn't mean it's always easy to accept that. But it's what I signed up for.
I was invited to a lecture function not so long ago to talk about my work with APS. I told the small crowd I did my lecture for, APS is not as glamorous as it may look. Yes, I portray big caliber artists, big up-and-coming artists,  but how I work is stressful. I don't play the perception game, I have always been honest about the challenges I face. Every feature is hard-earned and doesn't always go to plan. I don't make a cent with the platform. Not a dime. I don't have the views, the likes, the subs, or the followers for that. I don't mind not making money from a passion but the reality is that it costs a lot of money to keep this platform free and independent. Then again, I made a choice, so I must suck it up and deal with it.
However, after the interview with Rae Sremmurd, I finally remember why I love so much what I do. I love showing the real side of the music industry. The less polished, the less perfect, the more real, ugly, and chaotic side.
It warmed my heart to see how nice Slim Jimmy and Swae Lee still are as human beings. When I started APS in 2009 I was very enamored with artists. The music industry is a 'Neptunian' business. It's full of illusion, disillusion, and deception. Once you know that, it can be a very ugly sight to see. 12 years in the game and I can tell you I don't look up to artists anymore. I look up to real artistry, skillset, and kindness. Not fame or hype. I learned to manage my expectations when it comes to artists. I've seen too much ugly behavior. I've seen artists come up, then see them again when they become famous, see them change, see them become arrogant, and witnessed them only being interested in measuring themselves with the who's who and the what's what. I have seen many artists fall into a trap and watch many of them fall out of relevancy and into addiction and out of public grace. As I said, the music industry is Neptunian. It looks beautiful from the outside but the inside holds a lot of darkness and muddy troubled waters.
So to my big relief, my big surprise, I saw none of that with Swae Lee and Slim Jimmy. This interview was done in the dead of night, and I prepared a 20-minute interview. The brothers did such an effort to roll with the interview while a whole ass party was going on right next to us. Not once did I feel an impatient energy subtly telling me to wrap it the fuck up. I had their full attention and they gave me the room and space to do the interview I prepared and some time to do the Polaroids as well. This interview is probably one of my favorites because of that, it's just so rare artists of that caliber will grant me this much grace.
I always loved Rae Sremmurd for their energy, positive mindset, and professional outlook, but now I can confirm I'm Sremm 4 Life.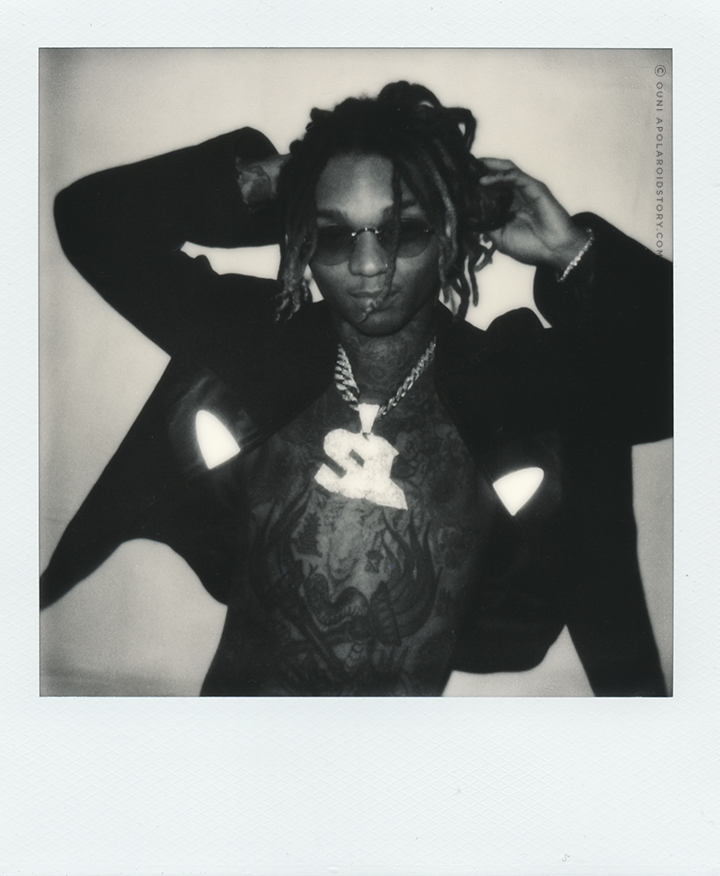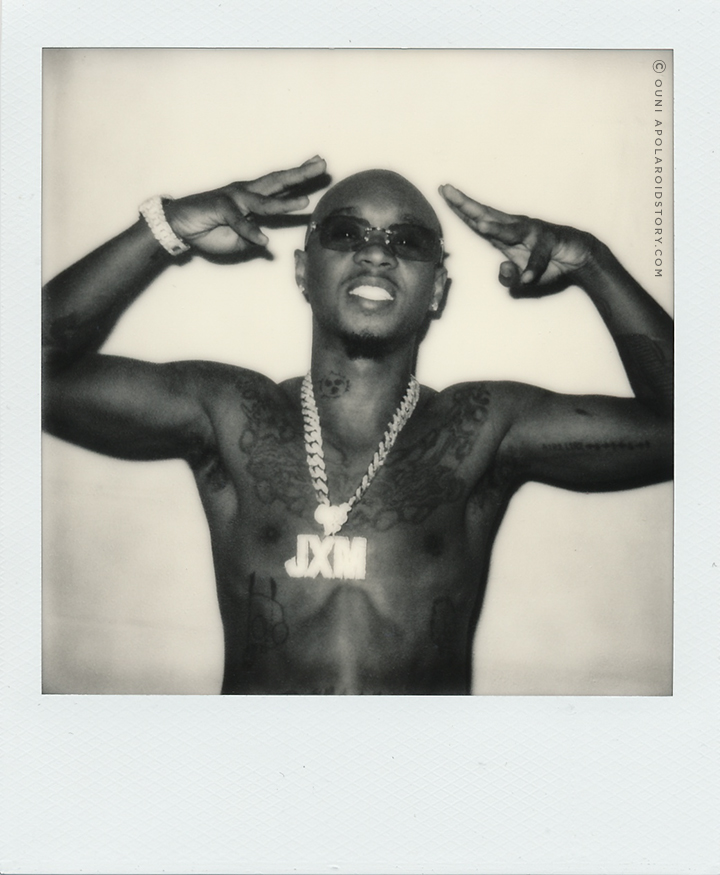 Special thanks to Universal Belgium, Universal International, Rae Sremm Tour Management, and Rae Sremmurd's very own Slim Jimmy and Swae Lee.
I appreciate the effort and time you gave me.
On to the next one, I guess? 
OUNI