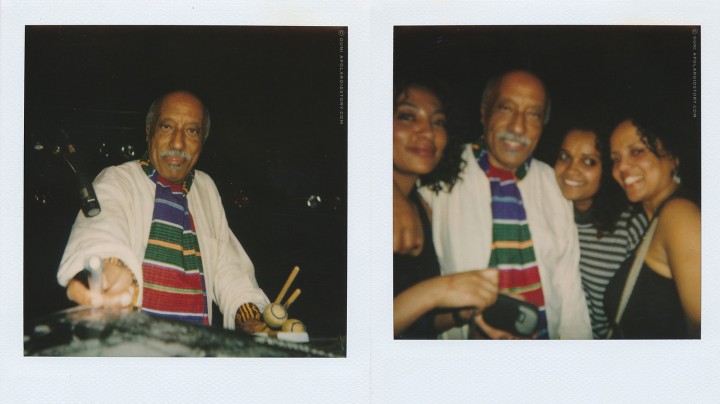 Mulatu Astatke. Mu laaa tuu. As. Tat. Ke. It took me a while to pronounce it. For the people who know the man: great. For the ones who don't, let me be so kind to introduce you.
Mulatu Astatke is the Godfather of what people call Ethio-Jazz. Word is that Ethio-Jazz is created by Mulatu Astatke and therefore not to be mistaken with typical Ethiopian music. He claims the style to be his own. His music is a mix of funk, jazz, latin and East-African music build on a classical eduction. It's music that gives me goosebumps. It's fluent and mysterious. It's hypnotizing and almost sexy in a way. It makes me reminisce about warm nights in Essouira. A journey trough an Oman desert. Drinking mint the in a bar called Lafayette. Seeing your first Fata Morgana. Or very simple hanging in your couch on a Sunday afternoon enjoying the first sun beams on your face. Mulatu Astatke is 66 years old so when I found out he was coming to Belgium I knew I had to be there. Age ain't nothing but a number, true, but the chance to ever see him again in Belgium is small. Evidently the concert was quickly sold out. You might wonder why I chose him to be in my series?
The first time I heard Mulatu Astatke, I was 17 years old and working in a small notorious bar called Zsa Zsa, named after Zsa Zsa Gabor, the infamous woman with too many shoes and even more lovers. Zsa Zsa bar was known for decadent nights and good music. A dia-player showed oldskool pictures from Liz Taylor, Marvin Gaye, Michael Jackson, Serge Gainsbourg, Brigitte Bardot and many more. It's a place where I spent many nights learning about life and people and most importantly where I learned about music. Until then, I was only listing to 90's hiphop and rnb. I quickly learned that music comes from other music. I learned about Curtis Mayfield, Brazilian jazz, Afro-Funk and much more.
I believe music is influenced by so many factors.I don't like to think in small boxes and I don't like to talk about music in a high-brow or pseudo-intelligent way. If I get chills on my back I consider it a good sign. Mulatu Astatke's music finally got the attention that it deserves after the release of Jim Jarmusch's film Broken Flowers. Basically, the film was written inspired by Mulatu's music. That's all for the 'educational' part. For what that may count.
I wondered how the concert would be. I had no idea what to expect. I arrived at the venue perfectly on time. There was a free spot just in front of the vibraphone, which is considered to be Mulatu's signature instrument: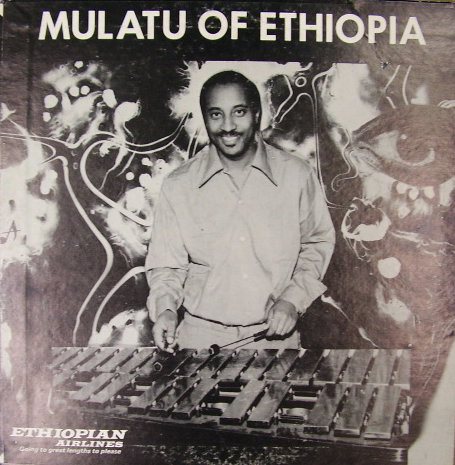 For some reason the venue smelled like orange-flower essence. Or maybe it was just me being tired I don't know.
The Heliocentrics opened the concert. The British collective are the backbone for Mulatu during the concert and even made an album with him called: Inspiration Information. The Heliocentrics worked with people like DJ Shadow and Madlib on both their albums and are signed with the notorious Stones Throw label. I was mostly touched by the hornes. The saxophones combined with the trumpets are almost hypnotizing and psychedelic. The temperature was rising equally with the music. Warm. The Heliocentrics introduced Mulatu Astatke and welcomed him on stage. He was dressed all white with a colourful scarf around the neck and black shoes.
There was a small group of Ethiopians in the venue representing their country and idol. Mulatu came up with a big smile. He announced each set by title and talked to his public. While he was playing his vibraphone I noticed he looked up once in a while checking the ladies, winking here and there, making eye-contact, flirting a little bit. I loved it. Haha. The man is 66 but such 'a vibrant thing'.
They played a long set. Listening to Mulatu's music after a long day at work is very intense. I was totally hypnotized by it. I felt tired and it made me long for a cold hand made Ice tea, sipping it in a small bar in Marrakech. It made me think about the therm 'Seeing Sounds'. I think I experienced it for the very first time.
For the people who missed out the concert or want to visualize Mulatu & The Heliocentrics:
Anyhow, taking the picture was pretty easy. A friend of mine had a Mulatu Astatke LP with him and I suggested him that I would take care of the signing part. So when the concert was over I quickly waved with the album and a marker. Mulatu noticed me and he was so kind to sign the album. While he returned the marker he posed for my camera. Snap. He wanted to leave the stage but he was quickly surrounded by the Ethiopian community who was going completely nuts. They were kissing him, and taking a trillion pictures. It was really cool to see him greeting his Ethiopian people. I needed one more picture. So I walked up to him but the hysteria was too big. He didn't understand me since everybody was yelling and pulling his clothes, I was almost afraid he would have a hart attack from all the fuss. Then all of a sudden some dude yells at me the following:
"AWESOME MAN, IS THAT A POLAROID? LET ME TAKE ON FROM YOU AND MY MAN MULATU. " And then he snatched the camera out of my hands and snapped a picture. (WTF??!!) It happened so fast the only thing I could do was say: "NOOO". I heard people yelling: "Yeah yeah, take one more dude". Then I almost screamed NO for the whole venue. Jesus Christ Mother of God!
My friend was laughing his ass off but I couldn't really see the FUN in it. Not only was my precious Polaroid  kidnapped from me, the dude took an awful picture of me and Mulatu ànd the picture was blurry. I mean I didn't even wànt a picture with Mulatu since I'm saving my polaroids and ìf I want one, I want to be at least a bìt pretty on it while standing next to a jazz legend. (cursing a lot right now)
The dude quickly figured out he needed to hand me the camera ASAP because I was looking at him like an angry squaw ready to scalp him and putting the scalp on my belt like a trophee. Ahum. Sorry, I do get carried away from time to time.
(See the horror written all over my face and the protest that is just about to leave my throat.)
Exhibit I: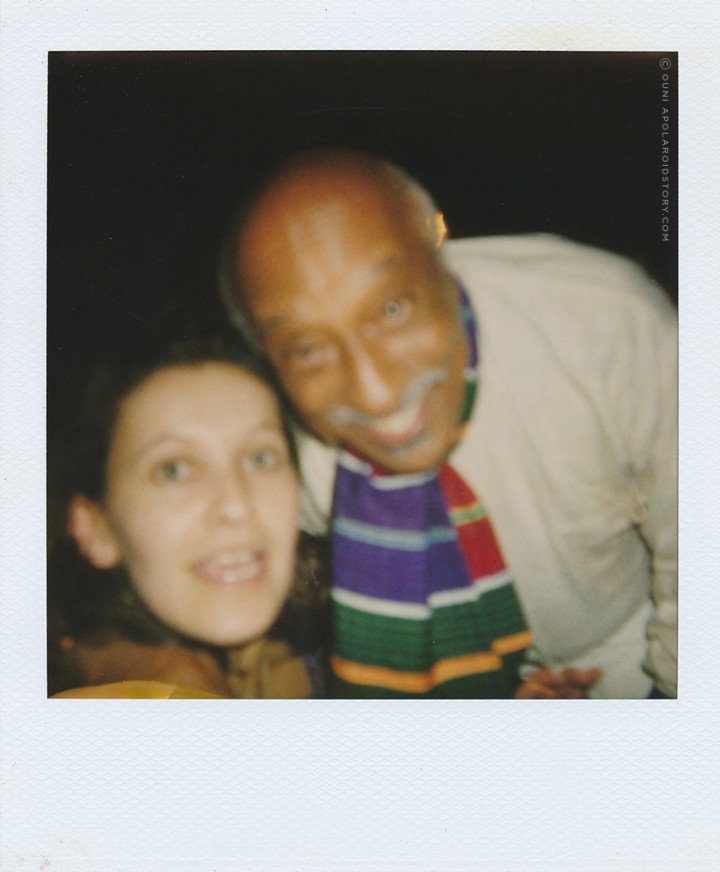 I pulled myself together and went back in the crowd that surrounded Mulatu. I still needed one crucial picture. When I finally managed to get closer to him I noticed that three Ethiopian ladies were glued to the man. They were not planning on leaving him or on letting him go, whatsoever. I thought it was brilliant. I always wonder how it would be if Jay-z or Snoop Dogg were still touring at age 66.
Well; Mulatu is doing it, 66, and still 'pimpin'. I asked the foursome to pose and snapped the picture. My friend was watching me while I was doing my thing. Afterwards he told me I was 'a persistent little miss thing' . He was right. I felt that I learned a lot in how to approach an artist and wait out for the right moment to come along. Patience is bless.
Honestly? This was an easy one. But let me be clear: easy is not on the menu for the next targets. That's all folks.
Stay Frosty.
Love,
OUNI
Ps:
Listen to: Ethiopiques 4: Ethio Jazz & Musique Instrumentale 1969-1974.
Watch: Broken Flowers by Jim Jarmusch