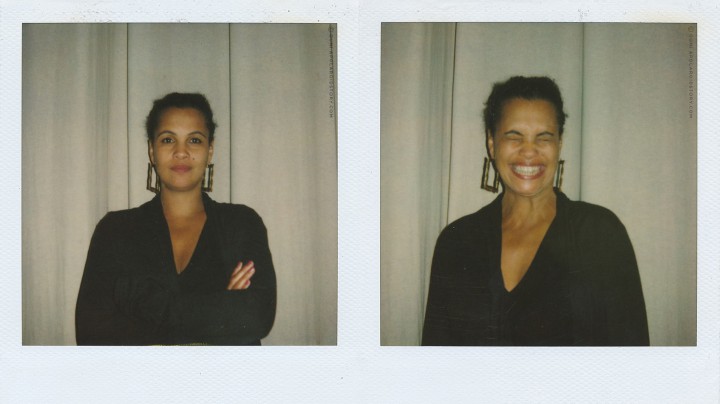 Les Ardentes, 10/07/2009
Haven't you noticed something? Yes, you, my loyal blog reader. You, who reads àll my stories from the very beginning to the final letter. Haven't you noticed that since the blog started,  I only captured 2 females? Come to think of it. They both were accidental.
I met Marie Daulne while she was leaving Q-tip's backstage lounge, saying her warm goodbye's to an old friend. And Beth Ditto just happened to walk by me, all alone, while I was waiting for Method & Red Man to show up.
I want to represent more women in my little blog. I'm working on that, but trust me…it's not easy. Where on earth am I going to meet the Beyonces, Salt 'n Pepa's, Aretha Franklins and Jill Scotts of this world? My point exactly. So while I was bored as hell waiting for Kid Cudi to show up, I was happily surprised to see Neneh Cherry passing me by. Neneh Cherry!! Ok, she might not be in the music industry's big spotlight anymore , but she is definitely worth a place on my blog.
Neneh Cherry was in Belgium @ the Les Ardentes festival, promoting her band Cirkus and their second album 'Medicine'. (check out my favorite song 'You're such an asshole') Cirkus is a family affair, since the band consists of Neneh's husband Booga Bear, their daughter Lolita Moon and her boyfriend Matt Karmil.
Neneh Cherry, Grammy award winner, was huge in the 80's with her mix of hip hop combined with other music genres and her social awareness (remember ' I Got You Under My Skin' for the battle against aids and '7 seconds' with Youssou N'dour  that almost drove me insane since at the time, you could not hide from the song, that brought awareness to racism.) Her resume consists working with people like Tricky, Gorillaz, Massive Attack and many more. But, for me personally, she was the first European woman who caught my eye bringing her interpretation of music while rapping on so called 'Alternative Hip Hop'.
Check out my favorite Neneh Cherry song 'Buffalo Stance' and my first encounter with my love for huge gold creole earrings:
She is very down to earth, so when she passed me by, I immediately jumped up from the floor I was basically sleeping on, walked straight up to her and asked if I could take a Polaroid. She took off her headphones, looked at me, smiled and said: "Sure".
3.2.1. Flashing. Lights. Bingo.
She put her headphones back on, continued singing and went on to wherever she was going. For me, Neneh is still 'Raw Like Sushi'. This is my final Polaroid I took at Les Ardentes festivals. For obvious reasons, I have a deep love affair with this little festival with both taste ànd diversity in line-up choice.
I'll be back next year, hoping Lady Fortune will be on my side again. I'm starting to think, for every too easy Polaroid, I'm paying off in extreme bad luck, since…. oh well… I'll leave that for the next one.
Drama is on its way. And yes. There is blood involved.
Love,
OUNI
—————————–
PLEASE CHECK: