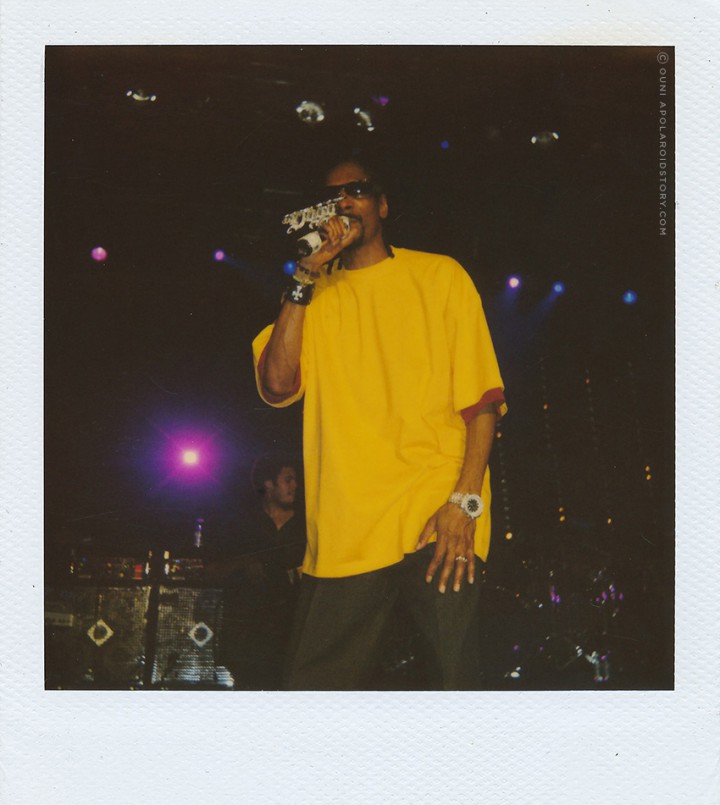 It's crisis.
It's crisis for everybody. It's crisis for people with money, it's crisis for people with no money. Everybody gots to give in and work a bit harder. Even artists suffer from the crisis. Where in better times, urban artist politely passed  for Belgium to go straight te the Netherlands or Germany, they now make a stop in little Belgium. Artist like the RZA, Macy Gray, DJ Muggs, Talib Kweli, Busta Rhymes make 2 max 3 hours appearances in dodgy clubs, or spinning some tunes in a dj-set to make an extra buck.
I'm not complaining. Crisis brings out the best in us, and for this little blog, it means more artists, more opportunities, more possible Polaroids… So, to my big surprise, SNOOP DOGG was coming back to Belgium! He just paid Belgium a visit in November and he was coming back once more. Last time he was in the country, he was booked at the giant Vorst Nationaal venue. For me, this venue is impossible to sneak in and the whole story was a disaster.
(Read it here)
But now….my chances were much much better…. From all places, Snoop was performing in a little venue called TRIX in Antwerp , with only room for a crowd of a 1000 men.
Perfect….
Not only do you get the chance to have an intimate concert from Snoop Dogg wìth live band, but for me, this meant a second chance for a Polaroid. I was not planning on making the same mistakes again. So, no XL plaid flannel shirt with flat boots for this gal. No, I went for a little playsuit with snake print, Jules went for cleavage, and we both went for heels. If there was àny sort of female selection to go backstage, we wanted to be a part of it. Period. I decided to leave my former banner at home, after my 'Pussy For Polaroid' carton board, I kind of had it with signs… I guess, since the venue was small, there was no need for giant pillow sleeves like I used the first time:
(Exhibit)
Front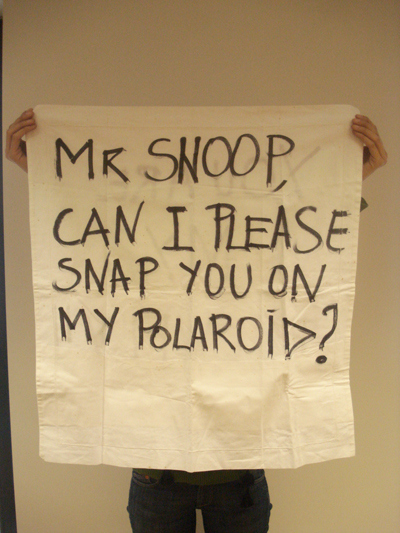 Back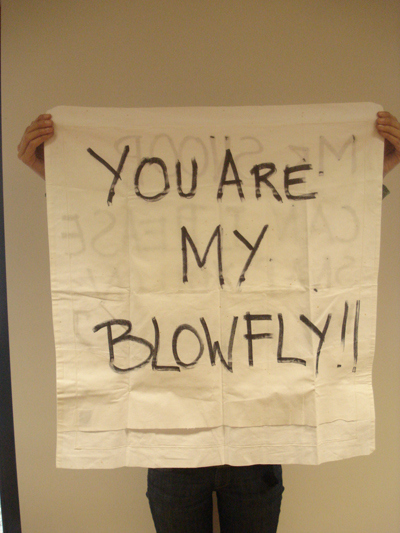 When we arrived at the venue, there was already a huge line of people waiting at the entrance. Since we were a bit late, we immediately hustled our way up front, so when the doors opened we went straight for the venue's front row. Everything looked perfect. Small venue, laid-back crowd. No teenagers. A grown up crowd, that was chill and relax and very curious what this little concert may bring. The expectations where high.
There is no room for star behaviour in little venues. People want to see the real deal. And real is what he gave us. He came up in his sun yellow t-shirt and his diamond studded bling bling 'SNOOP' mic. Everything went well, we were front row, he was even singing and rhyming for me and Jules from time to time. The crowd loved his performance and it truly was a blessing to have the chance to see an artist like Snoop Dogg giving his all. His concert got rated 4 ****  in The Morgen, one of Belgium's best news paper and always very sceptic for rap artists.
Now, pure Polaroid wise it was hard. He kept moving from one side to another and although he clearly saw me and my Polaroid and the fact that we were very close,
(Exhibit)
it still was very difficult to frame a nice picture…
The concert was coming to its end, the band immediately left stage, there were no girls selected to go backstage and there we were… We had no connections to get backstage, and nobody could help us get in, not even a little pull from the fence that separated the venue from the backstage. So, we immediately left the venue to find the back entrance. Everybody already left the venue and was standing outside, discussing the concert, smoking a doobie. So, when suddenly somebody told me that their cars were standing at the  left side of the building I immediately went for it. I started to run with Jules in my back, since, it's only a matter of minutes now and this might be my final shot.
So, I turned around, put some tempo in my past and…. did not see the giant concrete brick that was lying on the floor…. Jules tried to grasp me but there was nothing to be done… There I went….falling, slipping, sliding over the concrete floor with my nose practically on the ground for a crowd of about 100 people. To fully grasp the image, I highly suggest next video:
YUP! Of course, I was NOT in Paris, there were no DIOR items to be seen and the scenery was -slightly- less glamorous. Jules immediately came to me, completely in shock, asking me if I was alright, trying to pull me of the floor. I was so PISSED, and completely embarrassed and I did not want to make it any worse by crying like a baby, although I was in deep pain and I wanted to cry like a little girl with big pearly tears I pushed myself of the ground, and dragged myself to the back entrance to finally see – horror O horror – a giant camera crew from VTM.
VTM!!! With all due respect but what is a broadcasting channel like VTM doing at the back entrance of a SNOOP DOGG concert???? VTM is the most commercial network in Belgium you can have, and artists like Snoop Dogg simply don't belong in their topics. Period!! Did they really even believe the fact that the might get an interview?!!!! I knew I was fucked. NO WAY Snoop was coming out of the back entrance chill and relaxed, he would hide from the camera's protected by his entourage and immediately jump in the van that was already waiting for him.
Cameras draw attention, so in a matter of time there was a little crowd of 30 people waiting to see Snoop Dogg leave the building. Security came outside to secure a safe depart for Snoop and band. With tears in my eyes, blood pouring out of my wounds, juggling from one foot to another, since I could not stand on my both feet from the pain on my knee, trembling hands from the adrenaline my body poured in my vains, I knew I was screwed. And so it went… He came out, with a giant hoodie, did not make any eye-contact and immediately jumped in the back of a van and off they went.
There I was. Again. With no Polaroid. In pain.
(Exhibit)
The night ended with Jules cleaning my wounds with Smirnoff Vodka. The next day, once again I saw online backstage pictures with Snoop,  backstage people posing with his notorious mic. Needless to say,  I was suffering from high post-traumatic stress.
Love,
OUNI