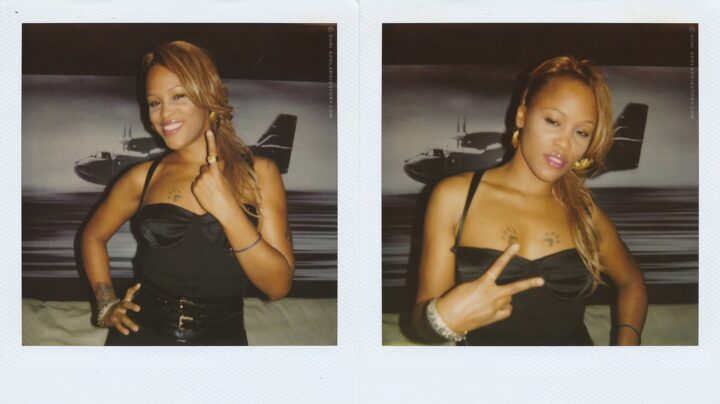 Carré (Antwerp), 23/10/2009
Word is that there are certain markets a crisis can't touch:
– Clubs & Bars
– Hairdressers
The world may come to an end, but there will àlways be a place to drink and dance even though it's to forget your miserie and even in times of war, people will still go to the hairdresser. You better look good  'coiffed' while bombs are flying around you ears, right?
Ruff Ryders number one gal came to Belgium. Yes. None other than the stunning E-V-E was booked in club Carré. Now let me tell you something, I did not see any signs of crisis in club Carré… When Jules and I arrived at the club, the parking lot was already packed and the queue at the entrance was XXL. When we finally entered the club, it was already steaming hot and extremely crowded. Nope. Crisis is not in CARRE's dictionary.
You guys are familiar with a certain female rap artist called EVE, right? She's been away for some time, but she is definitely still around. Eve is a trained singer, rapper, actress and worked with everybody in the industry that matters. She had her international breakthrough with 'Who's That Girl' & 'Let Me Blow Your Mind' with Gwen Stefani and featured on different tracks with artist like Alicia Keys, Sean Paul, Mary J Blige, Amerie and Kelly Rowland.
Moviewise she starred in XXX with Vin Diesel, The Barbershop I + II with Ice Cube, the critically acclaimed The Woodsman with Kevin Bacon ànd she has a pretty cool movie soon to be released; Drew Barrymore's directory debut Whip It!, where she stars alongside Juliette Lewis and Ellen Page. Not bad at àll! Check:
Did I mention she also has a fashion line called Fetish, a line for women with a certain attitude that goes with it as she likes to explain it herself on the Tyra Banks show. Yes, Eve  =  Versatile Vixen. Her new album Here I am promises a new and more mature sound. So start anticipating folks! Now..
….how did I get this picture? Very Simple. I asked! Yes sometimes, thank gòd , there is somebody who actually responds my begging emails and although, just like with Coolio, there were no promises made, Carré management told me that they would brief the artist with my demand. And that my friend, is already a very good start. So when Jules and I were asked to come backstage escorted by a giant bodyguard we honestly did not know what to expect. I mean, EVE looks like a whole lotta woman, and I wanted her absolutely featured on my blog because first, she is a woman in a very hard business and two, she is a woman in a very hard business and this blog needs more ladies. Lately, things are a bit quiet for female rappers and I hope this is just a phase and both new as the already existing talent will soon resurface.
So, we entered the backstage area escorted by the bodyguard and we immediately were warmly welcomed by EVE's entourage: All Girls. Before I even had the time to shake hands with EVE she bursted out: "WOW, I just LOVE those EARRINGS! where did you get this? Look I have a Lion as well, look at my ring" while showing her golden ring with a lionshead on it. Before I knew, I was talking Topshop and the difference in sizes from the London store and the NY store. (I was so happy I chose my gigantic roaring lionhead earrings from Topshop to wear that day!!!) So, when we were done talking about Topshop, I explained her my project and she responded very kind, immediatly adviced her girls to write everything down that was to know about my little blog. She was genuinly interested!
Exhibit: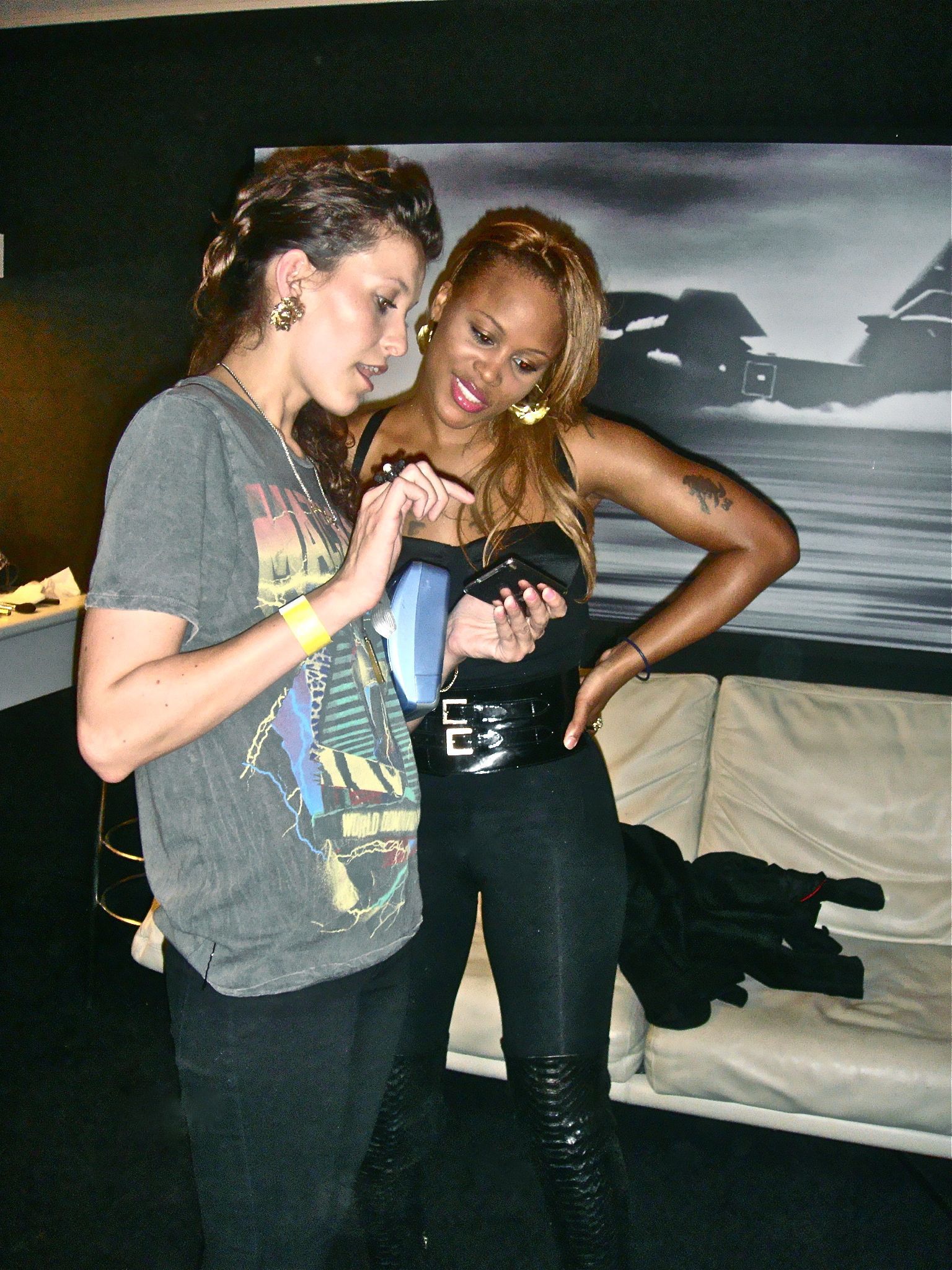 So I told her I would take 2 pictures with different expressions/poses that she wanted.
3.2.1. Flashing. Lights. Bingo.
Exhibit
ànd 3.2.1. Flashing Lights. Bingo!
Exhibit
It was pretty cool because we actually connected, even if it was for a little moment, so when she asked if she could have a picture with her girls, I was glad to help her out.
Exhibit: (Me explaining Erin, Eve  and that stunning girl with the black satin hair how to get their Charlie's Angels pose right)
I have to mention that EVE has an amazingly beautiful face, luscious lips and a very nice curved body. This woman is a photographers dream. I would L.O.V.E. to do a fashion shoot with that woman!!! Sigh..a girl can dream… But for now, Polaroids pictures will do just fine, so  we took some more pictures and hung out with them for a little while. Pretty cool hu?
Exhibits: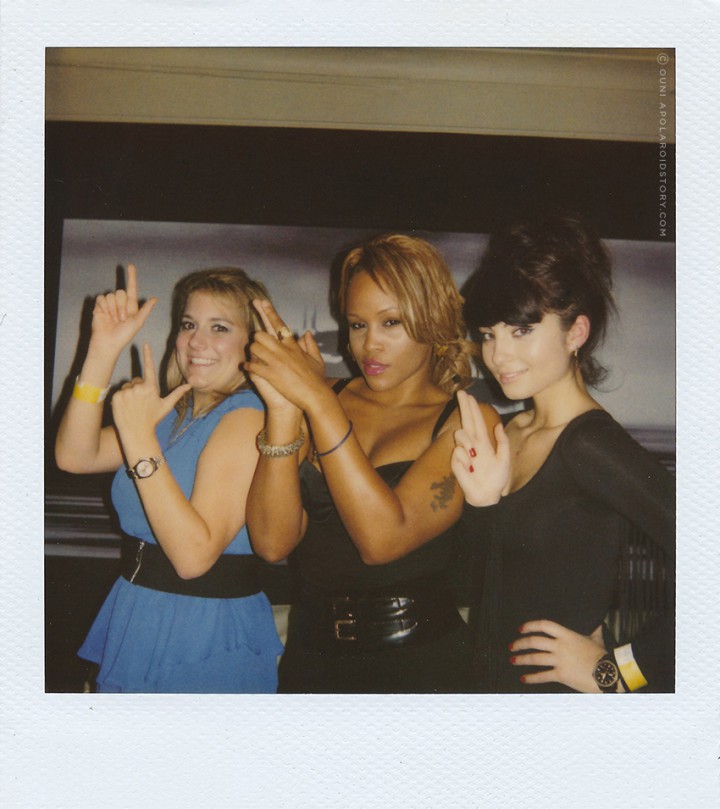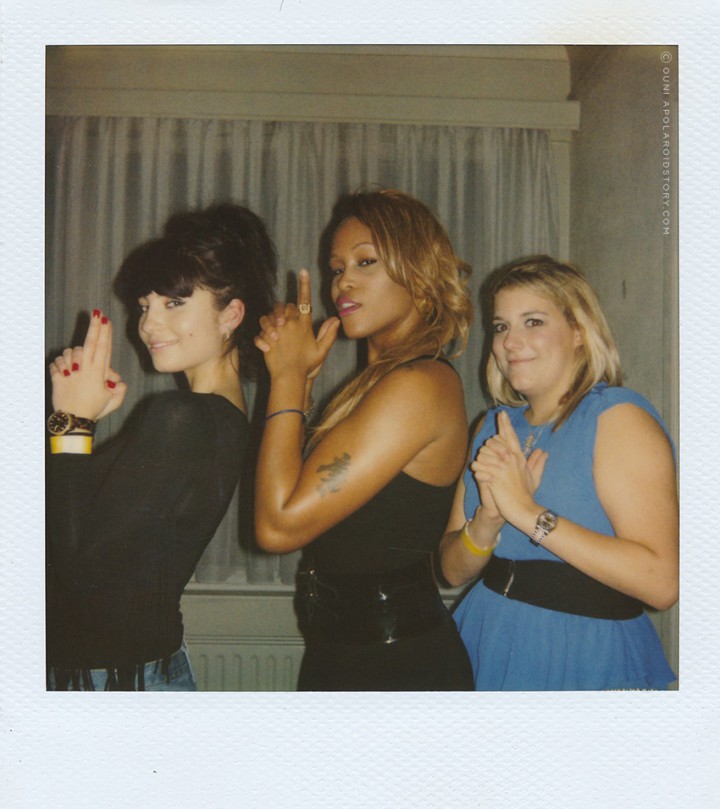 There were no catfights, no diva-isms, it was all about: "Lets play photo shoot!!" Right before we left I asked her where she was staying. (apparently in a castle somewhere??) and I highly advised her NOT to leave Belgium before she got some Belgian chocolate. She asked me where she should go and I wrote the following words on a napkin since she was staying not so far from Brussels: Pierre Marcolini. (Is The Shit.) At least in Brussels. And then we left, thanking the girls for their time and cooperation.
They were partying in a private area right next to us for the rest of the night and when things got a little calmer in the club, EVE went downstairs and danced on the dance floor just like any resident Carré local customer. Much Love for EVE and a special thank yoù for our personal and handsome driver : Mark.
Love,
OUNI
———————————
PLEASE CHECK: