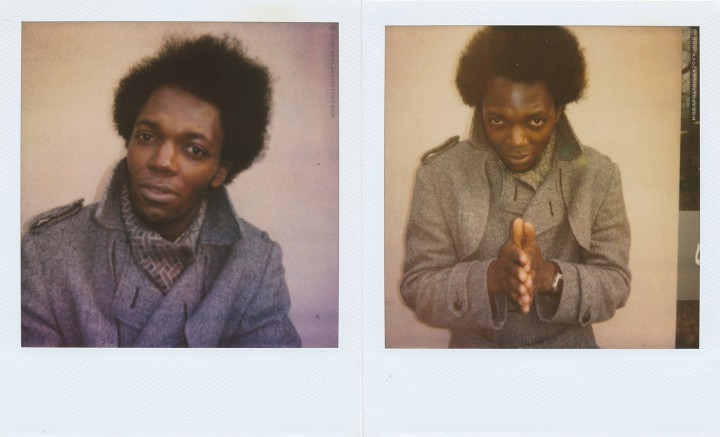 Ghent, 27/01/2010
Can't you smell it? Congo is in the air…
When I met the man displayed on Polaroid here above, two summers ago we had something in common. I started out this little blog and he just started out touring with his new solo album HOTEL IMPALA after leaving his Liège city based first band STARFLAM.
Belgique! Remember Starflam?!
Out with the old, in with the new. He ended up helping me out big time, not only by posing so strong for my blog,
Exhibit:
but he also took me in to the highly secured artist village from The Lokerse Feesten festival where Pharrell Williams was only a couple of meters away in his backstage lodge (with some girls).  That was also the day that I took my first Polaroid picture for my blog, the Pharrell Williams one, live on stage, while NERD was performing. The rest is history.
So when I found out that Baloji was releasing a new album called KINSHASASUCCURSALE, a reinvention of his first album HOTEL IMPALA (inspired by Soulwax Nite versions), I thought it might be appropriate to re-do the Polaroid and do a little interview with him.
It was obvious, that between our first and our last meeting, Baloji (which means 'Sorcerer' actually) had worked very very hard. The thing I like about Baloji is the fact that he tells a musical story. Hotel Impala talked about him leaving his motherland Congo for Belgium with his father, the land that hosted Marvin Gaye in times of trouble and despair. It talks about going back to his mother and the trials and tribulations that came along with that experience. For Kinshasa Succursale  you feel like you are traveling wìth him in this musical journey of revisiting Hotel Impala.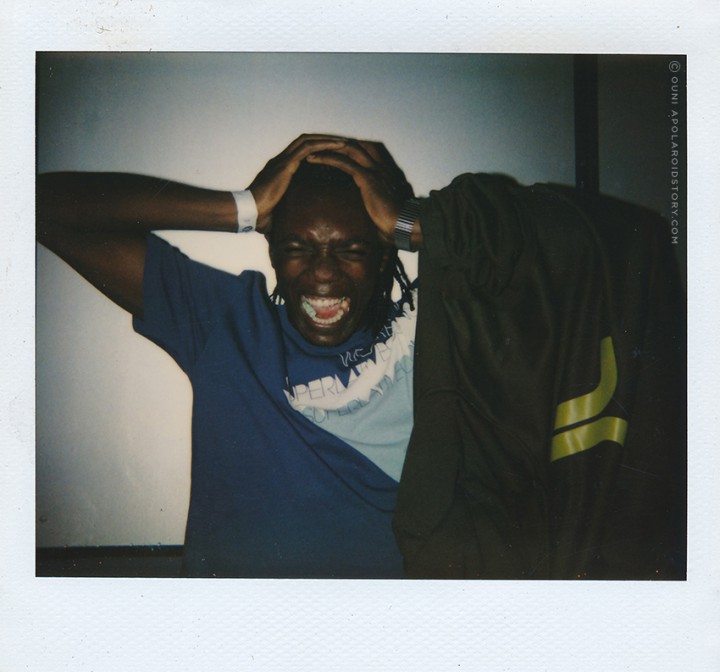 The first video for KARIBU YA BINTOU (=Welcome To Life In Limbo) directed by Spike & Jones with Director Of Photograpy Nicolas Karakatsanis is simply breathtaking and one hell of a comeback  after a long absence.
and the beautiful making off…
[youtube=http://www.youtube.com/watch?v=e-cvFVDV4c0]
So in honor  and remembrance of the 50th birthday of the independance of CONGO (27 january 1960), I am very proud to present Ouni Likes Baloji!
Enjoy.
Ouni Likes Baloji
Congratulations with your latest album! You have come a long way, starting out with STARFLAM, going solo with HOTEL IMPALA and now back after some silence with KINSHASA SUCCURSALE.
So, if I ask you to explain your new album to an audience that does not know you or your music, how would you describe it?
Wow… Well. This record was made in six days and live in Kinshasa. Meaning in a mobile studio kind of way. We've basically been looking for a nice room or space to record it and just did it. There are approximately 35 musicians involved; a band, a fanfare… It was a very hectic process. I wanted to be spontaneous, old fashion way, no professional studio tools, nothing clean, basically a sound with a rawness to it and a real feeling.  Also, I wanted to emphasize the sound of the guitar. Guitar is not often or rarely associated with 'urban' music and more used in 'white' music. But in Africa, for example for the TINARIWEN (guitar poets and soul rebels residing from the Sahara deserts), the guitar is a standard in their music. Basically it's just the way you play it, that makes the ultimate difference.
For your new album you worked with Konono N° 1, notorious for working and touring with Bjork and with fans like Vampire Weekend and David Byrne. What's so special about Konono N° 1?
The main sound of Konono N° 1 is the likembe, an electric finger piano; very acoustic with a very bad car amplifier, so it sounds like a guitar but that is just by accident. It gives the song that specific raw feeling.
The video for Karibu Ya Bintou was shot in Kinshasa and is a five minute lasting visual eye treat. How was the experience of shooting that video in the middle of Kinshasa and maybe tell me something more about the wrestling fight with the Lucha Libre  references?
The video took more than a month of preparation. There was no production company, nothing. We basically had to move everything from styling, to equipment, to music instruments, everything you can think of needed to be transported. Also, you have to realise we had a concept without a specific location. It was a once in a lifetime shoot. We could not afford to make any mistakes, because there was no chance of doing this video again. It was all or nothing and a now or never kind of thing which was an insane experience. Shooting live in the middle of a city with 15.000.000 residents did not only shock us but also the people. The minute the sound system was in the streets, people where basically stunned about everything that was going on. Add the skeleton man that is featured in the video and you might imagine that people went nuts.
To go a little deeper into the wrestle/catch fight. It's a huge event in town, and the wrestlers have sort of a daily routine. At 10 in the morning they get up and prepare themselves for the game, then at noon they go on the streets and announce that there will be a new fight, accompanied by a little orchestra to draw people's attention and win them over to come.  Than at 4pm the crowd gathers and the games begin. That might explain the images in the video a bit more. It's a big thing over there and they organised it especially for us…
Damon Albarn invited you to come and play at the notorious Glastonbury festival which is a huge honour of course. How was that experience for you?
Simply Amazing… I played three times, once in Glastonbury, once in Roskilde and once in Paris together with artists like Amadou & Mariam, Tony Allen, VV Brown… They make a specific selection of African acts and try and make it work, which is great. I did something with The Kooks, Rita Mitsuko was there, basically a beautiful patchwork of artists. Africa Express is a great initiative and I'm very proud that i was invited to be a part of it.
You just showed me a sneak peek of your next video, inspired by 'Les Sapeurs' and with a more specific attention towards styling. Belgian tailor brand Café Costume helped you out by dressing both you and àll the extras in the brand, but the other video has some hidden Belgian styling aswell.
Yes, I am very lucky to be supported by strong Belgian brands. I do believe that the link with branding and music will be the key for this dying business, where small video budgets are becoming a standard. Both videos were made possible by the support styling-wise not only by CAFE COSTUME (tailoring brand from Belgium) but the people from WESC have been supporting me very hard. Le Fabuleux Marcel De Bruxelles made a special sun yellow Kinshasa 'wifebeater' (all wifebeaters in the video are Le Fabuleux Marcel De Bruxelles btw) and even Atelier 11 from Antwerp is a supporter. Nike has been supporting me for years and I feel very fortunate for àll these things.
Do you consider yourself  a modern day 'sapeur'?
Absolutely not. I don't put that amount of money in my clothing and don't take it that serious.
Until today, you have worked with AMP Fiddler, Amadou & Mariam, Konoto N°1, played at Glastonbury, etc. Not bad for a Belgian recording artist.  Any other collaborations you are dreaming about in the future?
(enthusiastically) YES! Billions! Lots! I have a couple of cool collabs for my next album, but, I really can't tell too much about it. I prefer to keep things secret for a while.
Being an artist rhyming in French, with native roots from Congo in Belgium, how hard is it to get your music out in a country that is already politically divided in two languages?
Pfiew…. I don't know where to start for this one… People just respect success. whatever you do, it is the only thing that opens a door. If you want magazine covers, you need success. In Belgium you have to fight against a big cultural gab for this sort of music. Programmers, radios, most people are  raised by rock music like The Rolling Stones and Led Zeppelin and are more familiar with it. Urban music in belgium is considered as 'minority music' and thus gets less chances or publicity, simply because it's not in the culture of the country.  If you are an urban act from Belgium without radio success it is basically game over. However, if you have the chance to go abroad, the interest is bigger because there are more markets, bigger audiences and you might have the chance to make a small living in a niche orientated audience that really adores your music.
The Flemish business simply does not care. Add that with the global works of connections, the 'who knows who', and select club of people that decide what works or not, it makes it even harder to penetrate in the music industry.  If you are not original, or trying too hard to look like somebody else, or fall into clichés, you will have a very hard time. If you do your own thing and make a difference like T.I. did with his first albums or Outkast, and most recently Theophilus London, you will make it. It will take you years and much hard work and patience. But you can make it.
What are you listening to right now?
I know a lot of people will disagree on this one but I really like Drake. Loved his mixtape. I've been listening to Animal Collective, really love that shit. Teddy Pendergrass. Cheesy but oh so beautiful. I have been listening to a lot of 60's Congolese music lately. At the time of the legendary 'Rumble In The Jungle' match between Muhammed Ali and George Foreman people like The Four Tops, James Brown played in Kinshasha and that left a huge influence, resulting in RUMBA – soul music inspired by old soul acts from the 70's.
Favorite song on your new album?
(smiles) without a doubt Karibou Ya Bintou. It's raw and I love it.
Final Question. If I say Belgium. Which 3 word pop up?
(thinks deep and focused)
Crossing Point. Test-country. Compromise.
Baloji is Back. And if Belgium is not paying attention I will do it for Belgium. Because we should be proud of what we have. Recognize.
Love,
OUNI
ps: You can get KINSHASA SUCCURSALE for Free (!) with your latest issue of WEEKEND/LE VIF magazine
—————————————–
PLEASE CHECK:
Baloji
Baloji's Twitter
Baloji's blog
Konono N°1 blog
And for my Fashionistas. (I know you're out there!)