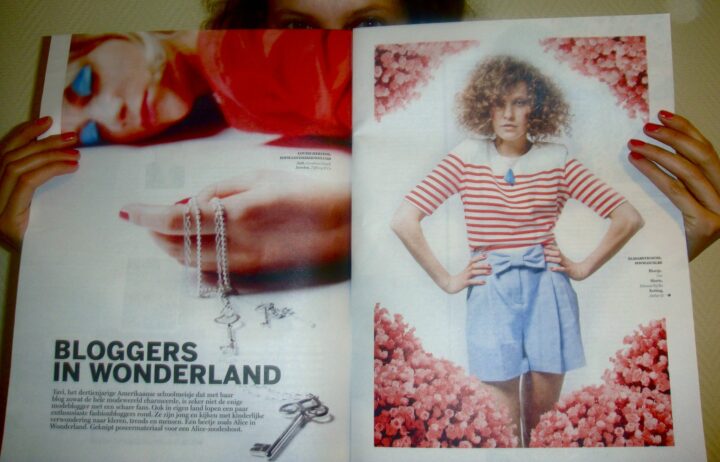 Lovely Readers,
A little month ago I was asked by DE STANDAARD MAGAZINE to do a little interview and shoot for an issue about Belgian bloggers. I was so happy that one of Belgium's most important and reliable newspapers even considered to feature me, I didn't hesitate for a minute.
Together with 'Lickapella' Louise & 'Style4Guys' Immanuel , 2 other young bloggers, we got styled (or is it pimped?) inspired by Tim Burton's Alice In Wonderland movie, a lovely production from the knotoryus DOMINIQUE NZEYIMANA and shot by BOY KORTEKAAS.
Some of you might, but most of you might not know that I have a little past in modelling, so in a way there was not really something to be worried about, but for some reason I was completely totally nervous about this shoot. I mean, you can only make a good impression once…right…?
Because it's the blog that got me in this OUNI IN WONDERLAND (or is it Musicland) situation, I felt that it is only more than correct that I give you guys a little peek-a-boo behind the scenes. What? Of course…you guys are my troopers. It's the least I could do, right?!
Hair & Make Up was done by SABINE PEETERS, one of my favorite make-up artists in Belgium.
Look at the hair… I mean…It's curl-heaven.
I got myself stuck in this PAULE K killer situation. Big up to all models sporting these ones on the runway. Really. I do NOT understand how you guys survived this madness without breaking a leg, neck or nose. Scary Shit.
BOY (Yes, that is his real name, how cool is that) talked me in these various positions. Photographers. You know how they do. I know how this might look…but don't worry, things turned out a little less sexy than it looks like 'down under'.
Look at the hair. GOD. How I wish I could wake up like that every morning. (sigh…)
Voilà. That's all for the sneak-peek part.
This is the result….
Especially for my fashionista's (I KNOW you're out there!!) a little side note of what I was wearing.
lovely short by KITSUNE , top by COS and butterfly bling by ATELIER 11.
Miss (not so) goodie 2 shoes dress by FAFI for ADIDAS ORIGINALS.
Check out the lovely IMMANUEL IBRAHIM killing this shot! Cuteness Galore.
And last but not least, stunning LOUISE aka DOLLFACE.
That's All Folks. Be ready  for exciting new blogposts… Spring is in the air, and lots and lots of cool stuff is coming up. Stay tuned, caus this girl is going places.
Love,
OUNI
PS: Special thanks to DOMINIQUE , SABINE and BOY for making me drop dead gorgeous. ❤