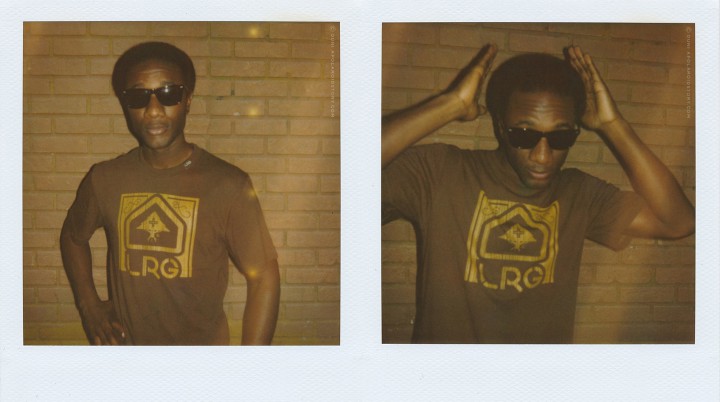 I just got back from Miami. That's old news for my facebook & twitter troopers, but might be new to you.
Have you ever been to Miami? It was my first time ever there, and like all first times, it hurts a bit at first, but I learned to enjoy it a somewhat later. They say you should 'save the best for last', but that won't play in this case, because this story was my best Miami experience and I just can not wait to write it all down before I forget it and it just becomes a very nice memory.
Here's the story.
There's a reason I accidentely ended up in Miami, meaning the Winter Music Conference. It's basically a huge event mostly focused towards DJ's and basically the whole city is one huge party for a week. Being in Miami is a strange experience. Everything is extra. Extra tanned. Extra biceps. Extra Double D's. Extra giant Mojito's in extra large cups. I call it buckets. A vase might fit too. Extra big cars. Bentleys, Beamers, Benz's, Lowriders, Impala's, Lexus, Mustangs, and so on… Extra big parties. With extra expensive entry fees and a few times extra big disappointments. Add the fact that it was Spring Break and you see girls in bikini on the streets completely drunk at different hours of the day again with the buckets and vases. Very strange tradition I must say.
So here I find myself on a Saturday night in an extra luxurious hotel, with an extra exclusive basement bar with extra exclusive DJ's Questlove and Gilles Peterson behind the decks and an Extra exclusive guestlist. While I was standing in line I could see approximately twenty people getting refused at the door. Word was that even your RSVP by email might be rejected because the party was in an extra small venue. (For Miami standards I presume) So while I was waiting in line about 10 meters in front of me, I saw this boy standing and I was looking at him and I could have sworn it was ALOE BLACC. I told my friend who was standing next to me about my mentally ill thoughts and he thought I was completely insane, because in our  way to the Delano Hotel where Quest & Gilles where about to perform I recognized somebody from the back who is pretty huge. (haha. shortest story ever and can't wait to post that one. yes. i took a picture faster than a paparazzi. haha) He told me: "Look, miss Ouni, I give you props for the last person you just spotted on the street like a hyena amongst the sheep, but this is just a little too good to be true." He was right. What was I thinking? Miami heat was messing up my mind. So when we finally reached the doorman I was to stressed and focused to get in, so I quickly forgot about a man called Aloe.
Who is Aloe Blacc I hear some of you ask? Aloe is a singer, writer, rapper, multi-instrumentalist and simply a great genuine artist from  California, Los Angeles. A  good friend gave me his music already some years ago and I immediately fell in love with it. The man is so versatile you can't not even comprehend how much.
He can sing,
rhyme (He started out in a group called EMANON with fellow buddy Exile)
ànd he can do all that in spanish aswell and sometimes he can make you speechless.
When he sings for some reason he reminds me of a shy choirboy who sings in church every Sunday and he really touches my heart when he does. You cannot believe how much times I listened to this little skit, waiting for my bus from one job to another.
I'm still waiting for someone to dance real close to 'Are you ready' and 'Arrive' makes you want to… well you know. Arrive. (Listen to those songs here)
So, when i found out that Aloe Blacc was behind the beautiful score of that (kinda disappointing) HBO show called How To Make It In America. (Sorry…guess I'm still not over The Wire…) I was so thrilled. FINALLY some important dude (or dudette) saw his talent and by choosing this song to be the series main score decided that the rest of the world should share that opinion.
It's captivating, honest and I'm sure everyone can relate to it at some point in their lives:
That's all for the homework part.  Let's continue the story.
Where was I?  Oh yes. The (handsome) doorman.
I called around and sent a few mails to get into this party. Nobody could really help me, but since I prepayed for one party in Miami that never had a guest list anyhow and made me wait 6 hours (?!) for a Jaguar Wright that never showed up (worst organised party ever! shame on you Clevelander Hotel!!) I figured I should just dress fine as hell (like in a real dress), put my heels on, get the make-up plastered on, stand in line and pray for the best.
And there we were in front of the doorman. He asked for my name, checked the guest list, I RSVP'd via mail so òr I was just lucky or my bambi eyes trick worked well on the man. Who knows? But we got in…! The Delano is that kind of place that is basically to expensive for you, me and 'gente ordinaria'.  I walked around uncomfortably, scared for the Delano Fashion Police scanning my under-100-dollar dress & heels.  I'm convinced golddiggers could beat you to death with all their Prada handbags and Louboutin killer heels. Let alone that giant pool you can drown in. Very scary shit.
So while I was sipping on my good old rum & coke (in a normal glass for a change) and enjoying a somewhat normal laid back crowd (hard to find in Miami) my friend suddenly whispers: "Uhm…, i think you are right…the guy you thought was Aloe Blacc, just placed a flyer on our table for that party you wanted to go to tomorrow." I looked down at the table and yes indeed, there was this blue flyer with the final event in Miami I intended to go to. I looked up and saw a man standing in a dark corner, carefully checking everything out in that small ebony wooden ceiled piano room with a pack of the same blue flyers in his hands.
Ok. You need to know, that by that time I already had 3 rum & cokes, and since you all know I can go lyrically blank when I'm nervous, so understandably  I was NOT feeling to do my blog elevator pitch in a place I wasn't feeling comfortable at the first place espescially if I don't see it coming that I will have to do so. I like to prepare my shit.
My friend kept pushing me that I should ask if it was really him, and I was like: "What?" Now I'm semi-drunk (rum remember) you start to mess up my head,  and Ì have to go and ask hìm if he really is who he is!?" "What if he is not?" Then I would be like the girl with a very bad pick up line!?" Ok. So I observed him for a minute more, took a sip of my rum, and went straight to the man. (rum makes me do that)
This is the conversation:
ME:
"Hi, I'm sorry to disturb you and walk up to you like this, but I noticed you were holding these flyers in your hand, and I heard Aloe Blacc will be there to perform?"  (I know. very lame, but what could i do??)
HIM:
Uhm…That' correct.
ME:
"But, who is Aloe Blacc?" (lame.lamer.lamest)
HIM:
(while raising an eyebrow)
Uhm…That's me….
I KNEW IT! I clapped my hands together out of enthusiasm, told him that I loved his music and his songs and that I was so glad that his song got featured on How To Make It In America and that I could not BELIEVE that it took America so long to notice him. "That's what America does" he replied. We talked some more, and last but not least, I asked if it would be ok to take a Polaroid picture of him tomorrow at the DO OVER event that he was hosting, if he got some spare time. He agreed, we shook hands and that was that. I danced the night away to some good music provided by Gilles Peterson & Questlove. My Miami night could not have been any better. And ofcourse. I kicked my friends butt because he made me doubt my photographic inner vision!
The next morning I woke up and it was a very hot, sweaty and grey day in Miami. No sun. Around 3PM we took a cab and headed for the DO OVER party in downtown Miami in a place called BAR. When we arrived, I immediately felt at ease.  The vibe, crowd, music and surrounding was so right, I was so glad I made the choice to come to this party, and it felt as a relief in comparison to all the other parties I've been to before. Not that they were thàt bad, but simply because they were all so hyped and pumped up, crowded and noisy.
The DJ-line up was as smooth as a motha- with people like Maseo from De La Soul, Jeremy Sole, Victor Duplaix, and Rich Medina and Kon & Amir to name a few. Add Aloe singing live from time to time and you might get an idea. It was the garden party I always wanted to go, but never ended up at. The music and vibe was amazing, people looked happy and really enjoyed their time being there. I captured some moments so you might get a better feeling from what I am saying. It's to hard for me to explain in words.
There were:
FLY GIRLS:

FLY BOYS

FOOD:
BEER: (yesss. Stella. I owe it to my country)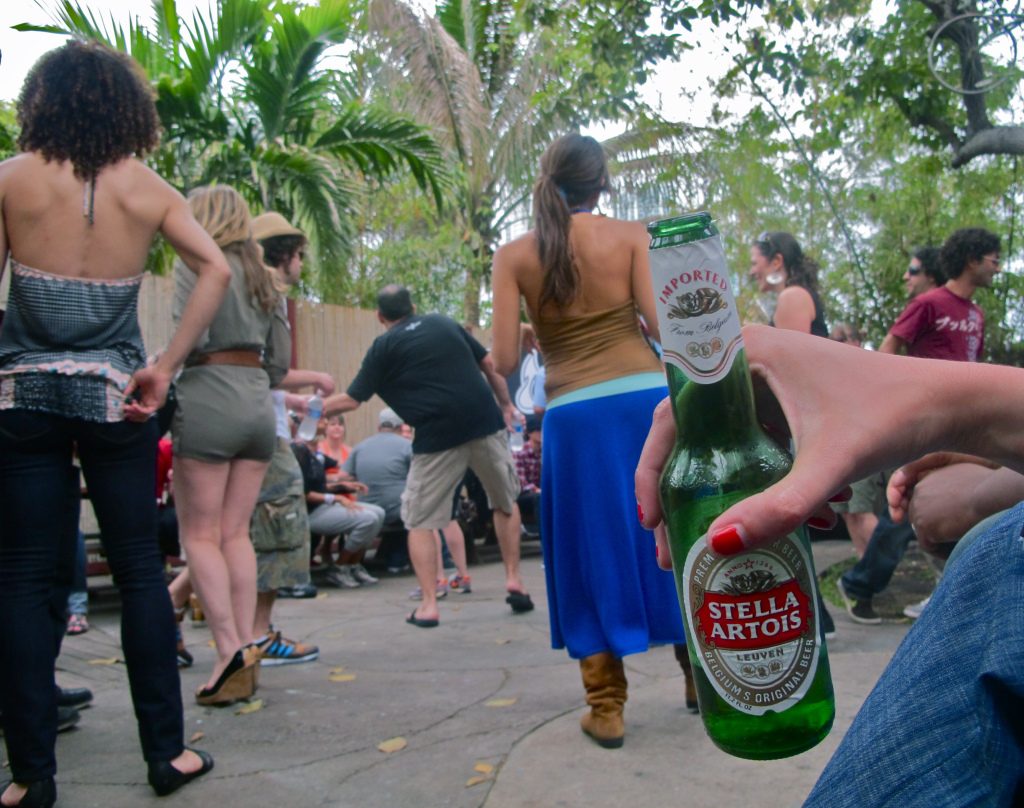 GILLES was there too…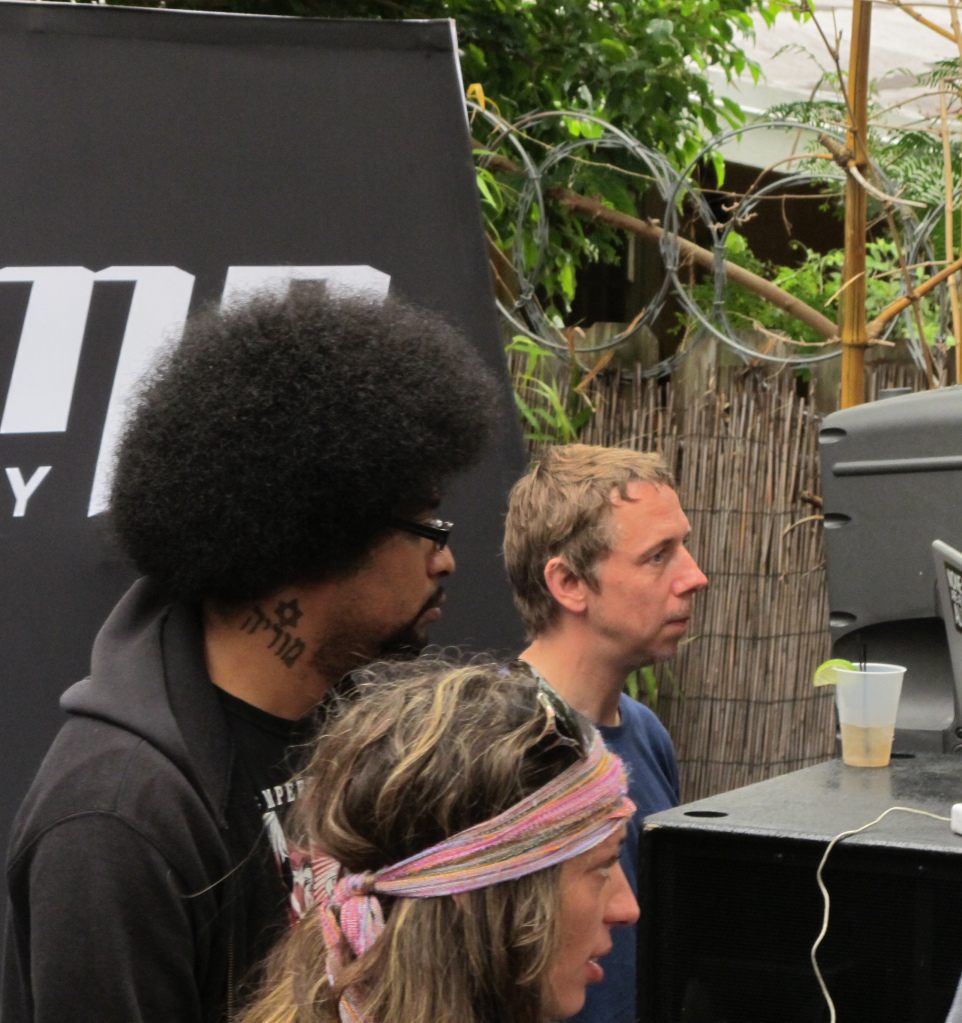 and lots of LOVE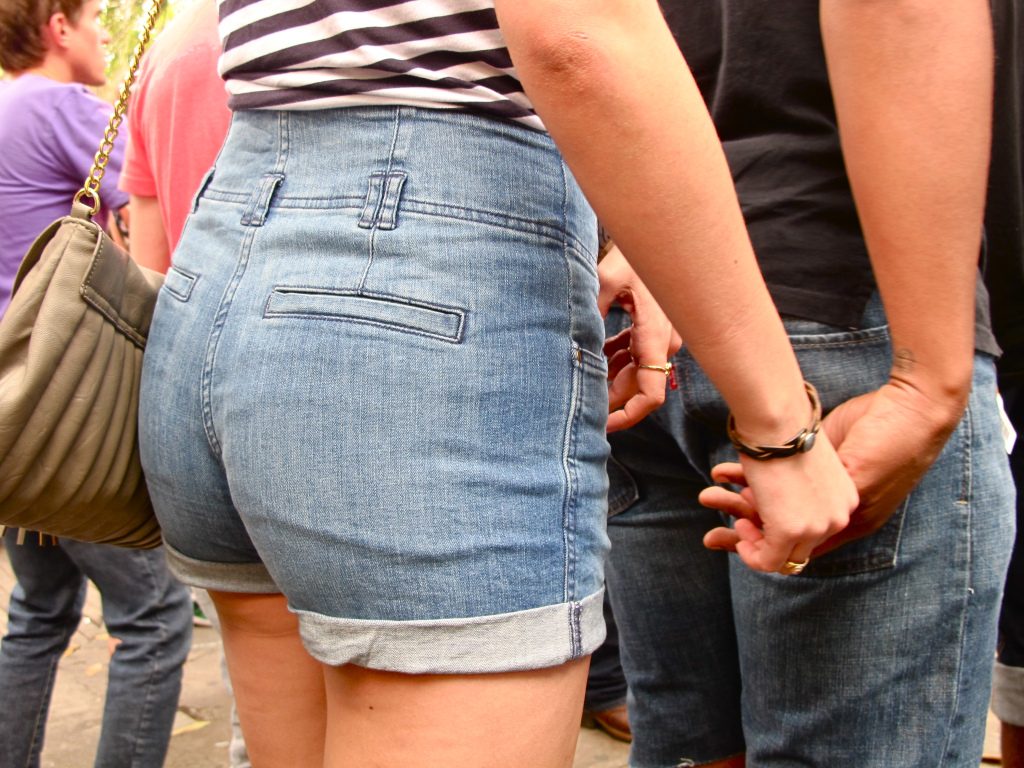 In all this cosiness I needed to do some work as well. Which if I am honest, was a bit stressfull I might say. The night before I was a bit more fluent due to the rum and now I was back to my stuttery self and waved a shy hello to Aloe when he passed by, waiting like a good girl for him to do the Polaroid. With every hour passing by I got more nervous hoping he would not have changed his mind and I slowly felt that the beer and sensimillia got me a little blurry, which is fine, it is a party after all, but it made me more nervous as well… what if I fell or something?
So finally, right after the sun went down, he came up to me and told me he was ready for his picture. At that time, the party was getting really crowded and since I prefer a nice clean wall and less people around me I suggested that we could go outside. Thank god, he agreed because I was not feeling the idea of drawing too much attention with my Polaroid camera in a crowd where I don't know anyone… So we went outside and I explained the basic idea of the blog.
Exhibit I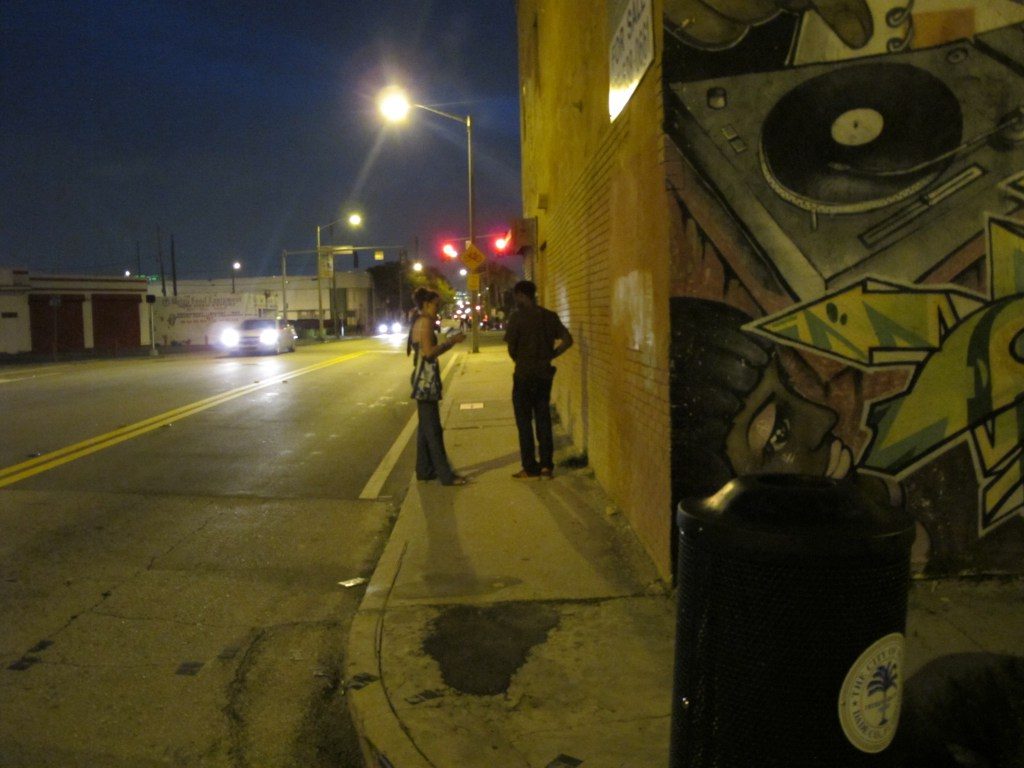 I put him against the wall. asked him to do 2 expressions if he felt like doing so, aimed my Polaroid and…3.2.1. Flashing Lights. Bingo.
Exhibit II: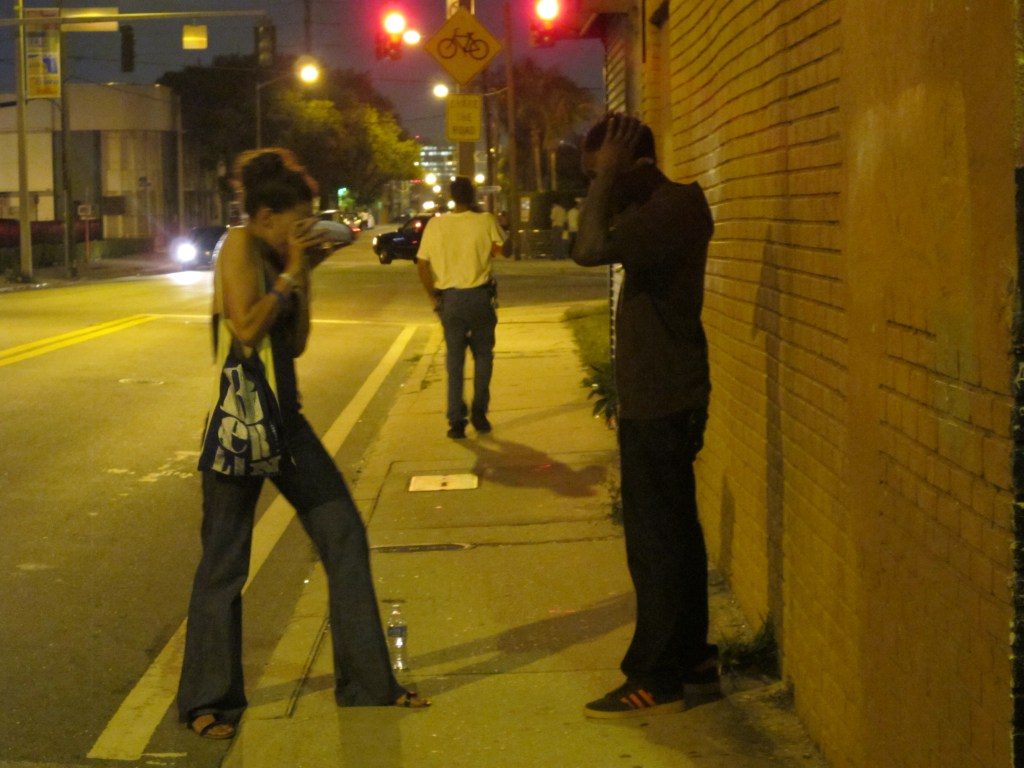 We looked at the pictures, he gave his approval for both polaroids and I him gave one to keep. Because sometimes even I come with extras. 🙂 We went back inside and then it was time for me to go. This Miami trip could not have ended any better. A perfect ending to a beautiful day.
Aloe's music is something you need to LOOK for. It's barely on the radio. At least not in Belgium and if it is, not much. It's something that is passed on between friends and lands on your ipod or mp3 player. It's not popular music, or 'easy' music, it's pure, lyrically strong and you actually need to LISTEN and FEEL it. We all know that sort of music tends to find its way to the radio a bit harder nowadays and quite frankly that's a shame.
Let's hope with Stones Throw Recordings having this man's back and the first single 'I need a dollar' coming from his new album 'Good Things' slowly penetrating your local radio, Aloe will get the attention and love he deserves. Aloe Blacc makes me speechless, and I'm pretty sure he will do the same to you. I think things will turn out just fine for him. How else will you explain the ray of light shining om him on both of the Polaroids…?
Coincidence?
Sorry…don't believe in that…
Love,
OUNI
PS: Special thanks to my 'dog' BOO for playing instant background snapper. He now realises Jules' task is hard duty.
Please check all of Aloe Blacc