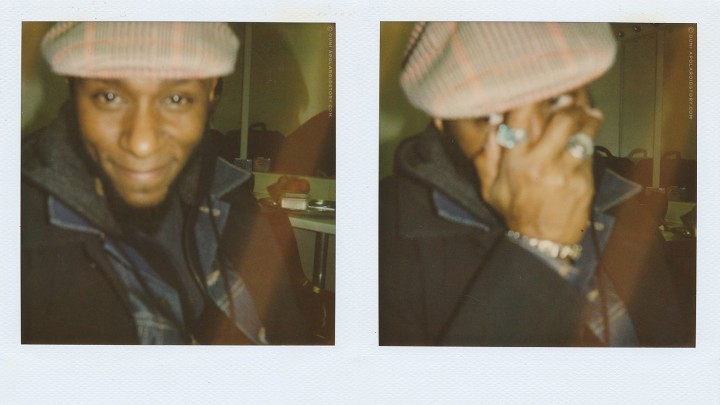 Vooruit (Ghent), 06/04/2010
Trust me, this wasn't easy!!! But…yes. It's him.
Dante Terrell Smith-Bey aka Black Dante aka Boogie man aka The Freaky Night Watchman aka  A White Man's Favorite Rapper aka Pretty Flaco or simply…
MOS DEF.
The Greatest.  The Greatest. There was no doubt about it, the moment I found out Mos Def was making his first stage performance in Belgium éver I had to be there. Me ànd my precious Polaroid. I had a gut feeling that this one was not going to be like an easy flow on the river Kwai. 'Oh no.' I really LOVE Mos Def. I just do.
The first time I heard Mos Def, was again in a open van parked by the Ostend seashore on a very warm day. (I did that a lot back in the day, what can I say) I remember it like it was yesterday. I was about 15 years old, smoking a doobie and all of a sudden these words got my attention: "I said, Elvis Presley ain't got no soul. Chuck Berry is rock and roll. You may dig on the Rolling Stones, but they ain't come up with that style on they own." He got me all shook up!!
I grew up with Elvis and had to watch one documentary after the other but I had never heard thàt before! My boyfriend explained me what he meant and from then on I was no longer unfamiliar with the name Mos Def and I was proud to know that before Elvis, there was Chuck Berry. The man is rocking the industry since way back, starting out with his brother and sister in his first group Urban Thermo Dynamics to become publicly acclaimed together with fellow rapper Talib Kweli in Black Star. Songs like Miss Fat Booty and Rock'n'Roll from his first solo album Black On Both Sides were on cassette replay.
Later on Sex Love & Money, The Boogieman Song and Ghetto Rock from his second album The New Danger were on CD replay. I'm a huge Blade fan (Robert Pattinson ain't got shit on Blade!! )  so when he scored the sequel with a Massive Attack collaboration -again- he seized to amaze. I mean…put that track on mega blasting speakers, it goes straight to your veins like a heroine shot! (Not that I would know, but still…) And then I didn't even start about the acting!  If there is one artist that made the perfect and credible crossover from music to acting it must be Mos Def!  No doubt about it. He charmed me in a million ways playing Christopher 'Chris' Vashawn in Brown Sugar (remember this and this?)  convinced me in a million ways as Ford Prefect in The Hitchhikers Guide To The Galaxy and amazed me in a million ways as Chuck Berry in Cadillac Records. Fuck!  and then I almost forgot his collaboration with the Black Keys for BlakRoc…! Hold on! Did I mention his latest collab with Damon Albarn's supergroup Gorillaz? The brilliance just doesn't stop. Or maybe I'm biased, I don't know, it's obvious I love the man and his work.
Mos Def made a stop in Belgium to promote his last solo album The Ecstatic which for me is one of the few albums lately I can listen to from the very first song to the last. Maybe it's the lyrics, maybe it's the oriental/middle eastern vibe the album has, but rest assured, it's one of my favorite albums of the last decade and on a more than regular MP3 replay. So when I arrived at DE VOORUIT venue in Ghent that night I was dead curious to see him perform and to see the man in the flesh. My friend and sexy grinder Rose was so kind to help me out that night, because my dear Jules had to leave the country due to work related après-ski obligations. (smh) and I was not really comfortable on chasing  the man on my own.
It took a while for the Black Dante to get on stage, but when he finally did he was dressed to the nine entering the stage with a Fela Kuti intro. Black Cap, blue délavé jeans, black baseball jacket, some braces, striped Missoni-esk socks in black oldskool Gucci loafers accompanied by the ultimate stage accessory: a beautiful shiny red hand mic. Pretty Flaco to me!
For some reason a lot of people expected a full live band but Mos Def came accompanied by his brother Gold Medal Man aka Big Abdul and DJ/Producer Preservation. The performance might not have been what most people would have expected from the man, with barely no songs from his early repertoire and a main focus on his last album The Ecstatic but he seemed to have genuine fun on stage, smiling ALL the time and he didn't really care what people would expect from him, which makes his performance a statement on its own. Sure, I would have liked a more hip hop approach but hey… I'm not a critic, I just go to concerts and enjoy music.
The 2 hour performance ended around 01AM and me and Rose had some nocturnal work to do. Things were NOT looking good. I was patiently waiting to use what I call my 'secret gold card'. Meaning a very good connection I accidentally met in Amsterdam while hustling to get Jay Electronica on Polaroid. My connection already informed us that Mos Def is NOT easy to snap on Polaroid, because he simply does not like to be on too many pictures and he rarely does after a concert. He texted us a description of a tour member who possible was the only man who could get us backstage and he advised us to try and grab a man with 'indian' features with glasses and say hi with his compliments and wished us good luck. Because -clearly- we needed some.
'An indian man with glasses' Great. How vague can one be? Interesting point —> There was no man to be seen with Indian features. The stage corners were so dark and besides Mos Def and his 2 DJ's there was nobody to be seen. To make things even worse, when the concert ended Mos Def's brother picked out 2 lovely ladies out the audience to come backstage and both me and Rose were giving him our best Bambi look in attempt to take us with him but the man was pretty sure about his choice and we were NOT getting in. Really makes you feel like the girl that doesn't get picked when the volleyball teams were divided in highschool.  🙁
There we were. FUCKED. We knew we had not much time before we had to leave the venue so we had to decide if we were going to try IN the venue OR we had to leave immediately to wait outside close to a backdoor to try and get the picture. And then… I saw him. A man with 'Indian' features and glasses.  The dark corners of the stage kept him away from my eye vision but there he was. A second later… he was gone again.  Was I getting delusional now? Rose was not really sure this was the man our connection talked about and even less sure if there was a man on stage at the first place. In a last act of despair, I wrote on a small piece of paper some words that explained the blog, referred to my connection and when I saw DJ GUS walking by I waved with the paper in my hands and asked him if he could give this to an 'indian' looking man with glasses.
I saw him leaving the stage, and talking to somebody and then all of a sudden, a man who introduced himself as Naheem entered the stage and walked straight up to me. I immediately showed him the iTouch with all the artists I captured before and explained the blog to him. He asked me to -please wait- and he disappeared in the dark again. This is that crucial moment when you wonder if they will play you and not come back or they will give you the OK for us to do our thing. When he finally came back he said: "You can come backstage, but there are no guarantees, you still need his personal agreement and you have to be prepared that the answer might be no." I was already happy with a little foot in the door so of course I agreed on his terms. I was ready to accept the outcome, no matter what.
When I finally managed to get backstage with Rose we took a chair and waited. While I was waiting  I noticed a familiar face talking to DJ Preservation and she was so sweet to kindly direct her conversation with him towards me and asked me to join them so I had the chance to explain the blog already to him a bit. What can I say, I suffer from pre-encounter shyness disorder. 🙂 When I showed him all the work that went before this moment he genuinely liked what I did and was very receptive to the idea of capturing Mos Def. We went through all the artists and he said: "Waw, this is like a Polaroid journey watching all my friends, very cool!" Great. Things were going in the right direction and I started to get a good feeling about it. Finally the door opened, Naheem signed that I could come in and then it was showtime.
I introduced myself while shaking Mos Defs hand and started to explain what I do. He was very quiet and asked if he could go through the pictures himself. I gave him the iTouch and him, his brother and Naheem were sliding through the Polaroids. Nerve wrecking…. What if he didn't like it….?
Exhibit:
He looked at me, smiled and said: "Alright, let's do this." My heart made a little jump and I took a chair and prepared my shit. He was sitting right in front of me and I asked him where he would prefer to take the Polaroid and said: "Right here." Damn. The backstage lodge was pretty messy, kind of crowdy and a big mirror took most of the walls in it and bags and luggage were lying on the floor everywhere. Not the perfect conditions to take a Polaroid picture. You all know I like a nice clean wall right…? But, I accepted the outcome and tried to frame as nice as possible although the very close distance was a little worrying. I aimed my camera. started the countdown…
3.2.1. Flashing. Lights. Bingo!
Exhibit:
And same thing for the second one.
Exhibit.
While we waited for the pictures to come through we talked a bit and he was really down to earth. I felt right at ease to have a conversation with him. Like I might said before, it's very hard to have a somewhat normal conversation with an artist, I mean, what do you talk about with someone you have never met before besides the fact that you love his or her music which I always think is a pretty boring subject for them I guess… After all, you don't know the person you have in front of you and I really suck in small talk…
While we were talking, another familiar head peeped out the door and asked if he could come in to give an artwork piece he made for Mos Def. His name is Sebastian aka A SQUID CALLED SEBASTIAN and I say familiar because when I first started out this blog I did a little blog post about him. He handed over his work to Mos Def and both him and his brother really liked the piece.
Exhibit:
Exhibit:
By that time, the pictures came out properly, so Mos Def looked at them and suggested we could do one more. He suggested to do one standing up (My man!) and I placed him against the only white spot in the room.
Exhibit:
While waiting for that last one to come out, Mos Def's brother Big Abdul asked to teach him some basic Dutch since the next stop was Amsterdam and he wanted to show off some nice words. I was happy to provide him with the bare necessities. Seconds later I had the whole crew repeating " Jullie twee! meekomen!" en added some clichés like "neuken in de keuken" which obviously was quite hilarious. Dutch is not easy. 🙂 It was getting really late, and since Rose and I had long drive home ahead we said our goodbyes to Mr Mos Def and his crew:
Naheem
DJ Preservation
and ofcourse, Big Abdul
Last but not least, I thanked Mos Def for his cooperation and interest in my project, and while he was shaking my hand he said: "Nice to meet, until we meet again in this  journey." It was around 3PM when Rose and I left the building.. Tired, but with contempt. We drove home, sleepy with Otis Redding singing in the back. There is nothing like ending a nice evening with Otis.
I however, would like to finish with the beginning:
Love,
OUNI
PS: Special thanks to Gus, Nadia and Naheem for that little push in the back. And last but not least my dear Rose because backing up for my precious Jules ain't easy but you nailed it! ❤