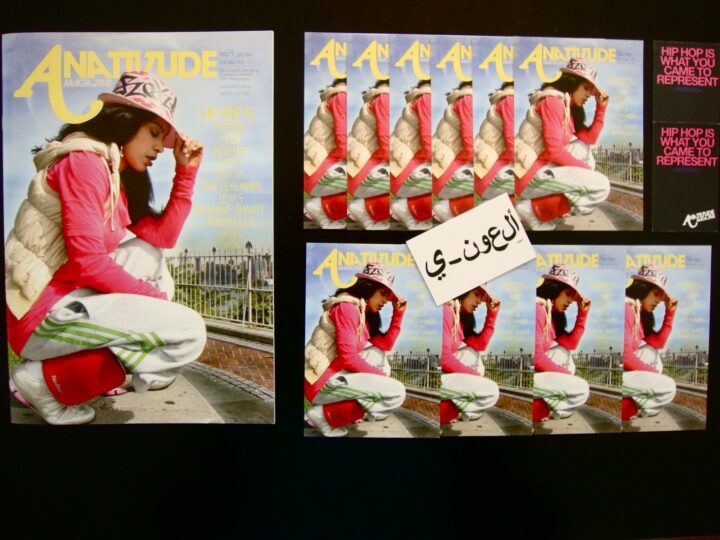 Ostend, 26/05/2010
Dear loyal readers,
Deciding do begin with this little blog brought me to different places. This blog is , besides my baby, a musical journey for me and I'm not quite sure when it will end, since I feel that this is only the beginning… So when chief editor of ANATTITUDEMagazine JEE NICE asked me to join forces and participate in her expo she is throwing in order to celebrate the first and only existing international female Hip Hop magazine – on print – its 5th year with –Anattitude THE EXHIBITION– I didn't hesitate for a minute.
I'm all about taking things to the next level, and this looks like a step in to the right direction to me! I'm very proud and honored to be featured next to:
Janette Beckman (USA)
Texas Malika Toussaint-Baptiste (USA)
Lizairo (BE)
Rosy One (CH)
Dope Pose (CH)
FLady (NL)
(No Balls, No Glory) A Polaroid Story (BE)
B Fresh (USA)
Helene Tilman (FR)
Helene Ehrlich (USA)
Toofly (USA)
Indie 184 (USA)
Mara Monetti (DE)
Jens One (DE)
Jeannette Petri (DE)
and many more…!
The exposition will possibly travel from Frankfurt to Paris to London to Berlin to Brussels, so this blog is going #eurotrash and I love it!!
I have never been in Frankfurt before, so this is the perfect excuse to travel to the exposition with my beloved P.I.C. Jules and make a nice report with lots of pictures of the exposition and show you guys what I finally ended up doing for the expo.
Thank you again for all the mails, the likes, the tweets, the messages and the shout-outs, it's much appreciated.
I love what I do, but my readers make things all more worth while…
So stay tuned.
Love,
OUNI