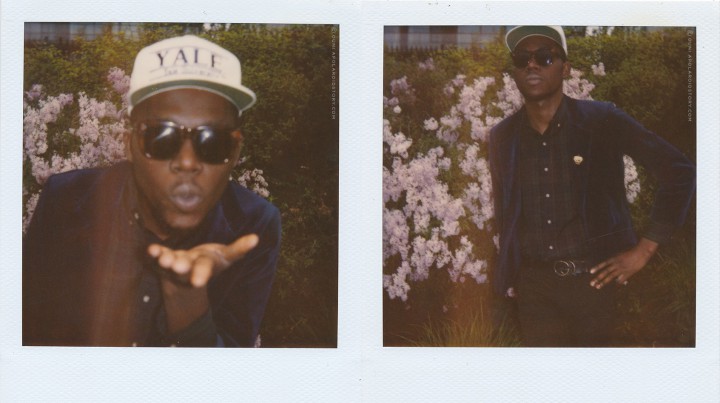 Brussels, 12/05/2010
Dear troopers, readers and lovers of sweet stories. For every story there is a beginning and an end. Some stories begin with a 'Once upon a time' feeling where other stories turn into drama. And then we have the Sequels, the Sagas, the To Be Continueds and finally The Never Ending Story. Some of you like Happy End stories, other prefer the ones where possibly everything can go wrong.
Eight month's ago I stumbled over the name Theophilus London in my sofa in Ostend, 5 months ago he passed me by in a New York club, 4 month's ago I met him in Berlin and last week the man was booked to play a gig at the Brussels Les Nuits Botanique Festival. Funny how things go right? If you have no clue what I am talking about then it is most definitely time to read this Stupid story and read àll about the man there is to know and how me being stupid turned out pretty great at the end.
So now you did that (I trust you on this one!) you might have noticed I did a very lastminute and roughly improvised interview with the man in Berlin. Very oldskool, with pencil and paper and without recorder, and I asked myself the question if I would ever have the chance to do another interview. But then of course, nicely researched, hopefully semi-original questions and wìth recorder. When I found out that he was doing a Belgium gig to promote the release of his new mixtape I WANT YOU, I figured… what the heck, just send an email and who knows… you might get another chance…?
And so I did, and that's exactly how it went. True, some things were slightly different since the first encounter, emails were now in hands of tour managers, and everything was nicely scheduled but what can you expect from a man who travels half the globe merely on the success of 3 mixtapes? Plus if you have people like Gilles Peterson and Mark Ronson backing you up, you can't expect things will remain the same, right?
So there we were, Jules and I, waiting for Mr London in a nice hotel lobby in Brussels for our very first scheduled appointment. We felt very pro. Like real journalists and stuff.  -NOT- So here it is, everything I wanted to know about the I WANT YOU mixtape and I truly hope you do to…
A POLAROID STORY x THEOPHILUS LONDON
THE INTERVIEW  (Pt II)
Mr London, first off all, welcome in Brussels, Belgium. Any first impressions?
Thank  you!  Yes, it's a calm laid back city. I love cities like this.
4 month's have passed since we had our first little improvised interview. You were still working on the I WANT YOU mixtape.  It's now out in the world,  for everyone to hear. What is the response so far?
It's been great! Had some personal and honest reviews. I'm pretty happy that people are so siked about it. I spent about 6 months working on it and started working on the tape back in November.  I'm happy it's out now and ready to finish my album that's coming out in July and just keep bringing it to people.
The mixtape is highly inspired by Marvin Gaye. Looking back to the process of making this mixtape, how does this show in the mixtape?
I guess it started with his album 'I Want You'. I named the mixtape after both the album as the song.  I was in LA during the process and I went to the record store and found a special edition version of I Want You, with all these different parts and remixes  that nobody ever really heard. So I took the baseline and a snare and I decided like, you know what, I'm gonna rap on this. It had such a steady rhythm and a steady pace. I was riding on Sunset Boulevard when I was listening to the music that I just bought and that's when I started to come up with the lyrics, you know, me picking up a girl in a blue dress by the airport. Marvin's music is very descriptive, he kinda paints a picture for you to see, so I wanted to implicate that. The mixtape in itself is also a growth of me, I just used Marvin as a target and influence point. I'd say that there are 4 songs on the tape that are definitely inspired by Marvin, but I kinda wanted to dedicate the whole thing to him, like an homage.
On Life Of A Lover you can hear the voice of Jesse Boykins III who is often present on your mixtape. How would you introduce him to the Belgian audience and my loyal readers?
Jessy is a very soulful, playful and funny guy. Good mannerism btw. He is definitely one of the next amazing performers. He will definitely affect people. And women.  (smiles)
In the video for  ACCEPT THE NEW, you ride a very colourful, fluorescent bike and the video is illustrated with squids and jellyfish. What's the idea behind the video and very important, where did you find the bike?!
There is no idea behind the video. I just wanted to do a crappy DIY video and show that you don't need to pay 50.000 dollars for a video that's gonna get 40 to 90.000 views in the first week. I guess I wanted to make that point first. The whole thing about 'Accept The New' is about accepting new things, living in progressive times and to accept that and get over it. We are in a new age. I wanted to edit the squids in the video because they live in the darkest pitch black levels of the sea. Those are rare creatures you normally don't ever see in your life and I wanted to broadcast that. And then I want to be honest…the guy in the bike is not me.
(me= whut? While cheeks are colouring slowly red)
No, it's not me!  I was recording and writing this album in LA and I wanted to grab a late night taco , so all of a sudden I see this bright thing in the street and I'm lik wtf is that? This guy drives past me riding a bike, so I roll down the window while my manager is driving the car, and we followed him for tree minutes. I didn't have my camera but I had my iPhone with me so I recorded him. I thought it was genius, I wanted to buy the bike, film the bike or at least interview the guy or whatever, but we couldn't get him to stop, he was listening to music or on drugs, I don't know. I heard he does that every night in Hollywood. He's famous. I hope I have the chance to meet him one day and that he likes the video.
On the mix tape you covered Tweet's OOPS song and together with Hudson Mohawke you turned it into something really raw while you kinda changed the point of view of the song. How were the reactions to that, you being a man and the song being controversial as it already was?
It was very risky man. Very risky. I'm not scared of taking challenges or take risks in my career. That's something risky, a rapper from Brooklyn singing a song that was written by Missy Elliot about a girl masturbating and flip it completely around. The way I sung it, the girl is masturbating in front of mè, but I'm still singing all her lyrics because it's a cover. I knew there was going to be some controversy, especially since some hiphopheads or whatever you want to call those guys, are on to me, so definitely risky. I want to make music that builds controversy and people talk about even if you like it or not. So sure, there was some controversy, girls masturbating on the song and guys simply not wanting to listen to it because it sounds 'too sweet' or because it's something a man is not 'supposed' to do.
I'm happy I did the song, coming out of the box and surprising people. You know…I like to be in the middle of that point of view. Between making mistakes and good choices.  I end with 'They never know what's next, see it's better to have'm clueless' And that's exactly where I want to see my career moving towards.
Ok. what is there to know about Pyromilitia besides the fact that Vampire Weekends' Ezra Koenig is singing on the track. Do all journalist need to fear you from now on…?
It's a remix from a group called Discovery with Ezra Koenig featuring on it. I wrote that song to like backlash on journalists. But I'm fine with journalists, actually I love journalism, I wanted to be a journalist before I became an artist. So there is this guy, a journalist called Paul Lester from The Guardian, who wrote an amazing article about me. It was very weirdly written, maybe more for his office buddies or to make people laugh, dunno, but I didn't really get it. I thought it was cool to reach out to him, not through email or by phone but do a song. And then around the time of This Charming Mixtape, there was this other guy (Ich Luge Bullets) who wrote a controversial piece about me as well, which I really loved, I have it saved as a bookmark actually, and I felt that I should talk to him too you know..
It's a playful thing, I'm not a violent guy, I can be violent with words, which is ok. it's good to express. I wanted to let them know that I'm aware of what they wrote and if they think it's cool I put them in a song then –wooptiedoo- that's awesome.
What's the story behind Departure (Paris 96)?
Departure is an exclusive track I did with Jessy that I put on the JAM! Mixtape, the special edition about 2 years ago. It became a fan favorite and somebody put it on YouTube. I was so surprised that people loved the song and kept asking about it. So I was like, all right, let's do a tribute to the fans and do a remake. But we re-enact it in a way, that we are bringing it live in concert!  I made up this fake story about singing this song in Paris in 96, with the feeling like somebody recorded it live and added some cheesy clapping and cheesy crowd roaring to it. On the cd's I pressed on, there are 3 more songs after Departure actually…
After making 3 mixtapes, the next step for you will be the release of your first full album. What can people expect, because looking back to the mixtapes, it's a eclectic to say the least.
For every mixtape there is a year in between and I go influenced from Prince to Michael Jackson, from Morrissey to Elvis Costello, to Marvin Gaye, Afropop and obsure jams. The thing about the mixtapes is that it is fun and progressive. It's for the early grabbers and the internet kids that get things a bit faster than the rest of the world does. I'm a part of that generation as well, so I'll keep bringing music like that. However, I am definitely ready to put out a traditional 9 to 10 song album with artwork, 3 amazing videos and tour that same album. Expect an electric funk , love soul record, with rap and singing. I've been working on my voice a lot, and it's getting better by the f-ing minute. There are people like Dave Sitek from TV ON RADIO, Santigold's producer and Hudson Mohawke working on it. Dev Hynes and Solange Knowles who did 'Flying Overseas' are also featured…probably Jack Penate and Miike Snow will be on it aswell…so yes, definitely a tight record.
You worked with Damon Albarn on a Gorillaz song (unreleased). Any cool anecdotes you want to share?
Waw man.. working with Damon was so genuine. He invited me in his 3-story studio where they also create all the gorillaz characters. I was a bit overwhelmed, thinking how this is way too early for me as an artist being able to be work with him. When he came in the studio he pulled out this big pile of hash and I was like… Let's do this! He let me listen to all the new Gorillaz songs and he actually really digged the Amadou & Mariam mix I did and we worked for about 20 minutes to recreate a beat for it. It's a more epic, orchestral version of the Sabali song with the bass player from The Clash playing on it. I didn't put that out, but I use the music when I perform live and the bass breaks out the system every time. So besides that he showed me a Marvin Gaye type of song he was working on called 'Broken' and he wanted me to rap on it. He told me some crazy stories about James Brown and Ike Turner dressing up as cops. Crazy.
The list of people you have been working with till now is getting quite impressive, especially for a new artist. And now there is a collaboration with Belgian/Congo artist BALOJI.  How did that work out for you?
Aah, it worked out amazing. I can't wait to go home and mix it and put it out in the world. I'm excited. It's definitely crossing boundaries, a lot of artists don't get to travel too much and stay in their communities and you never get to meet artists like Baloji, or Amadou & Mariam. So it's great to be that guy from Brooklyn that can connect with people from around the world because there is nothing more beautiful than that.
Romance and love is never far away in your music. There is no doubt that women will like this mixtape. But how about the men…? How do they respond to your music?
It's been great! They get to -excuse my language-  fuck their girlfriends to it. A lot of guys dig the rap element and it teaches them to loosen up and that it is ok to be sensitive and it's ok to like girls. Even if I sing to women, the guys can easily put themselves in my shoes. I've been seeing Facebook and Twitter status updates mentioning things like: "I want to find a girl who loves Theophilus London's music  and sit in the park with her and make love"
So..basically you are being used as a hook-up?
(starts laughing)
Well, if  you want to put it like that…sure.. I want to take responsibility for hooking up people.
Let's talk fashion real quick. You have a much talked about 'out of the ordinary' style. You have a love for thrift store and vintage pieces but you can flaunt some very contemporary clothing aswell as seen in the Complex feature. What's your latest fashion item you can't live without?
Hmm. I have this Versace shirt I -might – can't live without… Whatever my collection is right now, I probably can't live without it. It's just a mix of high-class brands with simple thrift hand-me-down stuff. But, to be honest, I'm not really into the whole 'Fashion' thing, although people might expect I'm this 'Fashion Guy' because I'm tall and skinny, which is cool, but for me personally it's just about being comfortable when I leave the house. And that's all there is to it.  A little thrift, some high-class, and comfort. If people think what I'm wearing is 'in' then cool, I'm all about being ahead of the curve.
Can I state that glasses are very important for you?
Definitely. I take them off when I am with friends but for the music part I like to have them on. Maybe they will come off when I'm making my 2nd or 3th album. Who knows.
Final question….Last time I asked you which tree words popped up in your head when I said Belgium you said grey skies – Marvin Gaye and waffles. You are here now. Anything you might want to add?
DUVEL!!
———–
Et voila. Another interview for your eyes only. I hope it does something for ya. 😉 Of course, with a new mixtape there should be a new fresh Polaroid, because we are àll about accepting the new. I took Mr London for a walk in the park and did what I always do.
aim – count – flash 3.2.1. Bingo.
Exhibit:
Moral of the story?
Me happy. He happy. Everybody happy.
Exhibit:
And that was it.
THE END.
Hold on. Not exactly…
I'm not claiming this is a never-ending story but it has some serious PART III potential since… The night before I received a late night phone call with an offer I simply could not resist… Who was on the phone…what was the conversation about…? (suspense melody)
TO BE CONTINUED.
(do you feel the Bold & The Beautiful unbearable close-up tension I'm trying to implicate here…? )
Love,
OUNI
PS: Special shoutout to Alec: GET YOUR LAUGHING TACKLE UP!