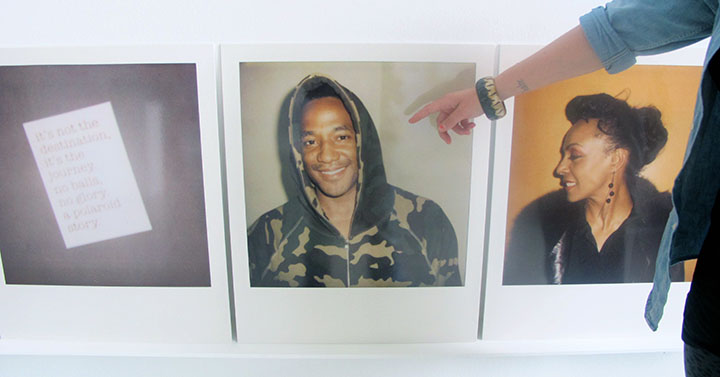 Frankfurt, 31/05/2010
They grow SO fast these days… don't they?
As promised. Full report of Anittude The Exhibition with LOTS of pictures. Who wants to read long stories behind a computer in this weather right? If you just joined and don't have a clue what I'm talking about, please catch up here.
When chief editor of Anatittude Magazine JEE NICE asked me to participate in her exposition I was more than happy to join. After all, It's good to unite forces and do collaborations with people you admire and love. I decided to print out an exact copy of a Polaroid, and I wanted the individual on the Polaroid displayed on real 'head size'. Since I see this exhibition as an introduction of me and my blog I decided to choose 2 of my favorite images combined in 1 story: At The End Of It All, It Was Q featuring Q-Tip aka Kamaal The Abstract and Marie Daulne, Congo-Belgian queen from Zap Mama. It's one of my favorite stories and meeting them both at the same time made such a beautiful impact on me so that's why I decided that they should be on my very first large print-outs.
I was very curious to see the prints, since I had to ship them immediately to London after they got printed because I left for Miami the next day. I was hoping they turned out beautifully and not horrendously. I really wanted to incorporate a real Polaroid 'feel' to it, so I made sure the prints consisted of two different textures, just like a real Polaroid.
So on a grey, rainy, lazy sunday, Jules and I hopped in the car, left Belgium behind and took a 4 hour road trip to Frankfurt. What else are you supposed to do on a grey sunday? Hang on the couch? When we finally arrived and I saw my little babies all GROWN up standing relaxed next to one another in this beautiful bright expo space JEE so nicely put together, I was happy with my decision to participate.
Enjoy the following impressions of ANITTUDE THE EXHIBITION.
Dotting the i. It's all in the small details, right?
Two proud baby mama's
and some more smiley faces
Uber-Proud-Ouni
This, my loyal readers, is a little taste, a small experiment, a modest try-out of what I plan to do in one year, maximum 2. If you think these pictures are pretty big, well, sorry son,  you aint seen nothing yet. (big grin) Imagine a big exposition, with MASSIVE polaroids, launched on a beautiful summer night in Ostend (where else) and travelling to 4 cities in the world with a huge launch party and special guests.
Impossible you say? Really? A girl can dream right?
(much) Love,
OUNI
Try and visit this beautiful, honest little expo if it hits your (euro) city in the next few months and support Anattitude Magazine!
PS: Special thanks to my good friend and Frankfurt-Chauffeur BOO. ❤ (Nope, we STILL don't have our drivers license)