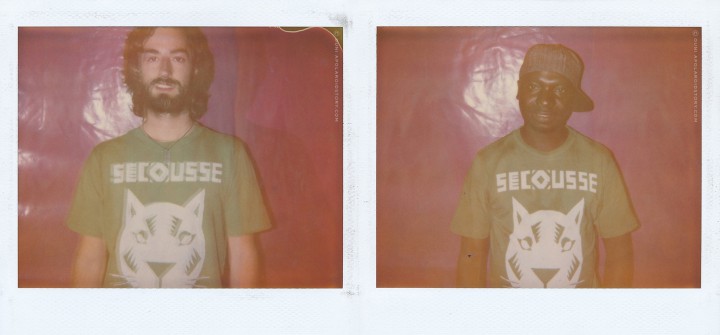 Dour, 17/07/2010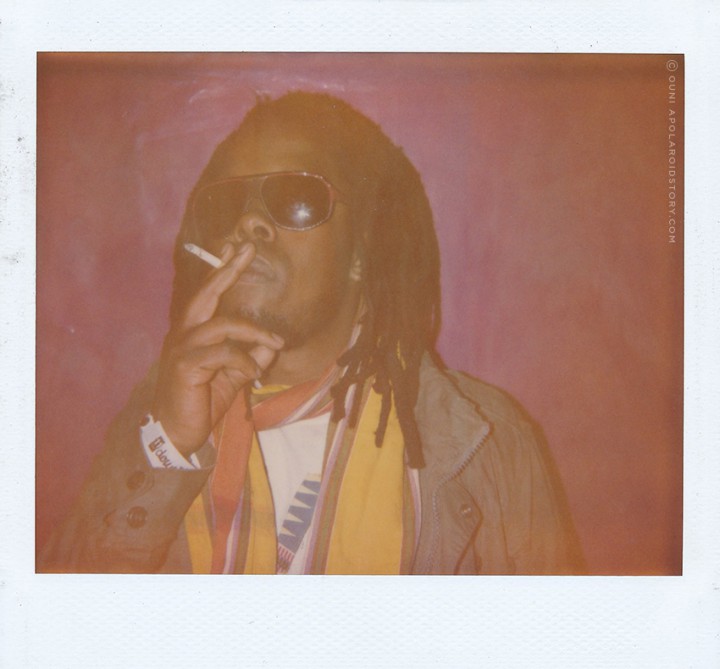 Behold, before you are watching upon THE VERY BEST. Let me break it down for you.
Sometimes in life, you need to have fun. You need to unleash that evil beast that is called 'the burden of life' in you, let yourself go, have a drink and dance the night away. We are all responsible (or at least.. try to be, I guess) working human beings, but once in a while, everyone has that aching feeling, like a rush of blood to the brain, that you need to DANCE. Like. HARD and ASAP. When I switch to that state of mind, I'd like nothing but the very best music that blends with that wild, unpredictable mood. I need pounding beats, a fast past rhythm and a sense of culture. That's why I like – hold on – lòve  THE VERY BEST.
The Very Best is a collaboration between producer duo RADIOCLIT aka Etienne Tron & Johan Karlberg and Malawi singer Esau Mwamwaya aka 'The Phil Collins of Africa'. This might seem like an odd combination, especially if you knew that they accidentally met each other in London, when Etienne was buying a bike from Esau's second-hand furniture store in London, which was located in the same street where the producers had their old music studio. Coincidence? Come on, guys, you should know by now I don't believe in that stuff…?!
So they became friends, started to make music together and this collaboration transformed into a mixtape first with the very appropriate name: ESAU MWAMWAYA AND RADIOCLIT ARE THE VERY BEST. The mixtape stood out because of the perfect blend of Essau's african chanting in 'Chichewa', cool remixes and some unlikely collaborations with M.I.A, VAMPIRE WEEKEND, SANTOGOLD, BLK JKS… What kind of music is it?  I hear many of you ask. I personally think it's hard to label it, because, you know, labels are limitations, but if I have to describe it, I would say it's a mix of  indie – afro – pop – dance – all in one. Did this make any sense? Is it what people call 'World Music'? I honestly don't know. World music sounds so very hippie – folks doing the zumba dance with goat wool socks in brown leather sandals doesn't it..? I think it's a mix of various pop cultures from all over the world, all blended into music that makes you feel happy and makes you want to dance. It's just that simple I suppose…
Come to think of it, if you like oriental music or african music like I do, you always have to rely on standards like Fela Kuti, Saleif Keita or Rashid Taha, and you don't hear that music regularly on the radio. I only hear that stuff in the bar I worked in for so long, called Lafayette. It's like as if Radioclit and Esau want to show to the world that there is a lot going on music wise in other parts of the world and give their take on it, while bringing those eclectic elements into their music.
Check out the M.I.A PAPER PLANE cover. And definitely check the song GET IT UP aswell.
So after the mixtape was so well received on different music blogs, the next logical step was to make an album which got released not so long ago with -again- the very appropriate title: THE VERY BEST -> WARM HEART OF AFRICA.
Check out this first single with EZRAKOENIG from VAMPIRE WEEKEND. Other favorites on the album are: KAMPHOPO and JULIA (Also check out the Theophilus London remix here).
And if you're up for it, definitely check this little documentary:
So when I found out about a secret private boat party in Amsterdam hosted by BACARDI with Radioclit headlining the performances I knew I had to be there to go wild on some ghetto-pop tunes. Are you kidding me? I like music. I like rum. I like boats. (I live by the sea, what do you expect?!) this could be my wedding bash!
This is the (short) story.
This boat party was hosted by BACARDI and in order to get into this party you had to send an email and explain why you should have an invitation to this party.  I write a thing or two, so that is no biggie for me, right? I quickly received the awesome news that both me and my partner in crime Jules were on the list and together with our friend/driver Rose we drove to Amsterdam for what turned out the be one of the best parties I had in 2010. Not sure if that is a good or a bad thing though.
Anyhow.
Polaroid wise, I realised that since it was a RADIOCLIT set, I might not be able to get Esau on Polaroid, but I decided that If I had the chance to take some pictures, I would. We boarded this very nicely decorated cosy neon light boat called 'THE PURELINER' with only one thing on the menu: RUM, RUM, and… more RUM.
Exhibit:
UP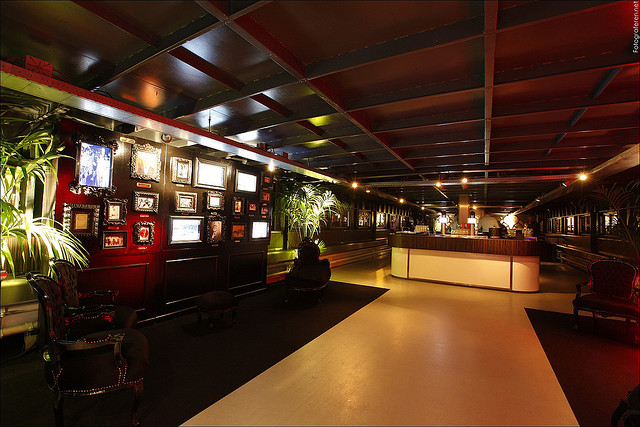 DOWN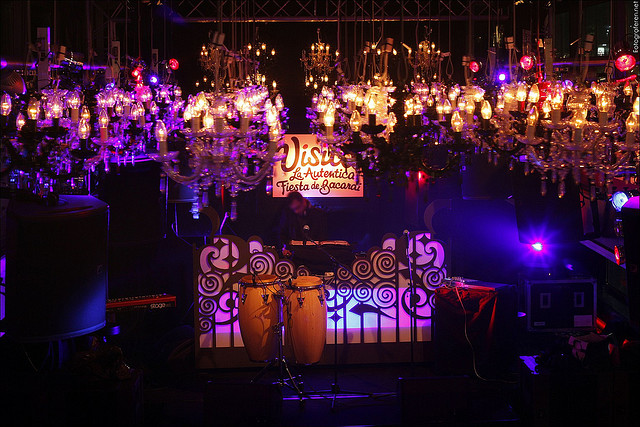 (pictures ©RUDGR)
Did I mention before that Rum is my thing? I'm pretty sure I did…
Although the other acts where nice and all, it was Etienne Tron from RADIOCLIT backed up by MO LAUDI that made that little boat called 'THE PURELINER' one steamy, hot boat. Man was it WILD in there!! Ow that's right. You need an exhibit.
Peep this little video starring: GRINDING ROSE , JULES RIP DA FLO and  OUNI-SAN . (our rum-alter ego's) This is what happens when you put a sexy crowd on a boat with too much rum and Radioclit in Amsterdam:
Yeah… Although it was still freezing outside, the whole boat was melting like a gletsjer. Of course we didn't leave the boat without the necessary Polaroids, so after the Radioclit set we met up with Mo Laudi and Etienne (who are very normal and laidback fellas by the way) introduced ourselves and this blog and made the following snapshots.
Exhibit: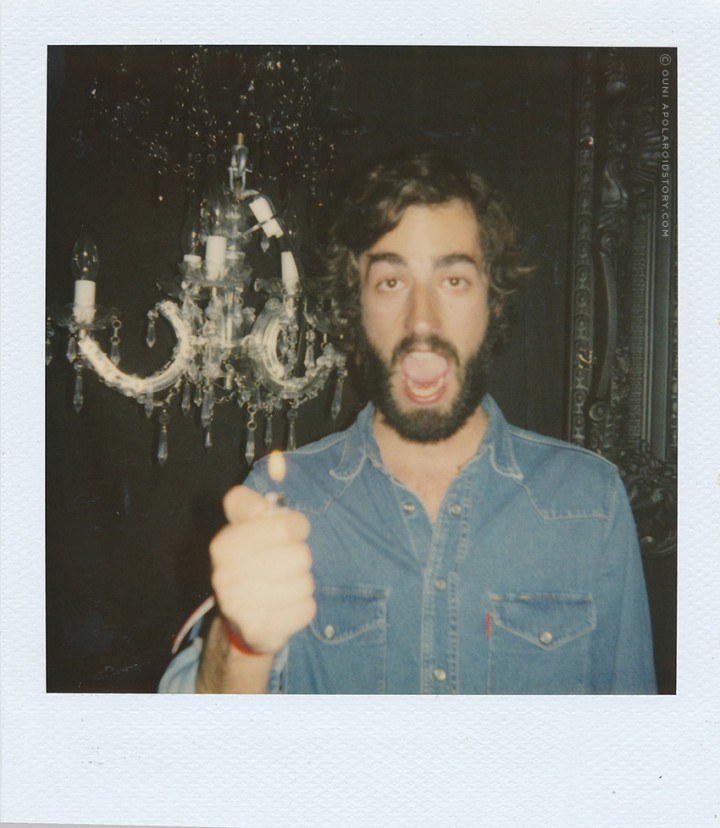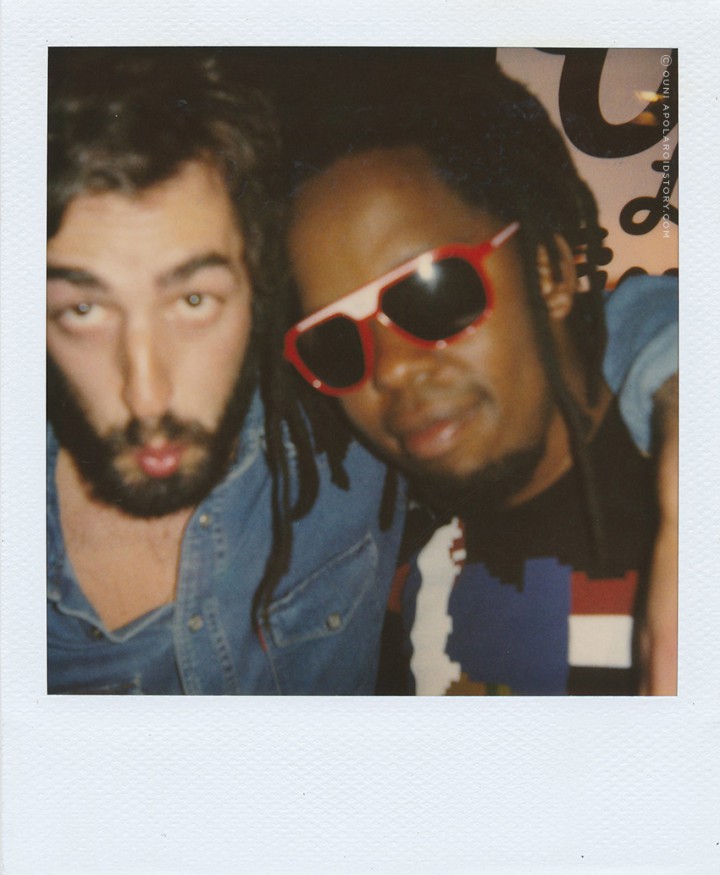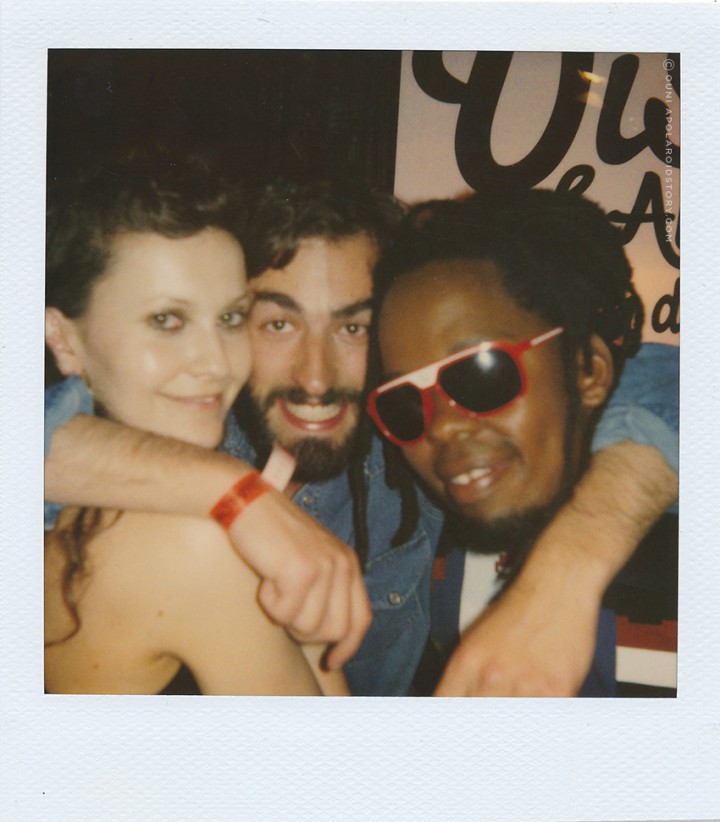 We said our goodbyes, but with a solid promise that when they would perform in Belgium, we had to meet up again to finish this very best story. So a couple of weeks back, I had my chance, since The Very Best was scheduled to perform at DOUR festival in Belgium. You already know that I snapped BILAL that day, but at the end of the night I met up with Etienne, Esau and Mo Laudi after their set. It was very challenging to find a good spot to make these pictures, since it's darker than the deepest depths of hell at that festival, so I decided to place them against a red plastic tent and hoped for the best.
First in line was Etienne.
Exhibit: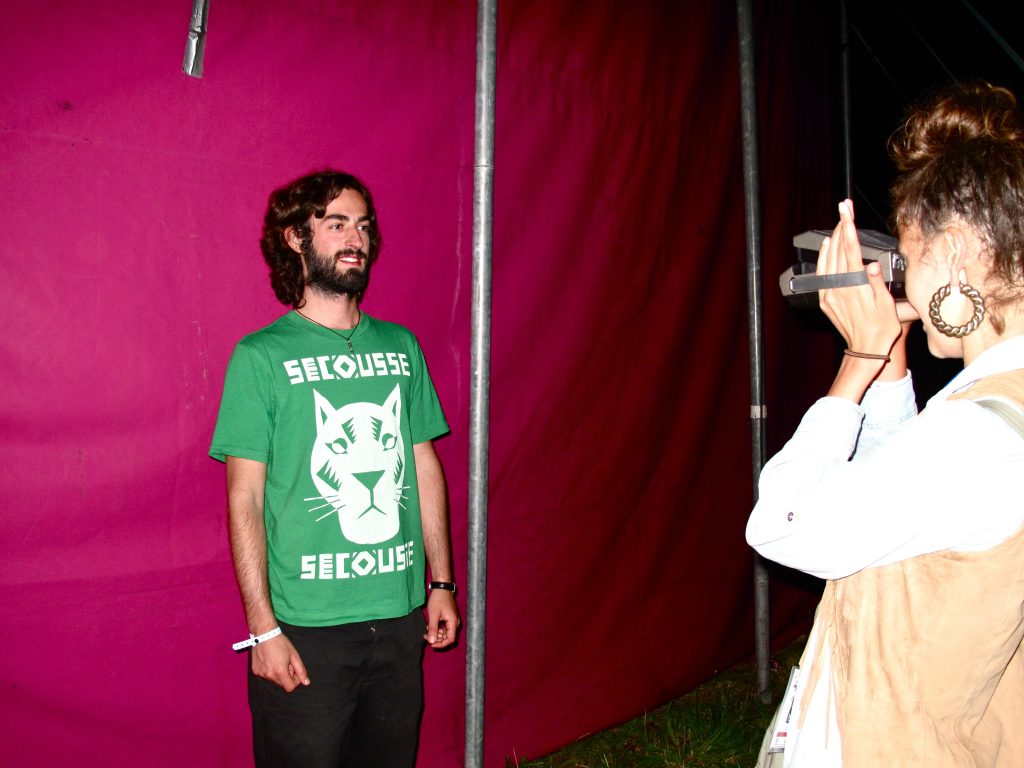 runner-up
Esau Mwamwaya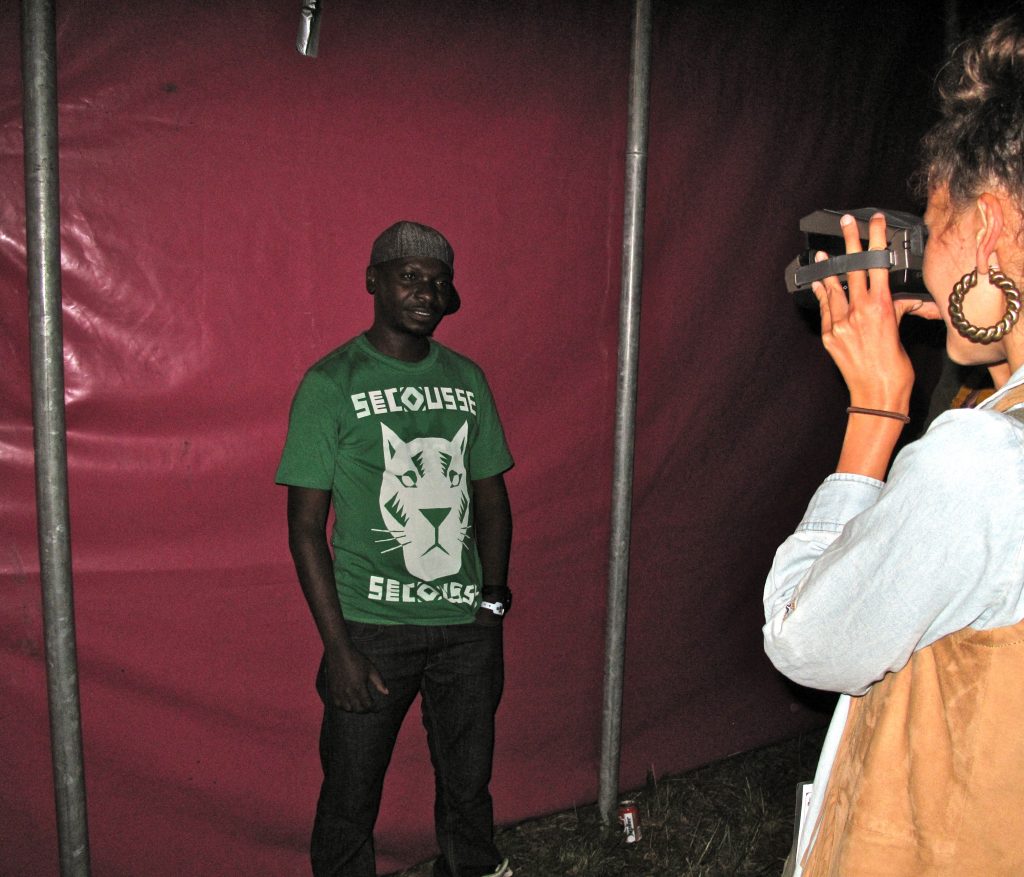 closely followed by
MO LAUDI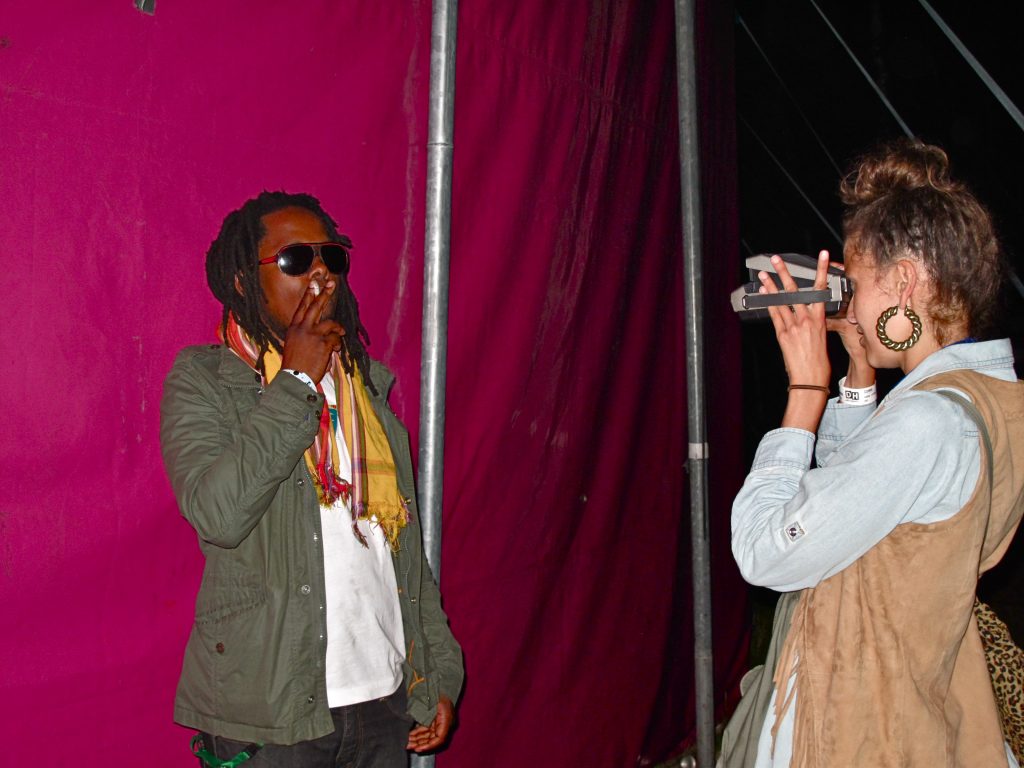 Unfortunately Johan did not join them to the festival, so he still is a very missing element in this Polaroid series, but I'm sure I'll make that up one day. So until then, this one is for you Johan Karlsberg:
Besides music, Radioclit and The Very Best are into other cool projects like their monthly SECOUSSE party in Paris and London, 'a charity party dedicated to ghetto music'. So definitely check out the live web radio, which is able to let you show off your exquisite music taste amongst friends and perfectly explain why Essau is flaunting this shirt with great pride.
Exhibit: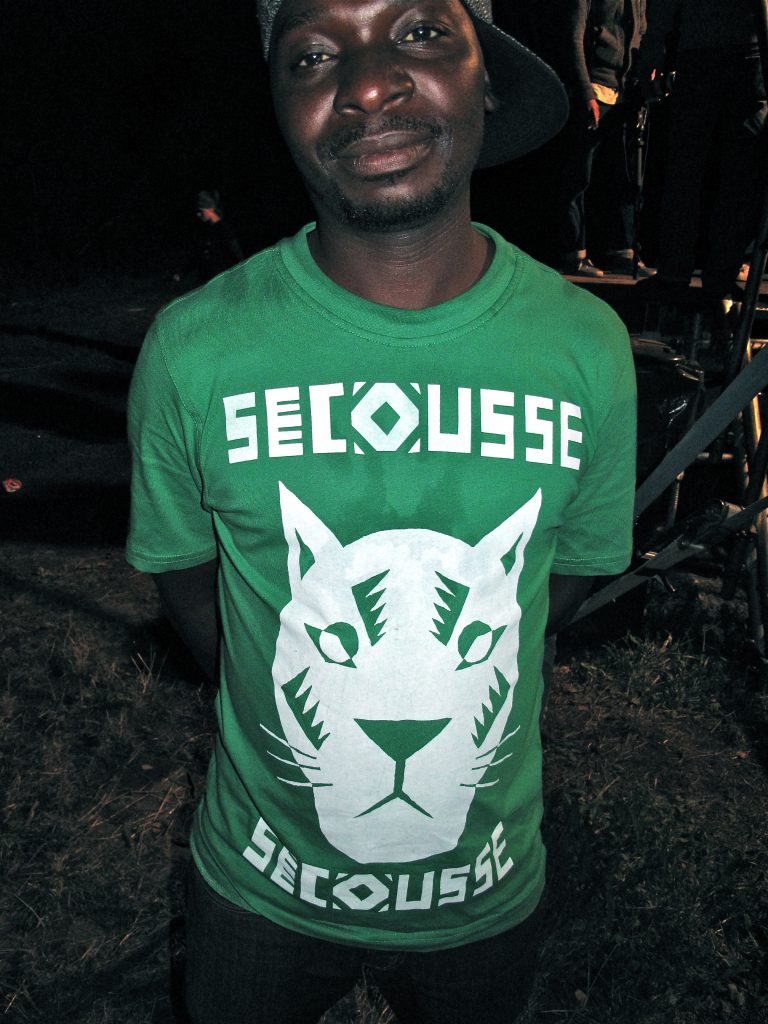 Last… but not least, THE VERY BEST is joining forces with GOLD COAST TRADING CO, a very cool label from designer EMEKA ALAMS. Check out this awesome image from the GCTC Togo Waves and Road Maps SS/10 collection.
Exhibit: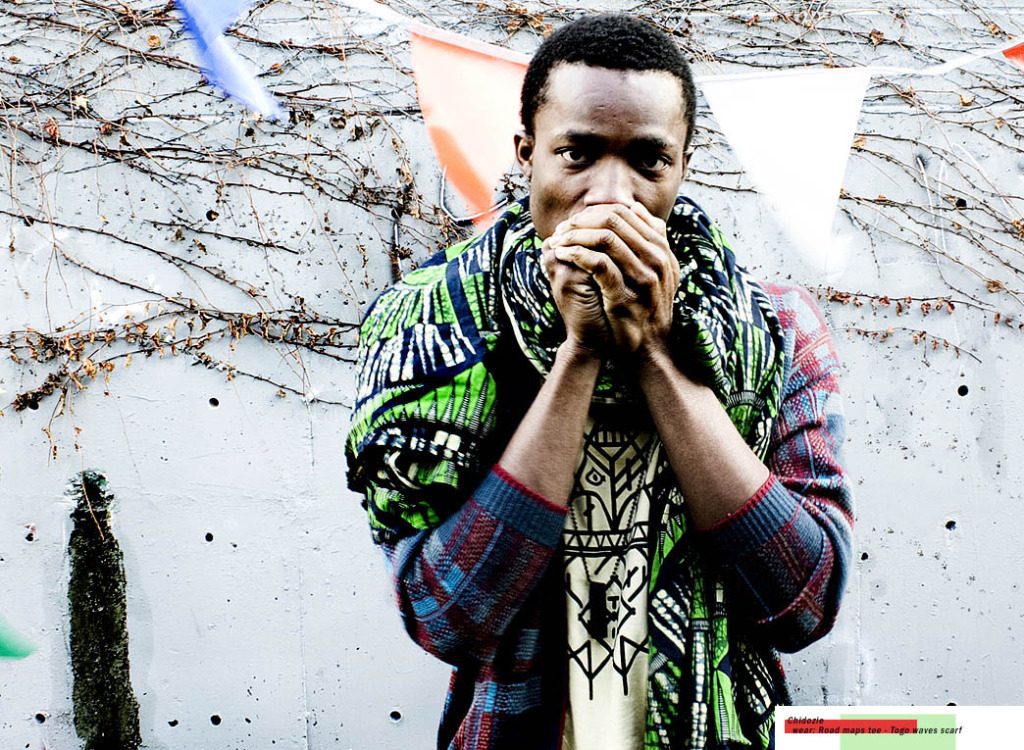 This little blog had a little sneak peek on THE VERY BEST x GCTC collaboration and all I can say: it's pretty awesome…
Stay tuned for that one!
Love,
OUNI
PS: Check out THE VERY BEST on twitter. Listen to radio Secousse.
Special shout-out to BACARDI VISITA for putting me on that damn boat and serving me all that dark rum. Yummie.