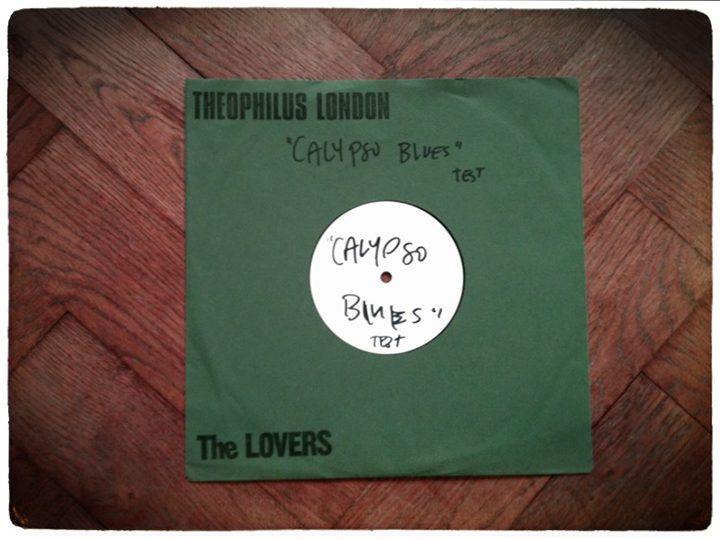 Hello Troopers,
I know it's been a while since I've posted a new story… Hold your guns, they àre coming. In the meantime I wanted to share the following…
I was very happy to find this THEOPHILUS LONDON – CALYPSO BLUES 10 inch vinyl in my mailbox yesterday all the way from Brooklyn, New York. I do admit, it's kinda cool to receive mail from a sender called THE LOVERS.
CALYPSO BLUES is original a song from NAT KING COLE who made it around the 1950's
Exhibit:
Then MARVIN GAYE made it his own while tributing a whole record to NAT KING COLE around 1965
Exhibit
Today, in the year 2010 THEOPHILUS LONDON is covering MARVIN GAYE covering NAT KING COLE.
If you haven't been familiar with Mr London (which is practically impossible if you read this blog) you definitely need to catch up on this and this story. After three mixtapes Theophilus London is finally ready to release the first single from his much anticipated first album due for release around March 2011.
FLYING OVERSEAS, a song with SOLANGE KNOWLES produced by DEVONTE HYNES will be the first single released from the album with what looks like a stunning video and the song is  basically one of my favorite songs of Mr London all together.
Exhibit:
Video Still:
Theophilus London is touring with BIG BOI in Europe in November, so definitely check the FLYING OVERSEAS tour dates here.
Now back to the CALYPSO BLUES record.
Needless to say, the minute I received the record, I went straight to my local Ostend bar and tested the record, while sipping on some good old rum. It's been a while since I made a little video snippet, so I decided to make a little DIY – Iphone movie just for you guys.
Exhibit:
Special thanks to THE LOVERS & THEOPHILUS LONDON for sending me this record. It's in good company.
Exhibit:
Be patient loyal A POLAROID STORY readers, new stories are on the way…
Love,
OUNI