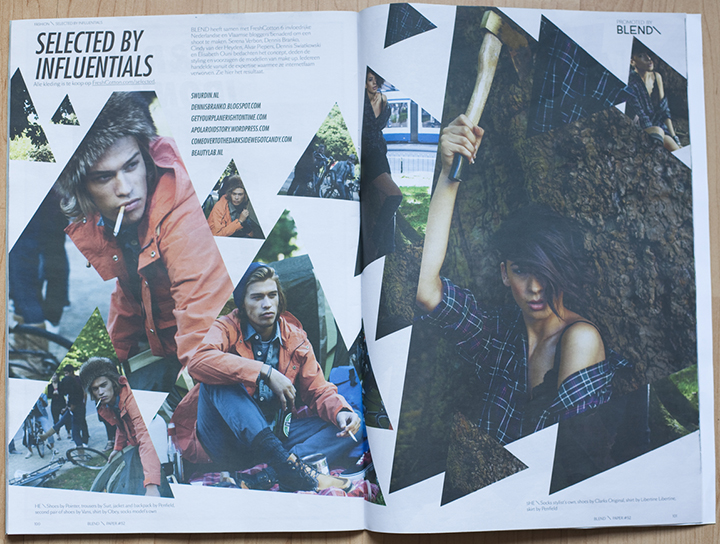 Amsterdam, Oktober 2010
Hello troopers,
The year is coming to its end, and so is this little blog's content… Don't worry. I still have a few small surprises in store, but I'll leave that for next week. For now, I wanted to share this little press feature with you all.
A while ago I was invited to come to AMSTERDAM (gotta love my AmsterDajumn! troopers) to participate in a little experiment and make an editorial for BLEND MAGAZINE together with five other bloggers: Dennis from GET YOUR PLANE RIGHT ON TIME –  Alvar from SWURDIN – Cindy from COME OVER TO THE DARK SIDE WE HAVE CANDY – Serena from BEAUTYLAB & the notorious Branko from well… DENNIS BRANKO I was the only Belgian gal invited amongst the other fellow invitees, so I was pretty nervous.
We were asked to construct a complete editorial for one of my favorite Dutch magazines called BLEND MAGAZINE with garment from a renowned Dutch online store called FRESHCOTTON. Together with my bestie SABINE PEETERS who ended up helping out on the shoot, we travelled to Amsterdam. It turned out to be a very long and challenging day and I even unexpectedly ended up in the model department replacing a model that didn't show up. Oh well… Here's the visual recap of that day….
Serena doing her thing in the make-up department
my girl Sabine taking care of hair
Dennis & Cindy snapping away on the first set
set props
Me, styled by CINDY in all FRESHCOTTON everythang #fresh
Me , trying to make sense on camera
RORY (production)  & DENNIS up for some trouble
2nd Set : Alvar dotting the i on the menswear
SONNY GROO, fashion editor @ Blend, keeping an eye on things
Dennis & Dennis in a shooting galore
models flaunting FRESHCOTTON gear
SONNY GROO. #nevernotstyling
Alvar and Dennis doing their thing
straight Timberland-esk model chilling on Set 3 #hot
DENNIS & ALVAR #hotter
We placed a tent in a park. #uhu
Dennis, Dennis & Alver. #focused
Me and Cindy. #bonding
Alvar recapping the day on camera
Branko, doing the same
Thank you FRESH COTTON & WE ARE FIRST to invite me and make me a part of this experiment. I'm very grateful to meet new people and it turned out to be a learning experience.
Special shout-out to my new favorite set boys ever: DENNIS, ALVAR & RORY.
Love,
OUNI
PS: Check out this little video recap of the day. It's Dutch spoken, so please only watch If you are curious about my heavy Flemish seaside accent. And yes. That's me laying on a table….#longstory