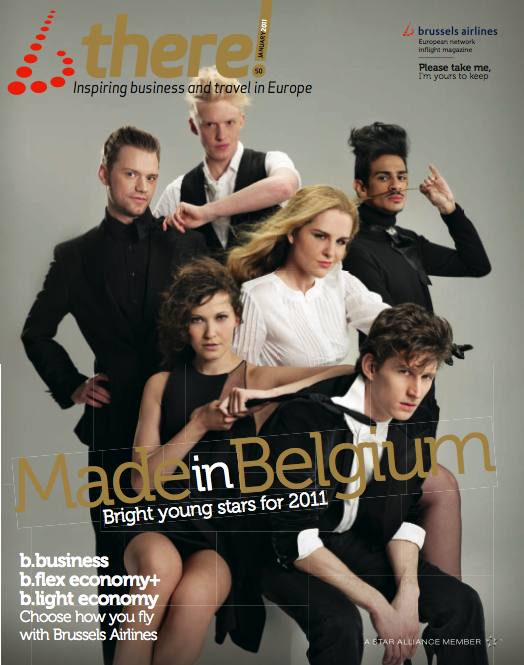 Yup. That's me on the left. All dressed up in black, hair blowing in the wind.
I was very flattered when BTHERE, the magazine of Brussels Airlines asked me to be part of this 'BRIGHT YOUNG BELGIANS' feature with nine other very inspiring and creative people. The main idea was to get everybody glammed up, with a touch of Vanity Fair. How can one say no to that? Plùs, I thought the whole thing was brilliant, because all those people bored to death on a Brussels Airline flight will grab the magazine and read about 10 interesting folks and their work. Quite the change in comparison with those damn perfume and suitcase articles, right?
But the most fun part of the day was hanging with the following very talented people:
'The Artist' ACHRAF AMIRI and 'The Photograper' ZEBDAEMEN
'The Writer Cartoonist' FLEUR VAN GRONINGEN – 'The Chef' DAVIE SCHELLEMANS – 'The Designer' DEEVIE VERMETTEN
'The Musicians' JOY WELLBOY 'The Actor' TITUS DEVOOGDT
'The Fashion Designer' LENNY LELEU
And ofcourse… lil' ol' me.
'The Blogger' aka moi
Although I was slightly nervous to go in front of the camera again (lately I'm more comfortable behind it) I'm very happy with this picture. Thank you to Orla Mckeating & Charline for making a gal look good. Big up to Nino, for picking out this lovely MAX AZRIA BCBG dress. Special thanks to Stephanie Duval, for believing in me and my work.
All pictures by LIEVEN DIRCKX
PS: I'm sorry JIMMY CHOO, I love you and you are sex on heels and all that, but my god, a girl might as well get her toes amputated.
Respect for all women rocking them on the daily. These shoes are killers.