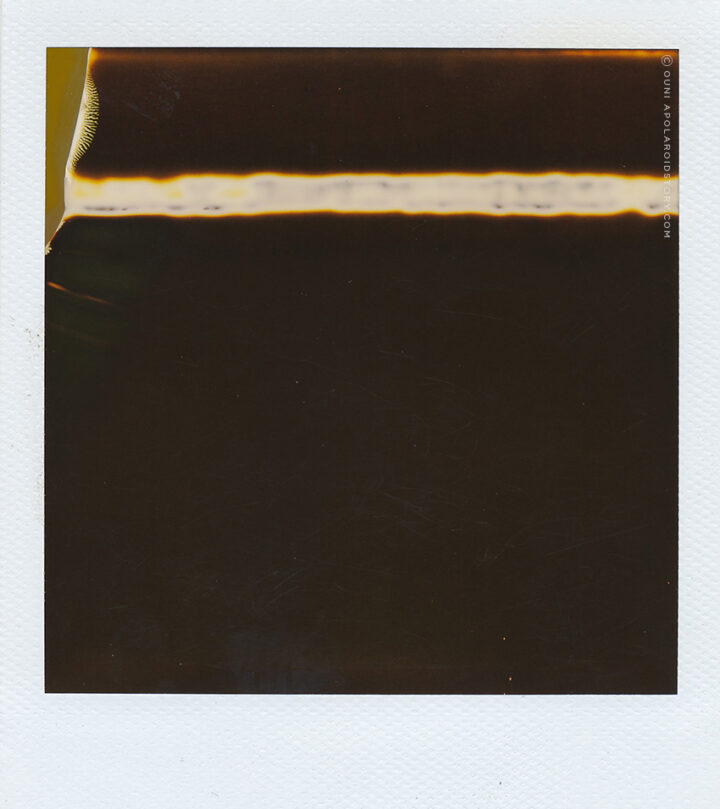 Oh Yeah…. We have a black RICK ROSS Polaroid situation. I don't really need to explain I tried something and it didn't really work out, do I?
Let me tell you a bittersweet Christmas Carol. Or a Christmas hustle. Whatever you want to name the disastrous night I'm about to break dawn to y'all. There are many factors that may lead to a Polaroid success or failure, and sometimes you have to accept that weird unpredictable circumstances may turn your night around. Christmas Eve was only a week away when I found out that RICK ROSS was booked in a véry notorious Belgian club called Noxx. Half of the normally sane people would already raise an eyebrow about the fact that I even considered Polaroid hunting on the sacred night that Jesus was born, God forbid! In fact, half of the people I told raised their eyebrows the minute I said 'Noxx'. Let's say, the club has a dark reputation, with a little 'mob-vibe' to it. Initially the concert was scheduled tree days before on a monday night, but got postponed due to an extra booking  for the Maybach Music Tour to promote Rick Ross' latest album TEFLON DON.
Without making too much of a fuss about it – I'm not really into the whole christmas vibe, for my own personal reasons… I was actually really looking forward to spend christmas eve in a dark grimey club chasing none other than Rick Ross. The whole thing was breathing 'unconventional' to me, and that's when I get even more triggered to do something. Also, with my partner in crime Jules' birthday that night, it became even more obvious that we had to go. Then her birthday wasn't all about the Christmas, jingle bell and merry movie crap but about an exciting adventure too! Yes she is born on the same day as Jesus, but quite frankly Jesus ain't got nothing on my Jules, and he get's all the attention.  And I mean. It's Ross, Ricky, Rozay, Raawwws,  The Teflon Don, tha BOWWS!!
It's practically impossible to NOT be familiar with Rick Ross unless you have been hibernating in a dark cave for the last two years, but of course, as always I'm more than willing to give a little heads up.
The first song I ever heard frombyRick Ross was this one:
I loved it so much. It became mine and this blog's secret personal anthem. Of course, you won't be catching me slinging yayo on some corner, and I don't know the réal Noriega, unfortunately I don't have different wips that are standing stiiiill, and I'm not 22 nor do I even knòw somebody who has 22 custom rims. But, I understand what it means to come from nothing and crawl your way up to a better place, and developing a do-or-die mentality in the head while doing so, no matter what you do in life. And I may not live in Miami, but I live in Ostend, Belgium, a less sunnier city by the sea, but let's say this little city got a herself a feisty reputation.
William Leonard Roberts II aka RICK ROSS is a Miami, Florida native. He borrowed his stage name from "Ricky 'Freeway' Ross" a notorious LA drugs trafficker that was in the cocaine business between the 80's and the 90's. Rick Ross was working to become a house hold name in the states for a while, but it was because of his song 'HUSTLIN' that different label heads come across each other to fight over the man, but it was Hova who got the last call and signed him to Def Jam records. His first solo album 'PORT OF MIAMI' came out and Rick Ross was officially in the game. After receiving certified gold and selling a million ringtones from the 'Hustlin' single, he released his second album called TRILLA in 2008, a year later his 3th album followed, and he is currently touring the world with his 4th album called TEFLON DON.
Word is that Ricky Rozay is a gimmick rapper, meaning that he is all image and no reallness. 50 Cent is not very fond of the man, then again with 50 that doesn't really come as a surprise I guess. The fact that Mr Ross denied his past working as a correction officer didn't really play out in his favor of course… But, call me crazy, I can appreciate some Rick Ross from time to time. I don't take it that serious as many others would do, and I don't have all four of his albums but I follow his career enough to know that I like this remix he did with Erykah Badu.
And that I liked his contribution to Kanye's MONSTER track
And that I heard and saw everybody quoting this B.M.F. song for the past few months
So, I like to portray artistst that intrigue me in one way or another, and with Mr Ross, that happens to be the case.
Now. Let's get to the story. Here's how it went down.
I didn't really know hòw I was going to pull this one off. I realised it might be a though challenge, considering the past experience, then again, if you don't try something, nothing happens. I decided to throw everything in the game and said to myself that if I was going to a club on Christmas eve for a Rick Ross Polaroid, I might aswell go all the way for it. So I plastered my face with some serious amount of make-up, smokey eyes, red lips, red laced high waist mini skirt, black nylon see-through shirt, my highest wedges ànd my vintage beige fur coat. I mean, I can't go after Rick Ross and look like my usual simple self, I was aiming for 'Chic Gangsta Girlfriend'.  In these Polaroid Story cases you have to pay attention to every single detail in order to get the deal closed. You simply can't afford a 'shoulda woulda coulda' when it's over and done. Important detail is that I once tried to snap Busta Rhymes on Polaroid in Noxx aka Fort Knoxx, and I failed. You can catch up on that story here. So I basically knew that this was going to be a big challenge. I have little to no connections with the club, I am not a regular visitor, and I don't know a lot of people who go there, but trust me, it's a huge club and together with one other club in Belgium, they are probably the only ones that can actually afford artists like Busta Rhymes or Rick Ross. In Belgium, you will only see that type of artists either for a club performance, or in a huge massive venue with no personality and people pushed together like tuna in a can. I prefer Noxx.
The club is a big, dark industrial looking venue and always reminds me of those places Blade would go and search for his vampires. You know, a bit dodgy, slightly grimey with a heavy bass in the back. With Busta Rhymes in our mind, and the fact that we are not really regular visitors of the club, Jules and I decided to contact the promoter, who we both knew via work and although he couldn't promise anything, he would do his best, and gave us the name of the person in charge that night that we could contact for any required help. This is where things got … weird. When Jules tried to call this individual for the first time and left a message on his voicemail, this is what she received back in a text message: "?????????????". We didn't understand. We are used to "We are very sorry but,… " and even more used to no answer at all but  – ????????? –  was a first. We didn't pay much attention to it, gave it a Kanye shrug and took our conclusions from whatever – ???????? – should mean. We didn't really understand it though, this was the number the promoter gave us to contact so why did this individual representing the promoter reply to a very regular request in that matter? God knows.
We managed to get on the list via another connection, and weapened with a confirmation mail on my phone I went to the girl who was in charge of the guest list. The reason for this precaution was the fact that with Busta Rhymes, although we got confirmation that we were on the list, when we arrived, we were not. And just like last time with Busta Rhymes the lady at the guest list could not find any names on the list, so when I showed her the confirmation mail, she asked a guy that was standing next to her for some. He looked at the mail, looked at me and said: "Ow yeah, that's right, I didn't put those names on the list yet" and when the girl reached for the VIP bracelets, he stopped her and said: "No, no, no vip, just regular." I just raised a brow and was thankful for the bracelet. I was happy to be on the list in the first place, I mean, this blog is broke a lot. I don't care bout VIP, I was there to work, but the way he said it was client-unfriendly and simply… unnecessary. I briefly wondered  if this person might have something to do with the  " ???????? ".
Anyway.  When I entered the club I got easily through all the security (and there is a LOT of security down there) and went straight for the bar and ordered me a dark rum.  Since I had to wait by myself for two hours before Jules was released from the family dinner table and could join me,  I might aswell kill some time with a drink. I went straight for a spot on the left corner of the stage, close to the little staircases that gives access to the VIP area. From the last experience in Noxx I knew that this was the best spot to approach possible entourage and not in the middle of the stage, like we were last time, because you are completely blocked from all the people around you, and you can't change location the minute the artist leaves the stage because you're squished from different angles. While waiting like a wallflower against the stage I looked around me and I realized that the ratio of men on a scale from 1 to 10 is… yeah…definitely 8. So that probably explains the club's nickname NOXX as in COCKX hu?  Of course, in the club's defence, it was a Rick Ross gig, not a Chris Brown scream fest, which would surely have had the complete opposite ratio. By the time Jules arrived, the club was officially packed and everyone was waiting for ROZAY to arrive. I gave Jules a little heads up about the perimeter and the possibilities when Jules noticed a girl who used to intern at Jules her job, and was now apparently in charge as a the lady host for the Noxx VIP-section. We immediately knew what we had to do, and Jules started to wave and try to draw the lady's attention. Quickly she noticed and approached us, and Jules explained her the predicament we were in, and if she perhaps could be of any assistance?  The lady told us that she could not give us any VIP bracelets, but that she would try and see what is possible after the show. That's fair enough, right?  Happy with the future possibilities we were now officially ready to get that polaroid and even more ready for RICK ROSS. I was very curious about his performance. I did not know what to expect.
Somewhere around 3 PM we heard the signature 'Maybach Music' voice through the sound system and we knew that it was time. Rick Ross arrived with an entourage that I haven't seen since Wu-Tang Clan. Big. Huge. And a bit intimidating I must say. Gimmick rapper or not, Rick Ross is truly is a BOSS, he even has entourage that wipes off the sweat that is dripping from his head with a towel in between songs! No really! In all honesty we couldn't really enjoy the performance because me and Jules were too busy trying to get the attention of his entourage. We said that we would 'Get Pola Or Die Trying' so that means, that we needed everything in our power to do exactly so. There was one man who stood out of the entourage, you saw that he was in charge of leading the pack safely from A to Z, making sure everything was in order, checking all the security measures. He was the one working while the rest of the entourage was sipping on Moët or holding a huge black Gucci bag on stage (didn't really understand that part though) and were representing on stage together with Mr Ross. When we finally managed to get his attention, we tried to make him understand that we needed a Polaroid, making signs to my iPhone where the pictures were on, but yet again we were confronted with the fact that making yourself heard in a screaming, jumping, mad club performance is not the easiest thing to do and you risk looking like just another crazy woman. Which probably was the case if you keep the look on the guys face in mind, but at least he noticed us and had some sort of idea what we wanted (I guess) so we started to focus on the others. Rick Ross was too far away to even draw his attention and I'm not a fan of waving my Polaroid cam in the middle of a concert when I see other options. Because the stage was very low and the entourage was blocking our view, the only thing we mostly saw was big jeans with huge pockets.
Exhibit
Me and Jules started to put the blogcards in every pocket, just in case they might check their pockets after the concert. Yeah.. We're that mental. I think we managed to secretly slide cards in practically the whole entourage back pockets, even in Rozay his backpocket
Exhibit
See that little white thingie sticking out of Ross his Levi's backpocket jeans? Yes. That's my card! Then we just started to grab random entourages hands to get their attention  (I would NEVER do that in real life, but there's no time for being shy in a Rozay situation)
Exhibit
The man who I later identified as Maybach Music affiliated rapper Torch was really flattered, he even poured me a glass of champagne! What a gentleman. But I wasn't sure if he really got the whole Polaroid message that I was trying to explain while sipping on the bubbles, toasting to him and showing my Polaroid cam. Because it was so hard to see Rick Ross with all the entourage right in front of us so I gave my disposable cam at Rozay's personal camera man
Exhibit
and he was so nice to take this picture for me:
Exhibit
For a minute I was considering giving him my Polaroid camera, but I prefer to take the picture myself and éxplain my blog to the artists that I encounter and make them actually pose for my pictures, rather than I want a blurry concert Polaroid picture, so I quickly let go of that idea. These are some other disposable shots in between all the Maybach Mayhem.
Exhibits
We did everything in our power to draw attention, but it was impossible, they were literally looking down at us, and with all the noise, screaming, pushing and tearing it was just impossible to make sure they got the message. The minute the concert was finished, Jules receives a message: "TOILETS, NOW!" from the lady that was hosting the Noxx VIP area. We immediately pushed our way out of the crowd to meet up with the lady in the bathroom. From there she took us both oùt of the club and ìn the backstage area. We arrived in a long hallway that was situated right next to club walls and we noticed ten to fifteen people hanging around an entrance where the same entourage guy I thought was possibly the best one to approach, was holding position and guarding the perimeter behind him. Behind his right was the door of Rick Ross' private lounge and behind his left was the garage porch with a car, ready to take the whole pack out of the venue. Jules and I realized that this meant that they were not going to stay very long, and that time was of the essence, but things were looking good, and we were just one door away.
The Noxx lady asked us to wait a minute while she was trying to pitch our story, and when she came back, she told me: "You need to explain your concept better for them, tell me what I need to know." I tried to explain that she needs to take me with her if she wants the full pitch, but she said that it was impossible. She looked a bit nervous, and Jules and I suddenly realized that for some reason the situation was getting a strange vibe. The Noxx lady looked at the guy who was surveying the entrance and said to me: "Explain it to him". Although the guy looked at me and remembered me from the concert, he didn't really listen to what I said, because he was too busy surveying everything that was going on in the hallway and in all honesty that was a lot, because maybe wè had a hard time getting there, tons of other people didn't really have the same problem. It was like a supermarket with new people coming in and out. So I was cautiously observing the whole situation and me and Jules were calmly waiting against the wall when I noticed 'Maybach Miles', aka 'Masspike Miles', the singer signed to Rick Ross' Maybach Music label, standing in the hallway. I approached him, explained the blog, and although he was very friendly, he told me: "I'm sorry miss, I don't call the shots in this one, it's him you gotta ask" pointing at the sàme guy I was trying to approach àll night and clearly wasn't having it. And I know that this might seem stupid, but I'm good in picking out the most approachable person out of the pack, and I saw in this person's eyes that he was just doing his job and any type of request at that moment was simply too much on his already full plate. I told Miles: "Yes, I understand and… I already tried, but he is not really listening to me…." At that point, the guy who was surveying began talking very loud and suddenly said: "OKAY, I'M LISTENING, I'M LISTENING, TELL ME WHAT YOU WANT. COME ON. WHÀT.DO.YOU.WANT. TELL ME, COME ON, LADY, TELL ME, I'M LISTENING!!".
I was shocked. So all of a sudden the entire hallway was looking at me, Noxx lady inclusive and to my embarrassment I had to pitch my blog in front of everybody else, and I started to stutter while I felt a major heat flash coming up, and I hear myself talking, and it just didn't make any sense. "I want. Polaroid. Rick Ross. Blog. Story. uhm…" Or something like that. Classic highschool presentation failure kinda thing. And to add bad to worse, the Noxx Lady came to me, nervously smiled and whispered: "I'm sorry to say this, but you have red lipstick hanging all over your teeth…." My stomach turned and I looked at Jules who had the same horrified look on her face and came standing in front of me and whispered: "Wipe it off with your tongue, now, quick!!!!". At that point I wanted to dig a hole in the floor and cover myself in it. I could not believe it. Not only did I fail in pitching my story, I did it with red lipstick smushed over my teeth and I was so embarrassed, because ok, it happens, you forget to kiss a tissue after you retouched your lips,  but you don't want that shit to happen when you're trying to be at your best! While I was feverishly wiping off the lipstick with my tongue and fingers off my teeth,  I saw the entourage guy who yelled at me looking and I looked back at him and I realised that if he was really a mean person, he could have easily embarrassed me while I was doing my pitch, 'cause clearly he mùst have noticed my Russian red zombie mouth. It was actually very kind of him, pretending he didn't see it and if you read this. THANK YOU.
Suddenly a little drunk crowd that was walking by in the hallways accidentally threw their glasses on the floor and you immediately felt the tension in the hallway was rising because of it. And that's when everything started to go completely wrong. All of sudden this random chick who was there and obviously knew some Noxx inside people randomly came up to us and said: "It's not gonna happen, you better leave" #crickets. In the meantime me and Jules realized the guy that the promoter suggested that we should contact for help was standing rìght in front of us and behind the security perimeter and we realized that it was probably him that send us the – ?????????? – reply. He was holding a bottle of champagne in his one hand, and with his other hand he was waving away all people who were trying to request an interview, or whatever. Here I was thinking a promoter is about promoting music. While we were observing him and #smh this random girl who me and Jules previously ignored with her random orders, came again, to tell us – again – that "It was not going to happen, please leave." The Noxx VIP lady who got us in in the first place and the only person that could verify that we were indeed allowed to be there was gone,  so I politely questioned her demand and asked: "Why do wè have to leave from all people? There are 20 people hanging around this area, and we have permission to be here, what is the issue, and what is your authorisation if I may ask?" I knèw she did not have any authorisation, because if you did, as a professional,  you would introduce your name and your function before you ask somebody to leave.
What I dìdn't know… was that she knew the NOXX security that was randomly passing by, so she stopped one of them, and told him that we have to leave, so of course he told us… that we had to leave. The Noxx security guy then immediately started pushing Jules and I in a very abusive and overpowering way, meaning the hard poking push in the back, and both grabbing us by the arm. Us. Jules and I. The ultimate wall flowers, were getting kicked out, in a very, and I repeat very rude manner. I've experienced a lot with this blog, but this was just a lil' to much. Now let me tell you something. I have my shy moments. And I'm very polite. But when you physically touch me ànd my friend and unrighteously try to overpower me for no reason whatsoever… Well, let's say that I'm simply not having it. Blame it on the lion in me. I ripped my arm out of his hands, looked at him and started to protest while giving him my meanest look and all of a sudden I saw in his eyes that I touched his ego rrrright where I wanted and then the guy totally snapped and started to yell: "YOU KNOW WHAT, IMMA KICK YOU OUT, YOU'RE NOT GETTING KICKED OUT OF THIS HALLWAY YOU'RE GETTING KICKED OUT OF THE MOTHAFUCKIN CLUB."
Now, by that time I knew getting a Polaroid was fucked anyway, so I thought I might aswell let the Ouni-rant out and gave him some feedback worthy of his behavior. It's like they say. You can get the girl out of Ostend, but you will never get Ostend out of the girl. I remember seeing other security members stopping him, while he was 'kicking us out' and you could see that the other security people didn't really understand what these girls might have done that was worth all the aggressive drama. I was furious. Jules was shocked. This whole peaceful christmas night turned out in a nocturnal hell orchestrated by the antichrist himself and the best part of it all was… we didn't even get drunk!!!
While we were getting our coats, realizing how dramatic this night ended we noticed the Noxx VIP Lady, and she told us: "I'm really sorry it didn't work out for you, but you can't have 'm all right? I mean it's fun what you do and stuff, but you can't always get what you want. Besides, the only ones who had something with Rick Ross was the VRT channel." #crickets. I just smiled and grabbed my coat and agreed. There was no use explaining that the Polaroid was not the reason why we were pissed, it was the way how we were kicked out and the complete malfunction of that club from promoter to management to 'security'. We have failed in getting a Polaroid 10 times more than she probably realized. But never in the history of this little blog have we been kicked out by a random chick and a security guy for just standing somewhere and I was still getting over the fact that it happened. When we were getting into the cab, I noticed that the car right next to us, was the car of Rick Ross, ready to leave, and next to the driver's seat was the guy from the entourage I thought was best approachable. You know, the guy I gave my red-blooded lipstick failure presentation? He looked at me. I looked at him and our cars both drove in the opposite direction while we both kept looking at each other. Our Jamaican Rastafari taxi man with massive long dreads turned his head, gave us a big enthusiastic smile, rrrready for the night and asked us for our destination. We mumbled him the address, he smiled again, buckled up, pushed the pedal, turned up the volume of the radio, because…what was playing:"I THINK I'M BIG MEECH, LARRY HOOVER, WHIPPIN' WORK HALLELUJA." Now isn't that ironic?  Jules and I looked at each other and we both felt as if destiny was laughing us right in the face and I swore that I would NEVER set foot in that place again. A statement that I had to take back seconds later, because what if Ludacris was booked there one day….? I mean… I could not nòt go….right? I just swallowed my pride, took it like a real woman, and said to myself that if the time comes I would do what I was supposed to do. Momma don't need a house, baby don't need no shoes, times are getting hard, but for the Polaroid picture, guess what I will do:
Love,
OUNI
Oh and Mr Ross, if you happen to read this story, hook a sister up next time will ya, you know I need a BOSS on Polaroid. (you have my card 😉 )
PS: Special thanks to Lady Noxx…We really appreciate the help you gave us. This blog is all about love. Love for music. Love for Polaroid. Love for artists and their work. It's about challenge. It's about failure. It has a foremost positive vibe. I will ònly write about the negative stuff, if I feel that I have no other choice.
Oh! And a special shout out to the guy who called me Vanessa Paradis and introduced me to his friends as… Vanessa Paradis. You made my night. (And the following week!)