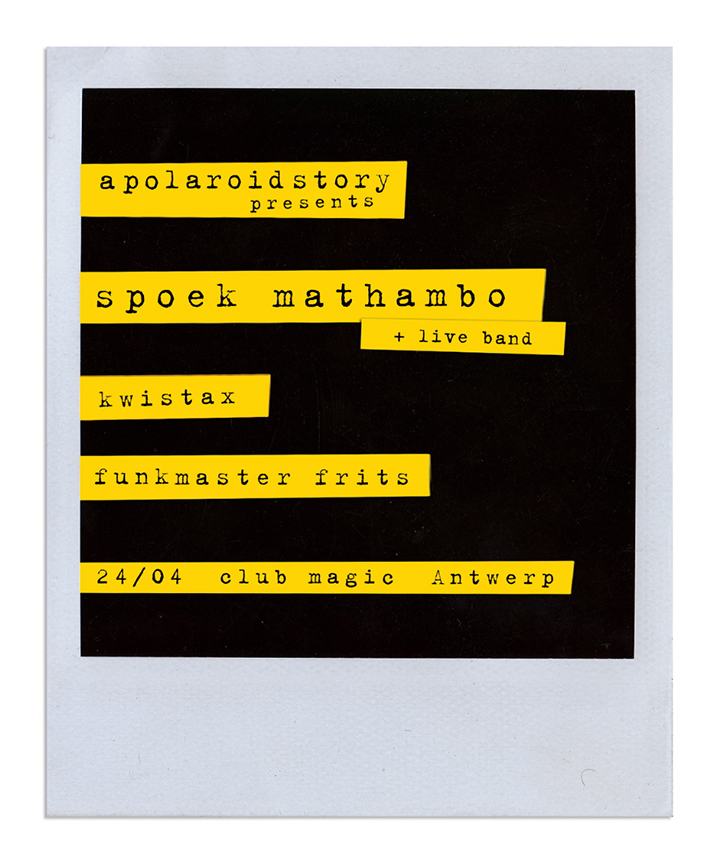 Here we go folks.
The official online flyer for  A POLAROID STORY PRESENTS: THE SPICY ISSUE
all black and yellow like Khalifa or Dead Prez. Whatever you like the most.
I changed the name of the issue from 'bad boy to spicy' for various reasons.
but first let me introduce you through all the info real quick
WHEN?
sunday april 24th.
Don't stress…next day is a holiday. Easter!  😉
WHERE?
CLUB MAGIC – ANTWERP, BELGIUM
I wanted a fresh and new location in Antwerp that was not too big and has a cosy, intimate atmosphere. I chose this location for the  80's vibe, the mirrors and the black velvet. What can I say…I 'm sucker for all things kitsch. Besides, do you know a club that still has carpet circa 2011? Plus the venue got a little oldskool dancefloor that centers the club that I thought was kinda cool. It's located in the basement of the Antwerp Ramada Plaza Hotel, so you can always sleep over if that should be the case. 🙂
Exhibits:
(pictures by Magic)
GOOD TO KNOW!!!
This club is located in the dark basements of the ANTWERP RAMADA PLAZA HOTEL.
If you really want to come to my party, but distance and/or drunk driving is making you having second thoughts MAGIC & THE RAMADA PLAZA have the perfect solution for you!!
You can spend the night at THE RAMADA PLAZA HOTEL for the economic price of 89€ for a double room. When you make your reservations just mention the magical word ★MAGIC★ to get the adjusted rate.
How easy can things be? Come to Antwerp. Go to the club. Then just go…. upstairs.
Lil John & Chris Rock knew it all along! 🙂
For all reservations –> General Reservation Enquiries
Tel: 0032-3-2448281 or 0032-3-2448280 Email: reserveringen@ramadaplaza-antwerp.com
THE LINE – UP
(picture by Nico Krijno)
Headlining the party, I invited SPOEK MATHAMBO a fresh and I quote  "post-apartheid glam-rap prince " from South Africato come over to Antwerp and give a performance with his MSHINI WAM LIVE BAND.
Some quotes about Spoek and his debut album MSHINI WAM
« Mishini Wam is a fascinating piece of otherworldly music filled with unlikely combinations, tribal rhytms, soulful vocals, flawless rhyming and minimal club beats. An album drenched with global dance influences, but anchored with a local identity. If only this was the sound of the 2010 World Cup instead of Shakira… » Urb Magazine
« Boasting the eerie, post-apocalyptic single "Gwababa (Don't Be Scared)," the album is booty music laced with a post-punk DIY ethos like you've never heard before. As he carves out his own cultural space influenced by hip-hop, electro, and domestic beat-laden genres, his live show is beginning to set stages on fire all over. » Big Shot magazine

If you are not familiar with this raging Soweto thunder definitely watch the videos here below.
CONTROL
MSHIMI WAM
AYOBA (with Gnucci Banana)
DJ KWISTAX
(picture by Kwistax)
Kwistax is mainly known for delivering heavy bass-influenced mixes through a dynamic and dancefloor-friendly selection. But he is also an oldschool technician, having been involved in the early hip-hop days in his home country Luxembourg since 1997, and having won several national and international DJ championships such as DMC. Well known in Belgium, he has been bringing you the finest in electronic music for the last few years like with his latest party project "Freaks & Geeks".
DJ FUNKMASTER FRITS
(picture by Sneakie Rose)
Raised on boom bap and 808's Funkmaster Frits embraced the digital revolution to leave the golden era of hip hop
behind him and keep an open eye and mind for all things fresh and bassheavy. Playing the newest latest on his
urgent.fm-radioshow (Time Bomb crew) and gaining notority as a frequent partykiller on the infamous Creep Street
and Booze Gumps partyconcepts he provides you with the songs you'll sing along to next year. Swag!
WHY SPICY
Because I want the night to be drenched in that typical tropical vibe you would have as if you were partying in Capetown or Rio.  Tropical house, moombathon, sexy electronic rap beats with some classic hiphop and r'n'b in between. A mish mash of everything sensual with a pounding bass to spice things up. Hot and Sweaty. Yes Sir.
WHY THE PARTIES ?
The basic intention is to generate a blog-income in order to give my blog the chance to grow and evolve. More festivals need to be visited, more concerts, more abroad trips and events where I can encounter the artists I want to feature and last but not least one fine day there will be an exposition with who knows…a book?
For the last 3 years I have financially supported this blog from my own pocket (me, but also my loyal partner in crime Jules) and the expenses are becoming to high to keep this blog evolve and grow in a continuous, steady way.
Polaroidfilm, disposable analogue film, train/tram/bus/airplane/cab-fair, concert & festival tickets, sometimes hotel/motel expenses…
Therefore the idea came up to organise 3 parties a year and invite 1 international guest amongst local heroes who I want to introduce/highlight via my blog to my readers.
In that way, we take A POLAROID STORY from a virtual read to the real world and I have the chance to unite all my readers/troopers/supporters  at the same place and I can try and give them a different music and party experience.
THINGS I MIGHT NEED YOUR HELP WITH #yesyou
+ DJ ………
So uhm… technically I would need another DJ but I'm a bit lost here… There is no more budget for another DJ, and I need one to fill in for the last 2 hours of the party. (which are very important to me, those are those final hours you dònt want to go home!) So where some suggested Ì should spin a tune or two (no I'm not kidding) I'd rather leave my nervous breakdown for what it is that night and let somebody that actually knows what he or she is doing take over. So if you have any suggestions, keeping the musical vibe of the night in the back of your mind,  please mail me.
PHOTOGRAPHER WANTED
I'm looking for somebody that wants to capture the night. Again, I don't have any budget, the sponsor files are just out of the door, so I can't make any promises towards fees or sponsor goodies or whatever,  but if you still want to help this blog out by taking pictures of the night and the crowd. please mail me.
CAMERA MAN WANTED
I'm looking for a creative camera man/woman willing to portrait the night in a fresh eye-catching matter. So if you are up for this… please. mail the ouni.
That's it for now.
RSVP for the party here
Let's hope
a) people will show up
b) I won't go bankrupt
c) the night will be epic
I'll keep you guys posted, because trust me, without YOU, it would not be possible.
Well maybe possible but definitely less fun…
Love,
OUNI