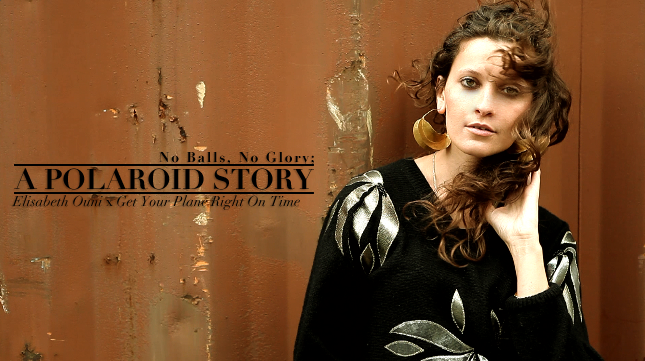 Antwerp, 16/10/2010
Check out this sweet one minute portrait DENNIS SWIATKOWSKI made of me.
[vimeo vimeo.com/21437916]
It's like… 'A POLAROID STORY…THE COMMERCIAL' (read this with a very soft, whispering voice)
Or something. Hahahaha.
I met Dennis a little while ago on this FRESHCOTTON x BLEND MAGAZINE collaboration in Amsterdam. Meeting new people is always nice, but sometimes you meet somebody new and you immediately click, and well… that's even nicer.
I felt right at ease with Dennis, he had a laid back but funny vibe about him and we quickly found out we had the same point of view on stuff. He told me about his one minute portrait concept he was working on and asked if I wanted to be a part of it, and I happily accepted his invitation.
It took us a while to match agenda's and because Ostend was a bit too far, we decided to split distance and shoot at the Antwerp harbour. Dennis' main idea was to shoot a one minute portrait of different individuals for his blog called GET YOUR PLANE RIGHT ON TIME.
I like the fact that it's shot by the harbour and by water, and that the surroundings aren't perfect. Because my world isn't either. I even like the barbwire I'm standing next too. And the fact that the fence is green. My favorite colour.
I think it's a genuine yet sweet portrait of me, how I look in my daily life and it portraits in a somewhat poetic way my  my love for my blog, Polaroids and you know… a little bling.  🙂
I like the end of the video, caus I feel like it tells that I'm walking off to my next story with my Polaroid camera in my briefcase.
Anyway… I hope you like it.
Here are some quick backstage shots my friend SABINE PEETERS took in between takes.
Exhibits:
The lovely scenery of the day.
"aaaand…ACTION!"
I tried 'the hiding behing my POLATRON trick', but Dennis wasn't really falling for it. 🙂
"camera's rolling…TAKE 335!"
"aaaaand…IT'S A WRAP!"
Definitely keep on eye on Dennis and his GET YOUR PLANE RIGHT ON TIME blog where he'll feature his short One Minute Portraits, other fashion related videos, street fashion photography, overall fashion week coverage, and the complementary nightlife shots from time to time.
Thank you Dennis for this lovely portrait… #liefde
Love
Ouni