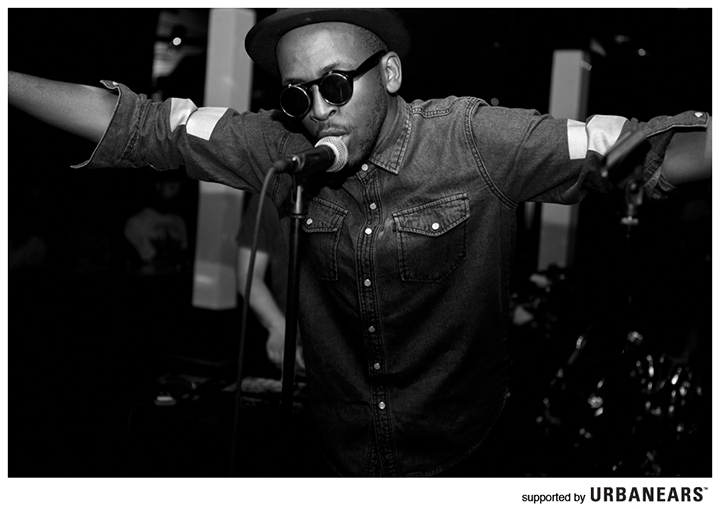 Antwerp, 24/04/2011
picture by Dennis Swiatkowski
Hello troopers.
It's official. I did it. I gave my first real party.
This is the story.
A while ago I decided that I wanted to take this blog from the virtual to the real world. I'm all about evolving. Things have to MOVE in my life. This blog is my baby, so obviously I want my baby to GROW.
I decided I would do that by throwing a blog related party. And when I have something in my head, and I see it before me,in my head, it must happen. And so it did. There is nothing greater than seeing your ideas come to life.
I didn't really knew where I was getting myself into. I knew it would not be easy. I had the pleasure of attending some pretty great parties in my past, and I know a few people who throw parties for a living, so I knew this might be a big challenge. Afterall, I am an amateur in this matter.
I started out with THE LAUNCH ISSUE. But I didn't really consider that to be the real deal. I gave the party in a bar in my hometown Ostend. That's like playing a game in your hometown. You feel comfortable. And although I was nervous, I knew not much could go wrong.
But throwing a party in a city that is not my own. That's a challenge. Like…Would people care or be interested enough to show up?
We all know that virtual love is different from the real one and a virtual RSVP doesn't guarantee your presence in the flesh.
Since this party is related to my blog, I didn't really felt the idea of just booking local resident dj's. Everybody else and your mama is doing that, so why do the same? And what's the relation to my blog then…?
I wanted that people understood that I throw this party out of love for my blog and music and to try do something different, and especially try to get all the people who like or read or support my blog together in one room. Because I know you guys are so diverse, and I was curious what kind of unity that would create.
Me and my romantic ideas right?
I decided that I hàd to have a life performance at my party. Preferably by a fresh emerging artist that sparks my attention.  So that's why I decided to book south african artist SPOEK MATHAMBO. I will properly introduce Spoek very soon on this blog. Polaroid-wise that is.
When I first contacted Spoek's management , it quickly became clear that I missed my chance to book Spoek for a simple dj or live on tape gig. The decision was made by the management that Spoek was only going to perform with full live band from now on.
I had my doubts. An artist with live band is completely different from an artist live on tape. It comes with extras. Extra costs.Extra challenging. logistics. Basically, it meant that I would have to pay for flightshare (cost you split with the other promoters of the specific artists tour)  local transportation, rider and a live performance fee for not 1 but 5 people…
But…If I set my mind to something, it must happen. I'm programmed like that. So I decided to go for it. I thought, if I do this…I might aswell do it good..
Besides, I knew it would probably take a while before I had Spoek Mathambo in front of my Polaroid camera, so why not invite an artist instead of chasing him? Sounded like a logic evolution to me. 🙂
To throw a decent party without too much financial stress, you have to put a partnership file together to convince brands or companies that your party is the right collaboration for them to participate in. Although I was very confident about finding the right partners, I quickly found out that it takes a couple of months to get results from that. Your sponsorship file might travel from desk to desk before any executive decisions are made, so you have to put that out way early in order to get the right amount of partnerships right in time before the party.
I contacted 13 big brands. 5 replied back. 1 of them became my first official sponsor.
URBANEARS is the first brand that partnered up with this blog and it's concept and I couldn't be more grateful.
Exhibit: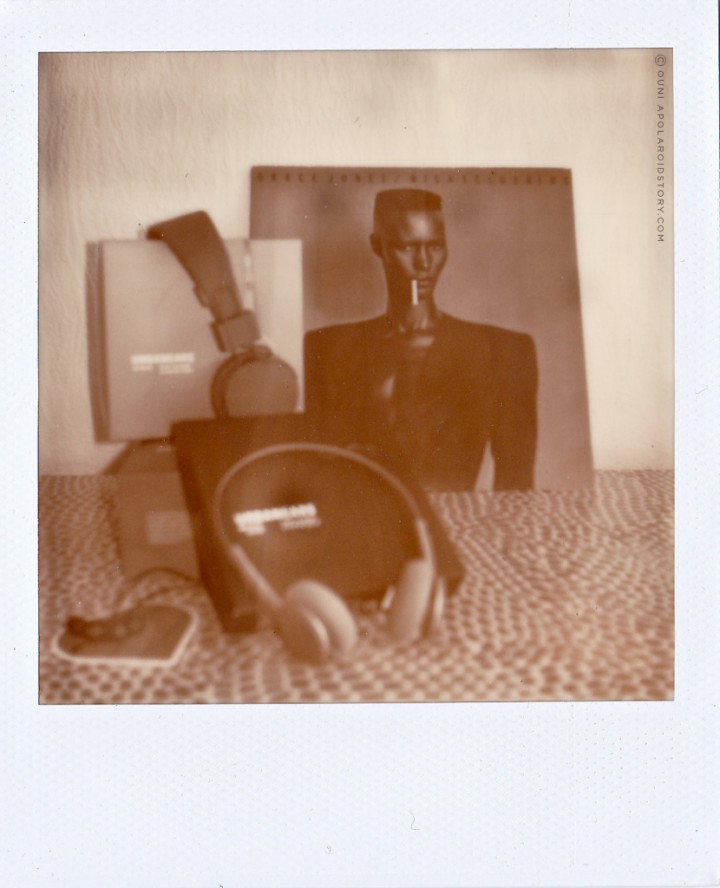 It's always nice when you find a brand that actually makes sense to partner up with the things you try to do. And teaming up with a brand who makes headphones, now that is just music to my ears.
The weeks before the party everything was about promoting. My budget didn't allow it to print flyers and/or posters so I decided to take the risk and do all communication via online media. This blog is virtual, and I reach so many people with it, so why not explore that to promote my party. Plus, my conscience was happy with not wasting all that paper to party promo.
I have to admit that after a while I was tired doing the online promo, I felt like I was slowly turning into an annoying online party spammer.
And then after sending out 'a milli' emails, making one to do list after the other and creating a small stress area in my stomach combined with a few insomniac nights…, april 24th was a fact.
I was already awake very early in the morning to pick up Spoek, his band and his tour manager from the airport together with my two drivers Jules and Rose. Isn't amazing that I stìll don't have my driver's licence? 🙂
We drove them from the airport straight to the RAMADA PLAZA hotel where they slept of a little hangover from the night before.
Artist life – Night Life – Hard Knock Life. Haha.
After a quick nap I invited my guest to have a healthy diner at RA, one of Belgium's sickest concept store, well, sickest concept store in Europe if you ask me, with a very good little restaurant.
My guest were enjoying their food, and while Jules and Rose where entertaining them, my thoughts kept me worried.
It was very hot in Antwerp that day, I was wearing a leopard jumpsuit that I wear when I'm on vacation. I mean the temperatures were almost tropical, and although that sounds very good, I was worried about the fact that  the weather would seduce people  to hanging outside on a lazy beach or garden barbecue instead of my sweaty party in a dark basement somewhere in Antwerp…
You have to realise. Belgium is a country with a population used to live in grey skies for more than 3/4 of the year. When we have sun, it's simply something everybody will enjoy to the fullest and honestly, can you blame us? We all need vitamin D at some point of the year. 🙂
After a short sunset walk by the harbour we drove back to the hotel and it was time for soundcheck.
I have only 1 blackberry shot here, my disposable snaps of the night are unfortunately still in the lab.
Analogue equals patience, what can I say.
Exhibits:
I think the happiest moment of the day for me personally was during the sound check. I was so happy see the band play right in front of me. It all came together. They we're really pleased with the mini 70's disco stage and they were excited about the sound, the instruments and the venue.
While the band was playing their complete set, I felt so happy that I booked this band. It sounded fucking amazing, fresh and nothing like you would expect.
This is why I did all the work for, to share something innovative and new. Not by writing a story and snapping a Polaroid, but for once,  provide a story my blog readers can actually experience themselves and participate in it, in a way.
Not much longer after the sound check, everything was set and ready for the night to begin. And what a night it was…
Exhibit:
picture by Elke Vwz
I had 2 photographers who offered to portray the night for me.
DENNIS SWIATKOWSKI from Amsterdam
and MIQUE DONGE from Brussels
You can check all the pictures of the night HERE.
As promised, every 25th visitor of my party was rewarded with a pair of fresh URBANEARSheadphones.
Belgian model and blogger PAULIEN RIEMIS was one of the lucky winners!!
Exhibit:
(picture by S.Leleu)
Check out this amazing blogpost she did about the URBANEARS PLATTAN CERISE headphones she won!
I learned so much by throwing this party. I don't think I can explain how much I learned from this experience… My respect for people who throw parties on the daily, because trust me, it's a very underestimated job.
Unfortunately I couldn't avoid the lesser experiences that came along with throwing this party. I saw some bad sides of people. They say the promoter world is hard, and people warned me that I might be very surprised by other people and their motives, especially since I'm doing this for the love and god knows making money with this blog is not why I started it in the first place.
I stood my ground, knowing that my worth of mouth is golden and is also worth for something when I decide nòt to shut up.
But the few bad moments and the tears, because yes, there were some tears, didn't live up to all the positive things.
Some people promoted my party on Facebook like it was a party of their own. ( I see you Aicha & Adinda )
Everybody who could help, actually contributed in their own small way by promoting the party online to their social network.
( I see you Nalden, Laid Back Radio, Lefto & Ben Van Alboom)
All the mails before and after the party felt heartwarming and real.
Special thanks to JACKIE KLINKERS, responsible for the PA/BACKLINE. Live performances in a club are not easy but my sound crew pulled it off!
Big up to my DJ's FLO from DOOBIE BROS (check out this mix FLO made in honour for the party!!) & FUNKMASTER FRITS, who played their vibes behind the desks for a few drinks and a pair of URBANEARS headphones, but most of all for the love for my blog and what I do.
Special thanks to my volunteers and co-workers ROSE, JULES, SABINE and ELKE.
How come I didn't take a picture of you guys together?! 😉
Special thanks to MAGIC, for giving me the venue for free and believing in me and my concept and giving me the chance to do my own thing in their space.
Special thanks to TLP TROUBLEMAN for the massive shout out about my party on your Studio Brussels radioshow
Special thanks to MTV BELGIUM & THE WORD MAGAZINE for putting the word about my party out there!!
A HUGE shout out to my partner URBANEARS for their support.
And last but not least.
Special thanks to ALL the people who showed up at my party, and for supporting a line up that might have looked a bit out of the ordinary and be open for that. You guys are golden.
Now. The answer you've all been waiting for.
Did I manage to reach my goal for a break-even?
I did not.
Was I disappointed?
I was.
Did I regret  throwing the party?
At first.
Yes.
Later.
No.
It was a rocky road putting this party together. But it sure was worth the damn trip.
Now.
"Somebody bring the money please."
😉
Love
Ouni