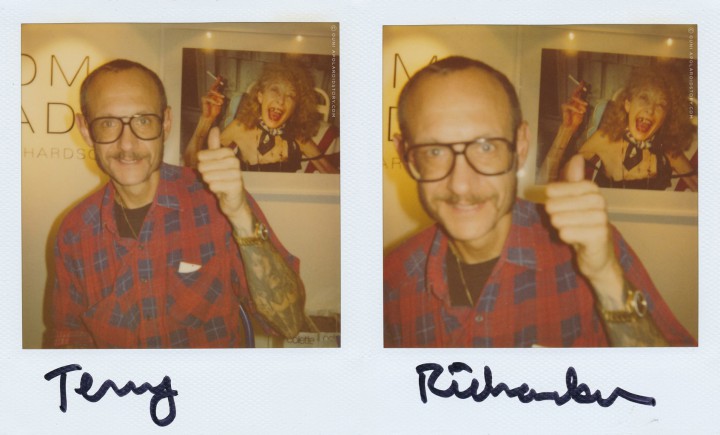 Paris, 01/10/2011,
Yeah….you probably saw this one coming after the blurry but still kinda obvious teaser I posted two weeks ago.
I bet you secretly hoped the title of this story was 'Titties for Terry' but trust me, no provocative behaviour went down in order to get this Polaroid picture.
Only patience. 🙂
From time to time I feature interesting individuals that are somehow linked to the more musical related Polaroids I normally feature and put them in the 'OUNI LIKES' category.
If you are not familiar with the controversial individual Polarized here above, let me be so kind to introduce you.
TERRY RICHARDSON, is an American photographer, mostly known for his fashion spreads for magazines like VOGUE, GQ, I-D, HARPERS BAZAAR, V MAGAZINE, SPORT'S ILLUSTRATED and many more.

Over the years he shot campaigns for H&M, LEVI'S, YVES SAINT LAURENT, DIESEL, ERES, SISLEY, ALDO, SUPREME, LEE & LACOSTE just to name a few.
He is also known for his notorious celebrity shots and last but not least his signature 'thumbs up' self portraits. If the president of the United States Of America is familiar with his signature sign, you probably are aswell, but just in case you are not…
Exhibit: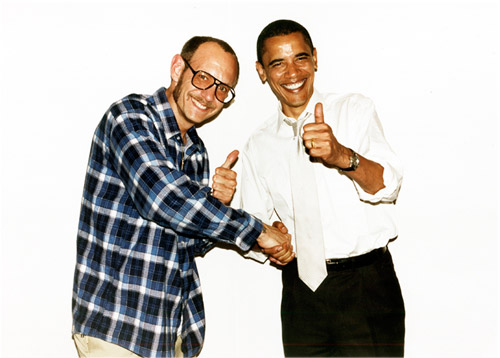 What is the first picture  you ever saw from Terry Richardson? No really, think about it.
I perfectly recall mine. Matter of fact, I still have them.
When I was 15 years old, these Sisley SS/98 postcard samples were sticking to my handwritten diary filled with teen drama stories.
Exhibit:
Maybe somewhat disturbing if I look back at my age, but don't worry, I had ten times more teen-proof pictures from Gwen Stefani & Leonardo Dicaprio to balance things back to a healthy PG-15.
I guess I have always been drawn to his work ever since.
The list of models, musicians and actors Terry Richardson has in front of his camera on a daily basis is enormous.
Here are a few artists shots you might link with this blog that I could find on the net. I'm sure there are plenty, plenty more.
Exhibit:
(all pictures by Terry Richardson)
PHARRELL WILLIAMS
R KELLY
AMY WINEHOUSE
JUSTIN TIMBERLAKE
LIL WAYNE
ARMAND VAN HELDEN , A-TRAK & TERRY
TYLER THE CREATOR – ODD FUTURE
BEYONCE KNOWLES
TERRY RICHARDSON & P DIDDY
Btw, did you know that it was Terry Richardson who shot this epic debut video from N.E.R.D?
You face a certain duality with Terry his work. Sometimes it can offend you or makes you even uncomfortable. We all have been at somebody's house with Terry Richardson's book on the coffee table right?  Sometimes the rawness has a certain beauty that makes his work very attracting even though there hangs a certain dark sexuality around it.  Yes I am aware of the controversy that surrounded him not so long ago, and yes that stayed in the back of mind, but I can't deny the fact that I am still drawn to his work. It is what it is.
It's like he can bring out the dark 'freakum' side out of you, and it only depends on the amounts of clicks he pushes on his camera for you to slowly unleash your inner lolita and/or beast.
For the few people who are not familiar with Terry Richardson his more provocative and controversial work, I made a PG-18 selection for you all. 🙂
from the BATMAN & ROBIN series
FRANKIE RAYDER
CRYSTAL RENN
for JIMMY CHOO
PETRA NEMCOVA for SISLEY
ROSA ACOSTA for SUPREME
for TOM FORD FRAGRANCE
LARA STONE for VOGUE HOMMES
ANA BEATRIZ BARROS for SPORTS ILLUSTRATED
PAZ DE LA HUERTA
purple poodles for SISLEY
Too much in the face for you?
Well here is a  slightly softer selection and (only a few of) my personal favorites. 🙂
MAD MEN'S JANUARY JONES for  GQ
LARA STONE
JAMES FRANCO
ANA BEATRIZ BARROS
JOAQUIN PHOENIX
Our very own Belgian topmodel  HANNELORE KNUTS
KATE MOSS
BEYONCE KNOWLES
FRANKIE RAYDER
MILA KUNIS for GQ
JOAN SMALLS for W
and my ultimate favorite 🙂  –>  JAMES FRANCO
With this more than elaborated visual introduction to the man and his work I'm very convinced I can officially apply for an editor position at Sports Illustrated, GQ and Complex Magazine.
Now. Lets get to the story.
As you may or may not know I was recently in Paris for this YEEZY story.
Only hours before my ultimate quest for a KANYE WEST Polaroid, I made a quick pit-stop in Parisian concept store  COLETTE.
During my stay in Paris I found out that in order to celebrate his brand new tribute book  MOM & DAD Terry Richardson was giving a book signing together with former French Vogue Editor-In-Chief CARINE ROITFELD, who simultaneously released her IRREVERANT book.
The Colette store was hosting the signing session and armed with my Polaroid camera, me and my assistant Aicha faced a very long queue on a very warm day.
Exhibit:
Yeah, you had to…..
to face this line downstairs
and all the way upstairs
….for a simple autograph, but hey. 🙂
The store was decorated for the occasion by what I like to call 'Triple Mind Fuck Terry's'
Exhibit:
and some excerpts from his MOM & DAD book.
Exhibit:
By the time we arrived upstairs, CARINE ROITFELD just finished her book signing and left the store.
Exhibit:
After a some more waiting I arrived at the table where Terry was signing his book, I approached the man, took a deep breath and asked him the simple question while he was signing my book: "Would you mind if I take a Polaroid picture of you?"
Exhibit:
He looked up and said: "Of course not."  and raised his thumb up in the air and gave me his signature big grin.
Before I aimed my camera, I asked him if he agreed that we would take two Polaroids.
His manager reacted a bit nervous. There was a whole line of people breathing in my neck, still waiting for his signature and it was already announced that Terry would leave in less than 10 minutes.
They quickly both agreed, so I aimed my camera and went for it.
Exhibits:
Et voilà. Simple comme ça.
I wish I could tell you a more exciting story than "I went to Colette and stood in line on a warm day" in order to get my Polaroid picture, but hey, this is simply how it went down.
I came, I waited, I snapped, I conquered.
Love,
Ouni.
PS:
Read Terry's Diary and follow him here
Shout out to my assistant for this story: Aicha Candeesha.
And last but not least, especially for my male loyal readers, the 17 minutes long behind-the-scenes video from the Terry Richardson 2010 Pirelli Calender shoot.  Enjoy!