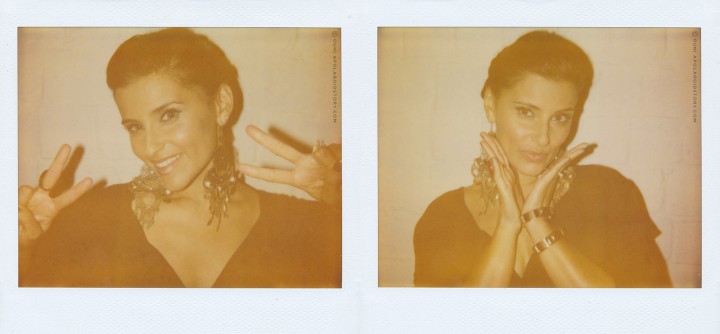 Yes. This fly bird Polarized here above is indeed the lovely miss NELLY FURTADO.
Not familiar with this particular Canadian-Portuguese 'menina'? Allow me to give your memory a little push?
It's already 12 years ago when Nelly Furtado released her first album WHOA, NELLY! Twelve years people! Whoa…time flies. I was about 15 or 16 when I bought her album and I totally fell in love with it. Listening back to Whoa,Nelly! brought back so much memories from when I was a teenager but the album still feels as pure, rich and diverse as it was back then. Highlight of the album was of course her debut single LIKE A BIRD. 
But my personal favorites were the tracks: ON THE RADIO, a reggae remix of TURN OFF THE LIGHTS and LEGEND (Basically the whole album but I have to stop somewhere).
The reason why I really liked Nelly Furtado was probably because she was significantly different from look, feel and voice in comparison to other female artists that were big around that time. I thought she was interesting and her music felt like a breath of fresh air going through current pop music. I also loved watching her on interviews, she talks so fast & energetic! She took a different direction on her second album FOLKLORE but the song TRY really got me quiet when I heard it for the first time.
After Folklore Nelly came back with LOOSE, notorious for her collaboration with Timbaland, and an album that gave her multiple chart toppers. Nowadays, with the Gagas and Keshas of this world it takes a lot to shock people,  but back in the day, I remember a whole press frenzy because the 'Loose' Nelly Furtado turned out too sexy for many people and she had to explain in many interviews why. Anno 2012, Nelly Furtado looks pretty much covered in clothes if you ask me. 😉
I remember this track PROMISCUOUS was pretty popular in the clubs. I still love it, classic Timbaland never grows old. But it was the track SAY IT RIGHT that gave her a global number 1 with the track topping the charts for weeks.
Can't forget this other collaboration GIVE IT TO ME with Timbaland & Justin Timberlake.
After Loose she focused on the Spanish market for a while and released an album called Mi Plan, but the last time I heard Nelly Furtado was when she delivered some vocals for this N.E.R.D. track HOT 'N FUN.
Untill a few weeks ago Nelly Furtado announced her 5th album THE SPIRIT INDESTRUCTIBLE. The first single of this album is BIG HOOPS, a classic Nelly Furtado track with lots of character which will probably appear on a gazillion remixes.  (Dubstep, Moombahton, classic Ibiza house version, Chopped & Screwed you name it, 2012 has it.)
Now. After this elaborated trip through memory lane I'm finally ready to tell you the story behind the Polaroid.
Here we go!
JUKE, an online streaming music library  invited me to go to Berlin to meet up with Nelly Furtado and enjoy a private live performance afterwards, where Nelly would showcase her new album called THE SPIRIT INDESTRUCTIBLE.I love Nelly and I'm curious by nature and the prospect of meeting her and have a little interview was very appealing to me so I accepted the invitation.
It was only a few days ago when I left Belgium for a quickie in Berlin. Once arrived in the hotel I was informed that an interview probably wasn't in the pipeline, but that they would try to make it happen. Interview or not, JUKE definitely made sure I was warmly welcomed at the Indigo hotel where I was spending the night for the occasion.
Exhibits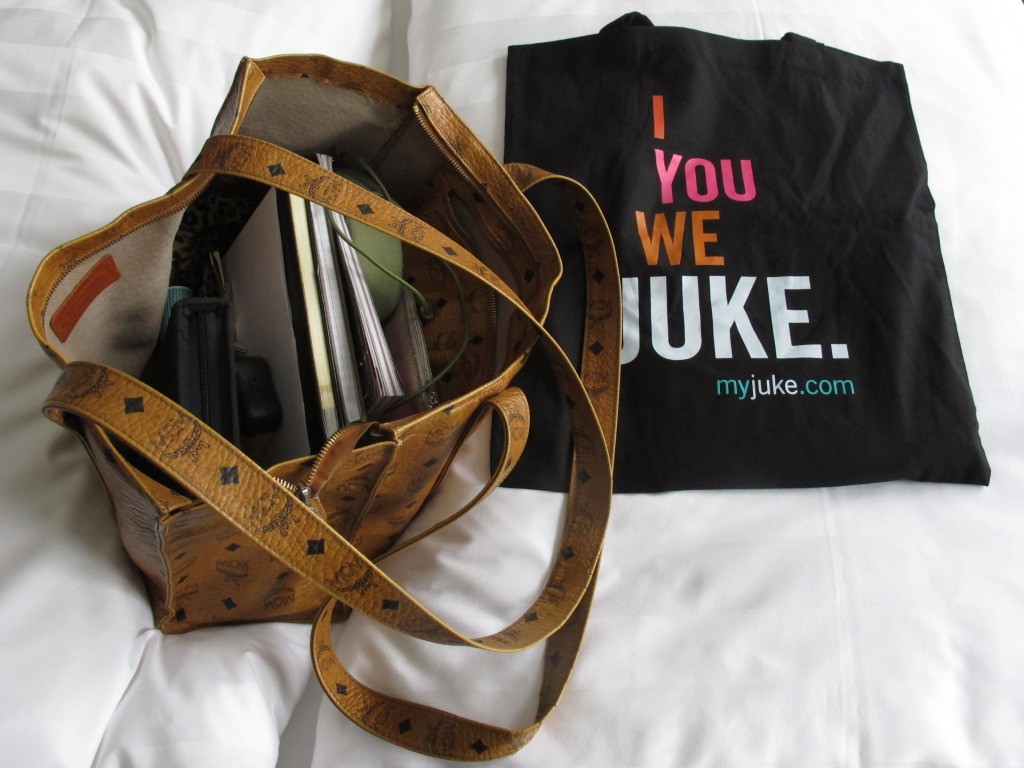 How cool is this shower!? I had to share it with you for some reason.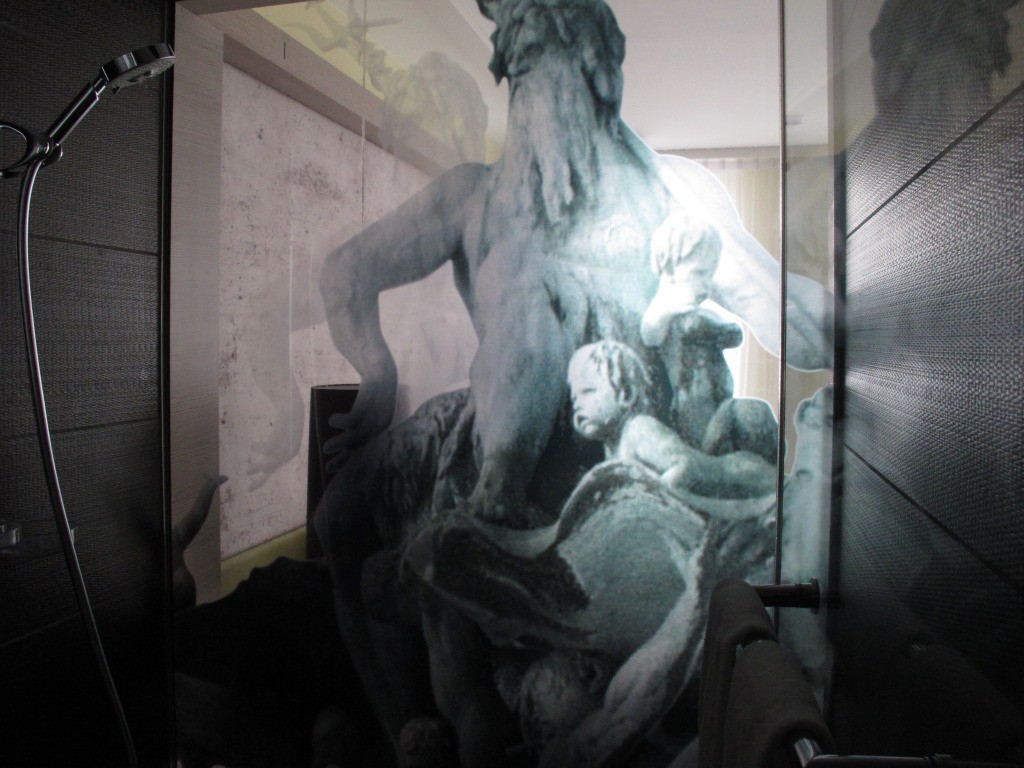 After an obligatory stop at the Impossible Shop for a back-up Polaroid Image camera and some new film I wanted to try out, I went straight back to the Indigo hotel to 'fix up, look sharp' for my meet and greet with Nelly Furtado. JUKE also invited some fans from different countries and these are Belgium's own Nelly Furtado aficionados.
Exhibit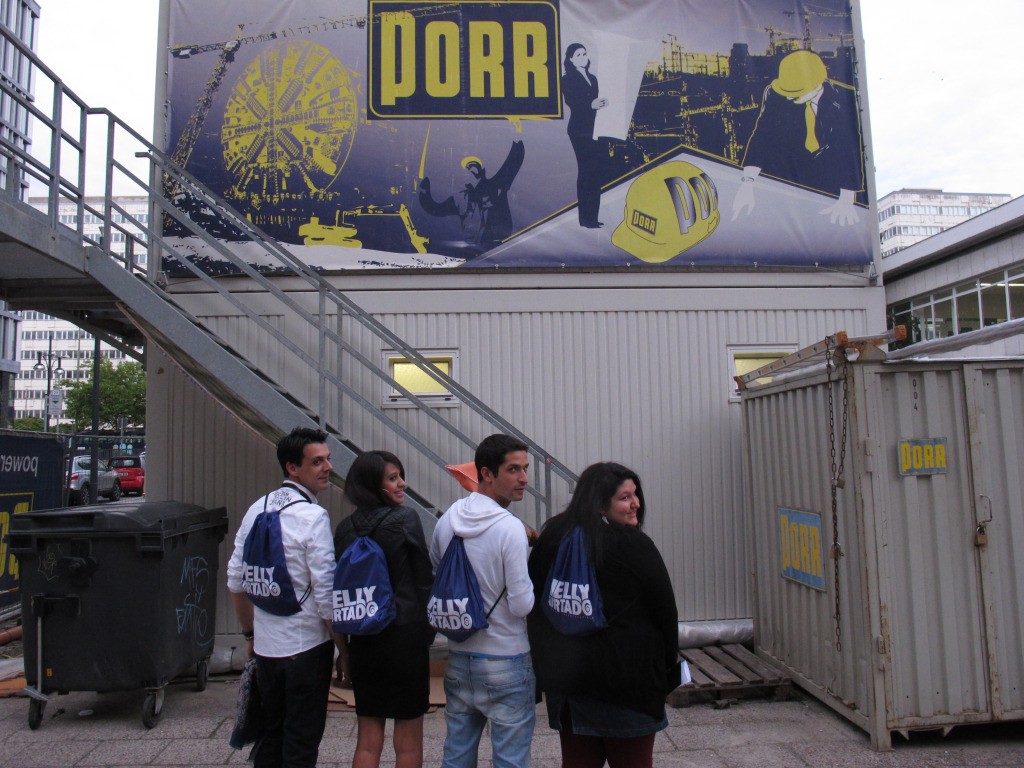 When I arrived at the location where the JUKE event was held, I realised this was a pretty big event, red carpet inclusive.
Exhibit

Ow! meet 'natural born Pr woman' Marie-France who accompanied me on this trip!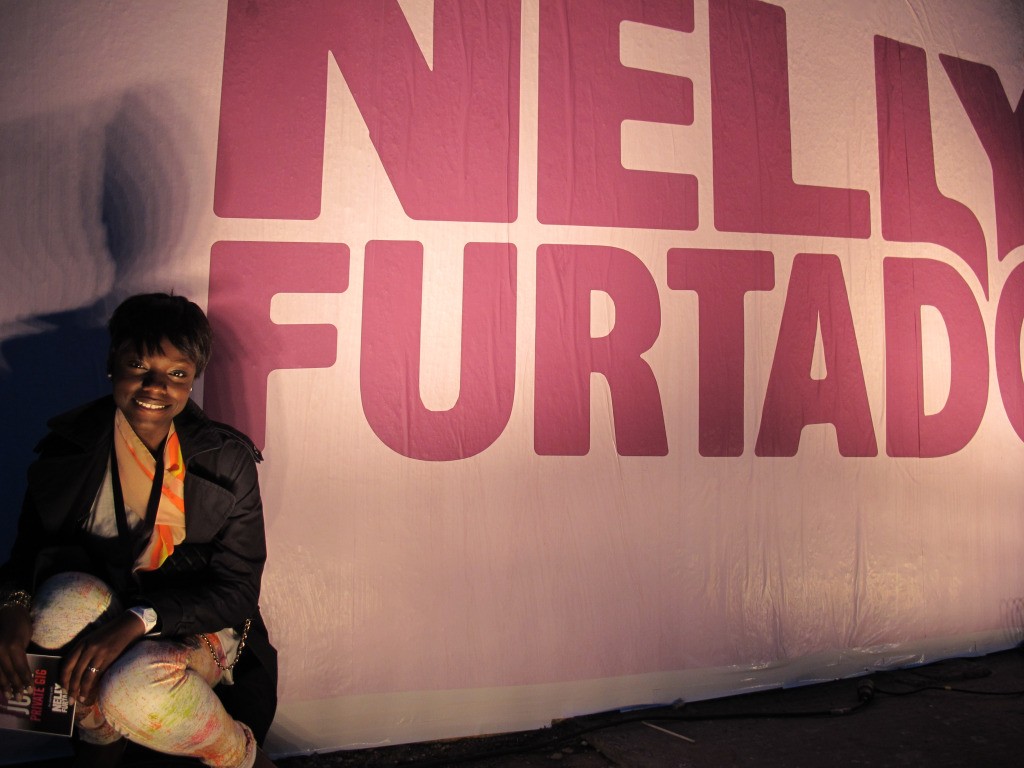 It turned out that there wasn't really a personal meet and greet, but more like a 'Hollywood' red carpet moment where you could snap some pictures and ask some questions. Well. I have never done some of those before so I was trying really hard to picture myself as a legit reporter for E! Channel. (lol)
And so it happened. Only a few minutes after we arrived at the JUKE event before the brand wall, Nelly Furtado appeared on the red or rather grey carpet. Immediately the German photographers went all 'cray-cray' paparazzi with their massive lenses and the flashes went off like fireworks. I mean, even I was blinded by the lights! So just for you, I pretended that I was a paparazzi myself and took some shots. With a little Canon G12 that is. Hilarious.
Exhibit

Not bad for my first real Hollywood-esk carpet moment right? Nelly looked totally hot'n'petite and was very relaxed and calm in front of the photographers. I wondered how she did it, those people kept screaming her name and yelling; "LOOK HERE, LOOK HERE, NELLY, NELLY, PLEASE NELLY." I mean, it wasn't like she was going anywhere, she was standing there for at least 15 minutes! But after that, things suddenly went really quick, interviews got cut off because apparently they were already running late on schedule and Nelly Furtado was due to perform at 8h30PM so she was rushed of the carpet but not before she greeted some of her loyal fans.
And of she went… The people from JUKE told me that they would do their best to hopefully make something happen after the show, but for now, there was nothing else that we could do than sit back and enjoy the show. We walked into a packed venue with about 500 people and witnessed Nelly Furtado live with full live band.
This might seem weird, but I was actually surprised how good she could sing live. Her voice is crystal clear and she can really hold her own on stage. She handles so many different genres and easily tweaks them into her own personal style. While watching her perform, I was thinking about where I would feature this Nelly Furtado experience. At first I thought it would be perfect for Ouni Inc, which is less 'niche' than this blog, but because it turned out that even getting a meet and greet with Nelly Furtado was challenging for JUKE as well and the fact that I forgot how much I really liked her, I was considering to put her in this blogs OUNI LIKES category. Plus, I was also a bit eager to try out my brand new Polaroid Image camera…
After the concert we met up with the people from JUKE at the exit from the events' backstage area where we were told to wait for Nelly Furtado to come out. I wasn't really looking forward to another fan/paparazzi flash-frenzy so luckily JUKE pitched my blog to the people from Universal Germany who handled all last-minute requests with Nelly Furtado's management. After 15 minutes I was finallly invited to go in the backstage area and do a little chat with Nelly Furtado.
Exhibit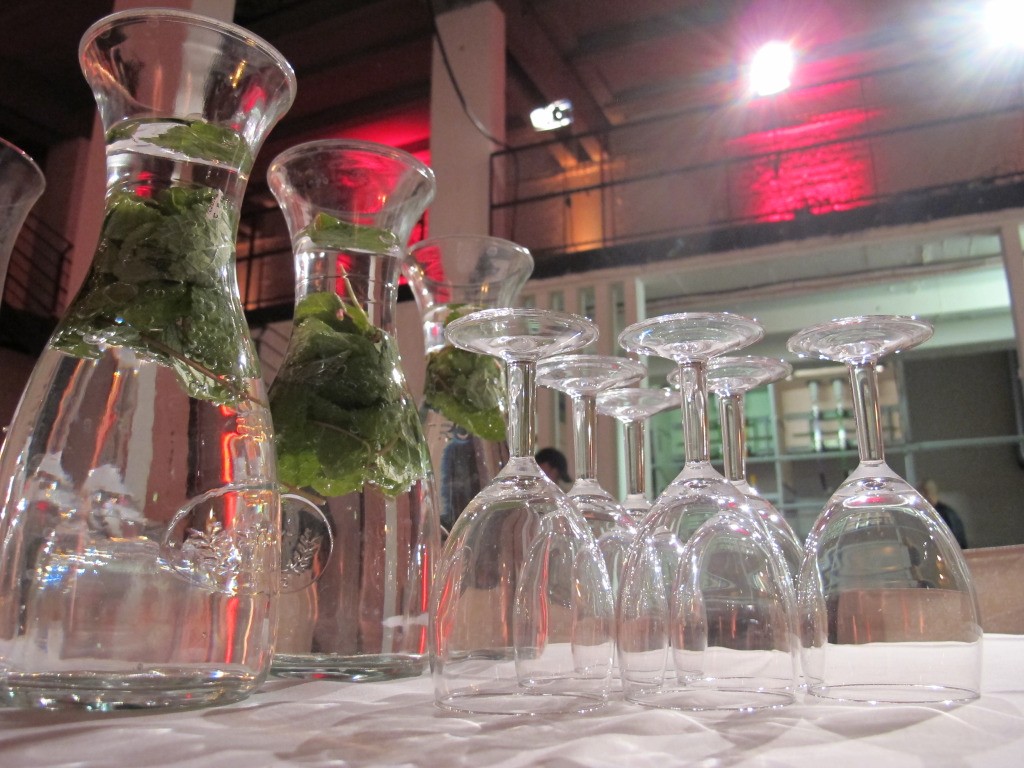 At first it looked like I was going to interview her at this table, but then that idea was pulled back again. So together with a German journalist I waited for an interview. This was nothing new for me. God knows I learned how to wait while doing this blog.Meanwhile, security let a few dozen of Nelly Furtado fans in the backstage area. I haven't seen that many artists do big spontaneous meet and greets after concerts, unless they (the fans) actually paid for it, so I was really impressed that Nelly takes it very serious to give back to her fans and actually makes an effort to meet some of them àfter a concert. (The clock was ticking almost 11PM by then)
Exhibit
The lady from Universal who was so nice to accompany me while I was waiting, realised that if the fans were going to meet Nelly Furtado first, me and the other journalist would be stuck there for quite some time, so she left us and worked her magic on the management. When she came back the pitch was done and I had permission for a little meet and greet with Nelly. First I was introduced to Nelly's management who told me I could ask 3 questions and take a Polaroid picture. I thought that now was the moment that I would be guided into a relaxed backstage area where Nelly Furtado would be sitting in a comfy sofa, but actually I just had to turn around and find Nelly Furtado standing right before me which was pretty weird, because I realised I had to do an interview while standing. This blog learned me to adapt easily and work with what is given to me, so seconds later I was shaking hands with Nelly Furtado and asked her the following questions.
A POLAROID STORY X NELLY FURTADO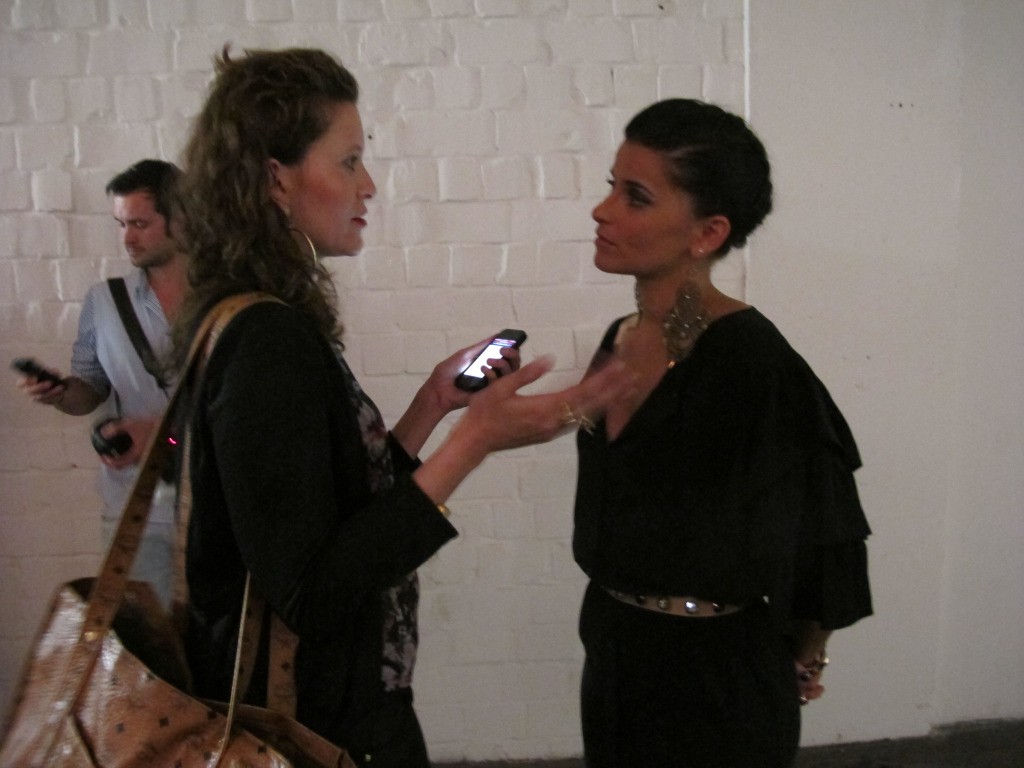 There is Whoa Nelly, Folklore, Loose & The Spirit Indestructible. How is this album different from the others?
This album is really about passion and realness and happy accidents. It's just a really passionate album, I've put a lot of blood, sweat and tears into it, it took me forever to record it and I have put a lot of effort into it and chose these songs from 60 songs. The selections of songs are very unique, eclectic and they have a lot of power to them. Loud, fast beats and energy.
So basically what you do best, but better.
Yeah. Version 2.0!
You worked with different producers on this album, once you are in the studio, do they all have the same work ethic? Do you have any special memories in regarding to the production process of this album with any of the producers who worked on The Spirit Indestructible?
I worked with Rodney 'Dark Child' Jerkins, Salaam Remi, Mike Angelakos (Passion Pit), Bob Rock, Di Genius, so several great producers. I thought it was really fun working with Bob Rock. A lot of his career was made working with Metallica. He comes from 'the oldschool' of great producers and he incorporated a big string orchestra, and I never had such a huge string orchestra in the studio before. There's something really classic in the way he works and the song has a really rock feel, it's different from my other work. It's called Believers (Arab Spring) so definitely check it out!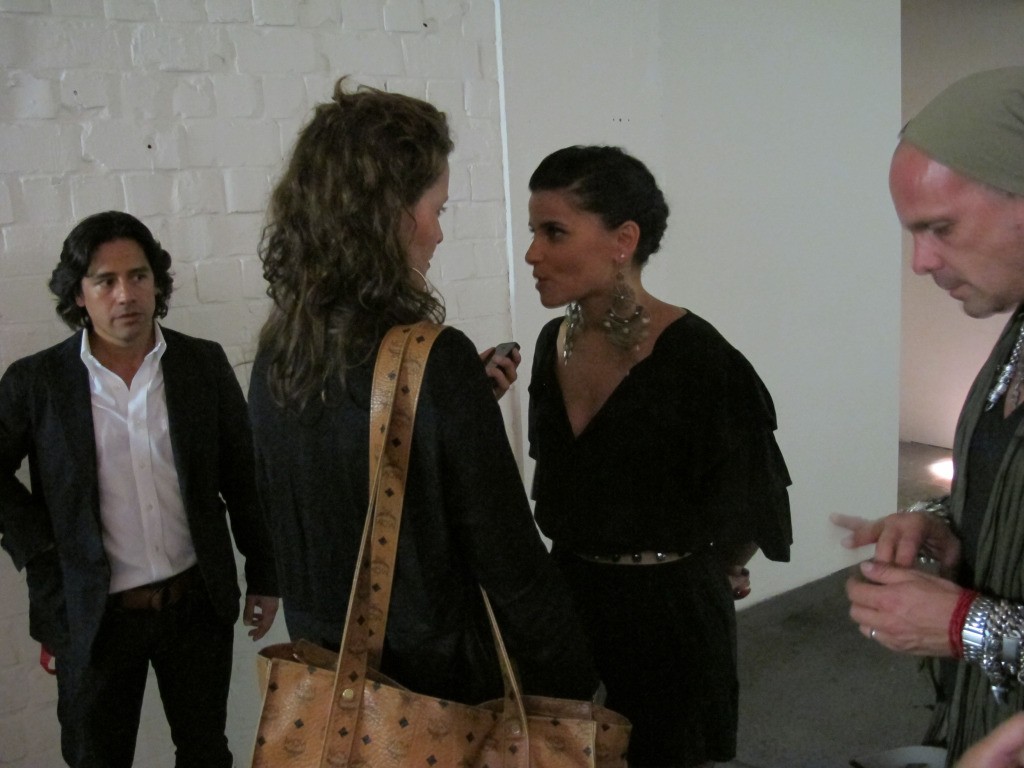 Last question. You've been away for some time, how is it coming back to music? Is the atmosphere different and how hard or easy is it to connect with the current state of music?
It's interesting, it's an exciting journey and it always has been with my music. My music has always been quite individualistic and I tend to like…march on my own drum, so I'm a bit immune to trends and what is popular. I just go with the flow and the fun thing is, after 12 years in the business, my greatest moments come when new artists come up to me and tell me they have been listening to me since they were babies. (starts laughing)
By that time the management asked me to finish the interview, which means that this is officially the fastest interview in the history of this blog. 3 min and 17 sec sharp! When I asked the management for my Polaroid they agreed and suggested that they'd be happy to take a Polaroid picture with me and Nelly. I had to explain that I just wanted Nelly on the Polaroid – without me- which confused them a bit. It's always funny when that happens, but Nelly was totally up for the idea of posing alone for my Polaroid camera. I asked her to give me two different expressions, aimed my camera, took the shots, shook her hands and that was it. Nelly went straight for her fans after our little meeting, and it was quite obvious that this would take her a little while.
Exhibit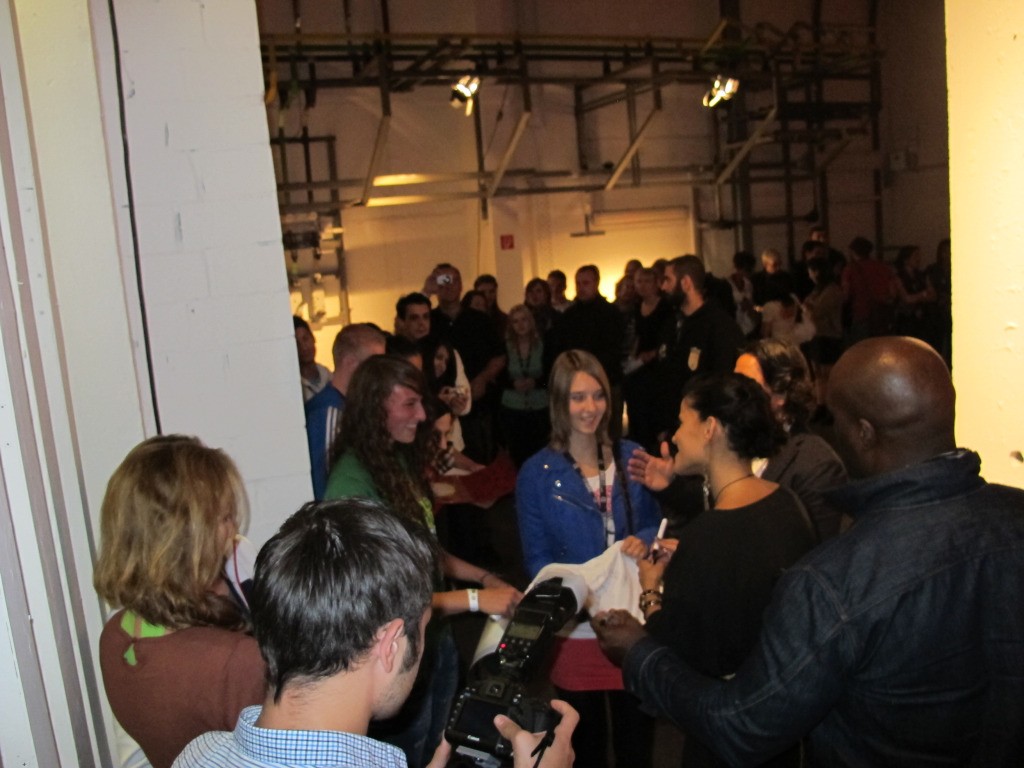 I had a quickie with Nelly Furtado in Berlin.
Not everyone can tell a story like that, right? 😉
Love,
OUNI
PS: Special thanks to JUKE for inviting me to Berlin and shout out to Marie-France for helping me out with the extra exhibits!