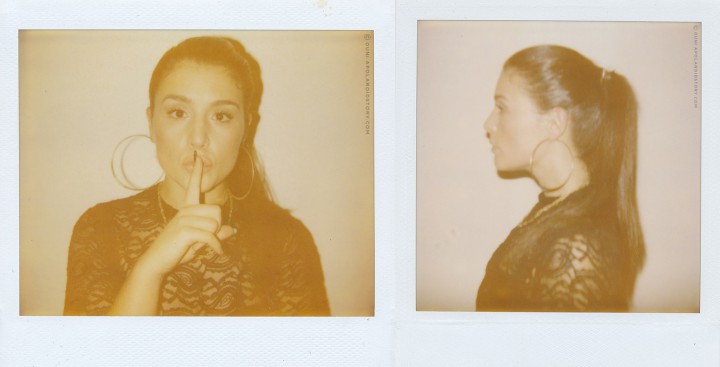 Very happy and extremely proud to introduce you to JESSIE WARE, a singer songwriter hailing from Brixton, UK with a golden voice.
If you are not acquainted with Miss Ware, let me be so kind to introduce you to her….
The first time I ever heard Jessie's voice was when I was listening to SBTRKT's excellent  debut album where Jessie provided some pretty amazing vocals. The tracks NERVOUS and RIGHT THING TO DO were my favorites of the album and I bet Jessie's tender voice had something to do with that.
Not much later, my friend DJ Lefto send me the track DO FOR LOVE and told me: "I bet you'll like this one" He was right. This song got me hungry for more and while browsing the web to still my hunger I stumbled over the sweet song VALENTINE  Jessie did with singer and producer SAMPHA.
Jessie started out singing from an early age (don't they all?!) but had that necessary push in the back from her friend and UK artist Jack Penate  a former school mate, who invited her to tour through the United States. While touring Jessie realised that she really loved singing and considered to start out slow and be a backing vocalist. Enters SBTRKT who hired her for some excellent vocal features on some of his tracks.
She also lend her voice for this JOKER track.
Being surrounded with the right people, an amazing voice and a portion of good old luck landed Jessie a record deal and the opportunity to try to do it on her own. And let it be clear that she took that opportunity with both hands and created a marvellous melancholic sounding debut album called DEVOTION. Devotion is an album that feels like it was made in the 80's but produced by somebody from 2012. (The album was produced by Dave Okumu, lead singer of Mercury-nominated band The Invisible, Julio Bashmore and Kid Harpoon). Jessie states that she started out making the album with Aaliyah as an inspiration, which evolved into Sade and ended up all the way to Whitney Houston. It's good to be inspired by the great ones who paved the road before you, but Jessie definitely put her own stamp on her debut album. She just happens to ooze those type of artists when she sings, which is a good thing in my humble opinion. The first released single of the Devotion album, a track called RUNNING  came with a 'Sade – Smooth Operator' inspired video.

But it was the 3rd single released of DEVOTION that catapulted Jessie straight to international stardom and conquered radio stations worldwide: WILDEST MOMENTS.
Interesting fact about this song is that you probably think this song is about a former boyfriend, however she wrote this song reminiscing one of her closest and most intense relationships with her best  (girl) friend. Other personal favorites from the album are  SWEET TALK and DEVOTION.
Jessie went straight to 'on to the next one' steez and not long after the release of Devotion she released this amazing 90's Brownstone cover made by Japanese duo BenZel: IF YOU LOVE ME. 
It's been since Whitney Houston or an early Mariah Carey  that I heard a track with those type of gospel backing vocals, so I absolutely love it to hear this anno 2012 in combination with those cold electronical beats.
Now. I hope this introduction was more than enough to make  you go straight the Itunes store and even more important curious enough to find out everything about the story behind these pretty amazing Polaroid shots. (Can I be cocky for once?)
This is the story.
Things don't always hàve to go dreadful and difficult. Hard and exhausting. Painful and sad. Because, if you are a loyal reader of this blog, you know I can suffer from time to time to get my Polaroid shots. Well. For once, this story isn't going in that direction. I was lucky.
Jessie Ware was set to perform at the Ancienne Belgique Club in Brussels, which is a small venue the AB uses to introduce emerging artists with room for about 300 people maximum. Of course it was sold out before  I even knew about it, but thank god I have some friends in the game that help me out from time to time. My friend, DJ Nosedrip told me he had to spin some tunes and warm up the crowd before the concert together with his friend and fellow dj and radio maker KONG and that he would put me on the list as his +1. One problem solved. He told me it was quintessential that we entered the AB venue together so that he could drag me with him in the venue and so that I could maybe come across Jessie in the artist restaurant. Sounded like an excellent plan to me!
Nosedrips' plan worked as a charm and so it happened that I found myself at a table with Jessie Ware sitting right across me, only minutes after I walked in the AB with Nosedrip.
Note: I did have some (paparazzi) exhibits from this moment to illustrate this but it will become clear later in the story why they are not here…
Somehow it felt it bit weird to ask her for a Polaroid in this for artists safe and photography free environment and for some reason I couldn't bear to ask her for a picture there since I was scared I'd be kicked out or get Nosedrip in some sort of trouble. When Nosedrip & Kong finished diner we walked straight behind Jessie on the staircases on our way to the AB club venue but still I didn't dare to ask her. I'm such a pussy sometimes. Doing this blog for all those years, I still feel like I might…disturb an artist when I approach them. Anyway. Kong & Nosedrip had to do their thing and I positioned myself right in the front corner of the stage and right in front of the backstage door. I was super lucky when Jessie came into the still empty venue and went straight for the backstage door, so I realised that this might be my only shot and I asked her, pitch prepared, if I could take some Polaroid pictures after the show. She took a look at the Polaroids, smiled and said: "sure!"  hopped on the stage and went straight for the backstage door. A bove me I saw Kong & Nosedrip from their dj booth with their thumbs up, grinning. That went well…
A Belgian-Congolese artist named COELY who just released her first catchy single called Aint'Chasing Pavements was responsible for the warm-up of the evening.
Exhibits

Coely delivered a charming yet slightly shy showcase with a small selection of her songs and a few covers. Definitely an artist to watch, although I doubted that she was ready for a stage like that, since I feel she still needs to grow a bit, but I'm curious how she will evolve in the future. (Styling included) Anyway, she definitely drew Jessie Ware's attention who came to check her out for a bit.
Exhibit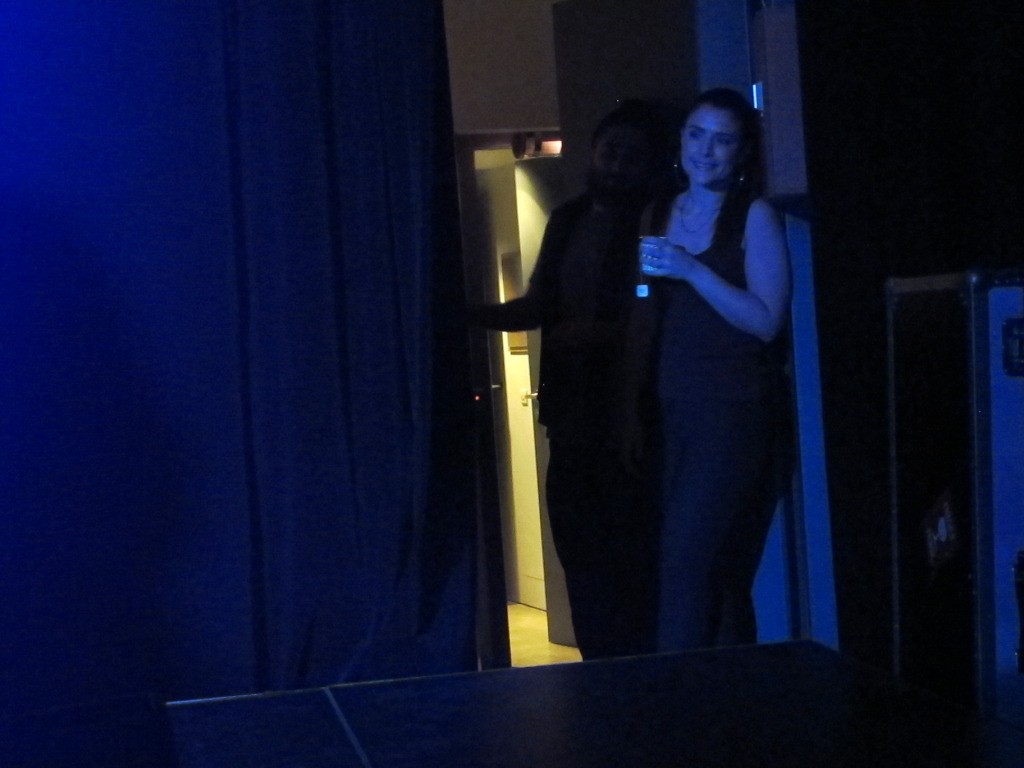 After Coely it was time for Jessie Ware and not much later the crowd was in for an exclusive treat, since the AB already booked Jessie for 2013 again,  this time in the main venue, which she'll probably sell out as well.
Exhibits

About Jessie's performance I can be very brief. It was perfect, effortless and intimate. She does channel Sade a bit when she performs. She has that same shy, introvert yet classy stage presence and she's all about executing her songs in the perfect way ever. I was very happy when she sang 'Do For Love' and I was really impressed on how she reaches the exact same notes and tones like she does on the album. Like I said. Effortless.
After the show I had to snap out the mellow mood Jessie put me in, and it was back to work for Ouni. I asked Nosedrip if he could assist me with the exhibits since I was alone that night  and I asked one of Jessie Ware's roadies if he could check if Jessie was still down with taking the Polaroids. A few minutes later the roadie came back and confirmed that I could follow him backstage. So me and Nosedrip hopped on the stage, walked through the backstage door and to my surprise the backstage wasn't right behind that door, but only accessible via an elevator. There is just one problem with that. Nosedrip hates elevators. He never takes one and never will. I think it's charming. The minute he saw the elevator he said with wide, big eyes and slightly panicked : "OUNI. I can't do this. I'm sorry." and the elevator doors closed right in front of him. I then immediately asked the roadie who accompanied me to Jessie if he couldn't help me with taking the exhibits, but he declined and said that his job was to clear the stage… So. No exhibits. Can you believe it?! So be it I guess…
When I walked out the elevator door, Jessie Ware came out walking out a backstage room with a plastic cup of sparkling champagne. We shook hands and  after I introduced myself I quickly told her the concept of my blog and asked her for two different expressions. We tried out a few things and I told her that she could wait for the Polaroids to come out if she wanted to and pick one out that she likes. She didn't have a lot of time and she decided not to wait for the pictures to come out, so I hope she likes them when she ends up seeing them…
My time with Jessie was very brief, but I did had the impression that she is a very down to earth and sweet lady. Right before I left the venue, I noticed in the corner of my eyes that Jessie came out back to the stage to greet some fans who were still hoping to see a glimpse of their favorite artist. Jessie Ware is definitely a super star in the making and I read that she hopes to write a song and collaborate with Frank Ocean one day and that she secretly wishes for Kanye West to make a song for her. I'm pretty sure her wishes will come out sooner than later and I left the venue feeling really happy and lucky with the prospects of featuring a future  superstar  on this blog. Ten minutes later I got robbed in the Brussels subway. The target? My precious Iphone.
Just my luck hu? sigh…
Love,
OUNI
ps: See! I did it! A short story! Only 1791 words! 😉