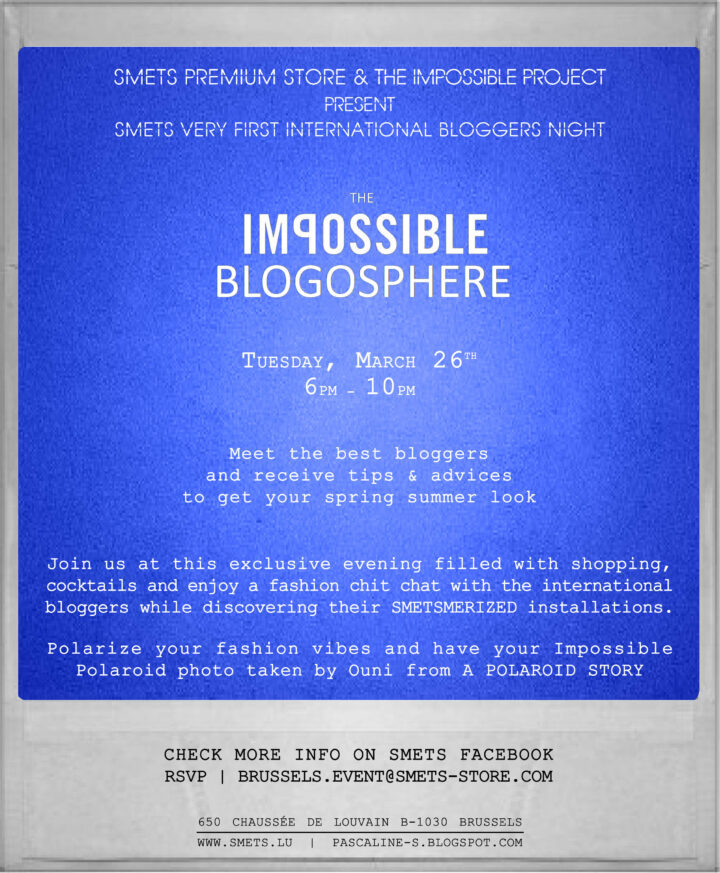 A little #FYI
I'll be hanging at the fabulous SMETS store tomorrow to snap some Polaroids from you and yours for a SMETS in-store event in collaboration with THE IMPOSSIBLE PROJECT. SMETS is one of Belgiums biggest concept stores and offers 300 square meters of high fashion for men & women, beauty, design and food. Definitely worth checking out!
SMETS invited two international bloggers to host the evening, the sweet Sabrina Meijer from AFTERDRK (NL) and Laetitia Wajnapel from MADEMOISELLE ROBOT (UK)
Exhibit:
If you are in the Brussels area and crazy about high fashion & Polaroids, don't hesitate to discover SMETS and their amazing SS/13 collection, enjoy some beats & bits and have your Polaroid taken by yours truly.
Confirm your presence via –> brussels.event@SMETS-STORE.COM
FB Event Page –> on.fb.me/15hxwSf
See you there!
Love,
OUNI