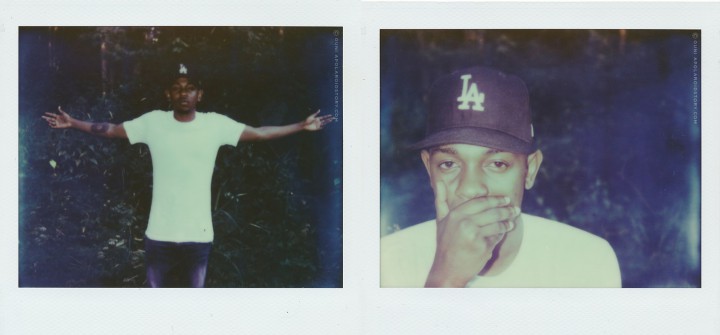 "I fucked up the festival system and UOENO."
In all seriousness, I let it sound more tough than it really is, but hey, I needed a strong intro for those brand new Polaroids I shot from none other than Kendrick Lamar. I don't have to introduce the man displayed on the Polaroids here above, do I?  By now, you should all be aware that this is the new king of West Coast Rap or as the man puts it himself; "Kendrick Lamar, from Compton U.S.A, student of gangster rap."
If you happen to miss my introduction on Kendrick, catch up here, but for the rest of you, I can immediately go to the story behind this Polaroid. Remember 'Listen To The King?' Well, if you read my story, you might know that my first encounter with Kendrick was rather brief… I entered that tour bus with a 5 minute time frame and I did my best to create a great story with the circumstances given to me.
After the Kendrick Lamar story was exclusively featured in The Word Magazine, I published the full story online a few weeks later and sent the link from the story to Kendrick's management over at TDE.  To my big surprise, I received an email back with the message that they really liked my feature ànd the Polaroids and that next time they would be around I was welcome for an interview, so that I should stay in touch. Well. That's the best it can get really. I don't get thàt much recognition for what I do, and this definitely felt like a nice tap on the back.
Months passed, seasons changed and after what felt like an endless winter, the month of June arrived. If you read my stories religiously, you probably know that I'm not to good in advance planning. I'm the queen of missing out on tickets for sold out shows and I'm even worse when it comes to asking for a press accreditation on due time. From the past I learned that randomly chasing for Polaroids at music festivals is highly exhausting and unbelievably stupid if you don't have the right bracelet around your wrist. Enters the need for accreditation. Press accreditation doesn't mean you'll see any artists up close, far from it actually, but for me it gives me a little step ahead from crawling into an area I'm probably not allowed in, or maybe engage with entourage who pass by the press area that I can approach to see If I can get a Polaroid. Long story short. I was a day late to sign up for my Werchter festival accreditation which meant that I had to miss out on the Werchter festival and most likely had to pass on a possible Kendrick Lamar interview.
Or not.
I decided to man up and mail Kendrick's tour management and simply explain that I'm unbelievably stupid for missing out on my accreditation (Although I do I wonder if I would be granted one in the end….) and that if they were still down for the interview they had to put on me on the list, or we simply had to make a rain check at Pukkelpop festival, where Kendrick was performing as well later in August. My email remained unanswered. Nothing that I'm not used to, plus, by the time I send that email, Kendrick Lamar and entourage already embarked on a heavy European festival summer tour so I knew my email was probably the last thing on their mind.
Two days before the Werchter festival I decided to re-send my mail and ask the management if anyone had found a moment to read my request. I swear my heart stopped a little when an email came in that said; "Sure, let's see how we can accommodate you." Things went back to silence until the 6th of July, and I decided that I had to sent another mail to explain them that if they wanted me to be there on time, they had to let me know if things were ok for me to come or not. I was a 2 hour train ride away and Kendrick was set to perform at 5PM. That meant that I had to take the train at 3h12 PM the latest if I ever wanted to arrive on time. The clock was ticking 2h30 PM when I finally received the message that I was on the list plus one. I grabbed my bag, threw in some cameras, called Leo, my assistant who was on stand-bye in Brussels to say that we were on the list and ran like my life depended on it so I could catch that damn train.
A two-hour train ride, a 25 min bus ride ànd a 15 min walk later,  me and Leo finally arrived at the festival gates of Werchter. I could hear a roaring crowd responding to Kendrick Lamar who was already performing when I arrived at the check-in to say my name for my entry bracelets. At the Werchter check-in I noticed a familiar face who told me: "I already saw your name on the list, I'm not even going to ask how you pulled this one off."
Exhibit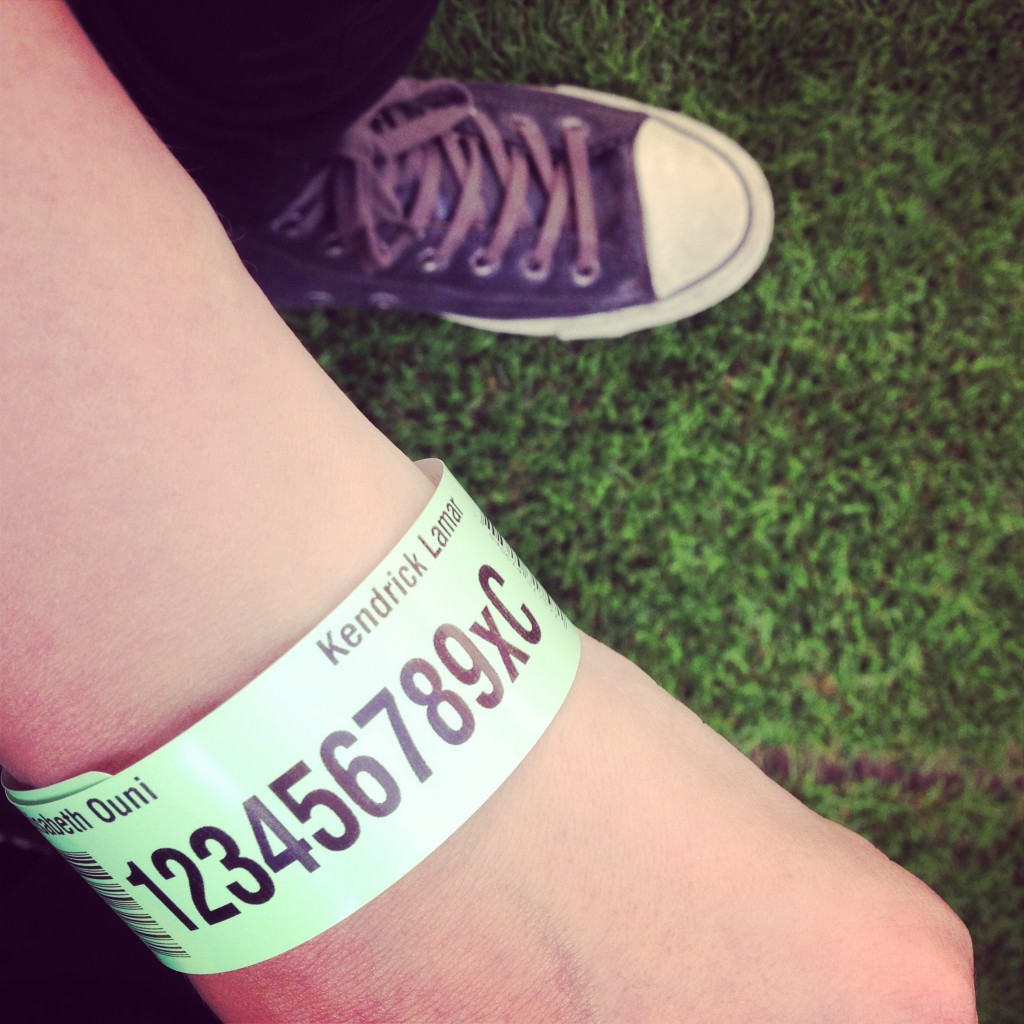 All I could do was grin. I went straight to the stage were Kendrick was performing to catch a few last moments from his performance at Werchter.
Exhibit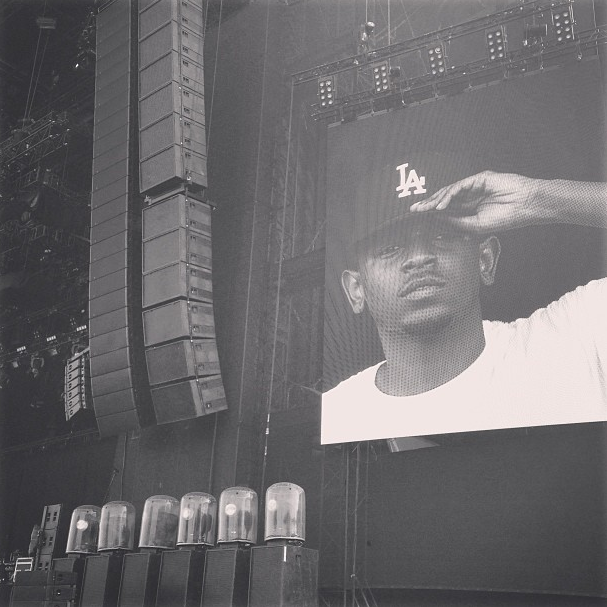 Once his performance was finished, me and Leo headed straight for the backstage and artist village. Once we entered the artist village, Leo and I quietly took a seat and observed. I really had to take a moment to let it all sink in. It took me almost 5 years to get me this level of access to an artist village of a major festival. I felt like I was living a hiphop fairytale, or at least every real music lover's wet dream. I'm not going to lie, it was super surreal to have the fellas from Odd Future hanging on my left hand side, see Nick Cave pass me by with his army of skinny, pale Bad Seeds, dressed darker than the night and ready for a True Blood episode on my right hand side, or see James Blake silently wandering around the backstage area. Let alone see Frank Ocean arriving or Azealia Banks getting ready to perform in that crazy stage outfit of hers. Of course, Leo and I didn't even blink, scared to be discovered by some obscure festival police squad because we clearly had no business whatsoever hanging around the artist area and I was scared shitless to break some secret code I didn't know about. Since it wasn't allowed to take any pictures, something that was made very clear via several signs that were hanging around the artist area, plus several stewards cautiously checking out the artist village, we kept it super low profile. Snapping away in the artist village simply was not an option, besides we were there for Kendrick first and I wanted to stay focused on that before anything else. I also came across some label folks who couldn't really understand how I got that artist bracelet that was hanging around my wrist.  You see, at Werchter, the artists village is strictly separated from any type of press, they cannot even enter the area for an interview, the artist has to leave the village for their press obligations. Imagine the question marks in the label folks eyes when they noticed I had full access at the festival. As I said before, all I could do is grin. (Btw, a special shout out goes out to the lovely and might I say bést folks over at SONY BELGIUM who àlways have my back and push and hustle for me whenever they can.)
Exhibit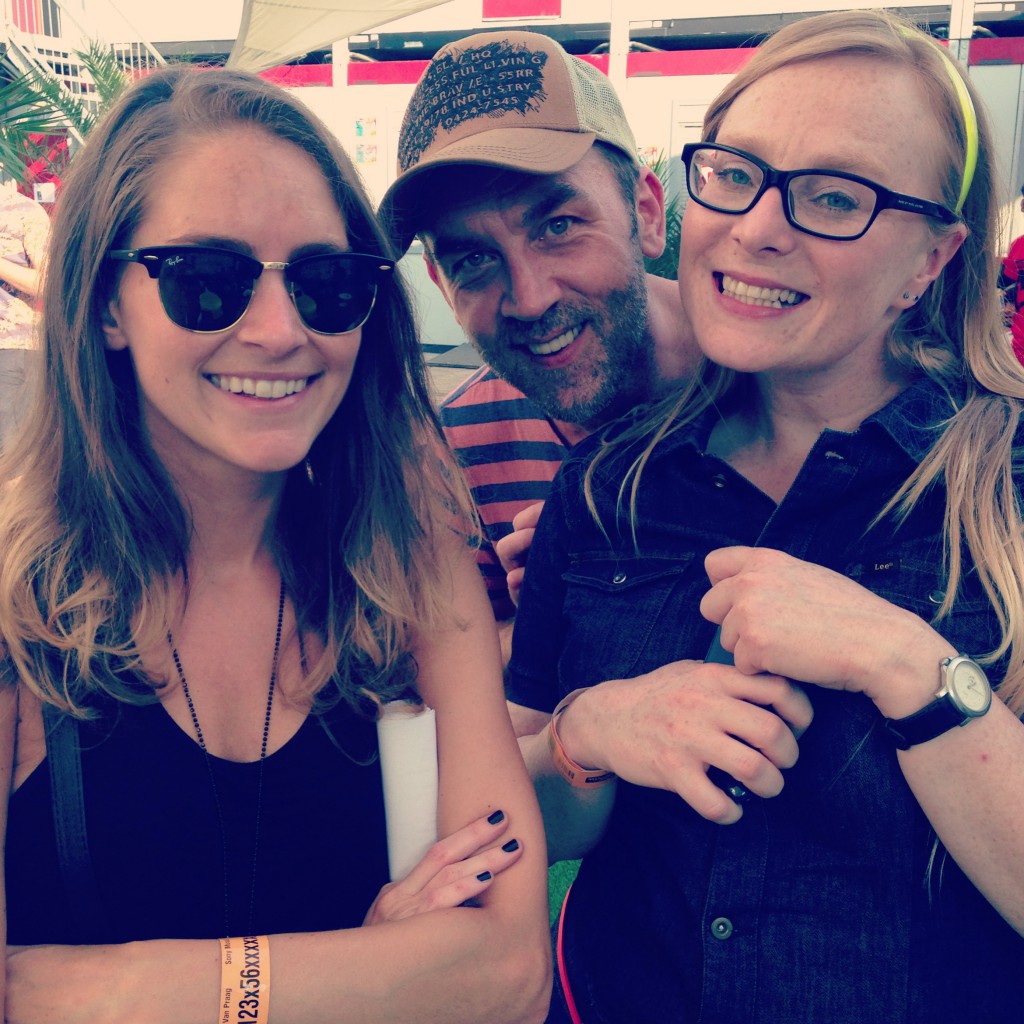 Anyway, it didn't take long for Kendrick and his team to come out and they told me to hang tight and that we would do an interview after they had some dinner. Meanwhile me and Leo discussed what we would do. I want to do more video interviews in the future, and I discussed the option of a video interview with Leo, considering we didn't have the right tools to do it properly. Not a decent camera, not a decent microphone, nada. Ouni style. (Unfortunately!) We decided that ìf they were ok with a video interview we would suggest to go outside the artist village and find an extremely green spot that we already checked out before. If we could film the interview, great, then I would see if I could do something with the footage. If we couldn't film the interview, then I would simply write it out like I normally do, which is fine too.
After a while, Kendrick came back from the artist restaurant and said hello to the fellas from Odd Future and played some ping-pong with them. It was super interesting to see how all these different artists interacted with each other, it's quite interesting to witness that special sort of energy that emerges between them when you observe it from the sideline. Kendrick's tour manager Retone asked me what I was planning to do and how I saw the interview. I asked him if a video interview would be fine and I suggested the green spot right outside the artist village that me and Leo spotted while looking for a more interesting location than the constructed and squeaky clean artist village. Retone checked out the spot with us and we went back to see how Kendrick was feeling about that.
Not much later I found myself walking next to Kendrick and Retone, heading for the bushes with Leo walking rapidly in front of me because he wanted to borrow some picnic coolers from the stewards that were guarding the area close to our green spot. Kendrick and Retone were looking quite hesitant when they saw both Leo and me dragging two extremely heavy picnic coolers stuffed with beers to our little green interview spot. As I said before, it was all very DIY…. I tried to assure Kendrick that the interview wouldn't take long and that I would respect the 10 minutes that we agreed upon. So we both sat down on the picnic coolers, I opened my notebook, Leo hit the record button and this is the result of my very first video interview with Kendrick Lamar.
Exhibit

Retone was so nice and assertive (!!) to grab my Iphone and catch some extra exhibits from my Polaroid moment with Kendrick, so I really want to share those as well.
Exhibit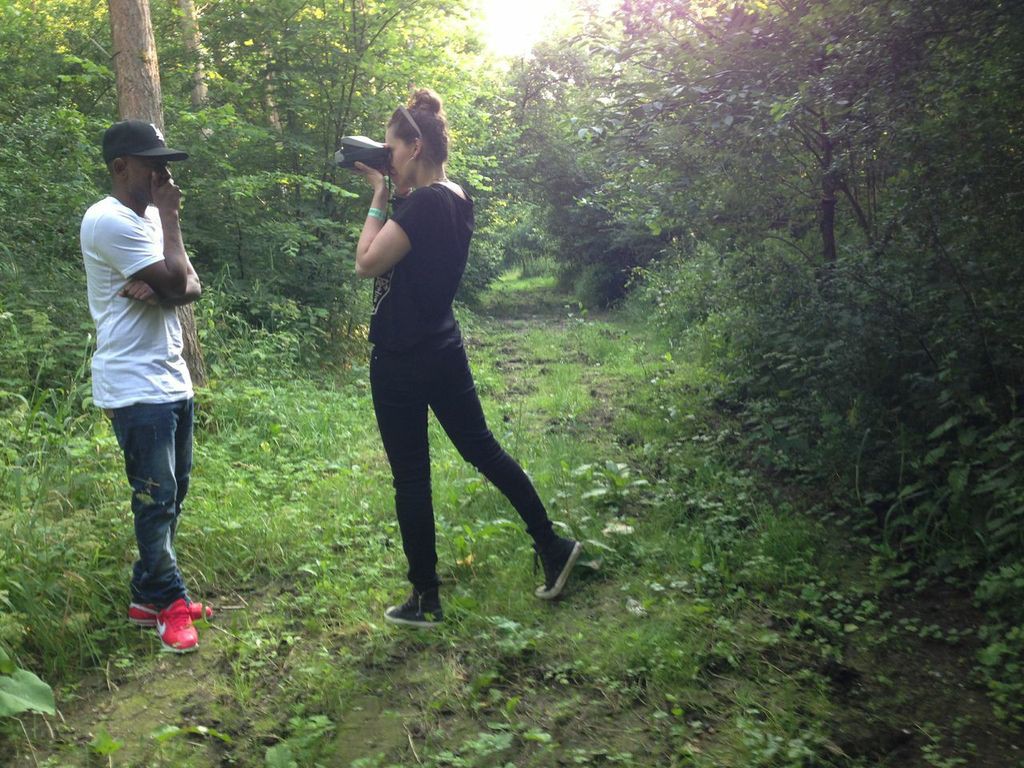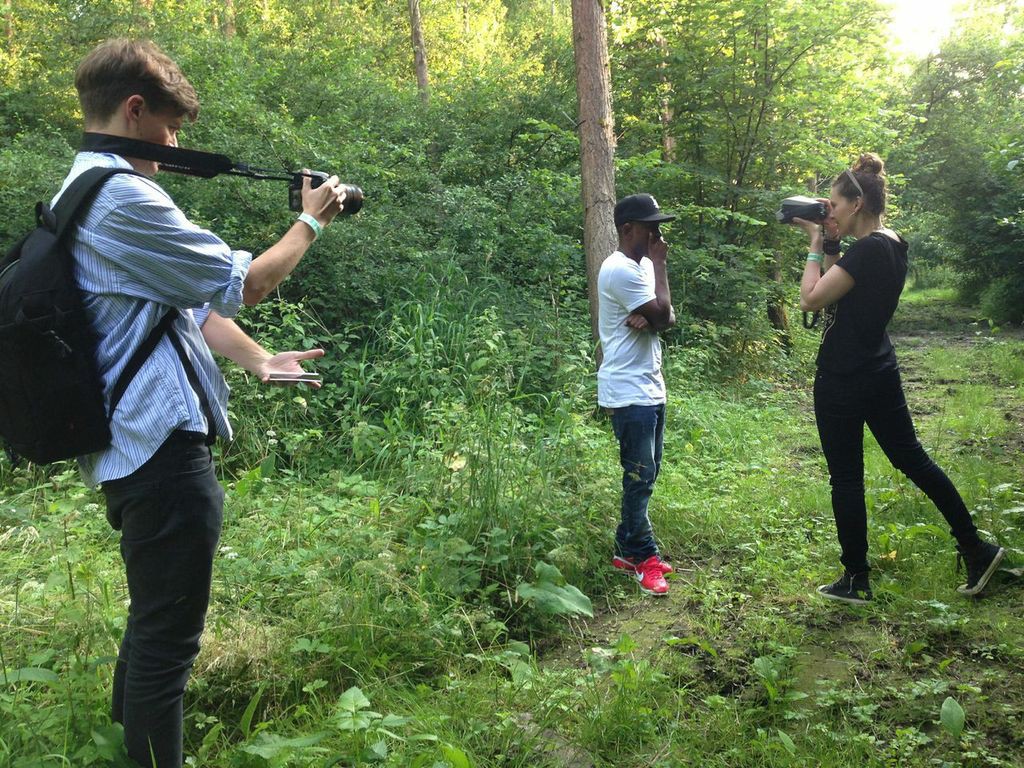 The interview was time limited, because Kendrick had some scheduled press obligations waiting for him, so I didn't really have the time to really ask my questions in a relaxed atmosphere or in a certain time frame where you can ask questions that lead organically to an interesting conversation but still, I am very happy with the final outcome.
Special thank goes out to Retone from TDE,  for giving me this opportunity.
I'm super grateful, like #uoeno ! 🙂
Exhibit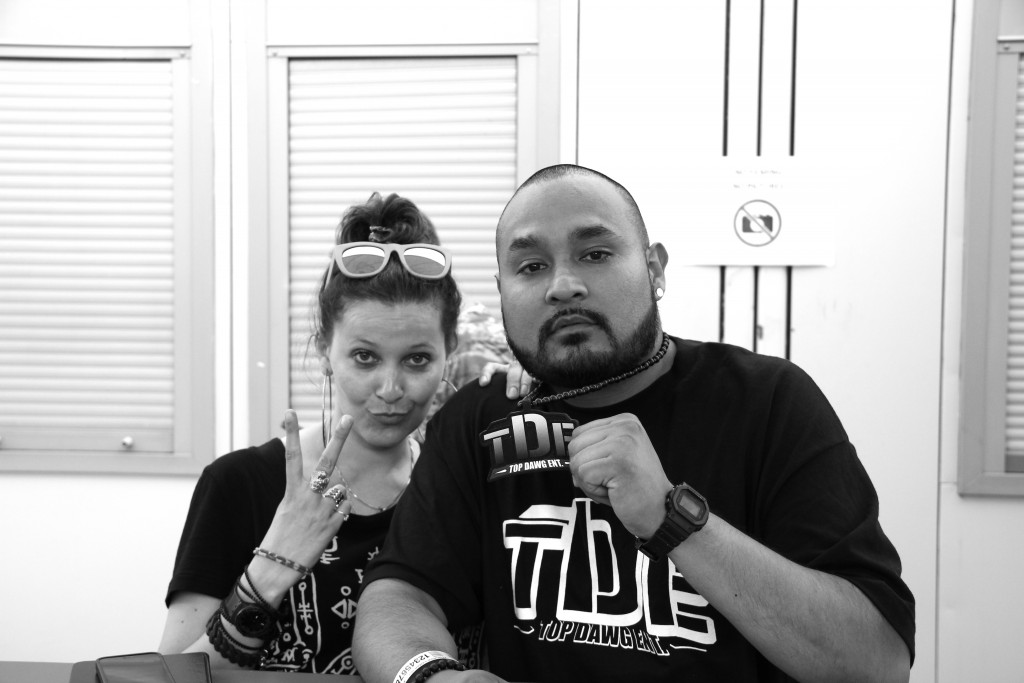 And that was about it, I hung around the artist village some more, checked out Frank Ocean's performance, had a bite in the artist restaurant with Leo, caughtd up with some familiar faces and left the festival site around 11h30 PM to catch my final train to Brussels and went home with some brand new Polaroids, some interesting video footage and some great memories.
And for once I didn't have to conquer enormous obstacles to get the content that I was looking for. I really ended up in a hiphop fairytale and I felt extremely happy.  #uoeno
Love,
OUNI
(additional photo & video footage: Leo Van Dijl. – Video Sound & Edit : David Doom)
Personal Note:
I feel like a little word of explanation about this video is necessary. Because of the heavy background noise and the fact that I didn't have a microphone, the sound is far from perfect, but I managed to get some help from my friend David Doom, who did his best to optimize the sound as best as possible and edited the video. Huge shout out to David for his enthusiasm to help me with this video.
I obviously – still have to learn a lot when it comes to doing video interviews. Having a conversation and writing it down is one thing, having a seemingly relaxed conversation on tape is a whole other story, so please bare with my nervous outbursts and probably somewhat annoying rookie mistakes that you'll notice in the interview. I'll work on it. :/
I decided to publish the video interview anyway because I really want to show you how I interact with artists and how it's not always easy to do that in a very short and limited time span. But most of all I wanted to show the video footage to share the little things, the human things that happen when I encounter some of the biggest artists in the game.
I want this blog to evolve, and although I'm not always given the best opportunities with artists or that I currently might lack some professional tools to make things how I really want them to be, I réally want to try out more video features, so I'm very curious what you guys think of it. Don't hesitate to drop me a note.