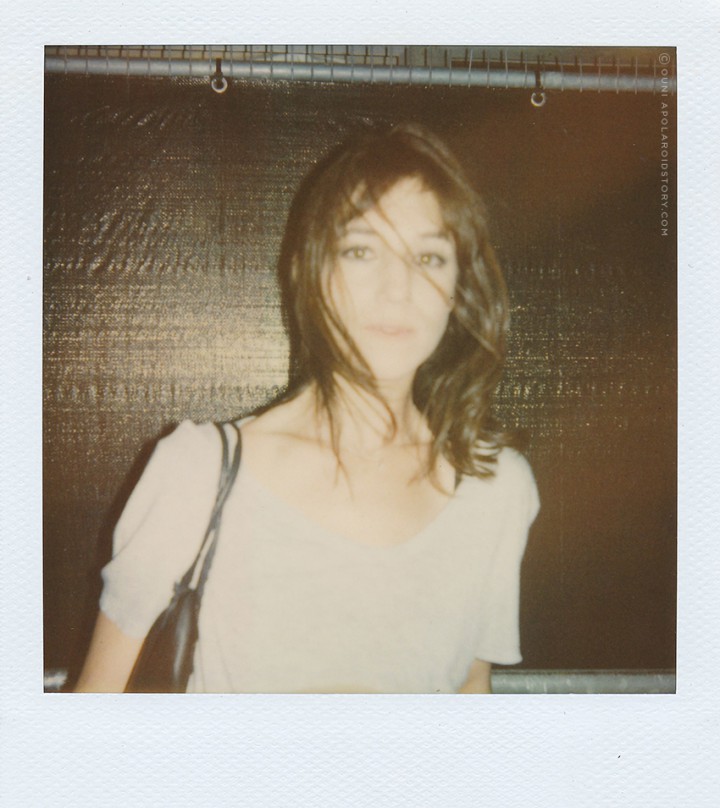 Dear #APS readers. First off all I wish you a very Happy New Year. Let 2014 be everything you wish for and more. Because of that, and the fact that this little blog finally hit the mark of 5000 readers/lovers/likers/troopers on the official A Polaroid Story Facebook Page.  I decided to release a never before seen Polaroid from my instant vault. A virtual gift, from me to you. On the Polaroid here above you can witness none other than the legendary and ethereal beauty CHARLOTTE GAINSBOURG,  daughter from the even more legendary Serge Gainsbourg & Jane Birkin.
Exhibit
.
Exhibit
Charlotte is a musician, an actress and simply a very inspiring human being who worked with the biggest names in both the music and film industry. Having Serge Gainsbourg as a father resulted in her first music release at the early age of 12, with a song called LEMON INCEST. The track released in 1984 caused quite the scandal considering the song lyrics hint towards a physical love between an adult and his child.
Exhibit
I've always been a fan of Charlotte's work in general. Her music is not always my thing, but I respect her body of work and the way she picks out her collaborations whether it's with photographers, fashion brands, directors or musicians. Life can be easier if you are the daughter of such iconic people like Jane Birkin and Serge Gainsbourg, however, Charlotte consistently left her own individual mark over the years without using the it-girl card once.
I always loved 'Heaven Can Wait' and the accompanied video with Beck
Exhibit
I'm also very fond of 'Paradisco' because it has all the typical elements of a classic yet sexy french song.
Exhibit
I took this Polaroid at one of my favourite festivals in Belgium called LES ARDENTES.  There is not much story behind the Polaroid, I only remember hanging around the artist village to snap a Polaroid from my main target during that day, which was Erykah Badu.  The minute I saw Charlotte passing by, I immediately asked her for a Polaroid. She was super shy, yet very friendly and gave me permission to take the shot. I decided to hold on to the Polaroid, something I do from time to time when I feel the timing is not right to share it. I actually was waiting to release this Polaroid when I heard there was a song that Jay Electronica recorded with Charlotte, but until this day, I am still waiting for Jay Electronica 's album release so I don't think this song (if it even exists) will come out any time soon.
Since we hit a new year, with new beginnings and new expectations I decided to release this Polaroid as a token of my gratitude and appreciation for sticking with me over the years. 2014 is also the year where Charlotte Gainsbourg's latest and highly controversial film from director Lars Von Trier called NYMPHOMANIAC will be released in the world so I figured the timing was right to release this Polaroid from my secret vault.
Exhibit
I'm currently working on the relaunch of apolaroidstory.com , hopefully to be released somewhere in the month January (I'm keeping my deadlines to myself now, considering I'm already late on the first one) and you can also expect a look back into APS 2013 in the next week.
I hope 2014 will be the year that I can leave the DIY in APS behind and evolve to a more professional looking platform where my stories, my love for music and my Polaroid will come together in the freshest way possible. There are so many things I still want to achieve with this blog, like more (international) expositions, more video content, a book, a webshop and so on, and I'll work hard to make some of these goals a reality in 2014.
All that ànd a Drake Polaroid.
Grow with me in 2014,
Love,
OUNI
PS:
I always spill the juice here first, so don't forget to follow me on:
Instagram: @Ouninana
Twitter: @Ounitsukatiger
A Polaroid Story FB-Page