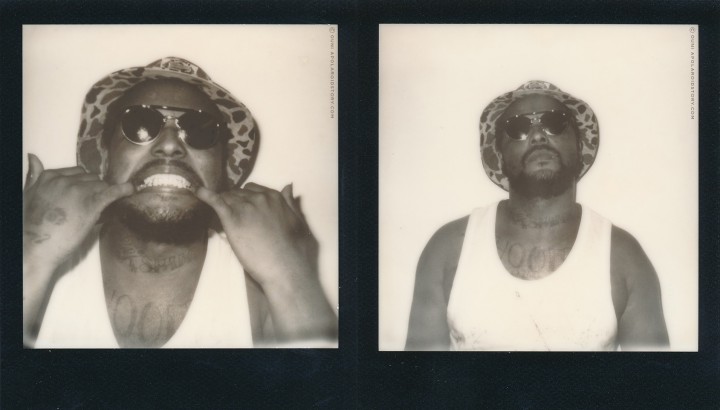 I'm simply STOKED to share my next story about this 'Groovy Gangsta With An Attitude', a rapper who is single handedly responsible for the global return of a fashion item that is called;  the bucket hat. Meet Quincey Matthew Hanley, better known as SCHOOLBOY Q (but he secretly likes Quincey more). Behold, for this man, hailing from the gritty South Central, Los Angeles area in California, is the new face of the Gangsta Rap genre anno 2014.
If you are not familiar with Schoolboy Q, let me be so kind to give you a quick introduction?
Schoolboy Q was actualy born in Wiesbaden Germany, born in a military house hold and only ended up in Los Angeles a few years later. Before the streets got to him, Schoolboy Q was actually getting good grades at school and was seriously involved in American Football, which he played untill he hit his early twenties. His name therefore stems part of his good repution at school, and part because of the grades of respect he got from his peers on the street (Schoolboy was dealing Oxycontin and was part of a street gang called the 52 Hoover Crips). After a six month period in jail, Schoolboy decided that rapping was the only exit from a life of crime and violence. Inspired by one of his favorite rappers 50 Cent, Schoolboy began to lay the first stepping tones towards a different type of life, by hanging around the studios of Top Dawg Entertainment. After his first studio session Schoolboy became part of Black Hippy together with Jay Rock, Ab-Soul and… Kendrick Lamar.
By the time he released his first project 'Setbacks', Schoolboy Q officially quit the gangbanging life and started to focus on his career as a rapper, performing live and starring on features from other rappers like Kendrick, Ab-Soul and ASAP Rocky. He hit the road with Kendrick Lamar as his hype man and slowly started to realise that rapping about his past bad decisions was a better move than to keep on making them. He also became more focused because of his daughter and his responsibilities as a provider that came with having a child.
In 2011, Schoolboy released Habits & Contradictions, which was my personal introduction to his work. Personal stand out tracks from that album are: 'Sexting', 'There He Go', 'Hands On The Wheel' featuring A$AP Rocky and 'Druggys With Hoes Again' featuring Ab-Soul.
With 'Habits & Contradictions' – an album that served as a look into Q's life of selling pills, partying, his block, life struggles and religious hypocrites (as quoted by 'OnSmash') – Schoolboy Q made the transition from upcoming name to rising star. Without any marketing or advertising the album debuted at #111 on the US Billboard 200 chart with first-week sales of 3900 digital copies in the United States.
In February 2014 Schoolboy Q released his major label debut called OXYMORON with a double cover release from both Q as his daughter Joy.
Exhibit
The first releases from that album were tracks like 'Collard Greens' featuring Kendrick Lamar, 'Break the Bank', 'Man Of The Year' and 'Studio' featuring BJ The Chicago Kid. One by one singles that went big the minute they hit the web.
Schoolboy Q is currently on a three-month tour promoting his major label debut OXYMORON with approximately 80 concert dates in total. Interesting journey for a former gangbanger from Figueroa Street.

Now. This is the story behind the Polaroid.

I've been waiting for Schoolboy Q's passage to Belgium for a while. Schoolboy has been doing mini tours in Europe about a year ago, but he never passed by Belgium. As usual the options to see what was possible with Schoolboy and this blog – besides the traditional hunt of going to the concert and getting the Polaroid on the spot – were limited. Both the promoter (Greenhouse Talent) and the label (Universal) couldn't really help me with pushing my request so I knew I had to go oldskool. However, Schoolboy Q is signed by TDE and if you are a loyal reader of this blog you know TDE has always been very supportive of my work and this blog so I decided to reach out to them directly. Answering mails from some girl from some blog in Belgium is evidently not their biggest priority, so it came as a huge surprise when I received an email two days before the concert telling me that they are curious to see what I would cook up with Q and they promised me that I would have some time with him. It's a big deal for me when managements are actually reading my mails and taking my request seriously, so this really made me happy. I've mentioned before that adding video contribution to this blog and it's concept would be a goal for me in 2014, so whenever I get an opportunity with an artist that is somewhat certain, I try to use that chance to create video content where possible. I did that with Kendrick the first time, with Vic Mensa the second and now I was ready to do exactly the same with Q.
For this story I assembled a mini crew consisting of DANIIL LAVROVSKI in charge of photography and WILLY CRANK (Double Infinity) behind the video camera. These fellas have been doing their thing mostly in the skate scene and I was triggered to see what that might turn into if I put them on an A Polaroid Story feature.
Exhibit
#APSTeamCute much? 🙂
I arrived with my crew around 6PM at the venue. I didn't get any feedback from TDE anymore, so I didn't have a clue when I could actually see Schoolboy Q so I decided to show up early at the venue and wait it out. I quickly met up with Sabine from Greenhouse Talent who was already briefed by TDE that my request for a Polaroid and interview has been approved. Since there was no time schedule communicated and word was out that the SBQ crew already were spotted at the venue,  Sabine decided to immediately take it up with SBQ's tour manager Steven 'Code Red' McDaniel (who also worked as a tourmanager for Bruno Mars) and see what exactly was possible, so I tagged along with her straight to the backstage offices of the venue.
Exhibit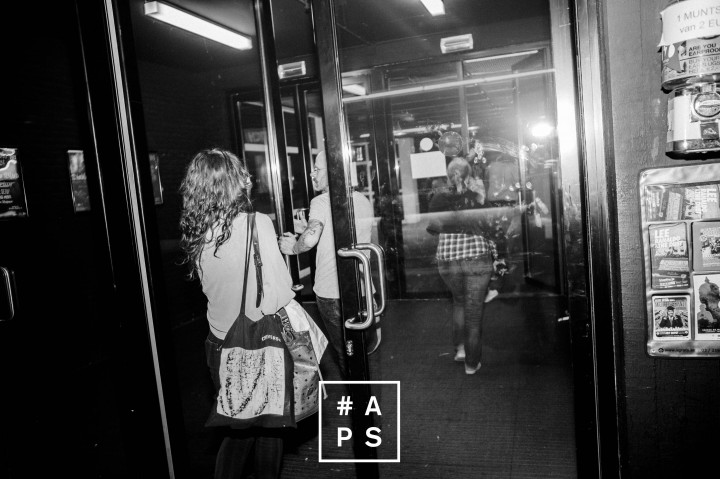 Sabine introduced me to Steven and I quickly introduced myself and asked him what was possible. Apparently Steven wasn't briefed about APS, so he told me that he would take some time to check if everything was legit with TDE and would come back to me asap. This summer APS will be exactly 5 years old, so I've seen different type of managements, organisations and entourages around artists, and believe me when I say that I have rarely seen a crew so professional, polite and straightforward like the people who are associated with TDE. I say that because I want to make clear, that even though I was sure this interview was approved, they still will check up on every detail, something I totally respect professionally, and this proves how hard it really is to do what I do. With A Polaroid Story, nothing is really sure until it happens and I'm just anticipating to events that may or may not occur. So, while Steven was doing his work checking up on things, all we could do is an often forgotten activity of doing A Polaroid Story, which is…. WAIT.
Exhibit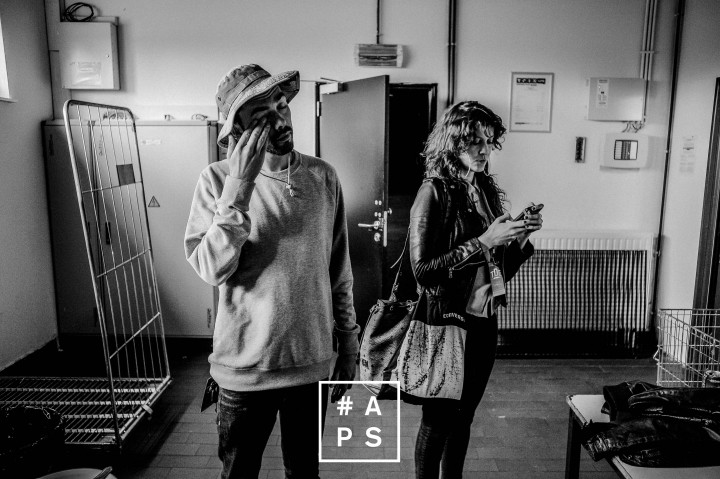 After a while Steven came back and told me that the interview would most likely happen àfter the concert, more specifically àfter the Meet&Greet moment they had scheduled for the fans. I tried to convince Steven to do the interview before the concert, because the Trix venue has an amazing garden with big trees and giant green branches, the light was great because of the sun set and I would have lòved to put SBQ in a green setting and nòt ask questions about drugs for once (LOL) and have him in an environment that is out of context. Backstage is just backstage you know….
Steven told me that he totally got where I wanted to go, but he told me that Q was getting his smoke on, was a bit tired and was actually waiting for a masseuse to treat painful shin splits so I respected that and prepared mentally for a traditional backstage one on one moment. Another element of A Polaroid Story; work with what the circumstances give you.
Meanwhile the Trix venue where Schoolboy was about to perform opened its doors and a couple of hundred Schoolboy Q and Isaiah Rashad (who is currently touring with SBQ's OXYMORON tour as an opening act) fans were slowly filling the venue. At the door the last 50 tickets were being sold so it looked like Schoolboy Q's first visit to Belgium was a sold out one. At 9PM sharp the venue was completely filled and a charismatic, raw and energetic Isaiah Rashad made his first stage appearance in Antwerp, Belgium.
Exhibit
This crowd didn't really need an introduction to Isaiah Rashad, they knew exactly who he was and were yelling the chorus lines to his 'RIP Kevin Miller' track like a military squad reporting for duty. After a short but powerfull introduction Isaiah left the stage and the crowd was ready to meet the 'Man Of The Year'.
Exhibit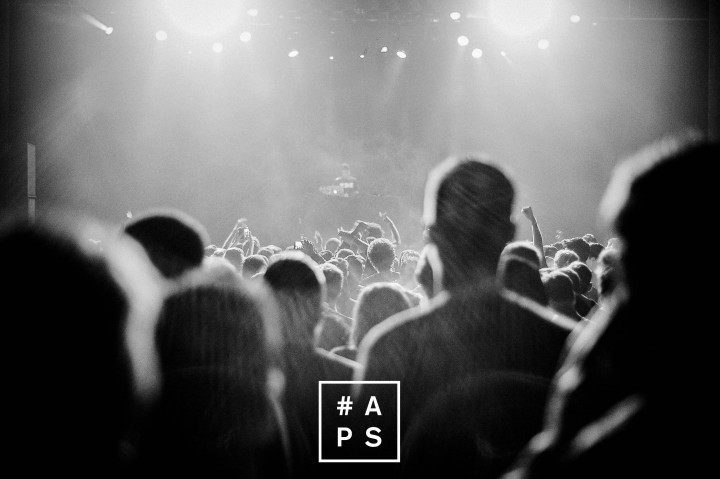 Schoolboy Q was warmly welcomed by a venue of approximately 1100 fans and came walking up the stage relaxed, calm but confident opening with 'Fuck LA.'
Exhibit
Schoolboy Q finished his set with 'Man Of The Year' and came back with the title track of his debut album 'OxyMoron' after a roaring crowd demanded an encore. After his encore, Q officially left the stage and I started to prepare for my moment with him, keeping my crew close, ready to go to work. Meanwhile the crowd slowly left the concert hall, leaving my crew and a dozen fans who signed up for a SBQ 'Meet&Greet' moment, in an empty venue where we were instructed to wait.
Exhibit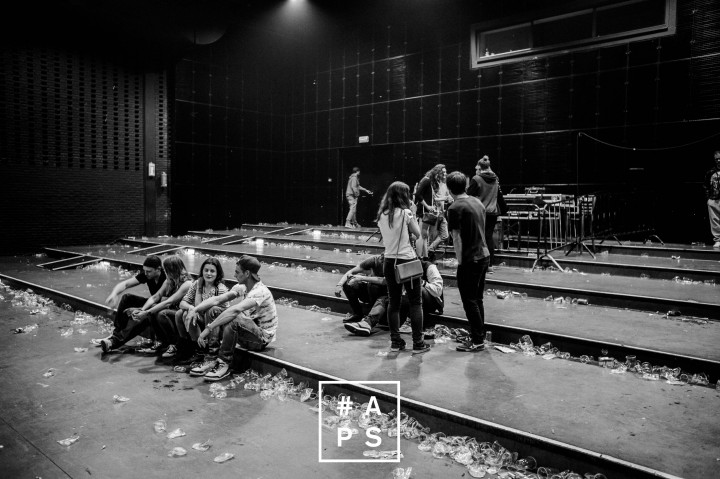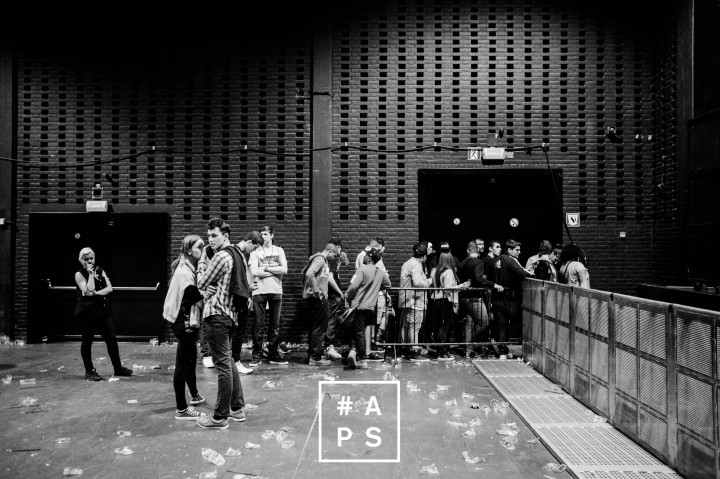 Most 'Meet&Greet' moments with artists are overpriced, however, if you are a real fan of Schoolboy Q, you can pay a ticket upgrade for 48$ and for that money you get a one to one moment with Q, a signed copy of his OxyMoron album, an official SBQ laminate and an early entry to the concert venue. In my honest opinion, pretty fair deal! Since I was scheduled right after the 'Meet&Greet' we had the opportunity to witness how that exactly went down. It is known that Schoolboy doesn't take the love from his fans for granted and states regularly that he wouldn't be anywhere without them.
Exhibit
Around 12h30 the 'Meet&Greet' was officially wrapped up and Sabine from Greenhouse Talent asked us to follow her to the backstage lodge where Q was waiting for us.
Exhibit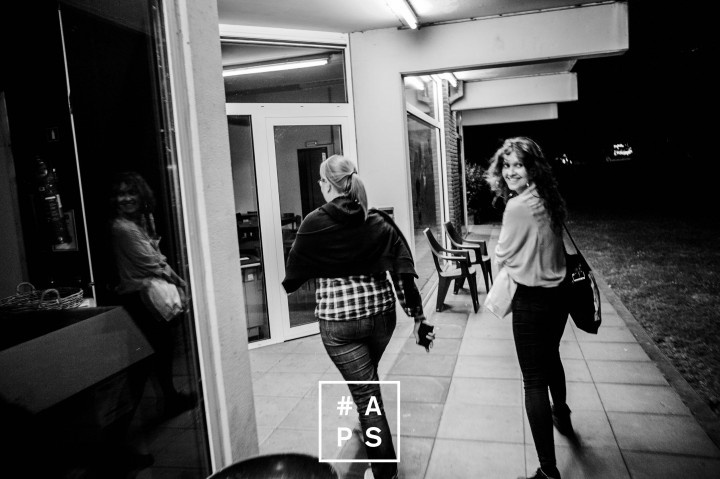 I walked in the backstage lodge where I found Quincey Hanley, tired but relaxed in a sofa. I was informed that I had to hurry with my interview because they were preparing to leave with the tour bus in exactly 30 minutes, so we tried to do our camera & sound set-up as quickly as possible.
Exhibit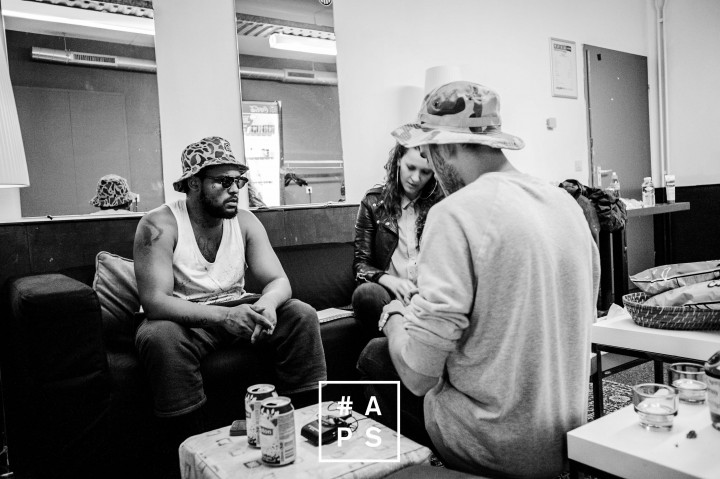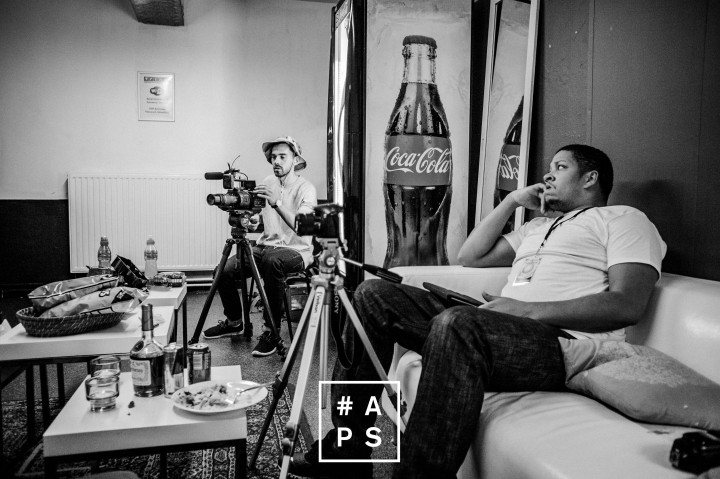 I'm very happy and extremely proud to present you my third official APS video interview since I've been doing this blog. I'm still learning and figuring out how to do this, so bear with me. 
This is the full 14 minute conversation I had with Schoolboy Q so if you don't have time to watch this right now, hit the 'Watch Later' button. (pretty please).
If your personal attention span is more into split video fragments – not to worry – you can find the interview PT 1, 2 ànd 3 here and here below are a few additional exhibits from my Polaroid moment with Schoolboy Q.
Exhibit
Schoolboy Q is in the transition of becoming a major player in the gangsta rap genre, however, it is very clear that he left that life behind and uses his past life as an inspiration for others to become better from a bad situation. Leaving the scars the streets gave him and putting them into his lyrics and being a rapper telling stories is now the main focus of Quincey Hanley. He was exhausted when I came into the room and although the timeframe was super tight he was super nice and really did an effort to open up to me on a random Sunday night. He left right after this photo we took together.
Exhibit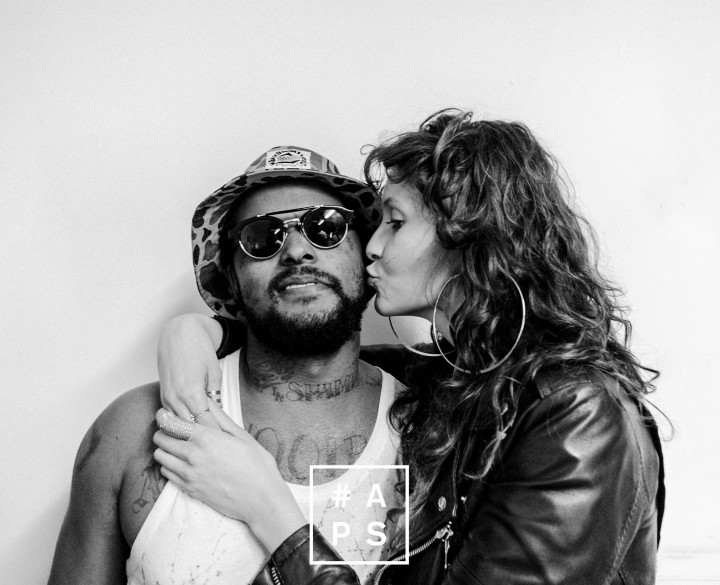 And while I saw him leaving the backstage lodge in his Nike slippers ready to hit the road to Paris, I couldn't help but thinking of one of my favorite tracks of Schoolboy 'There He Go' realizing the future is bright for Quincey. Just like the song he was shining hard, no jewelry on, (with bodyguard tho) and I was "like…there he go…Schoolboy, there he go…"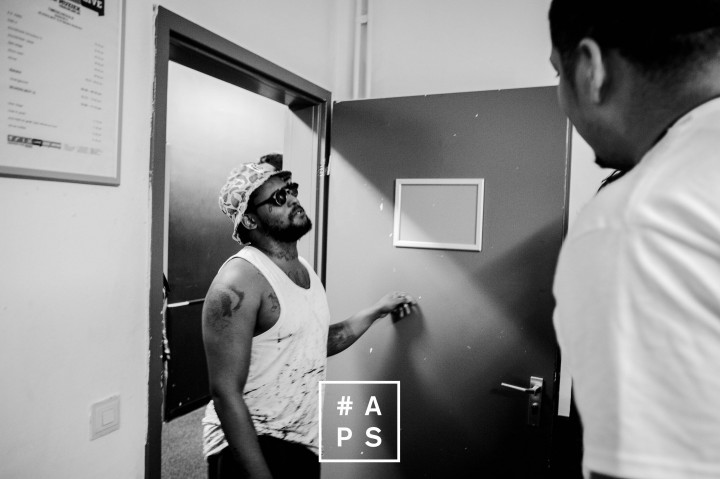 An oxymoron is a figure of speech in which incongruous or seemingly contradictory terms appear side by side. I realised that Quincey Hanly is indeed a walking oxymoron, for I never met a G this nice.
Love,
OUNI
NOTE:
It was truly a blessing for me to experience this moment with A Polaroid Story. Evolution is important for the existence of this blog. While this blog concept is growing, I am often asked if evolution isn't interfering with the concept of this blog, meaning that I have (supposedly) quicker access to artists. I still have to work very hard to reach my goals and create original content for this blog. If there is no change, there is no evolution but there will always be a story. For the ones who think Kanye left me 5 voice messages asking me when I will finally come to portray him on Polaroid; please don't be fooled. My work is far from over and the answer NO is still a traditional reply when it comes to this blog.
Special thanks go out to my crew, photographer DANIIL LAVROVSKI and WILLY CRANK behind the camera who each made their own contribution to this story. I can't forget to thank Sabine from GreenHouse Talent for keeping an eye on things during the evening. Last but not least I want to thank Retone from TDE for giving me this opportunity.
THANK YOU ALL.