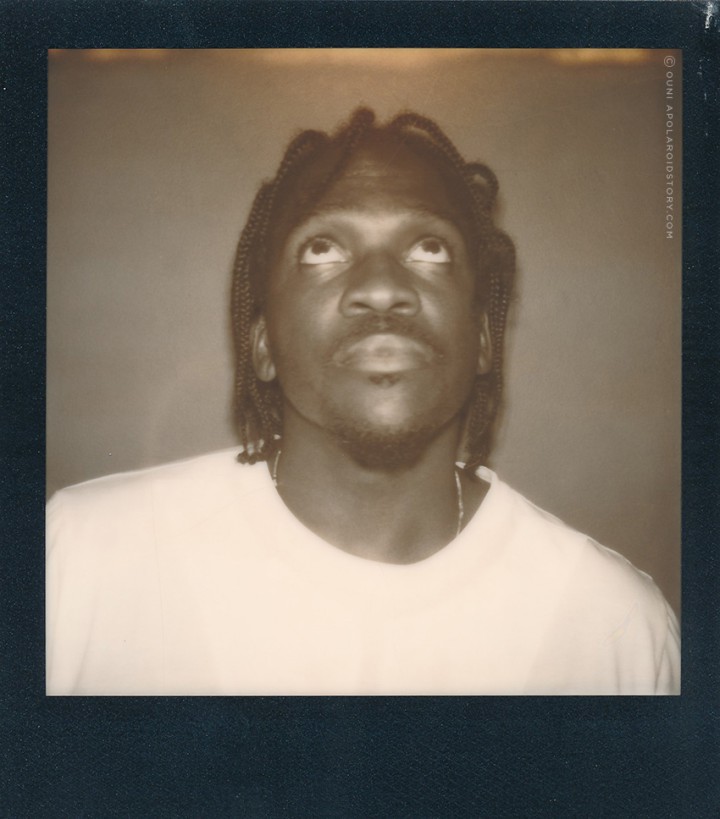 When was the last time you saw Pusha like this?
Meet Terrence Thornton, born in The Bronx NY, but raised and molded in the VA (Virginia Beach, USA). You might know him better as PUSHA T, labeled as one of the realest rappers still left in the game. 'Reallionaire' is probably how Pusha would call himself, however, for the ones who trùly know what this critically acclaimed MC with the signature (Allen Iverson inspired) braids is all about, KING PUSH might be the moniker they prefer to hear.
If you are not familiar with Pusha T whatsoever, let me be so  kind to go back in time and elaborate on this man's very extended career.
The very first time I heard about Pusha T was via the track Grindin' from Clipse – the group Pusha T formed with his brother Gene 'NO MALICE' Thornton. I saw the track video for the first time on the MTV BASE show called The Lick presented by (the legendary) Trevor Nelson.  I associate that period when The Lick aired with the same period where my love for this music turned into something that became part of my every day life. You know, like a limb. Grindin is the track that introduced me to the essence of  Pusha T's storytelling. A sniper MC with a distinctive style and flow, rapping very bluntly about his life as a cocaine dealer and how much money it made him and his brother (No) Malice even before they got any money with rapping. I guess you can state that Pusha T is Curtis Mayfield's Pusherman anno 2014.
Pusha T started rapping because of his brother, who at the time was making such a name for himself in Virginia, it caught the eye – and more importantly – the ear of none other than Pharrell Williams.  It was actually Pharrell who pushed the brothers to become a hiphop duo. Supported by The Neptunes, Clipse got themselves their first recording contract. It took some time for the brothers to take off but eventually, after the typical industry delays but wìth the continous support of Pharrell Williams, Clipse released their commercial debut called LORD WILLIN'.

Stand out tracks from that period for me are the following: 'Grindin', 'When The Last Time', 'Like I Love You' by Justine Timberlake and 'Good Stuff' by Kelis.
After – again – numerous label dramas and accompanied delays, Clipse released their second album called HELL HATH NO FURY in 2006, three years later than expected but quickly labeled as a classic in the genre due to its exotic production and lyrical inventiveness.
Standout tracks you might remember are 'Mr. Me Too' and 'Ride Around Shining'. 
Rhapsody named this album one of the top coke-rap albums of all time. And exactly thàt credit might be the main reason for the major turn Clipse was about to take.
Pusha's brother Gene was fed up with the rap game and tired of lyrically praising the drugs lifestyle and all the things that come with money and fame, like infidelity, to name one. Gene was struggling more and more with the content he put out and seriously questioned the message that he was spreading through his music. He was done with glorifying the glam that supposedly hangs around dealing drugs and the whole culture around it. He changed his name to No Malice, withdrew himself from Clipse and chose a different path in life releasing music inspired by The Lord himself. (No, not Scott Disick) If you have some time, check out This interview which displayes a bit the current state of mind of No Malice. If you ask where Pusha T might be in all this, the following lyrics might explain his take on being rooted in drugs:"the self righteous drug dealer dichotomy, I'm drawing from both sides, I am Siamese."
Together, the brothers had to respect both the creative and personal choices they made for themselfves and seperated their journeys through life artistically. Many rumours and speculations about Clipse reuniting emerged since that decision, but watching this recent CNN portrait, I don't think we can expect a Clipse reunion anytime soon. Then again, never say never.
Meanwhile, Pusha had to continue alone and that was exactly what he did when he embarked on his journey signing as a solo artist to Kanye's GOOD Music label. Brick by brick, bar by bar, mixtape by mixtape, Pusha put in the work. His first critically acclaimed endeavor as a solo artist came with his EP rendition of his FEAR OF GOD mixtape called FEAR OF GOD II: LET US PRAY (2011) and later on with his WRATH OF CAIN mixtape.
Personal stand out tracks for me during that period are: 'Alone In Vegas', 'My God', 'Trouble On My Mind', featuring Tyler The Creator, 'Blocka', featuring Popcaan & Travis Scott, 'Millions', featuring Rick Ross.
And then with tracks like  'Runaway' and 'Mercy' Kanye West decided to switch gear,  slowly raising the speed up, preparing the audiance for that Pusha pole 'Pit Lane & Ring Side' position.
It seems like it took Terrence some time to cut his wings off from Clipse. With every mixtape, with every feature, he patiently build the steppingstones to finaly release his debut studio album as a solo artist in October 2013. MY NAME IS MY NAME, an album under the executive production of Kanye West (with a title referring to The Wire's Marlo Stanfield) is definitely a glimps of what Pusha might become. His debut studio album was generally received by critics as haunting & promising. Where I believe Pharrell positioned and groomed him as an artist, I think it's Kanye who created a fresh direction or at least a possibility for Pusha T to become bigger than himself. The entire album; from production, to artwork, to videos introduced a familiar sounding Pusha T but in a 3.0 atmosphere, look and feel; dark, sophisticated,  viciously intense and razor blade cold.
Personal favorites of MNIMN are: 'King Push', 'Pain', 'S.N.I.T.C.H', and  'Let Me Love You'. 
It took me some time to realise this track does NOT have Mase on it. Production wise it feels like a classic Mase song from the golden era and the flow that Pusha takes is just an insanely good ode to MASE's signature flow. For me it showed how Pusha T can still surprise you in a way.  Also, this track demands a video.
I really can't finish this introduction without some of Pusha's stand out feature tracks like: 'Everybody Nose' (seriously, how avant-garde was this remix for the time it was released?), 'Dope Chicks', 'TKO' and 'Move That Dope'.
Pusha T is currently on an extensive tour through Europe promoting MNIMN playing both venues and festivals. In September 2014 he will be supporting Kanye West touring through Australia.
So. Was this elaborate enough for ya? If you are still with me, we can now move on to the story.
Now, it took me a month and a hell of a busy work schedule to have this story written. My god, I wish I could spend my days entirely devoted to only chasing and writing APS stories, however,  life (and my wallet) tells me a different story. The sun is actually setting while I write this out.
Anyway. Here it goes.
I was happily surprised to find out that Pusha T was booked by All Eyes On Hip Hop (a local hiphop concert/party concept based in Ghent, Belgium) Until recently, Pusha T wasn't exactly the type of artist that you could see live that often if you live in Europe.  I saw him live a few years ago at the Amsterdam APPELSAP festival with Clipse but at that time, there was no opportunity for me to get any closer than the stage they were performing at. Besides cities like Amsterdam, Paris and London, Pusha wasn't really doing actual concert gigs anywhere else in Europe.
Two weeks before the concert in Ghent, I decided to activate my main angle to get close to Pusha T, which is basically hitting up my friend, my lion brother from another mother, EMEKA ALAMS, designer behind GOLD COAST TRADING COMPANY. I met Emeka via this blog and we always stayed in touch over the years and actually became good friends. The reason why I asked Emeka for help was because he actually made the artwork for Pusha T's FEAR OF GOD EP.
Exhibit

Emeka advised me to contact two people. One was Pusha's current manager Steven Victor, the other was Omar Dubois, who worked as Pusha T's brand manager. I contacted both men via mail with my usual management/label pitch without expecting a response. As said before, the mails I have sent out for this blog that remain unanswered are countless.
To my big surprise, in less than 24h Omar answered me, telling me that he reviewed my work and that he would do his best to recommend me and my work to Pusha and his manager. Not much later I received another mail where Omar dropped the news that the management was (and I quote) "open to the prospect of committing Pusha to an episode of your Polaroid Story series."  From then on the communication went pretty fast with Steven Victor contacting me for details and follow-up.
Now. I've been doing this blog for a few years and I felt that everything was still very in the open. It felt like anything could be cancelled any minute and the way of working also changed up quickly. From a meet-up at the hotel, to meeting up in the venue. From Polaroids to documentary style pictures. The thing is, to do Polaroid documentary shots, you need to be very close to have any decent shots with a simple Polaroid camera. I was told that Pusha would not be doing any interviews and editorial style shoots weren't in the game plan neither. So I felt some confusion on what they thought I would do with Pusha. The main goal is always a Polaroid, but for a Polaroid you need to actually pose, and that is where the confusion came from. They wanted documentary style pictures without any posing, but you can't really do that with Polaroids unless you are super close and you can quietly hang around an artist all day. I mean, I wìsh that was the scenario, but I could read through the confusion in their communication that this wasn't really going to be the case.
I was planning to hire a Black Magic camera for the occasion and was already dreaming a bit of the visuals I'd love to go home with, but since the interview part of the story looked like it wasn't really going to happen, I sticked with the regular ol' Nikon cam from my camera bro Nikolai Kokanovic, who assisted me for this story.  Together with Nikolai I entered the VOORUIT VENUE not really knowing what to expect. My goal was to leave with a Polaroid ànd an interview, but I was already realising that the second goal might be tricky, so I had to remind myself that being granted some time with an artist in a country that (I think) the management doesn't consider to have any real media value is a pretty big thing and something that I should be grateful for.
The Polaroid always comes first. All the rest; interviews, video, additional photography, is simply an addition to the story, icing to the cake, but the Polaroids remain the cherry!
This following video recap I made together with Nikolai displays what exactly went down the minute I entered the venue.
Exhibit
Now, let me elaborate on the story behind the video. I was hoping to snap Pusha on Polaroid àfter the concert. From experience, snapping artists befòre they have to perform is simply not a good idea. Their energy is different, you are disturbing their focus, and it always feels rushed.
I was still secretly hoping for an interview so while I was waiting for the crew to enter the venue, I wrote out my questions just in case.
Exhibit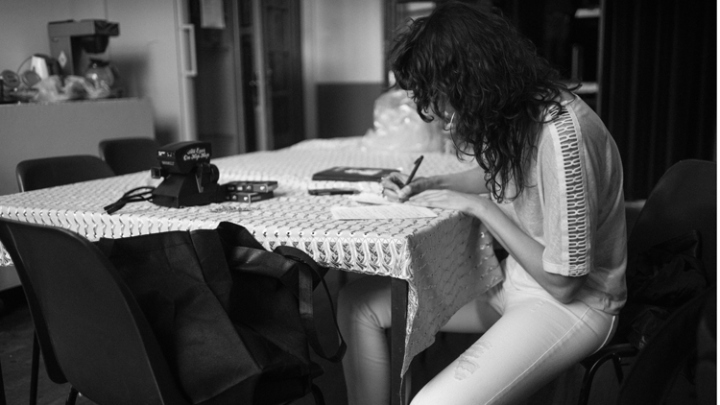 The crew was on a strict timing schedule and not much later they arrived in the venue and it was showtime. I immediately got introduced to Simon, Pusha T's tour manager, a very straightforward, no bullshit kinda bloke who immediately got down to business. As I suspected there was indeed some confusion about the way I would portray Pusha, they really didn't get for some reason that all I wanted was a Polaroid picture against a white wall. Because Simon wasn't really planning on wasting time going back and forth, he immediately took me to the backstage where Steven & Pusha were hanging.
The minute I entered the room I felt that asking for an interview would not be well received. I felt that getting the Polaroid was already a challenge by itself, so pushing my luck would not be a good idea.  I entered the room, introduced myself and quickly got down to business because that was how I felt the energy in the room was. They were obviously doing this because I had some great recommendation overseas (thanks again Omar & Emeka !!) but when it comes to making any type of human connection, I totally failed to create any vibe as you can see in the video. Pusha was polite but clearly distant, doing his job as told by his manager but nothing more, nothing less. That is what most likely will happen if you try to do an interview or photo opp with an artist before a concert. They want to be left alone, and honestly I totally get that. So I just tried to do it as fast as I could. Because Pusha was basically giving me no interaction ànd the fact that I just bought a new Polaroid camera I started to get all nervous and my hands were shaking while taking the Polaroid pictures. I took 5 shots in total and to my horror only one shot was perfect. This new camera obviously shoots way sharper, but shaky hands definitely left their mark on the shots. Then again, I have the money shot and that was a big relief. It's not that the other Polaroids are not good, they are pretty interesting, but only one really stood out in both color and sharpness so I decided to go for one shot.
Here are a few extra exhibits from my Polaroid moment with Pusha


After the Polaroids were shot the entire crew moved to the backstage area of the venue ready to go on stage. They allowed us to film that process a bit so here is where the concert footage from the video comes in. I'm a very bad concert critique, because I'm biased, I see the artists before or after the concert, I know their tour schedule so I look at their concerts and performances slightly differently. Personally, I saw a very focused Pusha T, appreciative for the crowd that came for him and really giving his all on stage. I'm just really not a fan of the venue for the type of artist Pusha is.  I want to see Pusha T in a setting that is either raw or luxurious. This ballroom venue felt just a bit too student, cosy and sweet for me…  It didn't put Pusha on the stage pedestal I want him to see on.  Also, no disrespect, but a Ghent crowd is entirely different from a crowd in a venue like Trix (Antwerp) or Ancienne Belgique (Brussels). That type of crowd is (sorry) less student and more hiphop and raw. I felt that Pusha was a bit tired and with a different crowd energy he could have charged himself up by their encouragement, but this crowd was a bit to tame in my humble opinion. What I really did like was the fact that Pusha is touring with a rnb backing vocalist for the hooks, something I really don't see that often in rap concerts and I personally think it's a great addition to his show.
Here are a few extra exhibits from the concert shot by Nikolai Kokanovic for APS

After the show I met up with Chris Jackson, (Pusha T's on tour backing vocalist) and M. Watts, (Pusha T's hypeman)
Exhibit

Can't leave out this shot from Pusha's tour manager Simon, who is also responsible as a tour manager for none other than (the entire) WU-TANG CLAN.
Imagine managing those fellas on a world tour, djeez… (Simon! Imma call you! 😉 )
Exhibit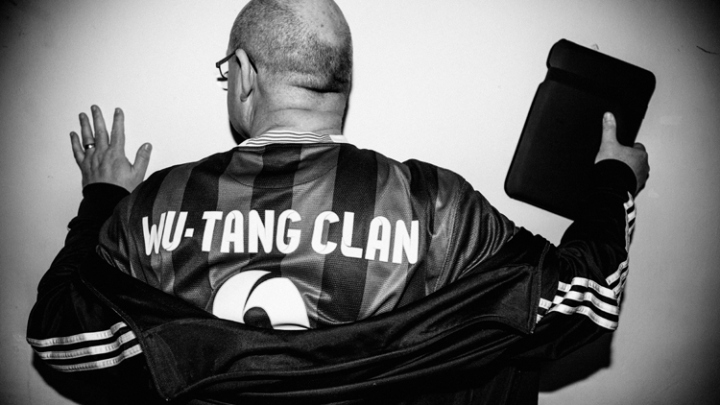 I almost forgot to ask a picture with Pusha after we did the Polaroids, something that usually happens because I'm so damn nervous and more focused on getting the Polaroids.
He kinda caught me off guard posing like that. As I said, it was a bit hard to connect with him, so this one made me blush a bit. LOL.  Also, somebody is looking powder white?
Exhibit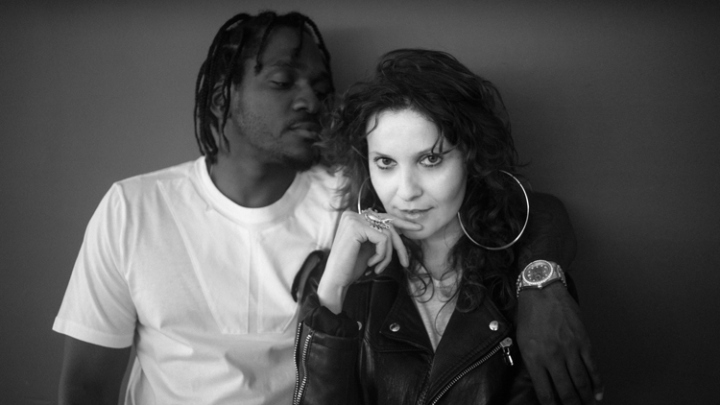 I've always suspected that Pusha T is much more than a LuxDrug rapper, even though that is what he is most known for. His close friendship with Pharrell proves that, his aspirations on a business level prove that (Play Cloths), the way he dips in and out of fashion (County Of Pusha) prove that and even simply the way he comes across in interviews makes me think you can have a very normal conversation with him about I think…pretty much everything. I could be wrong of course, what do I know after all? I'm just that Polaroid chick from Belgium, trying to put pieces to a puzzle.
It wasn't meant to be to have an interview with him, I did my best to engage in the few minutes I had but helas! There is always next time of course..
Pusha T survived many years in a pretty tough and constantly changing music business, build an identity for himself as a solo artist, and at age 36, Terrence Thornton definitely stood the test of time as an extremely talented rapper and storyteller. It's been a long time coming for this 'neighbourhood pusha' and I genuinely wish him the crown he's been waiting for and who knows, maybe one day he will turn that brick grammy into a golden one.
Thanks for reading…
Love,
OUNI

SPECIAL THANKS TO:
Emeka Alams, Omar Dubois & Steven Victor for supporting APS.
Shoutout to my camera bro Nikolai Kokanovic for the additional APS photo and video imagery.