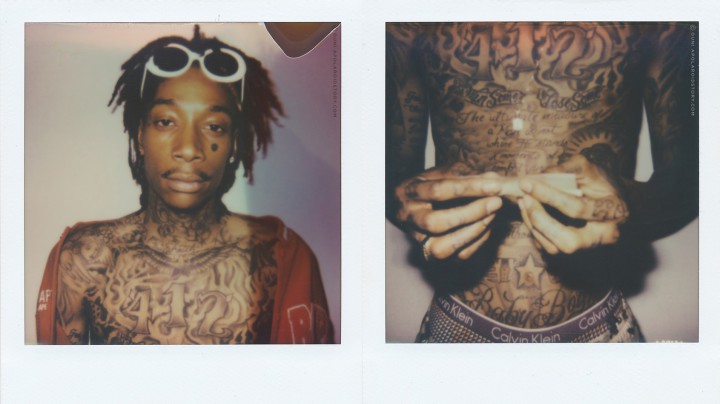 Can you handle so much realness?
I'm extremely happy and super stoked that my first story on this brand new apolaroidstory.com website is starring none other than Cameron Jibril Thomaz, also known as WIZ KHALIFA.
If you don't know Wiz Khalifa – which I personally think is practically impossible considering the 'four corners of the world star power'  this artist embodies – I highly suggest you read up this biography.  The first time I éver heard Wiz Khalifa was in a car during my first visit to Los Angeles a few years ago when the 'Black and Yellow' anthem was playing non stop on the radio and therefore an immediate association was made with my first road trip in the states.
Some other personal favourites worth mentioning are tracks like 'Remember You', featuring The Weeknd, 'Work Hard Play Hard', 'Erryday', 'It's Nothing' featuring 2Chainz or 'On My Level'. And ofcourse the banger 'Or Nah' by Ty Dolla $ign, on which Wiz did a little feature, can't be forgotten in this list!
Wiz' music is global to say the least, everybody probably knows – even if it's just subconsciously – at least one song by Wiz. From rap to cross over pop to emotional ballads to club hits to sing along anthems with Snoop and Bruno Mars, Wiz got it in his repertoire while remaining inherently a rap artist. 
With Blacc Hollywood, Wiz Khalifa released his fifth studio album only a few yours ago and has been touring extensively through Europe and the US to promote his album. The first release of the single 'We Dem Boys' a few months ago, catapulted Wiz immediately to the center of the world's attention selling 366,646 digital copies in the United States and numerous remix versions with artists like Nas, T.I., French Montana, Diddy, Busta Rhymes giving their take on the hit song and Complex Magazine listing it as one of the biggest songs in the first half of 2014. 
Now, this is the story behind the Polaroid.
I arrived in Liège, Belgium around 9PM, only one hour before Wiz Khalifa's performance at Les Ardentes Festival. I came straight from a Polaroid hunt that took me all the way to Berlin. (Oh yes, it's a good one, but that's for later) and my camera man Fred Van Zandycke was waiting for me at the impressive Liège station. It was the first time we would work with each other and spend four days together at Les Ardentes Festival, one of my favourite festivals in Belgium. This festival had an impressive line-up with a range of bookings like T.I., Wiz Khalifa, Banks, Kid Ink, M.I.A, Earl Sweatshirt, Method Man & Red Man, Schoolboy Q, Isaiah Rashad, Nekka, Mobb Deep (!!) so you understand why not being there was not an option, especially since this festival is the first in Belgium that supported this little blog when I started out years ago.
This would be my third attempt on portraying Wiz Khalifa on Polaroid. The first time was years ago but I never managed to get close to him and there wasn't really a story to tell. The second time was only a few weeks before Les Ardentes at Noxx, a somewhat notorious nightclub in Antwerp, Belgium. I'm not going to spend too many words on it, let's say it was a pretty exhausting and slightly negative experience with a club that invited me to come and take Polaroids of Wiz Khalifa but failed to live to its promises. You know sometimes you feel the moment isn't right to do something? Well, I learned with this blog that the journey towards a Polaroid can take its time and let's say the club experience just wasn't meant to be. While driving to the festival I felt it in the air that the next few days might turn out just the way I wanted to and more…
When Fred and I arrived at the festival Wiz was already playing. I forgot that you could only film the first 3 songs of a concert in the photographer/film pit so I had to send Fred out in the midst of the crowd to take some concert footage. Right after that, we went straight to the front entrance of the Les Ardentes Artist Village, where you could run up to artists when they return from the stage. I only have a press pass which allows one person to film and use the press area, but I didn't have any interviews or scheduled meetings. It was basically classic A Polaroid Story hunting: on the spot, with no rules and just an intention. We arrived right on time, because only minutes later I noticed Wiz Khalifa and his entourage walking up towards the artist village.
This video document I made with Fred Van Zandycke portrays what happened next.
If I have to explain my moment with Wiz in one sentence, I prefer to describe it as a Polaroid – slash weed – slash pyjama party but then in a backstage lodge. When I left the festival with my team it was 2AM, it was raining cats and dogs and we were all stunned of what just happened in only a few hours since we arrived.
There is so much I like about Wiz Khalifa both as an artists as a human being, I don't even know where to start.  I like how he holds on to certain style items like his Converse chucks, vintage t-shirts, his raw papers and white chanel sunglasses that he wears over and over again, just like you and I do. I like how he is very open and real when he interacts with others, there are no gimmicks. Wiz has an enormous fan base of young kids looking up to him, watching every step he takes and he is very aware about the impact that he has. He uses social media in a very current way, continuous producing content, putting it out fast, engaging with his fans on a true level, while expressing his personal thoughts about being the odd skinny one out, or his views on smoking weed or little moments, things or music that inspires him. Through his DayToday series on Youtube (shoutout to Frankie Paladino, I see you wòrking your ass off!!) you can follow éverything he does, from signing sessions, club performances, photos shoots, studio recording sessions, little family moments with his wife Amber Rose and son Sebastian,  friends and family passing by, extensive touring in Europe and Australia, Wiz chilling backstage blazing it up with his crew, fellow artists and fans, taking selfies with moms, hell you can even see him hanging over the toilet after a night in the club. Portrayed in such a way, it can only remind you of yourself after you had just one too many. The realness! He literally touches base with his movement on the daily, drops documentary style footage weekly and you can follow it up close like a fly on the wall.
The interesting part in all this, is that Wiz is regularly critiqued –  mocked a bit even – because of his public use of marihuana and his stoner image. He has been arrested 21 times. Weed is a part of him and he doesn't see any reason why he should hide it.  At the end of the day, Wiz is touring the world, releasing mix tapes and albums, doing tv-shows, delivering video games soundtracks, continuously active on social media, doing club performances, snatching up a big fashion deal with Eleven Paris next to Kate Moss, pushing his own clothing line TGOD, his own recordlabel Taylor Gang Records, doing the theme song for the new Turtles movie, establishing his relationship with Converse with yet another Chuck Taylor release, developing his actor skills and so much more. All doing this, while lighting up one raw laced with a wax worm in it (or on it) after another. Seriously, I don't know how he does it. One hit of those monsters and you can bring me my nap blanket and a dictionary because I won't have a clue what I'll be saying let alone remembering what I want to say in the first place.  All jokes aside, that man is WORKING. I have a hard time getting out of bed after a couple rum and cokes but Wiz Khalifa can bong it out for a few hours straight and hop on a plane the next minute to yet another show.
In a interview with Sway In The Morning, Wiz quoted about why people are so eager to work with him in the first place; " They need that smile on their face, and that's what I bring." He doesn't feel the need to be anything more than himself. Wiz in his own and unique way, is the perfect embodiment of what an artist can or should be. Setting an example without trying to be a role model.
I've been doing A Polaroid Story for about 5 years now, so I met a lot of artists and I'm being very honest when I say that meeting Wiz was definitely one of the most genuine moments I shared with an artist.
Wiz is so real it's unreal.
I leave you with a slide of the Polaroids we took together.
shot with Impossible White Frame 600 Colour Film
Wiz Khalifa is the truth and it was a blessing sharing this instant moment with him.
Love,
OUNI