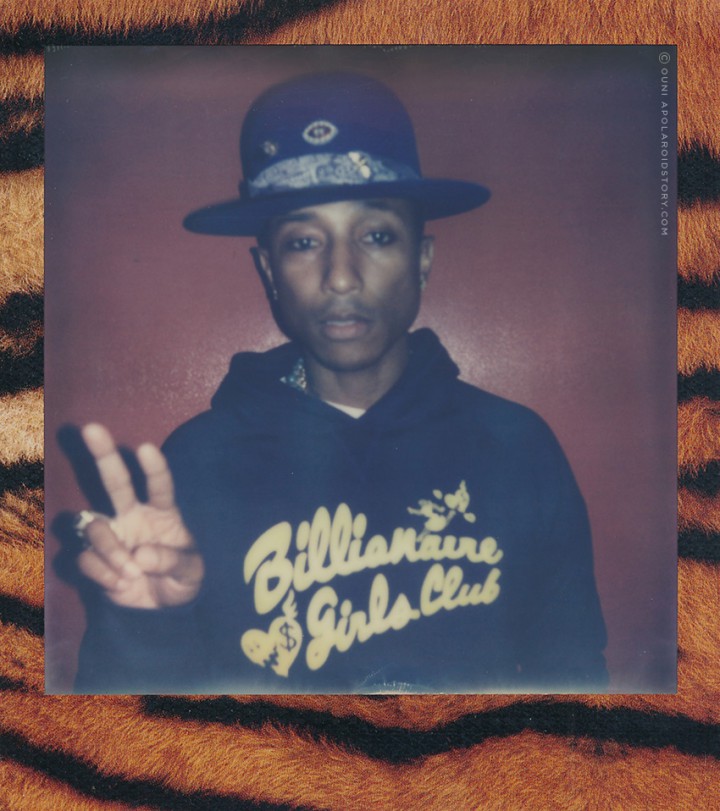 "Let me tell you a story about my situation…" with Pharrell Williams.
Finally the moment I've been patiently waiting for, ever since I started this blog, arrived. Pharrell Williams, the man responsible for the existence of this little blog (without him even knowing) and the reason why I decided to take it all the way with this blog in the first place, was finally coming back to Europe promoting his second solo album G I R L , with a pit stop in Antwerp, Belgium.
A lot of things changed since I first met Pharrell in 2009. Back then, he was more Skateboard P, the top producer part of The Neptunes, responsible for a dozen hits and the notorious frontman from that totally dope band called N.E.R.D. Back then, I was still a rookie in the game. I didn't have a clue about artists, managements, publicists, agents, labels, media partners, media deals, etc. Back then, I was still learning how to execute this concept the best way possible with the means and the knowledge I had. Plus, I was doing this from a little country like Belgium, that market-wise has little to no interest in the genre artists I write about, comparing to countries like France or Holland or the UK, where the market for hiphop, soul, r'n'b and what not, is way bigger. I have no relevance. (Even till this day – when you look at the scale of the blog world –  this blog has little to no relevance) I'm a tiny shrimp in a very big ocean, located in a cold area of the pond, where big fish don't even bother looking. Sometimes, a big friendly whale just happens to pass by and pick me up, giving me a little push against the stream.
When I met Pharrell the first time, I portrayed him on stage, in the middle of his show with N.E.R.D. at the LOKERSE FEESTEN in Belgium. (Still bummed there is no footage of that…) It was the first Polaroid I ever took and it was then that I quickly learned that I wanted to take a new one, a better one, because I wasn't satisfied with the image I obtained. I knew I could do better. When I met Pharrell the second time, I was invited by WETRANSFER's head honcho NALDEN, who after reading my second, third and fourth failed attempts (yup), was so nice to invite me to Amsterdam for a private listening session of 'SEEING SOUNDS', Pharrell's latest album with N.E.R.D.
By that time I learned a few valuable lessons through this blog. I learned that you can try to stand front row a million times on festivals or concerts, for what I had in mind, nothing will happen. I know some of my readers love those type of stories, however, I would be doing something wrong,  if I would still be waving my Polaroid front row trying to get close to an artist. I will do it, if necessary, but I learned that to get close to some artists from a certain level, you need a trustworthy network or connections that will help you get there. I also learned that being a fan and admiring people is fine, however, it sometimes makes you blind or lose your own identity  because you channel admiration too much. I learned that it interfered with what I have in mind when it comes to the final results of the Polaroid. When you're all 'fanned up',  you are definitely not focused on the work that needs to be done. You are blinded by a perception you have of a star. So when I met Pharrell the second time back in Amsterdam, I hardly spoke a word, too afraid to lose my focus. I just put Pharrell against a white wall and asked for two expressions and that was it. Pharrell can be very… charming and I didn't want my perspective as a fan to interfere with the results I envisioned. I ended up with two epic Polaroids, from a 36-year-old Pharrell, who was, personally for me, in his prime. I use the word 'met', however, 'encountered' is probably a better word. I met A$AP Ferg, I met A$AP Rocky, I met Kendrick Lamar, I met Wiz Khalifa, I met Mark Ronson. Meaning; I had actual conversations with those artists. I never had that with Pharrell Williams. I wasn't grown or experienced enough on a professional level or things were simply too hectic.
When I have the perfect Polaroid, I stop chasing. I will do other Polaroid features from an artist if there is a cool story to tell, or if I can do an interview due to a new album, or maybe if I can do a video portrait or if there is an opportunity that just feels effortless, but I will never chase again for the same artist. I'll only chase, if I'm not 100 percent happy with the Polaroid. For example, I would love to redo the Polaroids of Method Man, Erykah Badu and a few more if an opportunity comes along. I want to bring out a book one day, and to do that, I want to be perfectly happy with every shot I took. The Polaroids I took in the early stage of this blog are not always how I had them in mind, nonetheless the circumstances, because I can't control that. Evolution is important for me and although I am a fan first, the real me would not spend so much time or effort for a Polaroid of her favorite artist. The real me would watch a show and go home.  I do this, because it's part of my concept and I execute it to the fullest because taking on this blog, there is no road back. You can't suddenly back down and stop executing your idea, because it's getting too hard, or too time consuming. If you made a commitment, you have to sit out the ride. But, I also have my pride, and over the years, I admit having moments where I really questioned why the fuck I put in so much effort to get a simple Polaroid from somebody that takes a dump in the toilet just like everybody else in this world. Don't get me wrong, I'm super passionate about APS, but my effort of chasing for a Polaroid definitely has its limits.
I strongly believe in visualization. If you visualize something hard enough, it will happen. Or to quote Kendrick Lamar: "Anything you imagine, you possess." In this case however, the story unfolded in a very unexpected way, that resulted into the opposite of what I had in mind.
This is how it all went down.
When the news came out that Pharrell would also do a concert in Belgium, many people asked me if I would try to take another Polaroid picture of Pharrell. A logical question, because if you are a loyal reader of this blog, you know Pharrell plays a crucial part in it. I thought about it and decided that it made sense to take a new Polaroid, mainly because he evolved quite a bit into another type of artist since I met him. Due to the success of singles like Get Lucky, Blurred Lines ànd Happy, Pharrell took an exit of his more 'underground' persona, got married, is a father of a baby boy ànd became a legit mainstream artist. Now even your mother knows who Pharrell Williams is. "Isn't that the guy with the big brown hat?" I once had an offer to visit a somewhat 'serious' talk show on VRT, the Belgian national broadcast channel. The invite didn't go through, because and I quote: "After all, our audience doesn't really know who Pharrell Williams or Q-Tip is." Only three years later, that same mainstream network and others,  edit all Pharrell's  tracks in their daily cooking shows, fait divers news edits, and ditto for the radio channels. Another reason why it made sense to do another Polaroid of Pharrell is the reason that I also evolved into something else. Back then, I did not have the experience, the knowledge or the professional attitude to do an interview, let alone put my inner fan aside and have an actual conversation. Taking in consideration that I started this blog after watching Pharrell talk about executing your ideas and where they might take you if you do, I decided to go for another Polaroid via an official interview request. After five years, tons of stories, a new website launch and finally coming to the point where I manage to release genuine, non sensational video stories, plus having different types of recognition from both artists and professional media in the industry, I thought that this would not be too hard.  Obviously, I was mistaken. Little shrimp with no relevance, remember?
If you want to do an official interview with an artist, you can go two directions. You can try to contact the management directly ìf you have the right email in your possession. Or, you can send in an interview request via the label of that specific artist, in this case, this would be SONY Belgium. I did not have the direct contact of Pharrell's management so I was obliged to go via the label.  I've worked with Sony before, I had a pretty good contact at Sony who perfectly understood that my blog directly targets a specific audience and that it indeed has value, even though this blog doesn't nòt have 50.000 unique visitors a month. However, my contact left Sony Belgium and ever since, I  never really heared them that much. Artists in my genre would stop by in Belgium and I still would have to do it by myself and without help of the label, which is kinda funny, especially if that same label retweets your content you practically scrapped together from the ground up without any effort or support from their end.
It was very important for me to do this the legit way, so I filed an interview request over at Sony. I received the message that they could not help me, that there were only twenty minutes of interview time and that those twenty minutes would be given to (very, véry mainstream) media partners and that I was also late with my request, since those same minutes were locked months before. Understandable, of course, that's how the cookie crumbles. However, it felt a bit weird to suddenly be ignored after writing about Pharrell for so long and when I finally come to a professional level, I don't even get considered for even five minutes. Also, I can't prepare concerts months before, I have a job as a self-employed person, so work is always prior to this blog, which forces me to send in requests only days before, which I learned for my way of working, is the best. When I asked (or is it begged?)  if they could at least push my pitch mail directly to the management, so the management itself could value my request, it remained silent.
This is the moment where I could throw in the towel and just accept what happened and let it go. But the whole thing felt unfair to me.  I thought it was lame that suddenly mainstream media who never cared about Pharrell Williams or his music now get the first choice just because he happened to go mainstream. What happened to quality over quantity? I work in PR, so I knòw the value of little communities and I know the value of genuine storytelling and not give in all the time to orchestrated and gimmicky content. I also realised that this might be my last shot to portray Pharrell in this time of his life. I know the man looks like he doesn't age, but he is 40 after all. Who knew when he'd be back? And yeah, it was simply too late, but I had it in mind…. therefore it would happen and I wasn't taking no for an answer. When label support is out of question, I start to communicate online to my readers –  to YOU – what my intentions are. I have a few artists who still follow me via social media; a couple of managers, some industry people here and there and you simply never know who might help you if you put out your intentions in the universe. And so it happened that after a few public announcements on my Instagram account, I finally caught the attention of I AM OTHER, Pharrell's creative content company channeling and managing his music, film, television, apparel, tech and multimedia endeavours and his fashion lines.
By that time, I had sent out emails to many different high level individuals asking for help, so I was really happy that my communication finally reached the rìght people. I got a comment on my Instagram account from @i_am_other, telling me that they saw my communication, got to know my work and that they would love to invite me to come over to the show and that I needed to send them a mail asap. This all happened only a few hours before Pharrell's concert in Belgium. Needless to say I was stoked. I sent the mail, attached my standard pitch mail, so the people over at I AM OTHER knew what I do and what I was aiming for – an interview with Pharrell Williams – and together with my team I hopped in a car to Antwerp. I took my team with me, since I did not know what would be possible, so better to have options on location than not have any options and miss an opportunity to create something cool.
Things didn't work out in Antwerp….We ended up standing outside waiting for a response from I AM OTHER. Since I sent them the email, there was no more communication, which obviously was weird, because why would they invite me and then not come through? Around midnight I finally received a mail from somebody at I AM OTHER, apologizing for the fact that my mail got lost in a gazillion mails that come in at the same mail address they referred me to and that they felt really bad about it and therefore invited me to any other show Pharrell was playing in Europe the next few weeks. By that time I've been waiting with my team in the pizza place across the venue for about five hours, so I called it a wrap and we all drove home.
The following days I maintained a nice mail conversation with somebody over at I AM OTHER who took it very seriously to get me closer to Pharrell. I was really happy about that, because I finally  could show and discuss my work with somebody who at least works for Pharrell and could now understand better what I do and what I was aiming for. I decided that I would go to one of his concerts in Paris. I noticed that Pharrell looked really tired in his Belgian interviews, a bit tense even. Understandable, because this man's work ethic is on another level. He only works and if he doesn't perform, he is in the studio working on some song for some artist and he does that 24/7. I had feedback from some people in Belgium who saw him backstage and told me; "He looked totally high." I know for a fact (well not for a fàct, but research points out) that Pharrell Williams does not smoke weed, the man's eyes are just woozy because he works on such a level you probably don't even grasp. Watching those interviews, I realised even more that my moment with him in Antwerp was simply not meant to be. It would not have been how I saw it happening.
In my mind I saw a relaxed conversation and a genuine moment.  Although I was still hoping to get an interview, my contact at I AM OTHER told me that she could only arrange a meet and greet with Pharrell, which is private and that would give me the opportunity to talk to Pharrell and finally introduce me and my blog in a decent way. The perfect introduction, to – who knew, maybe one day – an interview. I could take one person with me, so I decided to take Willem Vleugels also known as Willy Crank, who knows how to work a camera. Ìf there was a small opportunity to do ànything, then at least I had somebody with me who knew how to portray it. When I say 'opportunity',  I mean a shift in a situation. Many times before, I was told: "NOTHING WILL BE POSSIBLE." but then I have an encounter with an artist, they like my energy, the situation shifts and suddenly I end up with something more than I thought or was told was possible. But then you'd better be ready, so that's why I took Willem along. You just never know what might happen, right…?
Pharrell had three days between his UK tour stops and Paris. I decided to go the first day he was playing, hoping that he would be relaxed and excited for his three scheduled shows in Paris and just being excited to be in Paris overall, because if there is one city that adores Pharrell, it has to be Paris. You never know how the energy of an artist will be when you meet them, so I was hoping that my timing was right.
So together with Willem I hopped on a train to Paris and the next video portrays what happened next….
Note:  13/11/2014  –> This video has been adjusted due to a copyright claim from IAMOTHER for using "You Can Do It Too" in the edit.
As usual a little word of explanation comes with this video.
Things – obviously –  didn't go as planned. After the concert finished we went straight to the right hand side of the stage where twenty people or so were waiting for the 'Meet & Greet' moment. Together with Willem, I was last in the queue. A first batch of people were allowed in. I figured the second batch – including us – would follow quickly, however to my big surprise the second batch of people (including kids) were told that the meet and greet was off. I didn't really knew how to react. It was close to somewhere between crying or laughing, so I decided to go for the second. This Paris trip did not come cheap, so whatever was going on, needed to be fixed. At that point, realising you are again in front of a closed-door—a closed door somebody guaranteed you that it would be open—you have two options really: you can look at the situation positively, without letting go of what you had in your mind. Or, you can go negative and bitch, rant and complain about it, whether you have reason to or not. It's a very thin line, because understandably, I was slightly pissed inside, I felt a bit tossed around, and my pride (here we go again) took another hit. I did not like being -yet again- in front of a closed gate, after all those years and all that experience and all that work. I put my pride aside and after we got escorted outside by the security guys we went straight to the back of the venue, advised by the same security who felt a bit bad about the whole situation. They told us (and others) that this was the only thing that we could do. I wasn't planning on sneaking my way in backstage. As I said before, I was done chasing Pharrell, but I decided that I could give it a final shot by mailing my contact at I AM OTHER. My contact was horrified about the situation. I AM OTHER operates from the USA, so the only thing they could do was convince Pharrell's tour manager to come and pick me up at the back of the venue, which was, due to Pharrell's super hectic schedule, not easy. By the time Pharrell's tour manager came to pick me up, (apparently he came looking for me right after the show, but for some reason we never crossed each other) I was the only one left at the gate, with the exception of a super fun French couple who we ended up hanging out with the entire time.
My third encounter with Pharrell was definitely not how I imagined. The story unfolded in such a way that I was put in a 'Friends & Family' environment. The minute I walked into that backstage room, I knew I was fucked. This was no place to meet Pharrell, or at least not for what I intended, my message would not come across and I felt kinda bad disturbing him in a way, although I had no reason to feel bad about anything, since I came invited. There are a lot of steps to meeting an artist and the situation played out into me meeting Pharrell again, in very rushed circumstances and I felt a bit stupid. Because, taking another Polaroid in this situation was definitely not what I wanted. But…I had 50% of what I envisioned, I had a new Polaroid of Pharrell how he is today. All the rest, simply was not meant to be and the universe told me that in a very clear way.
So what did I learn from this story? As usual, a few things.
No matter how you see things in your mind, sometimes, you can't always get what you want. When the universe says no, it says NO. That doesn't mean that what you envisioned will not come, it will, probably just not when you want it to happen. When it comes to going for your dreams or your goals, you don't have to take no for an answer. From anybody. But do realise when you don't,  you, your pride or your wallet might get hurt a little in the process. Last but not least, all the little steps you take in a certain direction, will eventually lead to how you saw it…in your mind.
Time will tell, won't it?
Love,
OUNI
Polaroid shot with Impossible Film Skins Edition 
A huge thank you to my contact over at I AM OTHER, who didn't back down in this challenging situation and genuinely looked to resolve this situation. I really appreciate that, because there are not many people who would have done the same. Most people just do their job and don't go that extra mile. I'm grateful you did. If you ever come to Belgium, I'll guide you around like a king.