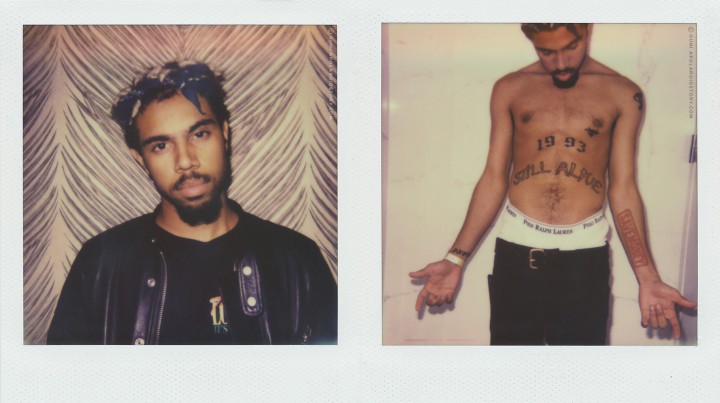 Remember my first story on VIC MENSA?
Well, if you don't, please catch up on this rising rapper from Chicago here.  
Sometimes, if I have a good connection with an artist, whenever there is an organic opportunity that comes along, I might catch up with them to take some new Polaroids. Turned out that Vic Mensa was going to play at Encore Festival Amsterdam a few months ago so I hit his team up to see if they were down to catch up and make some new Polaroids (I wasn't too happy with the first ones I took, my camera broke down a couple of times and the film didn't turn out well.) Since I'm experimenting with more video additionals I proposed to make something more fun and light in contrast to our first meeting where I was more focused on a documentary-style interview.
Since we met, Vic has been touring all over the world while dropping a range of different songs clearly exploring his own sound with tracks like; the clubby FEEL THAT, the under the radar summer hit DOWN ON MY LUCK, the Kaytranada produced WIMME NAH, the grimy MAJOR PAYNE and the gem that is APRIL 13TH. 
Mensa's team quickly responded that they were down and invited us to come over. So together with my team for the day (camera man Fred Vanzandycke & photographer Daniil Lavrovksi) I hopped in a car and drove straight to Amsterdam.
When we arrived we were welcomed by Vic Mensa's manager Dan Weiner, who told us that Vic Mensa was catching up on some much needed sleep and that he wasn't sure when he would be up and he apologised that he made us come from Belgium so early. The plan was to explore Amsterdam a bit together and then hit the festival but instead we ended up hanging the entire afternoon with Dan in the hotel restaurant which was pretty nice and interesting, 'cause I love to talk and exchange thoughts with management and Dan has been in this industry for a while working with people like Kid Cudi, Childish Gambino, Seth Rogen and Sacha Baron Cohen.
Approximately two hours before Vic Mensa's performance, Mensa walked into the hotel restaurant where we were hanging. He came straight out of bed, was obviously looking a bit tired but he was genuinely nice when he came to greet me and the rest of my team. The hours following I spend some time with Vic, Cody (longtime friend and part of the management team) and Dj Oreo, hanging around the festival. The following video document portrays what happend next.
Now, the story behind the Polaroid is the following. It somehow turned out during the day that – although I was theoretically hanging with Vic and his team – I didn't really have the chance to actually talk with him. When I say talk, I mean have a real conversation. Let's say, he was in another mind state that day, not that I couldn't level with him, we laughed and joked around all day. It's just that, if I'm in this 'fly on the wall' position, I have a little problem with pushing my 'agenda' or the things that should be done  from the apolaroidstory point of view (an interview/polaroids) upon an artist. I love when things go organicly and that is hard sometimes if you have a camera and lots of people around and your goal is to document something pure or real. You  have to balance knowing when to film and when not to, and respect artists' wishes whenever they rather not have something documented.
One thing I learned with APS is that you just roll with what the energy and events give you. It makes no sense forcing anything, because the outcome will feel just as forced. So the day passed and I still didn't have any new Polaroids from Vic nor did we actually sit down and talk about what's up with him musically. I felt there was a certain change since we met. Nothing good or bad necessarily, just a progress in his growth and perhaps some internal struggles that he was maybe trying to get distracted from. I felt he was running a bit away from me, which is totally fine, as I said, I'm happy to tag along, and I don't want to invade people's space neither. It's important for me that they do whatever they want to do, I'm a guest after all. Dan felt a bit sorry how events turned out that day, since he obviously knew that I still needed my Polaroids and that the window to get them was obviously closing on me. I assured Dan that, whatever the outcome would be that day, that I'd be fine with it, no judgement or bad feelings as long as they understand that the story will be told like it happened. I had the opportunity with my team to work on our video documenting skills throughout the entire day, so this was no waste of time.
So I kept hanging with my team around the festival area, patiently waiting for a moment with Vic, but the hours passed by, and my camera man had a very early call time on set the next day so we couldn't stay for that much longer. Meanwhile, I saw Vic and Cody walking by, walking in and out his container (which we left to give him his space) hanging with some local fans and one gin bottle bigger than the other. Meanwhile, Dan kept apologising for how events turned out that day.  I assured Dan that it would be a bummer to not have at least the Polaroids,  but I told him that it's also a bit part of APS and it comes with the territory.
Considering it was getting really late and we had to hit back to Belgium soon, I told Dan that I would wait 15 minutes more but that I was still hoping that he'd eventually show up, since he promised me while we were taking some group pictures earlier that day, that we would take the Polaroids back in the hotel. My words were not even cold when the door from the container, where we were hanging, opened, and Vic walked into the room  and said: "Let's get out of here Ouni".  Because Vic was pretty buzzed from the gin,  I decided together with Dan that I would first go alone with Vic to the hotel, so we could genuinely level in a place without any distraction. Dan would follow us to the hotel with my team later on. Together with Vic I hopped on a golf cart. I felt a bit weird, because as I  said, I didn't want to force anything neither and I told him that on the cart. Vic told me that he should have left the festival way earlier anyway and that he was totally fine with leaving.
Once arrived at the hotel, the first thing I decided that we should do, is to sit down and eat. Tanqureay kinda took over Vic's mind and body and he was not feeling so good neither, plus he didn't eat any decent food all day.  Vic happened to wake up that day to go straight from his hotelroom, after a much needed nap, to the stage to perform (which he did flawlessly and like a freakin' pro) and after his performance he just happened to hit the Tanqueray. I've seen it before with artists who are in busy travel schedules; they don't take the time to eat, or their rider is not what it should be. They perform and afterwards they want to relax and have a drink and just have some fun. Hell, I would probably do the same. However, what I  know, from my own modest experience – I'll spare you the details – is that when you drink gin straight up on an empty stomach it's basically the same as sipping liquid poison. Pure gin is not to be messed with, it's a very vicious kind of alcohol on the body if you're not careful. Been there and it wasn't pretty, trust me. Also, after 5 years A Polaroid Story,  I'm used to dealing with artists and I'm not the one to be even slightly surprised by the use of alcohol or weed or the presence of fans backstage. Quite frankly I've seen it all (well at least a lot) and I genuinely do not care, nor do I judge. It's like Salt'n'Pepa: None Of My Business and those are not the stories that I want to tell. It's boring and there are plenty of other platforms that do that way better than I ever could.
Unfortunately, turned out the hotel kitchen was just closed. A small disaster, because I wasn't feeling taking Polaroid portraits or doing an interview on the level that Vic was in. Luckily, I worked in restaurants myself, so I know a little bit how to convince a cook to reopen his kitchen. So I begged with huge bambi eyes to please make anything that wasn't much of an effort and that didn't make too much of a mess.  Eventually the cook decided to make some steak and fries for him. Bless the man who can cook!  A good juicy steak is perfect hangover food to balance  alcohol levels in your blood. So while Vic was eating, we finally talked. He told me that he had some struggles sleeping and that he was fighting darkness a bit. When I asked him about his girl Natalie (who's gorgeous and is starting her own clothing line called Made In June ) and how hard it must be for him to fight against temptations as a rising star on the road he said: "I say sorry a lot."
He was back to the Vic that I met in Brussels, no rapper gimmicks, no swag oneliners, just being himself.  The meal obviously did him some good, so we decided together to take some new Polaroids so I would at least have the most important element for the story. During the final Polaroids, Dan and my team walked into the hotel and joined us in our last moments taking those Polaroids. After all was done, we said our goodbyes, Vic went straight to bed and we embarked on our journey back to Belgium.
This was not a story about a crazy exciting perfect backstage moment like you would probably expect or hope for. Over the years, I learned and observed that being an artist can weigh on you. The fame, the attention, the money, the girls, the internet, the blogs, the social media, the love, the hate.  It's a lot to handle.  Too much of a good thing is the perfect place for different levels of darkness creeping in and it takes focus, a solid base and a good entourage to make sure you don't lose yourself in the process. I've seen it before in the history of this blog that fame can distract upcoming artists from their artistry. This business is tough and it takes a strong personality to cope with the good and the bad and actually last as an artist with so much other artists trying to make it.  One minute you're in, the next, you're out. I'm happy that Vic and his team trusted me enough to have me around and open up to me. Sometimes you are pressured to tell a story that looks perfect, but the stories that stick the most are the ones that just tell events like they went down on the real. There are plenty of other mediums who aim for gimmicky, generic or sensation based stories. I'm trying to tell the story how it genuinely happened.
Since we eventually didn't have the time to talk that day, Vic took some time to answer a couple of questions via mail to give us a head's up.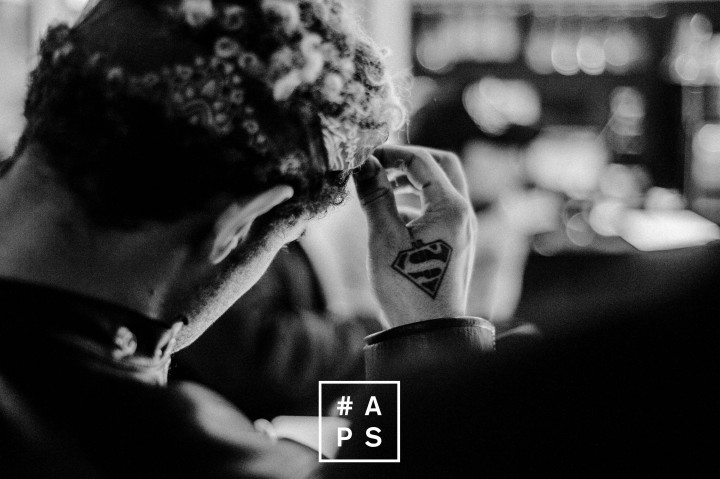 We first met on 14 Februari when you were touring in Europe opening for Danny Brown, we met again 7 months later in Amsterdam. How was 2014 in general for you and what's up with you now? What were for you, personally, the most significant changes or highlights in terms of career, performance, artistry. (good/bad)
 I moved back to Chicago and caught an amazing vibe of home. Creating non stop and getting ready to release a project called "StreetLights". I travelled all around the world off of the music I made, met a lot of people that have influenced me creatively and been apart of my path. I made some of the best music of my life in 2014. I've seen relationships come and go. I've seen changes in my life influence others positively and negatively. Friends fall out over money and jealousy, it's all a part of the rollercoaster.
I see on snapshat you are working in the studio or on music a lot right now. after #innanettape and a couple of pretty successful releases,  what can we expect from Vic Mensa musically? Any plans to release an album? 
I'm putting out an EP called 'StreetLights' in the near future. I'm also working on my album, 'Traffic'.
Tell me about your relationship with Michael Uzowuru. With which producers are you currently working? What's the sonic vibe you are currently going/looking for? 
Mike is one of my best friends, one of the most genuine people I've ever met and had the opportunity to work with. He has a very unique and creative sound and ear for music. I've been working with Stefan Ponce and Smoko Ono a lot in Chicago and I've done a lot of work with Lifted and Charlie Handsome in LA. 
What are the biggest challenges for a young artist today trying to make it? How do you handle your growing fame? What's your perception of the music industry so far? Are you close with your fans? 
The biggest challenge is separating yourself from the pack. I've always been different in everything I do, so I think it comes more naturally to me. Fame is funny. People feed into it more than I do, seeing me online all over the world not knowing I still live a real ass life with hella problems like anyone else. It's dope when they know your name all over the world though. The industry itself is treacherous. It doesn't care about you. There are a lot of good people in it though. It's just about a lot more than music. I love everyone who supports me, it's really amazing to speak and be heard.
What do we need to know about #savemoney?
Savemoney is coming for the takeover. Hands down hardest collective out artistically. Chicago till the world blow.
I leave you with an extended exhibit portrait of my day with Vic Mensa, Cody, Dj Oreo and DW shot by Daniil Lavrovski. 

Special thanks to Dan and Vic Mensa for the trust in me and my work.
Love,
OUNI