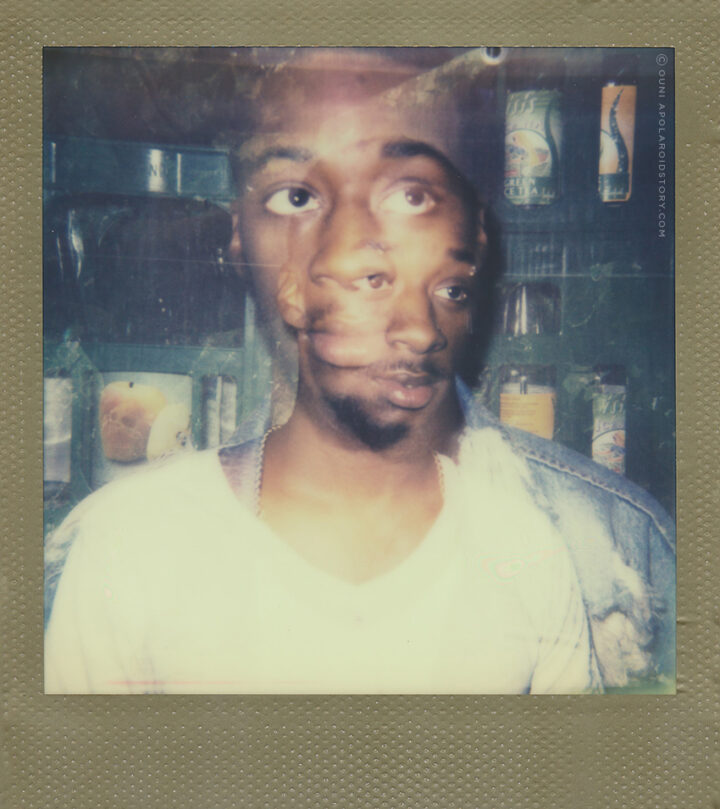 Super happy to have GOLDLINK featured on this little blog of mine.
If you visited my second exposition in Brussels two weeks ago, you might – or might not – have noticed this fella hanging amongst my series of blow-up Polaroids. I premiered the Polaroid in blow-up format at my exposition in collaboration with Brussels select store Hunting and Collecting first before I posted it on here,  you know,  to challenge my more attentive viewers/readers amongst you all. If you missed out on that, catch up on both the expo video and expo photo recap!
Starting out as 'Gold Link James' but quickly dropping the 'James' part after Trinidad James came out with his 'All Gold Everything' track, this rapper from the DMV area came on my radar about a good year ago.
I'm a student of music. In this day and age, where anybody can make music at home and the net is slapping music in your face, making you feel like you will never have enough time to catch up and listen to it all, well… it can be a bit overwhelming. I was put on to Goldlink by one of my readers (I love it when you guys hit me up with music, so don't hesitate to do so! ) shortly after he released his meanwhile much celebrated debut  'The God Complex' about a year ago.
Exhibit:
[soundcloud url="https://api.soundcloud.com/playlists/28885583″ params="color=ff5500&auto_play=false&hide_related=false&show_comments=true&show_user=true&show_reposts=false" width="100%" height="450″ iframe="true" /]
It took me only one full album play to instantly be drawn into the music as to become extremely curious about the individual behind it. Because of the mash-up of hiphop, nostalgic rnb sampling and bouncy up-tempo rhythms, combined with Goldlink's snaring voice while still being able to play around with vocals and a produce a general warm sound, the album felt like legit ear candy to me. I'm listening to it as I write this out and it still does feel as fresh and cohesive as I first heard it.
I can't pick out one track from The God Complex I prefer. I love the thing in its entity. The rnb samples (Toxic, Men In Black, etc) , the lyrics, the way Goldlink drops verses like a modern-day Twista and actually manages to say something meaning, funny, relevant or even unapologetically sexual at the same time feels extremely organic.
Teaming up with the likes of Kaytranada, Sango, Kali Uchis, Falcons, Zhu, Bipolar Sunshine, Chet Faker  – just to name a few – shows a certain nostalgic production style decision that is intricately Goldlink. You might have heard the genre 'Future Bounce' dropping in articles lately, this would be courtesy of Goldlink and Soulection producer Lakim, who claim they are responsible for creating the genre.
It looks like Goldlink is taking the time to perfect his craft. Observing his career from a distance, I notice he is not rushing and having this early industry attention disturb his focus too much.  There is no press overload, not too much interviews. He keeps to his Twitter but is not on Instagram. The only news you get from him, from time to time, is via his Facebook page, where in the world he is performing. He is playing all the right festivals since The God Complex dropped, performed in London( in the presence of Andre 3000) toured with SBTRKT ànd Flume, hung out at Rick Rubin's place to talk music with one of the most coveted music connoisseurs in the game …. ànd took some time out his European tour schedule for me and this little blog…
Let me get to the story behind the Polaroid.
Goldlink was making his first passage through Europe and to my big surprise I saw that he made a little stop in Ghent, Belgium. It was somewhere in September, summer was just over and that typical stiff breeze was back in the air. You know, that time between summer and fall, when the air is crisp. Goldlink was booked by the Belgian 'All Eyes On Hip Hop' in a little tiny venue near the Ghent industrial harbour area called DOK. I managed to get myself a direct hook-up by linking up via mail with Goldlink's management, who was super receptive to working together for an 'apolaroidstory' feature.
I first met his very sweet and down to earth DJ and friend Pape aka  DJ KIDD MARVEL outside the tiny venue.
(all APS Exhibits shot by Daniil Lavrovski )
Exhibit: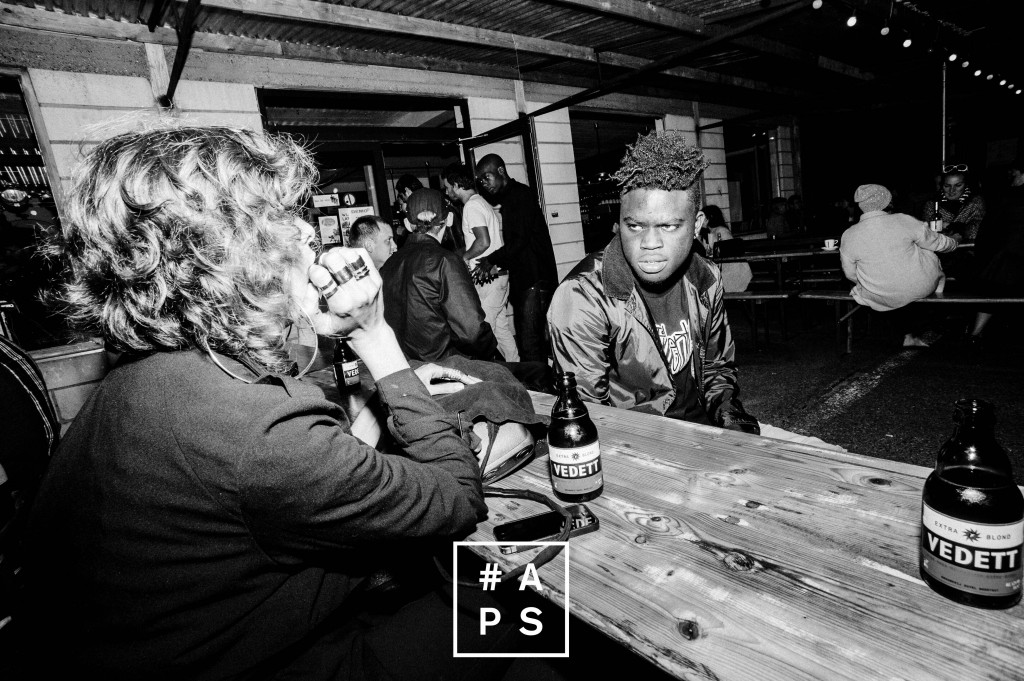 After a little chat (Pape clearly was screening the ok-factor laser on me in the picture here above, lol!) he quickly took me to the rather cold backstage garage behind the venue where Goldlink was about to perform.
There was a table in the middle of the garage with some basic food like chips and fruit and they were hanging admits a huge beverage stock where staff was constantly coming in and out. Tour life as I've seen it many times before.
Exhibit: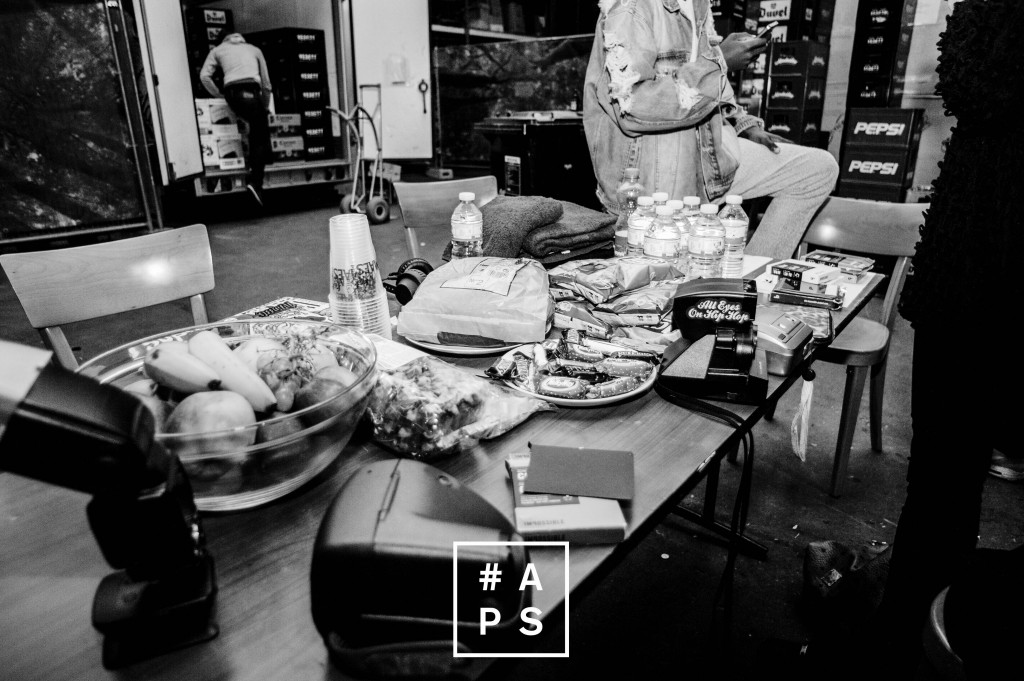 When ever I notice artists are going to play at very small venues close by, I do my best to be there. Mostly I can make a good bet on featuring emerging artists that quite possibly are going to explode in the next years to come. My feeling with Goldlink was exactly that. I think it's cooler to capture an artist right before they hit the huge venues and their mind hasn't been tested (or is it poisoned?) trough the trials and tribulations of fame, fashion, endorsement deals,  girls, money, well you know, the works. And besides a possible explosion into stardom, I just really, really love his music.
I introduced myself to Goldlink who was wearing a simple white tee on some ripped jeans with loafers and a jeans jacket. He was cold and asked me if it was winter in Europe. It was only September but Summer already felt like a distant memory and the air felt as crisp as can be. I told him: "Nope, still technically summer, but that's Belgium for you." He was quiet and politely distant, so I didn't want to disturb too long. I will never force anything when there is no organic connection in that instant moment I spend with an artist, therefor I went straight to business and explained him that I was aiming to try out a few double exposures images and explained him that I had Gold framed Polaroid film I wanted to test out with him. He was down for everything and went along with everything I proposed, which is a big deal knowing he really does not like his picture taken and kept an extremely low profile when it comes to putting his face online. He doesn't appear in any of his videos he has released so far to give you an idea.
My Polaroid cameras were bugging and doing double exposure is kind of a trial and error kinda way of working that is slightly more extended in time then some quick digital shots, but he went along with everything even though he was really cold.
Exhibits:
We sat down and talked a bit while waiting for the pictures to come out. I asked him about his aversion of having his picture taken and he told me that he was just not  feeling himself as much on photo and explained me he thought he wasn't really photogenic. We ended up taking a lot of pictures because I wasn't sure if he really liked the double exposure shots that much and he was very critical (which I don't mind) of all the pictures that came out.
Exhibit:
I left all the Polaroids he didn't like with him, something I rarely do because sometimes you might hate a first result and look at the Polaroid shots later and realise the images you didn't like turn out to be the most interesting. I wanted him to feel comfortable, so I basically gave him my entire batch of images he wasn't fond of. It took us a while, but we ended up agreeing on the shots he wanted to leave with me.
Exhibit:
Right after we took the shots it was time for him to perform. The venue was extremely small, with at least half of the audience not even knowing who he was. It was a pretty intimate gig but with some technical defaults here and there, mostly due to the stage and sound production. Days before,  Goldlink was playing out in sold-out venues in London with Andre 3000 in the audience and now he was back on the grind for a audience who didn't really knew who he was, but he told me backstage that every performance he is getting, big or small, felt like a blessing to him.
Exhibit:
Be on the look out for this rising star…
I'm pretty sure he is in for the win and he'll be showing everybody how's it done, the DMV way.
Love,
OUNI
I leave you with the mini Q&A Goldlink sent me over mail.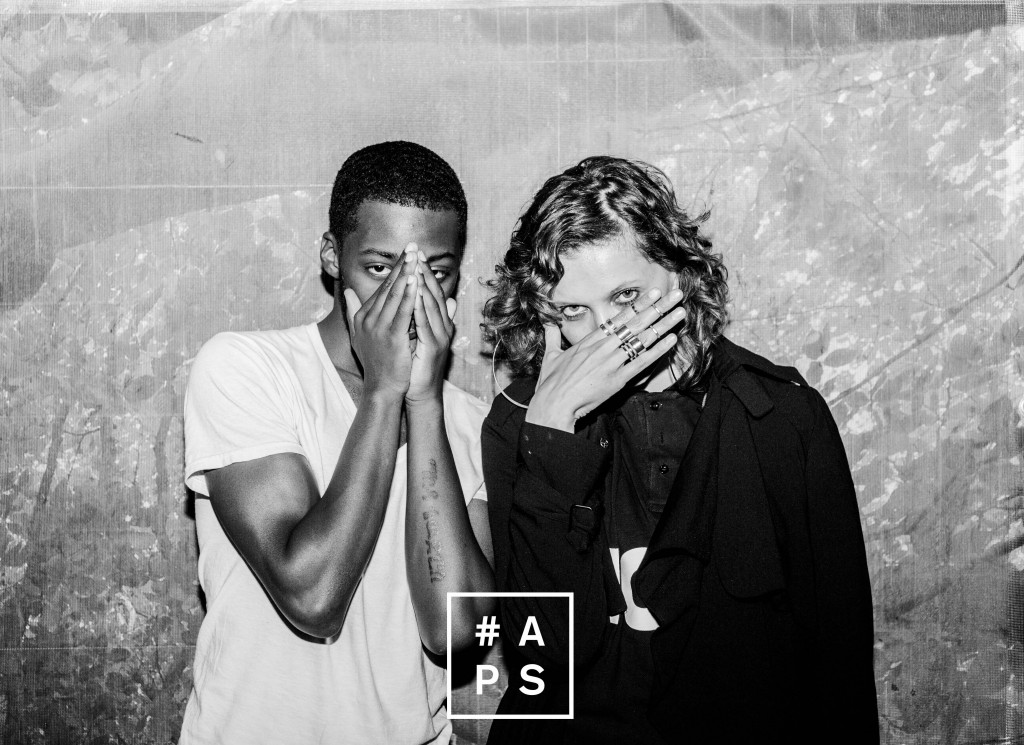 You are not afraid to sing on your tracks and use your voice as an instrument. Is that (singing) something we can expect more from you in the future? 
Yes, I definitely want to incorporate more singing in the newer stuff to come. Each different aspect of my music I use as a tool and can mold into the music to make it sound how I want it to.
You now have three official videos out.  Can you tell me a bit about the story behind the video narrative for Ay Ay? How much are you involved in the making of your videos?  Will we ever see one with you starring in it? 
Ay Ay was simply a sophisticated ass shaking video that was ballsy enough, without being too ballsy. I'm super hands on when it comes to the direction of where I want the video to go, but at the same time, moving forward I want to work with directors with big imaginations so they can take control and I just nod yes or no.
How would you describe your writing process?
Magical.
What do we need to know about Squaaash Club?
Nothing. But, soon you'll know everything. It isn't publicly defined just yet. Just a concept.
If I say Belgium. What three words immediately pop in your mind. (don't google !) 
Waffles, flags, and off-white women.
The God Complex turned out to be a pretty powerful introduction to the world and the future looks bright. What's up next musically?
Thank you, and we'll just have to see. Lots of recording, lots of music.