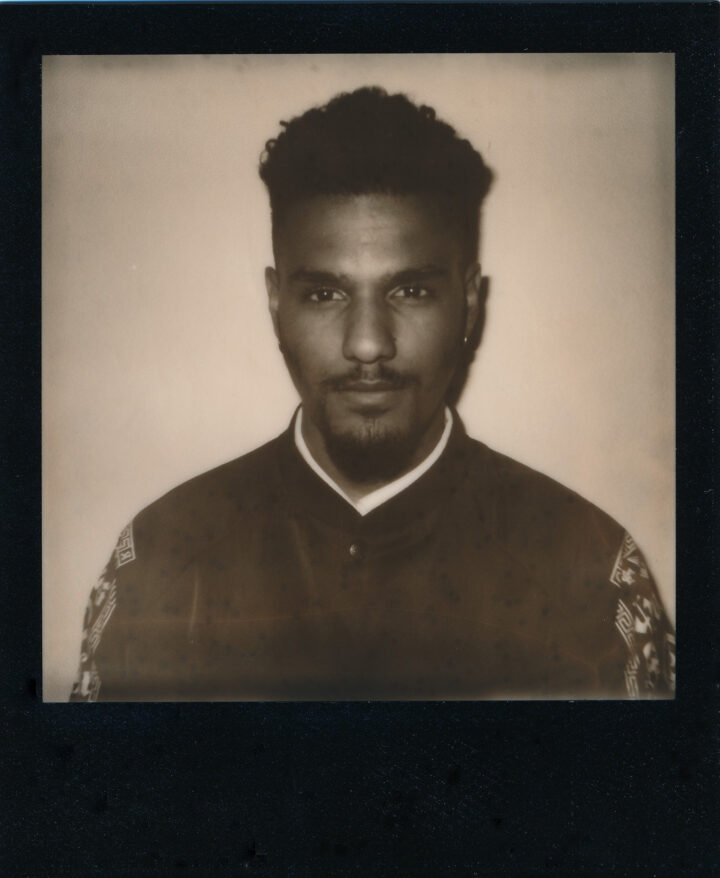 Happy to have Luc Junior Tam following up Vincent Van De Wael in the APS creative category.
Luc is the artistic director at Mosaert,  the Belgian creative label created by Stromae.
Yes, the one and only.
Mosaert was founded 6 years ago, simultaneously with Stromae's first album, 'Cheese' where Luc ( Stromae's brother) was already acting as the creative director in charge.
Ever since Stromae 's debut album, the team around 'Jacques Brel on steroids' managed to have full creative control, mainly because Stromae is linked to Universal with a licence deal for promotion and distribution only.  This means Stromae's team (something Luc emphasised me that it's really important to understand that they work as a team and a close family) are one hundred procent in charge of all the content you see appearing on your time line. From the music, to the videos, to the live shows and their production,  the in-house clothing line and ditto store,  it's all from the hands of team Stromae.
It's good to see a Belgian artist and crew taking the art of performance, entertainment and branding extremely seriously and setting a global example while doing so.
Watch the following performance to understand what I mean.
When I asked Luc how he would describe his daily job as a creative he answered me this:
"Many people see my job as a guy who just has to find some new ideas, but that's a misconception. We, as a team (Paul, the graphic designers, the executive producer, the stylist, the manager, the sound engineer, etc…) we àll find the ideas, whether it's in the shower or in a brainstorming. However, my real job is to make everything coherent and consistent.  In what we do, art and communication can not be separated and the challenge is to create a symbiosis between the two. 
For example. On March 23 (2k15) we created the official Stromae Instagram account. It was launched one week before the release of the Carmen video as a teaser. The idea behind it was to bring Paul's character from the video to life through the Instagram account and with it showing gradually his downfall. I worked a lot with Sylvain Chomet (French comic writer, animator and director known from his classic 'Les Triplettes De Belleville' ) to make these drawings funny and cliché but most importantly relevant in relation with the concept of the video."
Exhibits: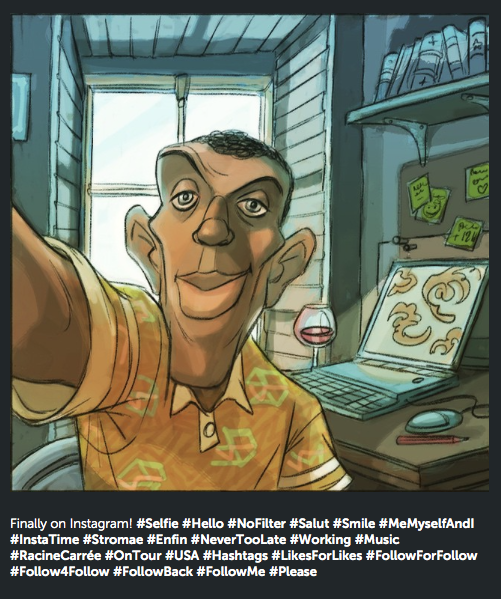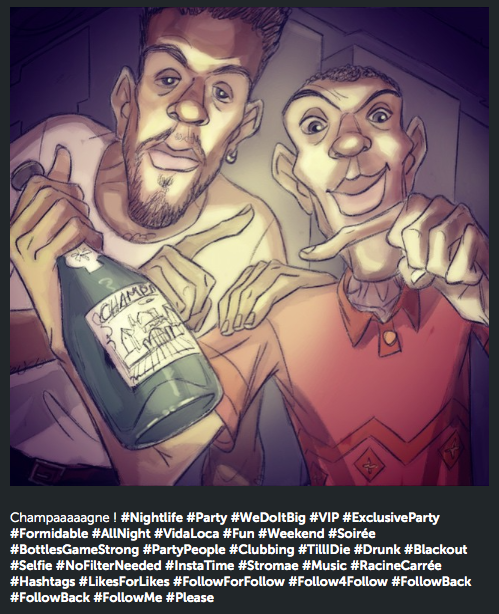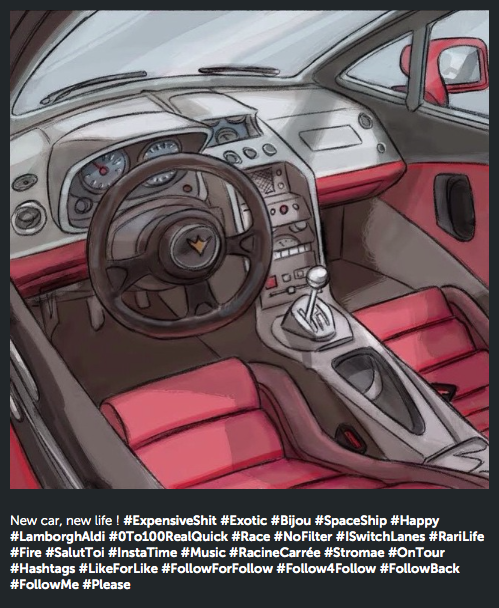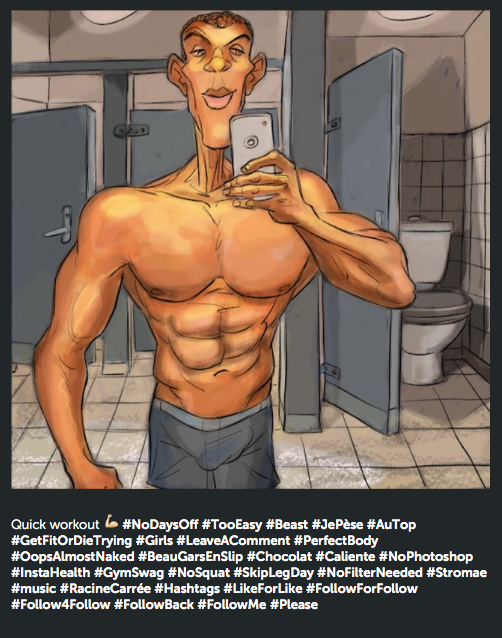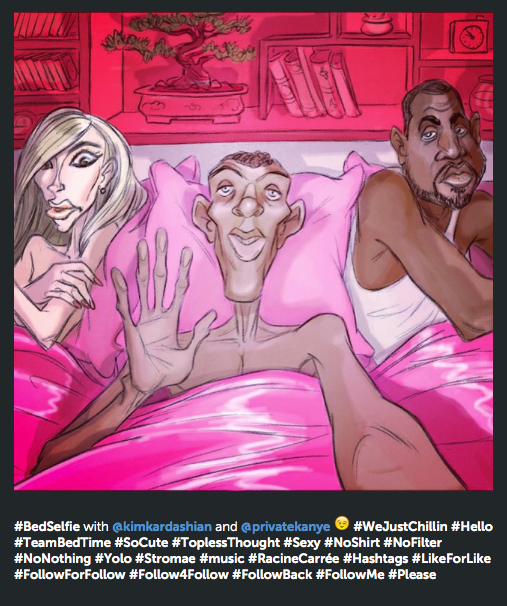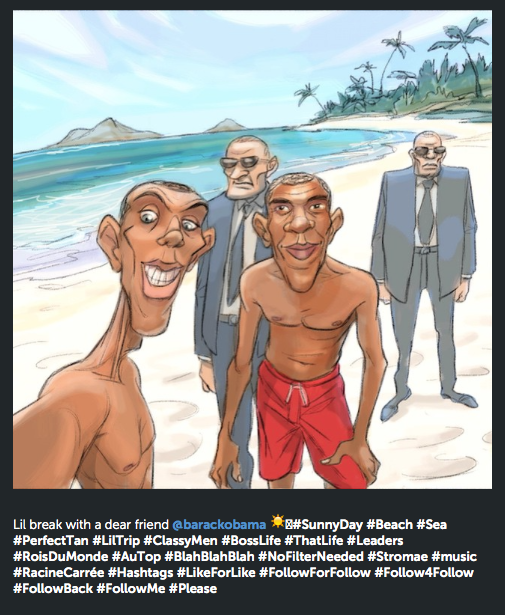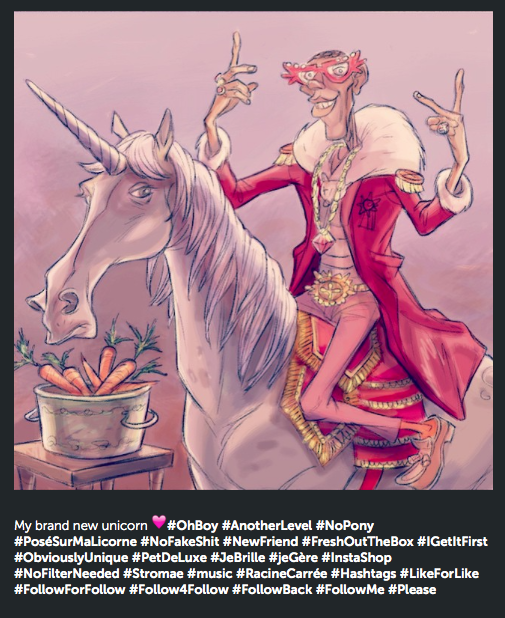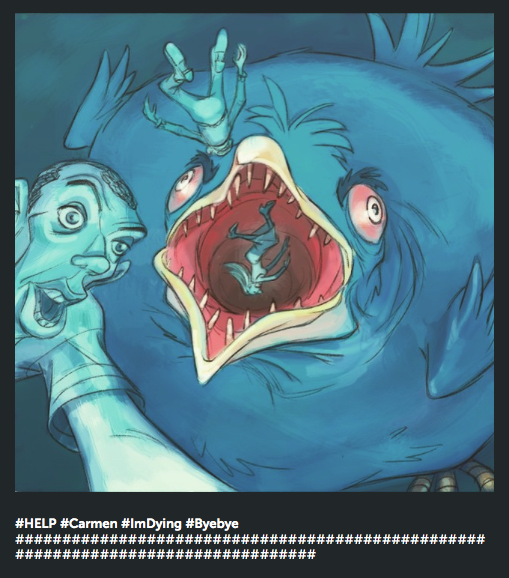 To me it's really a matter of global consistency and spreading a message that actually means something. As I like to say in French : 'On fait rien de gratuit.' Creating a buzz and generating millions of views without a real message is not what we are aiming for."
Stromae's latest stunning 'Carmen' video is perhaps the best curriculum display of that statement so far.
Exhibit:
Besides travelling the world with his brother and team, Luc is currently working on finishing his master in advertising and commercial communication.
On a personal note. I'm really impressed by the social media angle team Stromae took. We all can imagine that the life of Stromae at this level of his career might be filled with the glitz and the glam, the money and the fame.  The slightly sarcastic yet visually strong and hilarious hashtag messages they pushed through their social media game is a kind pun to all his competitors in the game who are using Instagram the Braggadocio way and maybe another kind message to us all that we need to realise that our digital way of communicating is perhaps one we need to question more. We are all guilty of a little social narcissism no? #yup
Now. The story behind this Polaroid is rather funny.
I met Luc super randomly at Bloody Louis in Brussels a while back where I was invited by party concept #NWSAFE  to provide a small selection of Polaroid portraits from the guests at their nightlife concept. I was instructed to take 'strong, interesting faces' and what can I say, I always take my job seriously. Luc ended up being one of the dozen people I portrayed that night. It was only months later that I randomly and somewhat  awkwardly had to realise that Luc was Stromae's brother when we accidentally met again at Les Ardentes Festival where Stromae was performing. I had no clue. I mean… I don't know everybody, what can I say?
Since I had the man on Polaroid anyway, I thought he would be a much worthy presence on my newly launched creative category on apolaroidstory.com et donc voilà…
Special thanks to Luc for working with me on this feature during his busy schedule.  Much appreciated.
PS:
Many of you have asked me this question before, so let me address the following:
If you are wondering if I will every portray Stromae on Polaroid, keep on wondering, because I honestly don't know.  When Stromae did his first appearance at The Gala of the Golden Shoe (yes, yes)  a football event hosted by the Casino in my hometown Ostend, Belgium almost 5 years ago, Paul was walking around solo dolo in 'De Langestraat' in Ostend. At that moment I was sitting at bar Copador watching him walk by (fighting the wind, real talk) and I remember telling the owner of the bar:  "Look! That's Stromae from the 'Alors On Danse' track.  Stromae was still relatively unknown at the time and this was right before the song réally hit off on a global scale. I was contemplating to run after him and ask for a Polaroid, but I didn't have my Polaroid camera on me,  it was windy and rainy and he was clearly on his way back to the Casino Of Ostend so I would've just come across as a crazy person (again) so I decided to let it go.
See what happens when you don't execute your ideas?
Many years later, Stromae is one of Belgium's biggest and most critically acclaimed export products and has grown into an amazing artist. But also extremely unreachable in a way. I requested the legit way to portray Stromae at Les Ardentes Festival in Liège last year but I was briefed by his management that he was extremely exhausted from a 40 concert tour stop (makes sense) and that another time in the future might be better. Since then, our paths never really crossed again.
Stromae and his team currently wrapped up an amazing tour run in the States where he managed to waw the crowds at SXSW and Coachella (Kanye West stage appearance included) and is embarking on a dope looking Sub-Saharan African tour (I can only imagine the tour footage coming out of that tour, sigh…)
Word is that Stromae and his supposedly break from music is definitely going to happen right after his much anticipated performance October 1st at Madison Square Garden. After that, Stromae would look forward to be just Paul and spend a  few years focusing on life, love and family. Or might he be focusing on that acting career he is aiming for? Rumours or Facts? Time will tell.
Either way, if he really is going to slow down a notch,  maybe, just maybe, he will have time for a Polaroid with Ouni. Who knows?
So, uhm. Paul, holla if you need someone to portray your journey at Madison Square Garden. I'm just saying! 🙂