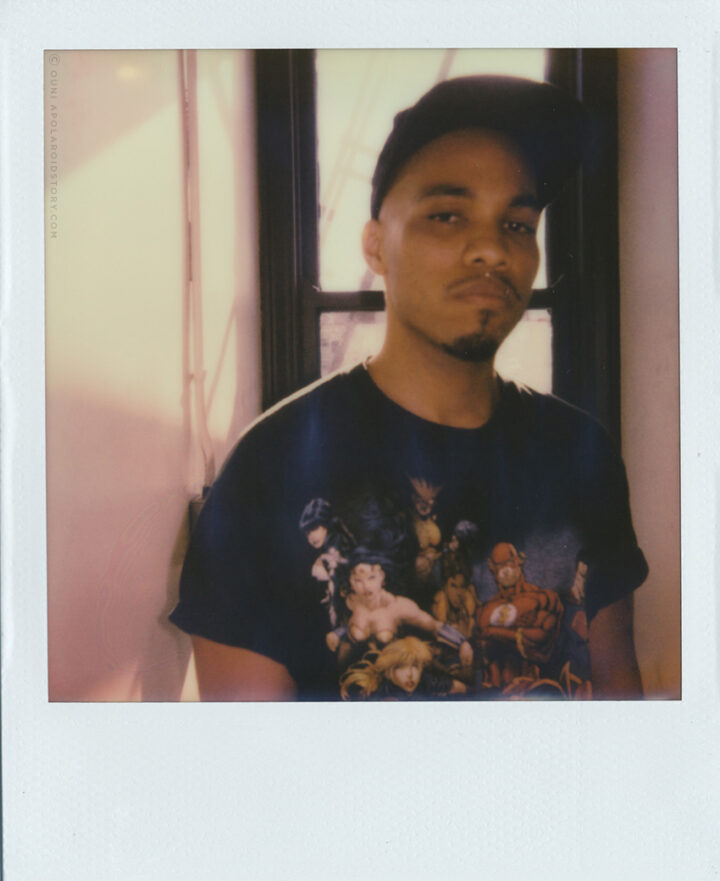 Super proud to have Brandon Anderson Paak aka Breezy LoveJoy but currently known as Anderson .Paak on this sweet little blog of mine. If you are not familiar with this singer, rapper, songwriter, drummer and producer, originally from Oxnard, California but residing in Los Angeles for about a decade now, then please let me be so kind to run you down on a short but above all, musical introduction.
The first time Brandon popped up my radar was when I stumbled over TokiMonsta's amazing track called 'Realla'.
It only took a split second for me to be completely drawn towards Brandon's grainy voice. The video and the strong visual positioning of the artist Anderson .Paak as the main vocalist of the song definitely triggered me to dig for other music besides his TokiMonsta collaboration. A few clicks later I discovered most of Brandon his early music under Breezy LoveJoy via his O.B.E. Vol. 1  album. This 'Sadie' video is the only video attached to that release.
The last release under the Breezy LoveJoy moniker was his  'LoveJoy' album. Not much later Brandon switched up his artist name to Anderson .Paak and released the Venice album under this new moniker.
Venice is just a little gem of an album that – in my opinion – has been slept on by popular music blogs. There wasn't really any 'hype' around his persona at the time, so platforms communicated a bit on the low about it. I don't need 'hype' to understand that this was a dope artist. The Venice album has a broad range of musical influences from house, disco, electro pop, rnb, soul and so much more, and that variety of genre blending comes across very refreshing to me. Music critics think the album is all over the place, then again, I'm not a music critic, I'm a fan, I feel music first before I read about it,  so I would give a rat's ass about what album critics have to say anyway.
Brandon drew my attention again when this track called 'Suede' from his 'NxWorries' collab group with producer Knxwledge surfaced the web.
From BreezyLoveJoy to Anderson .Paak to NxWorries, one thing that absolutely stood out for me – besides his obvious vocal identity –  is the content of his lyrics. His songwriting consists of a healthy dose of realness, wittiness, smoothness, emotion and wisdom, undeniable acquired through life experiences. It was nice to discover a new artist that somehow already went through both the ins and out of the industry as regular life, somebody who clearly worked his ass off performing in the LA underground circuit and went through life just like you and I,  which made it very easy for me to relate to his work. Overall, his body of work comes across genuine,  honest and his musical influences eclectic. He executes his vocals and spits his lyrics like a modern-day Curtis Mayfield. Once you heard Brandon on a track, you will unmistakably recognise his voice. Personal highlights of the album for me are 'Drugs', 'Miss That Whip', 'Might Be', 'Get Em Up', 'The City', but honestly, I really love évery track. When I select music for events or clubs, it doesn't matter, you can bet I will play at least one Anderson .Paak track.
Together with Chicago producers Blended Babies, Anderson Paak recently released 'The Anderson .Paak' EP.
Now. This is the story behind the Polaroid.
A few months ago, right before summer 2015 kicked off,  I ended up in LA. How, you ask? Well,  I received a mail from YG's team asking me if I would be interested in a YG collab with A Polaroid Story. (No, this is not a joke.) If you know me a little bit, you know I don't go lightly over the few opportunities that cross my path and I always do what I say, even if it takes me some time, so, very long story short, I made sure I ended up in Los Angeles not much later after that specific request. I arrived in LA and I planned in 72 hours of productive meetings. The goal was to meet one artist per day while I was in Los Angeles, to make up for the expenses made. YG and his people did not cover my flight if you were wondering so I wanted to make this as productive as possible. Due to work at home I couldn't afford to casually plan in 7 days of vacation, but I could plan in 3 days on location, purely for APS reasons. Every day was costing me money, so I wasn't planning on getting a tan but aimed to go back home with as much strong stories that I could possibly get my hands on, if you catch my drift. Productionally I do APS with atleast a photographer who documents the story, however, I couldn't afford my team to go to LA with me, so I decided to go APS oldschool and went solo. During those 3 days I met up with YG's people, producer Bobby Brackins, Vic Mensa and…Anderson Paak. I will elaborate on that YG story pretty soon, but let's start with my encounter with Brandon first.
How did that happen exactly? Very simple, I just hit him up via Twitter and asked for his email. By that time, Brandon just released that Instagram picture of him and Dr Dre in the studio, so he was actually occupied non stop recording music, however, he was kind enough to make some time and agreed to meet me for an apolaroidstory.com feature.
And so it happened on my final day in Los Angeles, right before I headed out to St-Anna to watch Vic Mensa's first sold out show in LA,  I hopped in the car with my friend and former APS contributor Aicha Candeesha and drove to Brandon's studio in Koreatown, Los Angeles.
Brandon came to pick us up in the hallway of the building where his Awthentik Vibes studio is located. Brandon comes across as a very nice and humble guy so he made us feel at ease from the get go. However, I don't know if it was because of the excruciating heat that was hanging over LA that day, but boy I was suffering from a serious heatwave and for some reason Brandon made me nervous. That in combination with the heat made me  very grateful that I didn't have a camera man with me that day, because trust me, I was all over the place. I barely could speak out any sentences, had trouble directing him in front of the camera, I mean, it was like Ouni APS circa 2009. It rarely happens anymore that an artist makes me nervous, I have been doing this for too long now and the illusions that hang around artists don't really affect me anymore. I learned the hard way that it's not always sunshine and roses meeting your favorite artists. But, truth be told, Brandon made me nervous and that meant that I was genuinely excited to meet him. Brandon his time was constrained, so the minute we walked in the studio we went straight to the interview part of the feature.
We ended up having a long, interesting and intricate conversation and this is what we talked about.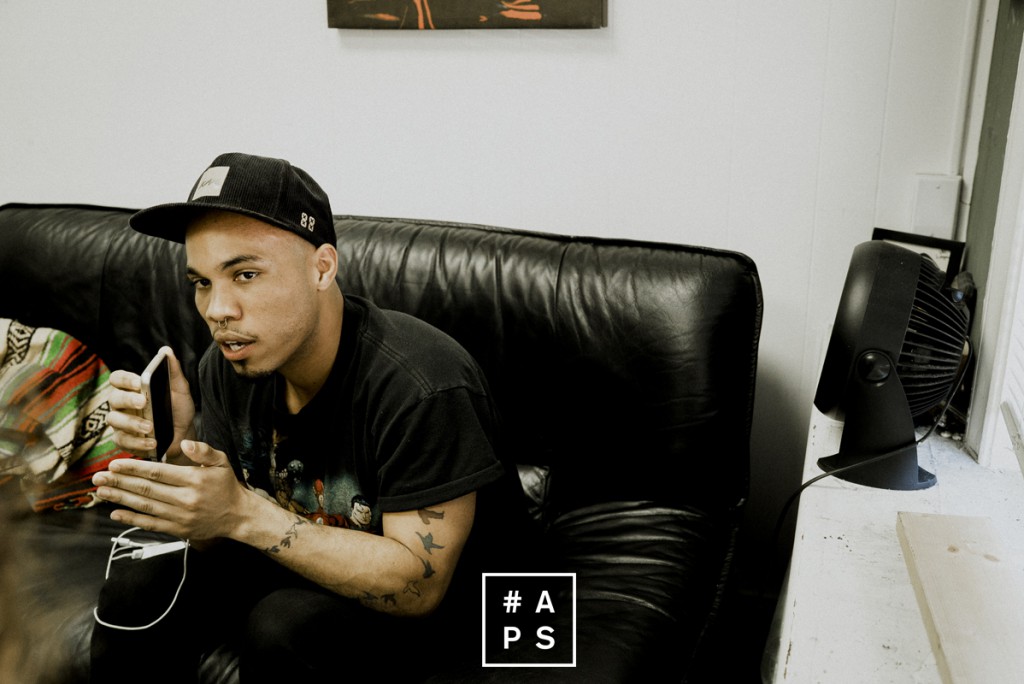 Can you explain to me where Breezy LoveJoy comes from? 
The artist part of this whole  journey started as Breezy Love Joy, I was going by Breezy as pre-teen, 11-year-old or something. My brother-in-law used to call me Breezy, my name is Brandon… so…I had that name all the way through high-school, up until I came up here and I started writing music I went by Breezy LoveJoy. That was in '07 when I came here from Ventura County.
So you're not originally from LA?
No I'm from a little up north. People think its kinda L.A, but it's very different. It's like suburbs… water, more a small town vibe. It's only like an hour away too. We have some great producers out of Oxnard, like Madlib, OhNo… a rich hip-hop history out here… I was going by Breezy LoveJoy for like six years out here, doing shows, playing drums for different bands and doing production, writing… I did stuff with Shafiq and…
as in Shafiq Husayn from Sa-Ra? 
Yes, Shafiq and Om'Mas  were the first people to really put us on. As for Shafiq, at one point I was his chauffeur, cook, writer, photographer, everything. He let me live with him for a while. He was a tremendous support for what I was doing and Om'Mas as well. We were just big Sa-Ra fans. We were one of their first live bands that they had. At the same time I was putting out my own stuff as Breezy LoveJoy with my band with Jose Rios and The Free Nationals as they are now, who I currently perform with. We were producing and doing a lot of stuff…
Then two years ago, my mentor at the time set out these different changes. One thing he really ingrained was a work ethic. So he just said "You should just get into the studio and work for 6 months".  I was doing a bunch of different shit like playing drums for people, trying to produce, trying to rap, trying to sing… I just wanted to get into the studio, write new music and do that for a little while. That's what I did, then when I came out of that I wanted to switch the monicker up. I wanted something pristine. 
The name Anderson Paak sounds Scandinavian in a way? 
Oh yeah? Well I just wanted something universal…
How did you put the new stage name ultimately together? 
Anderson is my last name and Paak is my middle name. Anderson is a European derived last name…. Paak is a super common Korean name
You're half Korean?
Quarter!  My mom is half Korean. My mom was born in Seoul, a year after the war, and then adopted to an American family and moved out to Compton in the 50's. So she's from Korea. She was adopted at 7 years old. Her last name was originally Paak or Park which is what it's really supposed to be but in the transcripts they fucked it up, so it came out as two A's and a K. I just found that out recently. I went through different changes with the pronunciation of the "Paak".  I like Paak (short) more, that's how my momma always said that's how it's supposed to be pronounced too…
How old are you now?
I'm 29 years old.
Can you elaborate to me about the instruments you play. What do you master best? 
I think drums is the closest thing I came close to being a master in… I guess I put the most time in that. I started playing drums when i was 11 years old in church and stuff, that was like my sports, my craft. That's the only instrument I'm confident in saying that i really play, i mess around a little on the keys and with writing and making beats and what not, but I'm no virtuoso on the keys but…i can write some stuff on the keys.
And you're a songwriter, obviously. Does this mean you wrote everything on the Venice album yourself? 
Lyrically yes, I wrote most lyrics. I did some collaborations with SiR and few other singers that helped contribute, like background and stuff and cool little parts that we needed.
Lyrically 'Venice' comes across very honest.  Can you explain to me why your album is called "Venice. 
We recorded a lot of the production mid-city on Venice and Hobart, that's where we had a house (Me, My producer LODEF, Jose Rios and our boy Ron Avant from DumbFoundDead. That was our hub. It was a big frathouse.  When we started building around the album I started basing around this concept  that Venice is a very large street in LA and has a lot of dynamics and we wanted to display a range of different people. It's a long street from East all the way to the water.  Only a hand full of streets really do that… Venice is interesting because it doesn't really get to ritzy or anything. You can cruise down Wilshire and some parts would look very business and very "you have to have money around here" and some parts not so much. Venice has a steady vibe of urban. Even when you get to the water, it's not like Santa Monica. If you stay on Venice you see the hood for sure… That was like saying ok; Venice is a range of dynamics so we want a wide range of music. 
'Venice' sounds very versatile in genres and with housy parts, rap parts but then simultaneously also very vocal. Very interesting and layered. 
We are inspired by people like Kendrick Lamar, people that push it and do artistic pieces of work. This is my same interpretation. I want the bést representation of what I'm feeling so if I'm feeling house, well let's do it and make it tight.  I've been working on the album with different producers so it has different aesthetics. From 'Drugs' to 'Miss That Wip', you know…
In terms of collaborations you have really all interesting features! I actually first found out about you through your Tokimonsta collab. I was obsessed by 'Realla' for a while. That song came with strong video. Was that your first video that had that kinda reach?
Yeah definitely.  I had other videos but nothing that was executed in thàt way. It's very intimate.
Intimate indeed, but I felt that it really highlighted you and your vocals on the track. Tokimonsta is present in the video as well, of course, it's her track, but that video really positioned you the hardest in a subtle way. 
Many thanks to Tokimonsta, I mean…that was her vision from jump…She put that whole thing together with the directors and her whole team. I have never done a shoot like that where you spend all day at the set.
When I look at your current collaborations  I notice a selection of very specific profiles from Premier, Doja Cat to Michael Uzowuru. What do you look for in a collab?
Uhm.. I'm a producer as well and so, I think… I could be pretty particular on what's going on but I think honestly it just has to move me. If it's a beat situation then if you're sending me a beat and I don't know you…then I really have to fuck with it, there has to be some elements in there… There's a lot of people I'd like to collab with cause I fuck with them, personally and in the studio. I have to be curious. Sometimes I get beats where I feel like I can't add anything to it, theres no space for me to add anything. The ones that I really like are the ones that really grab me and I feel like I can actually find a place to be on that beat where I make that thing better. It's like a good marriage.  All those producers have those things. I'm a fan first. Someone like Knxwledge…I was a big fan first, before I worked with him. 
Props for that 'In The Dungeon' live video performance btw, very fresh and effortless! I was actually happy to find it, there is not thàt much footage of you online at the moment, which is interesting for me, because it gets me more curious in a way.
Thank you! Yeah..I'm pretty tough on myself when it comes to putting out visuals. I hate putting out stuff that I'm not one hundred percent with…I mean, people search for that shit and you leave an impression so…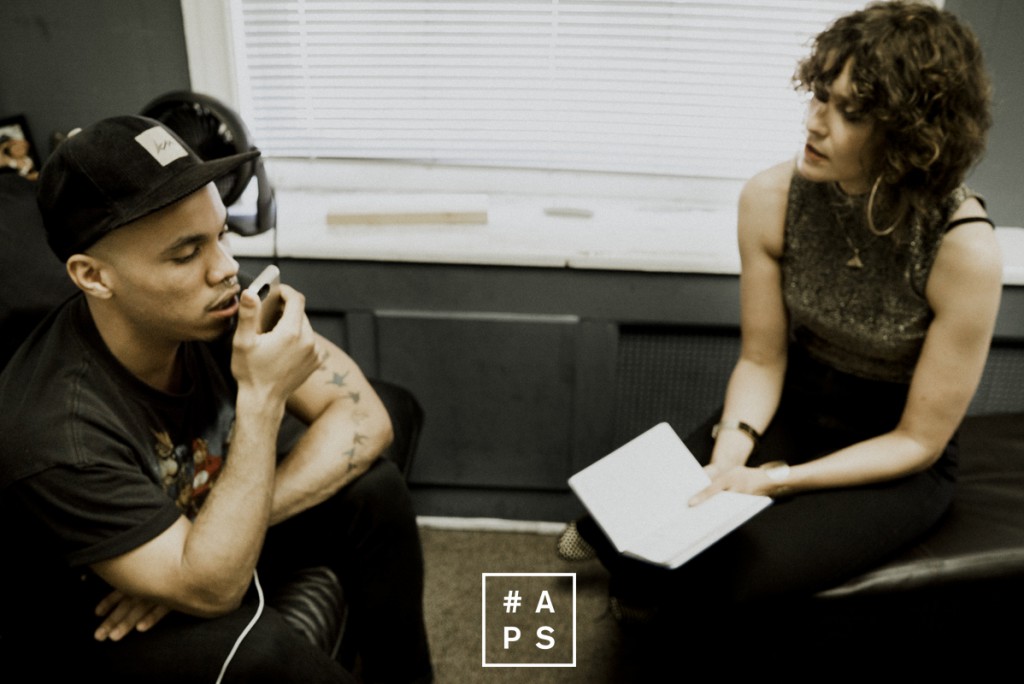 Ay…less is more I guess?
Yeah, then again….I released too much music recently! (laughs) oh well. 
Who would be a dream collaboration? Then again, I noticed your freshly posted gram with Dr Dre. I presume Dre is already pretty much top of the bill? 
Yeah…I've been blessed this year to work with some heroes that I've really,  really genuinely wanted to work with…like Dre and Dj Premier…
But.. How does that go, like how did you get at that point with Dre? 
Man, honestly it's just like you…. You found me. People come across these songs like 'Drugs', 'Suede' and 'Realla' in particular, those songs attract all different people. You have certain type of people that are into the Knxwledge stuff and then other people are more into the Tokimonsta type of shit and then there are people who are specifically drawn to my stuff.  So the person that likes àll of that shit…. is a unique person to me. It's usually those people like that, that get me to those places… I'm an honest believer in putting out the best material and getting it out there…and the money will come, whatever, at some point everything will come. If it's really good, it's gonna spread around, people are gonna share it. Thàt's how I got in front of Dre, Mezz , Dru and JT, you know the writers and artist that Dre had over there…They were really into 'Suede'. 
You're currently working on music for Dre then?
Yes. When they called me it was to write some stuff. Playing him some more music and stuff…
So…Is he still Dre?
He's still Dre! From what I know. I'm just getting to meet him, but honestly that dude loves to make music. He just loves to work in the studio. When you work with him you can téll, he wouldn't rather be doing anything else. He's an amazing vocal producer, producing vocal takes ànd writing. 
Vocal producer as in having the best maximum result when it comes to recording vocals?
Yeah. I've been working with a lot of producers, and a lot of producers that I've worked with don't have that experience with working with vocalists. Maybe some of them have experience with rappers, but a lot of them just send stuff and then it comes out, you know. 
Do you consider yourself more as a vocalist then a rapper? Sometimes you can really flow. 
I think I'm just a vocalist. It's been just trial and error with me and a whole learning process in finding a tone and figuring out what I'm doing, what i want to be …unmistakable me. I think I've been coming within that in the last year and a half as far as playing with few different styles that I really wanna fuck with, like Wu-Tang 'Drunken Tiger' and what not. I've been honing in onto a style that I'm having fun with right now. Working with some of the producers on their music I kind off found that style. Working with someone like Knxwledge, I kinda found a different sound, that I wasn't always aware off. He brought that out in those productions
 
What kind of sound? More funk and soul inspired? Because 'Suede' sounds very Curtis Mayfield where you use the grainy part of your voice way more. 
Exactly! I think its like a soulful thing. Then other producers like Toki  pushes out a different essence of me, a more lower, croonin and smoky type of sound.
Your vocals on Realla are slightly more R'n'B no?
Yeah, more R'n'B exactly! These are all big influences. I'm getting to have fun with honing towards each sound or producer. Where I am right now with Anderson Paak is really trying to find that. 
What are you working on right now?
Right now, 'NxWorries', my group with Knxwledge is what I'm really focusing on finishing up. It's 90 percent there…
Tell me a bit more about 'NxWorries'? 
We are a duo,  signed under 'Stones Throw', the label for 'NxWorries.' I'm just super excited about that… Then, I have an EP coming with Tokimonsta. That's my imprint and her imprint we worked on over a period of time, because she tours a lot. 
Have you been to Europe before?
Yeah, I got to really do it last year with Watsky. That was an amazing experience. 
Who is Watsky?
Watsky is a performer I went on tour with last year. We did 30 dates. He's a rapper, kinda spoken word. Together with another rapper named Kyle….we all went together. It was Watsky's tour but we all went with him and support. He let me open up and it was cool. Totally different crowd, but I caught the vibe for sure in Europe. It was very cool, but I'm anxious to get back out there …I have so much coming out which I'm excited about. It's gonna be crazy..
Are you dropping vocals on any tracks of Dr Dre? 
Yeah, serious joints!!
Ok…Waw! 
The Dre and DJ premier thing to me is like… It hasn't settled in almost, it's like damn! I have something out with Premier! That whole side of the game is crazy right now, I really haven't gotten to wrap my marbles around what's going on. I'm just kinda in it..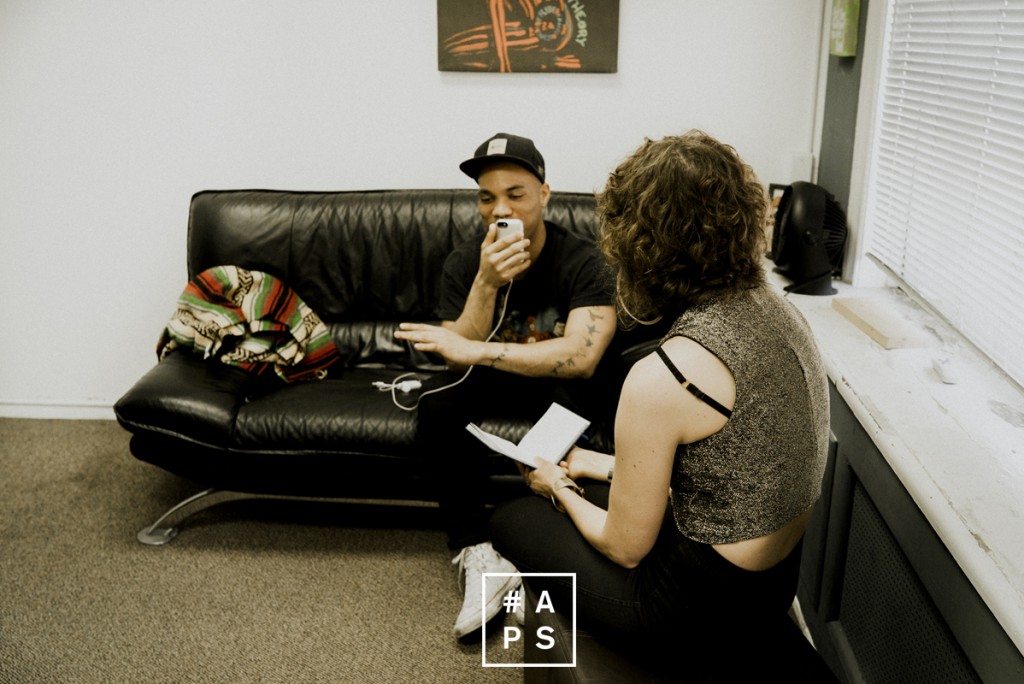 What is interesting to me is that you're 29 and not a product of youth, because in this industry everything is youth. Not all young artists necessarily master the art of story telling in a  song. Your experience in age shows in your lyrics. So…you have a son. What do you think is important being in the midst of this music industry, where mostly generic sounds are ruling. What is important for you as a father to teach your son when it comes to music? What is the essence there for you…? 
The main important thing with me is keeping my eyes open and not being fooled…all though it's tempting to chase things that your heart is not into…chase things that are kind of instant gratification, but it's not going to carry over and làst…. I'm into making songs. Real songs that stick. I read these Wikipedia stuff on Dr Dre and Marvin Gay and D'Angelo and Tupac…and these people all made songs that we still sing to and really féel still and knòw them. I love so much different energies musically. I'm never knocking anybodies thing. I want what's for me to be for me and really utilise everything to my fullest capabilities with my vocals and with my production.  Just kinda stay 'tunnel vision' for what I want. I just want to be able to be an example of that to my son. He's got his own path and if you ever meet him, you'll see he's very much aware of what he wants to do. He's only four but I can see he's got a strong…. he's like a sponge. He sees his daddy do music and thank god for his mom, my wife, that's who he's really around a lot and she's like an angel. He's got some cool influences. 
He was in the 'Luh You' video right? 
Yeah! He loves to dance. That's what I loved to do, that was what made me love hiphop. That was the one thing I loved. Dance elements. Watching 'House Party' and watching breakdancers and shit like that. My sisters were into hip hop, that's was what i loved..
What are you listening to right now that you think is really really good?
Right now, Knxwledge's album…I like Sampa and Unknown Mortal Orchestra, Jamie xx,…
So a few European influences there? 
Yeah, a lot of European influences. I like some of the grime shit thats going on. Like Lil Simz. But then I really love Tiffany Gouché and Sir. They are cousins. I think they are some of the dopest doing it. What else….
What do you think about D'angelo's album?
Oh! Loved it. There wasn't a lot that came out last year that was crazy, but that was definitely a highlight. 
What's your favourite track on Black Messias? 
'In Another Life'. And of course, the Kendrick album, loved it. It's a little more dense, but I spent a lot of time listening to that too and I really love 'Lucy' and 'Mortal man'. I listen to a lot of Thundercat as well and I can't wait to see what Frank Ocean is gonna do…
Meanwhile, how has the Venice album been doing?
It's good. It's a slow bubble. It  goes around in the artist community, spreads around, overseas also, but…like my career, it's always kind of a slow bubble. 
How long have you been doing music now? 
Ten years! In LA, just being out here… doing music. 
Is it easy to make a living like that?
No…Thank god for good relationships, people who believe in you and help, but it's definitively not easy…
Is that still possible? Like, legit people in the music industry?
Ow yeah! I think you get what you give. I've been around shady people. Never for too long. My circle…I love them. For better or worse. I wouldn't be anywhere nearly as far as I am without the people that really believe and just ride… especially my band. I feel like we have a really good live show, which is going to pay off eventually too. Them is really like… sticking it out. It's hard for them too, we all got families and shit. We just tryin' to really do it. Hold on, not trying, doing it. I've been told I can't use the word trying anymore. (laughs) 
I heard that you're pretty strong performance wise…. What's your favourite song to perform live from Venice?
Performing live is very important for us. That's why we are here in the first place and yeah… I'm comfortable on stage. I like performing 'Milk N' Honey','Drugs', 'Already', 'Off the Ground', 'Put You On'. There's like a real rock element that we bring to stuff, so some of these songs take on a different personality live. It's really fun. Especially 'Drugs'! 
You really feel a guitar presence throughout Venice. 
Yeah, that's been a consistent thing. Jose Rios, (producer and guitar player)  is someone that I've been working with since day one. I've written so many songs with him. This Venice project was really the first step for me of taking a seat back with the production. I was working with LODEF closely with a lot of the music, Tokimonsta, Ta-ku, Dj Nobody, Mikos Da Gawd… It was like a battle for me. I'm a control freak too, so it was a lot of trust things I had to get over. It helped me to just dive into writing. I have a lot of fun performing all those records, they are very honest.
Ok. So my final questions is something I ask everybody I interivew. I'm from Belgium, so if I say Belgium what three words pop into your head immediately? 
Waffles. UGGS…? I  don't know why tho…. fur…?  
Really?! 
(laughs) Well, I can't stop thinking about the waffles and.. hmm… Germany? Is Belgium in Germany? (cracks up) 
No. Germany is like a different country. Both Belgium and Germany are in Europe tho! (laughs)
(still laughing) but…are they close? Hahahaha. I don't know what else to think of… Just waffles and fur and … hold on…are y'all close to Russia? No…? Ow shit …I'm so embarrassed right now. (cracks up again)
Ay, I mean that's the whole point of the question, it's the only non serious question I pull out mostly. 
That's tight tho! (laughs)
Thank you so much for your time. Now, let's take some Polaroid shots? 
Let's do it. 
By the time we finally got to the point of the Polaroids I was feeling so hot I barely could get a grip on myself. I didn't understand what was going on and I had a pretty hard time hiding my heatwave for Brandon. The heat effected everything in that room, even the Polaroid film came out a little bit distorted in color pattern because of the heat. Ofcourse we came to that dreaded point of taking a selfie together, a prospect that made me want to dive in a huge ice cube tub. Brandon was very amused by it all, I however wanted to run Wile E. Coyote style out of that studio, which I kinda did caus I can confirm that I've never left an interview so fàst in my life. What can i say, sometimes I lose my cool.
Exhibits:
Only two months after my LA visit the whole world suddenly got to know Anderson Paak via Dr Dre's hugely anticipated Compton album where Brandon managed to land himself 6 (!!) stand out tracks where he either did vocals, writing contributions or productional additions. When I met him, there was barely any content of him online, not much interviews, not much album reviews, not much press interest at all really. His 'Suede' track sparked interested of Dr Dre who supposedly played it 3 times in a row and then ordered Brandon to hit the booth immediately. Anderson .Paak is currently working on finishing his 'NxWorries' collab album with Knxwledge and the release of his next and now highly anticipated 'Malibu' album. You can catch Anderson .Paak live on tour with The Free Nationals in Europe early 2016.
When it comes to careers, any career really, I believe in hard work and consistency and that's exàctly what I absolutely love about the journey of Anderson .Paak. I'm genuinely happy to see his work over all those years pay off for him and putting him on that global map I truly think he deserves, with our without that Dr co-sign…
To quote Paak in 'Suede': "I'm just happy to see a réal n°°°° win it." 
I leave you with a selection of my favorite Polaroids we took together that day.
Thank you so much for reading,
Love,
OUNI
Special thanks to Aicha Candeesha and Luka Host for their contributions to this story.