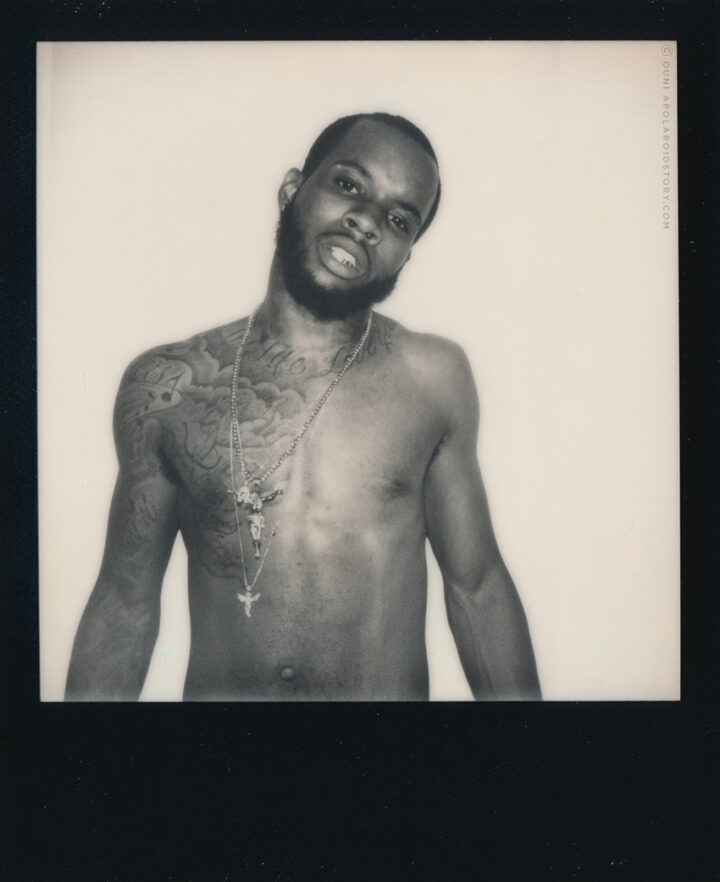 Completely ecstatic to feature this young lord portrayed here above on apolaroidstory.com
Allow me to introduce you to songwriter, rapper, singer ànd producer; DayStar Peterson aka Argentina Fargo but more commonly known as TORY LANEZ from Toronto, Canada. Daystar only counts 23 years to his name and although he is the son of a missionary priest he apparently also shares his artist name with a current porn star. Oh well.
For the readers amongst you who don't really know Tory's work,  as usual, I prepared a short musical overview to get you on point.
The song that really triggered me to dig into Tory's music is the following track from his CRUEL INTENTIONS EP.
Exhibit:
[soundcloud url="https://api.soundcloud.com/tracks/199087560″ params="color=ff5500&auto_play=false&hide_related=false&show_comments=true&show_user=true&show_reposts=false" width="100%" height="166″ iframe="true" /]
I can get pretty obsessive over a song, playing it over and over again and 'In For It' did exactly thàt. The dark, sexy and dualistic atmospheric production, Tory's climax building vocals and his stone cold airy raps just stunned me when they first hit my ears. Cruel Intentions consists of 5 tracks, with a versatile selection of producers like RL Grime, Baauer  Shlohmo, D33J and Play Picasso.  Another personal highlight on that EP for me is the swavey sounding Honda Civic.
Interesting fact about Tory that I really want to put your focus towards, is the following. The boy has bars, which he nicely showcased in a memorable freestyle he dropped on Sway In The Morning. 
Perhaps you were already familiar with some of Tory's earlier work stemming from his LOST CAUSE mixtape or via one of his stellar underground sleeper hits like 'Diego','B.L.O.W.' and 'The GodFather'. Or, if you are a YG fan you might have first heard Tory on this 'Me & My Bitch' track from YG's MY KRAZY LIFE album.
Tory only made a mainstream name for himself just a few months ago when he released this (Brownstown sampled) track called 'Say It'. The track came with a video that catapulted him from nowhere straight to a number one player. As in '17 million views' kinda player. Not bad for a relatively unknown artist with a first single from a debut album that has no name yet and should be released somewhere early 2016 no? Meanwhile, Tory is taking his time to finish his album yet casually teases his new-found audience by landing himself the movie score of Michael B Jordan's  blockbuster 'Creed' where you can hear him lacing his vocals on the Lord Knows track starring none other than Meek Mill. Talking about a royal introduction to the big league.
There is a certain theatrical vibe, a dark hip-hopera atmosphere that Tony creates with his aria vocals in combination with a cold and heavy bass production that simply demands your attention from the get go and feels in-explanatory storytelling. Tory his sound is both extremely cold as it is warm and exactly that dramatic contrast makes him stand out for me.
Now. This is the story behind the Polaroid.
Only a few months ago, during the final days of summer in late August, life (as life does sometimes) surprisingly smashed a very unexpected hammer in my face. Without going to deep into it, instead of taking a breather and go on a much deserved vacation I embarked on a hardcore 'paincation'. Sometimes life shreds up your focus and demands that you stand still for a while and so I did. I caved myself in, blocked my agenda and took the time to go through whatever it was that I needed to deal with. However, there was one thing that I couldn't ignore amidst my work escape, and that was the fact that Tory Lanez would perform at Encore Festival Amsterdam. The festival was marked red in my agenda and I just couldn't ignore it. So, very last-minute and without any expectations I decided to reach out to Tory's management and ask them if there was any chance of meeting up in Amsterdam for A Polaroid Story. Big was my surprise when they got back to me super fast and extremely enthusiastic to meet up at the festival. This gave me the little spark of  energy and motivation that I needed to escape 'the unbearable lightness of being' state of mind I was trapped in. There is no time for the boohoo's when opportunity knocks, since it only comes by once in so many times.  I had to go straight into APS guerrilla production mode and had about 24h to find myself a camera man. unfortunately, after a few reach outs I came to the conclusion that I could not find one due to the fact that the timing was simply too tight to pin somebody down. So I called APS household photographer Daniil and said: "Daniil, listen. I can go to Amsterdam tomorrow to portray Tory Lanez for APS. Here's the deal. I have no camera man to film the interview feature, I'm going to do this solo, so work wise this promises to be not ideal and slightly challenging. But…do you want to come to Amsterdam with me to work on a Tory Lanez feature?" His answer: "Ouni, listen. I have to work all night taking pictures at a club, but fuck sleep and let's go to Amsterdam and just fucking do it."  And so it happened. Opportunity and a little push in the back is all it took. The next morning me and Daniil dragged ourselves to Amsterdam, a bit exhausted from life yes, but ready to make it fucking work. No better distraction from the random burdens of life than work, no?
Once arrived at the festival it came to my attention that Tory's camp declined all interview requests (there are many big blogs and music platforms in Holland who are way bigger than APS) and that the only interview they accepted was…A Polaroid Story. One of the Encore festival bosses even came up to me asking me what the hell I did to get that done. I just shrugged my shoulders and answered: "I just mailed and asked very…politely?" 
Performance wise Tory Lanez is a beast. The following photo series shot by APS household photographer Daniil Lavrosvki showcases the atmosphere perfectly. It only took seconds for Tory to mold the roaring crowd directly into his – what he likes to call – 'swavey' atmosphere. Tony comes on stage with the intention of making a lasting impression. You will nòt forget about Tory Lanez, that's for sure. Where Travis Scott fails performance wise when it comes to the sonic execution of his lyrics and vocals, Tory surpasses effortlessly. Truth be told. I'm not against turn-up orientated performances, but Tory balances the right amount of song execution with organic turn-up and I think he will grow to be a strong live performer.
 
I met up with Tory immediately after his concert for the interview. Tory was sitting in an all-white metal container with nothing more than a few chairs and a table with some water, a bottle  of champagne and a custom Tory Lanez Hennessy bottle offered by Encore Festival.  The following additional video document showcases the highlights of my super pleasant interview with Tory. We shot this without a camera man and recorded the sound on the good old iPhone, so it's a bit messy here and there, but… a gem still.
Exihibit:
Because the interview turned out to be so unexpectedly extended we had to rush the Polaroids a bit, since Tory understandably  had to go. I think we shot about 3 minutes which is challenging for Polaroid but we made it happen. Sometimes I prefer to do the Polaroids àfter the interview because most artist then feel more comfortable to pose for me but then I sometimes risk giving up on the time taking Polaroids actually needs and deserves, because an artists tour schedule can be unpredictable. Polaroid is not only instant but also expensive and every shot taken should be dedicated and well-considered. Then again, it always is what it simply is.
Although Tory Lanez wasn't scheduled as a headliner on the Encore Festival, his passage in Amsterdam felt like one and the audience made clear it considered him as one.  Tory's obviously very anticipated live performance was watched by fellow artist Goldlink, but also DJ Mustard – who was scheduled to close the festival – was quietly observing Tory's entire set. He must have made some impression because Mustard asked Tory straight after his show to make a guest performance during his festival closing set. Straight after the interview Tory rushed to a smaller stage, where he was a surprise guest for DJ Carmack.
I have high expectations from this fella. He clearly is rumbling some feathers, with comparisons to Drake never far away. Don't be mistaken, no OVO link with this Ontario native since Tory operates through  his ONE UMBRELLA team he build up with his brothers. Tory got his first doorstep into the industry via an accidental Beamer, Benz Or Bentley freestyle stint that supposedly inspired (a still very young) Justin Bieber a bit too much. This gave Tory some buzz and a little jump-kick in the industry, ultimately landing him a tour with Justin Bieber and Sean Kingston. Unfortunately, nothing meaningful happened after that and while everybody around him slowly plugged out, Tory retreated. After some reflection and together with his new-found manager Sascha, Tory continued his journey, from the bottom up. No co-signs this time, but more determined than ever. Freshly signed to big time producer Benny Blanco's Mad Love Records/Interscope label, Tory might be that diamond in the rough that went through enough fire to sharply cut up any competition in his lane.
I leave you with some final exhibits documented by Daniil Lavrovski. 

Thank you for reading.
OUNI
Special thanks to Sascha for your trust in my work. S/O to Daniil Lavrovski, Pascal Garnier, Luka Host & Andres Willaert for their contributions to this feature.