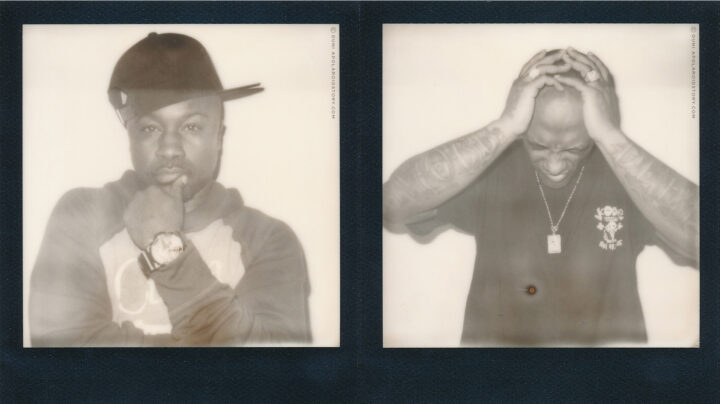 "ain't no such thing as a halfway crooks."
Extremely honoured and proud to feature the hiphop icons from MOBB DEEP. Whether you are young or 'old', if you truly love hiphop and aware of it's history, you're familiar with Havoc and Prodigy, one of the most successful duos in hiphop history.
If you've somehow missed out on the Queensbridge, New York duos 25-year legacy, I highly suggest you catch up by watching the following documentary and chart the course they've set since releasing their chilling sophomore album 'The Infamous' in 1995.
This is the story behind the Polaroid.
Two summers ago, I found myself at one of my favorite Belgian festivals, Les Ardentes,  trying to take advantage of the deep line-up of rappers by grabbing as many polaroids as possible with the little time I had. Already known for it's excellent hiphop bookings, the festival had an enormous line up that year with Wiz Khalifa, T.I., Stromae, Method Man & Red Man, Nnekka, Earl Sweatshirt, Schoolboy Q, Danny Brown, The Internet, Kid Ink, Isaiah Rashad,  M.I.A. and… Mobb Deep.
A huge, fast-paced line up like that, made it impossible to capture every subject I wanted. A lot of the time, I'll find myself portraying an artist when another passes by which leads to a familiar and frustrating dilemma. Do I drop Artist A in favour of Artist B? Do I let a great catch in Artist B pass me by out of respect to Artist A?  Very much a kill your darlings situation. 
I was in the middle of taking a Polaroid for Wiz Khalifa ( catch up on that here) heading towards the artist reception looking for a pen to sign it with, and before I realized what was happening Prodigy was standing right in front of me.  Mobb Deep had already performed and were about to exit the festival, and I just couldn't let that moment pass me by; I mean this is Mobb Deep!  I ran up to him, tapped him on the shoulder and introduced myself. I asked him if they had a quick moment for some Polaroids and to my surprise he agreed but said it needed to be done quickly because they were heading out to the next tour stop. I immediately rushed back to Wiz' dressing room where everybody was still chilling and hanging, escorted my camera man out of the room and asked him to follow me straight into to Mobb Deep's backstage room. 
The following additional video portrays my brief moment with Havoc and Prodigy.
Exhibit:
I'm grateful that they were open to connect with me on such short notice. An important part of doing A Polaroid Story, is realising how hard it is to capture a truly candid moment on film. Any interview or additional documented moments I end up with are a bonus, but the Polaroid is always the main goal. Do you have Polaroids of Mobb Deep? My point exactly.
I hope our journeys cross again in the future, because I would love to do an interview and talk music. Mobb Deep have created a brand of honest and raw hiphop with a chilling story and although music changes and hiphop continues to evolve as a genre, their work is a part of hip hop history that stands the tests of time. Almost 25 years after their debut, and several serious trials and tribulations (in both life and their music) MOBB DEEP is still touring the world and expressing their influence on the game—check the production credits on that last Kanye release. 
"We livin this till the day that we die. Survival of the fit, only the strong survive. We still livin it." 
I leave you with the Polaroids we took together.
Exhibits:

Thanks for reading.
OUNI