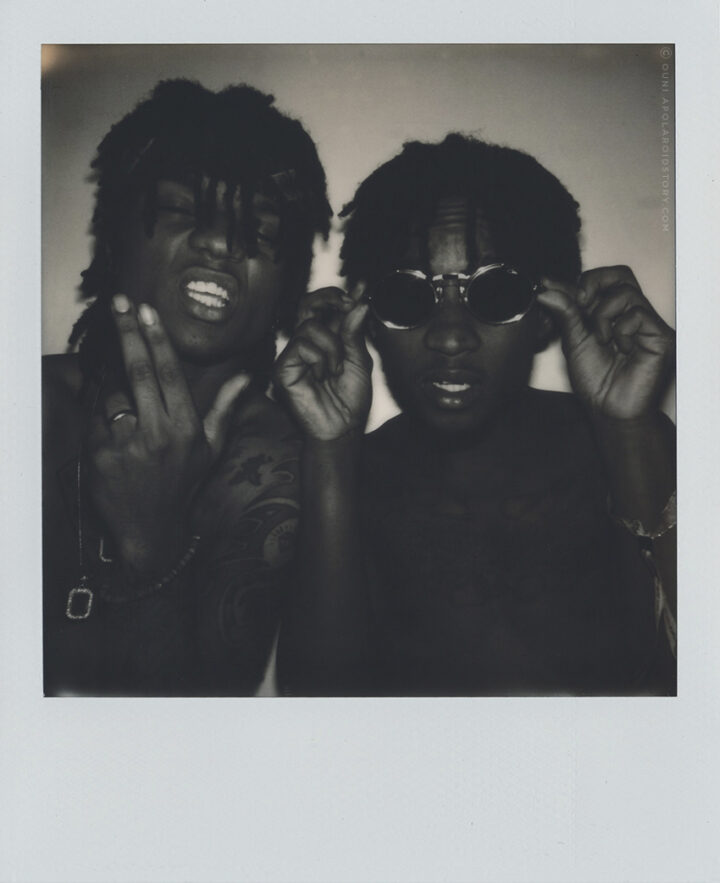 Stoked to have the brothers Khalif and Aaquil Brown better known as Swae Lee and Slim Jimmy from RAE SREMMURD on this little platform of mine.
Unless you have been living under a humongous rock the past two years, these two really don't need any introduction. If you absolutely don't have a clue who these two fellas are, then I kindly direct you towards their debut album SREMMLIFE. The group's name is a reversed wordplay of 'Ear Drummers' (also the name of their home label) btw.  Their debut album proved to be a global success, with a track list stacking up hit after hit lead by the Mike Will Made It produced debut single 'No Flex Zone' who quickly got co-sign approval from major artists like  Pusha T, Nicki Minaj and even Nas. However, the boys tossed away their 'one hit wonder' stamp rather quickly with the following single 'No Type' which quickly became many clubs favorite party anthem. Other personal favorites from their debut album are  'Unlock The Swag' , 'Lit Like Bic' and 'Come Get Her'. I'm a big fan of what the boys bring to the table melody wise, a strong quality that gives them identity in sound and a quality I'm pretty sure other artists must have noticed since the boys are featured on Ty Dolla $ign's 'Blasé' for example. Also, Swae Lee his lush vocal feature on Mike Will's  'Drinks On Us' is definitely what makes the track so strong in my opinion. The boys are currently working on their sophomore album and from the looks of it, Sremmlife has only just begun for Khalif and Aaquil. The question is if they will be versatile enough to bring other tracks than the party anthems they are mostly known for. Then again I wonder, is that really necessary for them? Time well tell.
Now. This is the (short) story behind the Polaroid.
I met the boys super briefly this past summer at the always imminent LES ARDENTES FESTIVAL  in Belgium, which – as usual – had a very interesting line-up spread over 4 days with sparkling names like D'Angelo, Kendrick Lamar, A$AP Rocky, Freddy Gibbs, FlatBush Zombies and Denzel Curry to name a few.
The following video showcases the highlights of both their performance as my brief encounter with the boys.
Exhibit:
The boys their performance was much talked about and they definitely left an impression. Considering the fellas came out of nowhere straight into the charts, started out with not that much stage experience and the sonic nature of their music (turn up, turn up!! ) you would expect the usual yelling, screaming, making no sense type of performance. Many hiphop/rap artists, especially in the turn up genre, suffer from that phenomena and considering the rise of the turn up genre globally it is something audiences and fans become more and more critical about, yours truly including. I absolutely hate when hiphop performances are not finessed in sound, lyrics, stage presence and climax and turn into some sort of fake wannabe 'punk rock' turn up vibe certain artists definitely try to hide behind. It's a damn shame when that happens and I find it unacceptable. Performance and entertaining is an art and it's an obligation towards your fans who purchase your music as an artist to at least try to  bring something that is memorable, especially for festival audiences where artists can make an impression to a crowd that is not necessarily there for them, but already waiting in line for the next artist. Rae Sremmurd exceeded the expectations by far. Energy on a hundred thousand trillion. Moves better than your dancer boyfriend and a strong lyrical execution in way the crowd could both understand ànd sing along with them. The boys understand the word entertainment for sure and I hope they keep that part of their artistry in honor.
Exhibits:  (shot by APS household photographer Daniil Lavrovski )
Due to my heavy workload this past summer, I only had the time to prepare for two video interviews at Les Ardentes Festival, which ironically both fell in the water. Sometimes artists or their managements flake on a previous made commitment, unfortunate yes, but that's how it goes sometimes in this genre.  It's just a shame then for other artists who are unexpectedly very open for a last-minute feature. I hustled this Polaroid encounter on the spot, which then restricts the opportunity to a Polaroid only. The boys their management didn't really know me or my work, so the fact that they are even allowing me on the spot in the backstage is already  a big deal, considering I'm not coming alone but with a photographer ànd a camera, so they have to trust me off my energy. When I walked in the room with my team the boys responded super open, nice and friendly to us and immediately were down to take some Polaroids and found the experience so much fun they immediately wanted to follow me on my Instagram. Their enthusiasm and energy is contagious and I'm guessing it's a big part of why their journey is going so well. They just ooze positivity and good energy.
Exhibits:
Why not do an interview on the spot I here you ask?  Well. I considered it, but I'm very strict for myself when it comes to interviews. I really want to come extremely prepared, because it has always proven to be the most rewarding in the long run. I rather don't do an interview at all than do something on the spot and ask ignorant questions like: "What's your favorite porn channel?" a question I heard somebody ask them for real or: "What's your favorite color?". 
Other channels and platforms do a much better job at those gimmicks than I ever could and my readers and viewers réally are not looking for that type of content. My audience demands a certain type of realness set in a musical context. If you are a loyal APS reader or viewer you know I like to put in the work slightly different. In this case and especially with the boys who are often criticised for being overhyped one hit wonders who don't write their own songs – as claimed by Hot 97's Ebro – I would rather aim for an in-depth interview that would spotlight their view on making music, with a big focus on their album. Sometimes it's better to just go for the Polaroids in the hope to make a good impression and hopefully get an interview later down the journey. I actually saw the boys back at Encore Festival only a few weeks later, right before they had to go on stage and both of them recognised my team and while running to the stage Aaquil yelled: "Are we gonna take some more Polaroids later!!?"
So, all in due time I guess, I'm sure my path will cross the boys again somewhere in 2K16, also the year that should give birth to their sophomore album Sremmlife 2. Boys, if you end up reading this feature: Holla!! 🙂
I leave you with the Polaroids we shot that day.
Thanks for reading.
OUNI