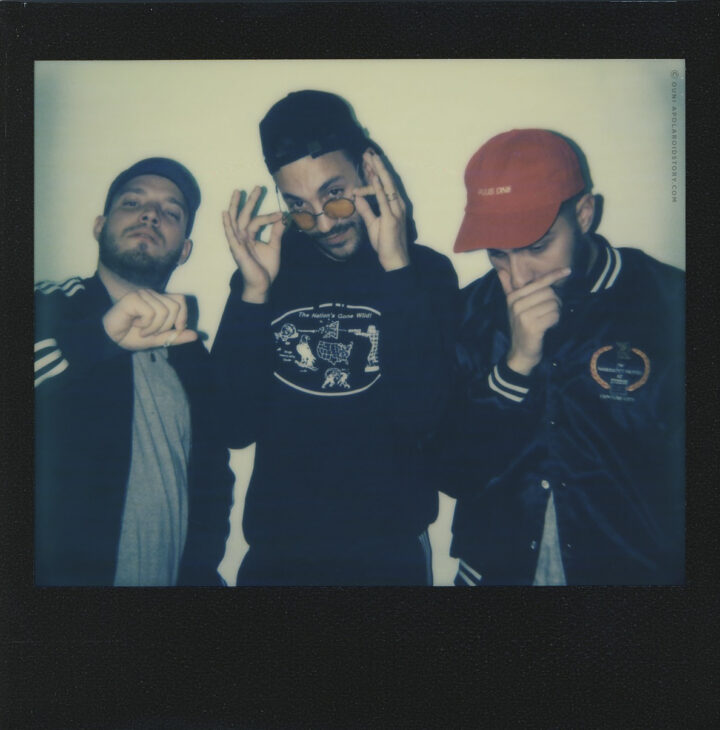 Bromance much?
Myth Syzer, Louis Brodinski and Ikaz Boi portrayed at the CEREBRAL EP launch in Brussels at Bloody Louis hosted by BSMNT.
I had the invitation to come over to the Bromance 'Cerebral' EP launch, part of a cluster label night hosted by Bromance Records taking place in Brussels, Paris and Amsterdam to celebrate longterm collaborators and french producers Myth Syzer and Ikaz Boi and the launch of their brand new (4-track) EP titled 'CEREBRAL' which the boys recorded at the Red Bull Studios in Paris. The sinister and moody 'Nobody' track is already available for your listening pleasure here.  In regards to EP featured guests the producers invited Belgian Hamza and Lil Herb from Chicago to provide la sauce, la sauce.
Taking Polaroids in a club atmosphere is rather tricky and something I mostly try to avoid, because when that clock hits midnight normal people get turnt aka get intoxicated, yours truly including, which is not always in the favor of the result that needs to come out of an expensive, fickle and instant medium that is…Polaroid. However, I tried to stay somewhat sober until the boys were ready to rumble in front of my lens, which they did effortlessly.
Donc voila, Bromance at its finest!
Louis Brodinski shot with Impossible SX70 B&W Film
Myth Syzer shot with Impossible Black Frame Spectra Color Film
Ikaz Boi shot with Impossible Black Frame SX70 B&W Film
Cerebral will be released June 17, 2016 via Bromance Records.
Special thanks to Adélia Nunes to help me get all the boys together. 😉