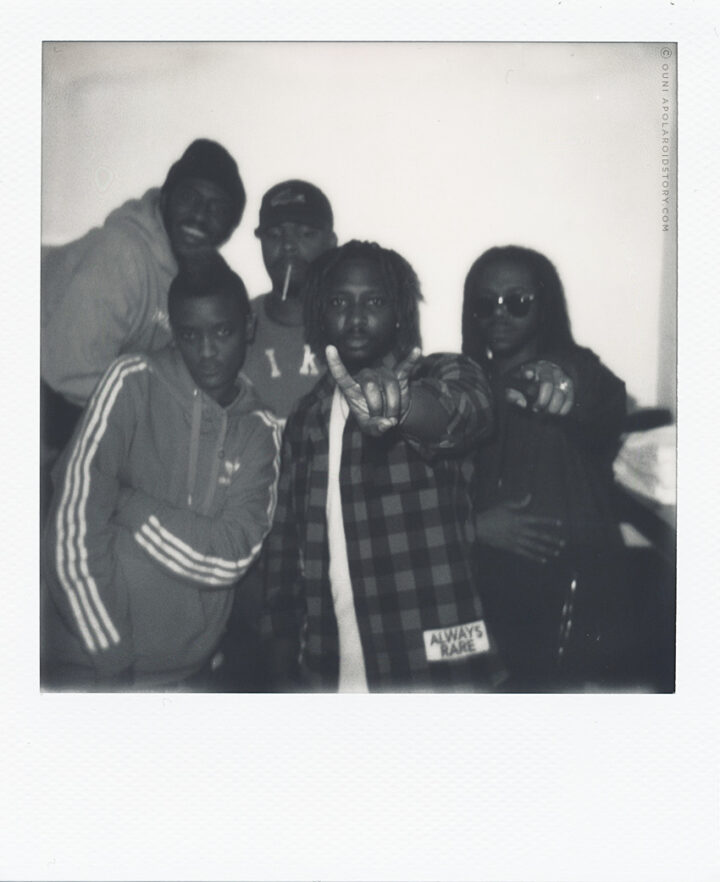 Very happy to -finally-  share my latest A Polaroid Story feature with none other than THE INTERNET. 
On the Polaroid here above you might recognize Matt Martians (keyboards), Syd The Kyd (vocals) , Jameel Bruner (keyboards) Patrick Paige (bass) and Christopher Smith (drums). Steve Lacy, The Internet's sixth band member (guitar) wasn't present that day.
I actually portrayed Syd a few years back, when she embarked on her very first European tour with Odd Future, for the collectives first memorable pit stop in Amsterdam. Odd Future absolutely went ham on the Paradiso concert venue that day. (You can catch up on that story here if you find a moment.) I only met Syd for a few minutes and I remember her coming across as silent and shy, but kindly open at the same time. Her energy is definitely special.
The Internet founding members Matt and Syd connected through Myspace, only to meet in the flesh years later. Together their first real steps into music are undeniable tied to the rise of Odd Future where Matt contributed on a production level and Syd was the collective's DJ. The impact Odd Future made all over the world and the experiences from their Odd Future journey sculpted them into the artist they realised they wanted to become and eventually segmented into their personal need of creating music for and by themselves, which ultimately morphed into the collision of a group of producers and musicians we all know today as The Internet.
'Ego Death', the band's third studio album is an absolute gem and was righteously nominated for The 2016 Grammy Awards 'Best Urban Contemporary Album' category.  Ego Death is soulful, funky, emotional, sultry, honest, jazzy, sad, seductive, contemplative, smooth …all at once. Syd's vocals are your constant guide throughout your 'Ego Death' listening experience and her shimmery vocals hit your sound waves soothingly, you know, like a sweet Indian Summer breeze.  Everything about the album, from the production, the artwork, the artist features, the melodies and the contemporary songwriting is worth your undivided attention, your listening ear and your hard earned penny. The Internet is a band you happily spend your money on, because you feel the sincerity of their work from start to finish. About the album's striking title choice Matt Martian quoted the following during an NPR interview:
"A lot of people that we know [are] just having their egos checked in many ways. Some people losing their jobs when, last year, they were at the top of the mountain; certain people's careers going in different directions that they didn't anticipate. And just kind of two words that you want people to think about these days, because we do have a lot of people who, on the Internet — whether it's Instagram, Twitter — it's a lot of egos that are really based on nothing backing it up."  
This is the story behind the Polaroids.
I was supposed to meet up with The Internet somewhere in November 2015, unfortunately the terrorist attacks in Paris last November brutally changed that prospect, especially after the realisation hit that IS tied terrorists residing in the Brussels Molenbeek area in Belgium were closely tied and directly involved with the terrible events in Paris.  The Internet cancelled their European tour entirely due to Europe's safety risks and quite a few other artists cancelled, postponed or adjusted their tour schedule in the light of Europe's terrorist attacks, avoiding Belgium all together. An unfortunate  – yet normal reaction, considering IS brutally attacked the Paris Bataclan venue in the midst of an Eagles Of Death Metal concert. I have been to the Bataclan venue for concerts and a few Belgian venues actually look and feel somewhat similar to the Bataclan venue,  so the mere realisation that you might die while watching your favorite band came in hard for everybody in the world who was following this tragedy, artists and music lovers included.
A few months later, while Paris is still recovering from the brutal attacks and Belgium is under a huge amount of both national and international pressure because of its Brussels based terrorist link to the attacks, The Internet re-embarked on their European tour. The concert was hosted by VK Concerts  in the middle of the heavily scrutinized city of Molenbeek, also known as Belgium's new 'Hellhole' which Donald Trump so eloquently referred to when he used the Brussels terrorist attacks in his presidential campaign propaganda. One man's death is another man's bread, obviously. But life always goes on and so does the The Internet, who were warmly welcomed by a sold out venue packed with hundreds of Belgian fans, ready for their fair share of sincere vibes.
I'm very happy to share a few highlights of my conversation and time spent with The Internet in the following APS video document.
Only six days after The Internet's passage through Molenbeek in Brussels, Belgium suffered its own IS coordinated terrorist attacks in the morning of March 22nd, both at the extremly busy Zaventem airport as in the Brussels metro Maelbeek station. The country is still recovering from the events as I write this down and I feel like everybody is realising this is the world that might have been 'a far from our bed show' at some point but now possibly must be considered as the new normal. Many people died from the attacks and dozens are deeply injured and will have to live with that memory for the rest of their lives. Instead for once it didn't happen 'there' it happend 'here' and that was a striking realisation. While watching the images on the news that day, I couldn't help but think of the conversation I had only a week ago with the band about Marvin Gaye's 'What's Going On' and the importance of being conscious as an artist and providing comfort and wisdom through music.  And suddenly, while replaying 'Penthouse Cloud' that day, Syd's lyrics hit harder and more real then ever.
"Maybe when the world burns down and the clouds turns black and the sky turns white and the days turn night
It's a war outside, it's a war outside, it's a war outside." 
Bands like The Internet don't come around that often. It's a bunch of friends who genuinely and sincerely want to dedicate their life to music in all its different aspects. More about ethereal vibes than ethereal hype, The Internet manages to truly connect on a  genuine and pure level with their audience and that is absolutely beautiful to witness. Music like that is much appreciated in this day and age, where safety is an illusion and the world is economically, socially, environmentally and politically challenged.
At the end of the day, we connect through music via our personal loss, our pain, our joy and our love and luckily we have bands like The Internet to help us with that.
I leave you with the Polaroids we took that afternoon in Brussels.
Thanks for reading….
Love,
OUNI
Special thanks to Sony Belgium, Melis Bilmez, Luka Host, Daniil Lavrovski, David Doom, Preben Verledens and Andres Willaert for their contributions to this story.